No matter how much music technology progresses, there's still something satisfying about popping in a CD while you drive.
Unfortunately, most auto manufacturers find it more beneficial to trade CD players in for digital capabilities.
While options are limited, we've put together a list of a few SUVs to consider before you throw out your hard-earned CD collection.
We also have an article featuring new vehicles with AUX ports.
7 New SUVs That Still Have CD Players
There are very few manufacturers that still offer CD players (only one, according to our research.)
So if this feature is important to you, one of the SUVs listed here might be your perfect next vehicle.
2023 Subaru Forester
Subaru seems to be the only company still showing CD lovers – well – some love.
The 2023 Subaru Forester covers a variety of audio preferences, including Apple CarPlay, Android Auto, and – of course – a CD player.
It also comes with WiFi, more than 72 cu. ft. of cargo space, and an incredible panoramic power moon roof.
It's a great choice for road trips, camping trips, or days you just want to cruise and enjoy your tunes.
We also have an article with common problems across the Subaru Forester models.
2023 Subaru Crosstrek
Like the Forester, the new Subaru Crosstrek offers the same Apple CarPlay and Android Auto along with a CD player.
It might be missing the moonroof, but it does offer plenty of legroom and cargo space for your family road trips.
And if you choose the Limited trim, you can listen to your favorite CDs through a Harman Kardon premium audio system and eight speakers.
This incredible audio will give you the full, crisp acoustic experience of your beloved songs.
Unfortunately at this time, no other 2023 models are reported to have CD players, as most manufacturers have chosen to go the digital route.
In fact, by 2019, most SUVs were void of this amenity.
However, there are a few 2019 SUV models that still let you rock your way.
2019 Toyota Highlander
Though it is a few years old, the 2019 Toyota Highlander had a pretty great audio system for its time – and one you can still enjoy today.
It comes standard with a CD player, Entune Audio system, controlled by a 6.1-inch touchscreen, voice recognition, Bluetooth, and six speakers.
You can stream your music in the Highlander, too, and upgrade to get SiriusXM.
We also have an article here on how long a Toyota Highlander typically lasts.
2019 Cadillac Escalade
The 2019 Escalade was known for its combination of luxury and comfort, as well as its 94.2 cu. ft. of cargo space.
It can tow more than 8,000 lbs and has a V8 engine, providing plenty of power and performance.
And to go along with all of this, you can listen to your CDs on a premium 16-speaker Bose audio system.
2019 GMC Yukon
The 2019 Yukon also offers a CD player and a pretty impressive infotainment center.
It also provides a great amount of space for cargo and a third row.
However, if you're looking for something to comfortably carry several teenagers or adults, this might not be the right choice.
Though it does have third-row seating, owners say that the high flooring doesn't leave a lot of space for longer legs.
This makes the 2019 Yukon a good choice if you have small children and want to listen to your tunes, but not so much for families with older kids.
2019 Chevy Suburban
The 2019 Suburban seats nine people comfortably and provides nearly 40 cu. ft. of cargo space behind the third row.
And, of course, it comes with a CD player and some impressive entertainment screens.
Before diving in, though, you definitely want to go take a test drive because some owners have shared that those screens can interfere with their rear visibility.
Your mission, therefore, is to sit in the driver's seat yourself with all of the screens active and determine if they are in your way.
2019 Chevy Tahoe
Chevy's 2019 Tahoe provides a mix of advantages from the Escalade and Yukon – typically with a smaller price tag.
It also offers the same seating for nine people but with a bit less cargo space.
In addition to Android Auto and Apple CarPlay, it has WiFi, six power outlets, and seven USB ports – so your passengers can listen to their own music while you enjoy yours.
Additional Information
If you don't like any of the options listed above, there are a couple of things you can do.
The first is to see if you can add an after-market CD player, but this might not be possible with many newer models – and it can be a bit pricey.
A simpler and less expensive route is to make sure your SUV has a USB port – something that most new vehicles have several of.
If it does, you can purchase a USB CD player to plug in.
While it's definitely not the same as slipping a CD in, you can also choose to transfer them onto a memory stick and plug them into your vehicle's USB port.
Though this is the opposite of what you're looking for, you'll at least still get to hear your favorite tunes.
Sources
Was this article helpful?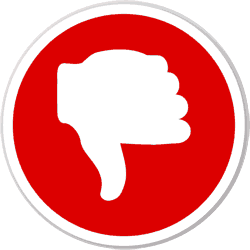 Did you find wrong information or was something missing?
We would love to hear your thoughts! (PS: We read ALL feedback)