The German luxury carmaker Mercedes Benz has a reputation for manufacturing expensive, high-tech vehicles. It delivers a convenient ride and premium design on all its models.
Despite being one of the most expensive vehicle brands, it does not mean you will not experience any hiccups as you own a Mercedes. However, the Mercedes brand is known to be one of the world's most dependable and efficient automobiles.
This article provides you with the everyday issues discovered in Mercedes Benz cars. It is important to note that the brand has an excellent rating, but we need to highlight the problems you can see on different models and makes.
1. Brake System Failure, Faulty Air Pump System, Leaky Differential Cover and Seal
These problems are common to the 2007 and 2007 E350. This vehicle costs around $56,000, and the average yearly repair expense is $788. More than a hundred drivers have complained about this vehicle.
They reported a crack thrust link bushing situated in the front suspension system. The function of the suspension system is to ensure the absorption of the vibration and shaking from the road.
Once these bushings are faulty, the ride will be a nightmare and result in more stress on the vehicle's tires. The E350 is also notorious for having leaky differential covers and seals.
Drivers also complained about an air pump failure that caused the battery to drain quickly. Other problems reported are a defective brake control system and low brake pressure.
Also, explore some Mercedes-Benz E-Class problems.
This E-class sedan was meant to be an improved version of the previous Benz models and the first E-class to have a 3.5-litre V6 engine.
Other problems of the 2006 model include the balance shaft in the engine, and the repair of this issue can be around $4,500.
2. Engine Malfunction, Noisy Drive
The C300 model years 2011, 2015, and 2016 are known for engine malfunction, noisy drive and failure of the steering lock mechanism. This beautiful ride costs $44,600, while its average annual repair expense is around $739 to $1,000.
Though this car is dependable, getting the engine to turn over can be challenging. Once your vehicle reaches the 100,000 mileage, be prepared for these common problems to show up.
Drivers also complained about their rides being unnecessarily noisy while at highway speeds.
We have more here on typical problems with Mercedes SUV models.
3. Defective Dashboard Warning Lights, Leaky Steering Rack
Despite being rated as one of the top ten midsize Sports Utility Vehicles, the 2006 ML350 has problems such as faulty dashboard warning lights, leaky steering rack, and failure in the camshaft adjuster.
Drivers have complained about the rough shifting due to a faulty gear system. If you plan to own a 2006 ML350, you must watch out for the camshaft adjuster solenoid.
The model usually has issues with the steering rack failure, electrical switches in the rear tailgate and door latches, and the camshaft adjuster solenoid breaking down too often. You should also probe into Mercedes-Benz A-Class problems.
4. Cracked Front Suspension System, Low Brake Pressure
The 2000 and 2003 E320 model are susceptible to fissures in the thrust link bushings, which puts more pressure on the car's tires. It also makes the ride an unpleasant experience.
Other common issues are air pump failure, low brake pressure, and leakage in the differential cover and seals. You may cough out around $1,500 annually to repair the vehicle. You should also probe into Mercedes-Benz S-Class problems.
5. Electrical Issues, Faulty Airbags, Rattling Engine
Though the C230 is a fantastic masterpiece from the Mercedes family, it has some issues you should be aware of before buying.
Drivers complained about a safety issue that the manufacturer must address, which is the airbags' non-deployment when they are needed most.
The 2012 model was recalled because its airbags failed to deploy. Other people also complained about electrical faults, steering system issues, and rattling of the engines.
You may have to look out for fuel system issues, but they rarely occur. You can maintain and repair this beautiful automobile with less than $1,000 per year.
Also, explore some Mercedes-Benz C-Class problems.
6. Rough Shifting, Camshaft Adjuster Solenoid Failure, Poor Engine Performance
Despite being rated as one of the best models of the Benz brand, the 2008 E350 has some nasty issues such as rough shifting, camshaft adjuster solenoid malfunctioning, and poor engine performance.
Meanwhile, you can also explore some problems with the Mercedes-Benz EQE.
7. Air Suspension Failure
The complaints about the W220's air suspension are overwhelming, and anyone who wants to own a Mercedes S-Class W220 must not ignore this.
Since its introduction in 2000, the company has struggled to correct the air suspension failure. There have been complaints about 2000 models having faulty air suspension bags and relays.
Related: Mercedes & Depreciation: Numbers + Examples You Should Know
8. Oil Leakage
Many Mercedes models suffer from an oil leak in the transmission.
Despite adding an electronic transmission system to every model released after 1995, the Benz brand could not fix the problem of the accumulation of graphite in the electronic transmission system triggered by an oil leak.
The weakness of an electronic transmission system paves the way for oil spillage, which is not a good sign.
Related: 5 Mercedes Models With The Most Recalls (Check Before Buying!)
9. Transmission Issues
One feature that gives the Mercedes-Benz CLA Coupevia an edge over competitors is the 5-speed transmission.
However, the mechanism that makes up the 5-speed transmission is plagued by several problems. Many drivers complained about the negative impact of the transmission's valve body and a 13-pin connector on their vehicles.
Transmission fluid leaks are common problems in the 13-pin connector as they contact the wiring harness and cause damage to the control module.
The valve body of the transmission can cause bad shifting, which dampens the driving experience of this powerful car.
Related:  7 Mercedes Models You Can Lease (And Some You Cannot)
Was this article helpful?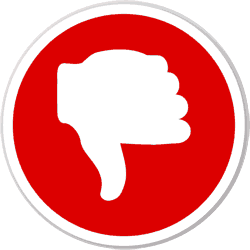 Did you find wrong information or was something missing?
We would love to hear your thoughts! (PS: We read ALL feedback)
ⓘ  The information in this article is based on data from National Highway Traffic Safety Administration (NHTSA) recall reports, consumer complaints submitted to the NHTSA, reliability ratings from J.D. Power, auto review and rating sites such as Edmunds, specialist forums, etc. We analyzed this data to provide insights into the best and worst years for these vehicle models.
---