The Mercedes-Benz A-Class is a Mercedes entry-level car introduced in 1997. While this vehicle has four generations in its lineup, it was not offered in the United States until the fourth-generation model, which was launched in 2018.
This car is known for a few issues, and we've discussed them all in this article. To aid you in your buying choice, we also delve into its resale value.
Here are some known issues with the Mercedes-Benz A-Class:
1. Issues With the Fuel Feed Hose
The fuel hose helps to transport fuel from one point to another in a vehicle. This hose may be made of rubber, plastic, steel, or copper.
In most modern vehicles, you'd likely see plastic fuel lines, which may become chafed or melted under unbearable temperatures.
Weary fuel lines may make the vehicle vulnerable to fire hazards.
The truth is, most of these objects tend to develop leaks over time due to their continuous contact with other surrounding metal objects.
Unfortunately, many A-Class owners have complained about their inability to start their cars due to a defect in their fuel pump system.
This indicates that there is an underlying defect in the materials used to build the fuel lines of the car.
The truth is, Mercedes has even issued a recall on the models affected to correct the defect.
2. Wrong Transmission Response
There are also a few complaints about the transmission system of the 2019 Mercedes-Benz A220. According to the complaints, the vehicle shifts gears incorrectly, indicating an error with the gear sensor.
Sometimes, the gear can receive wrong information from the sensor, and this makes it shift incorrectly.
Mind you, the engine control unit (ECU) of a car could also be the reason for an incorrect gear shift response. In this case, updating or upgrading the ECU helps to correct the issue.
You should also probe into problems with Mercedes cars.
3. Blank Backup Camera Display
Another noteworthy issue with the Mercedes-Benz A-Class is the blank display of the backup camera. Without a doubt, the significance of a backup camera in a modern ride cannot be overemphasized.
That's aside from the fact that it is legally required for all modern cars to feature a responsive rearview camera.
Backup cameras will either flicker or go blank when there's a fault with their connector.
However, a recall was initiated by Mercedes around 2021 to correct this issue.
According to the recall, the issue with the backup camera is faulty multimedia system software, and an update of this (by the dealer) will fix the problem.
4. Cramped Rear Seat
The Mercedes-Benz A-Class is a compact car that can seat 5 passengers. While it offers enough head and shoulder room for the front passengers, it could only give ample headroom for the rear passengers.
The legroom in the car is just 33.9 inches, which may be uncomfortable, especially for tall passengers and adults.
The overall length of the car is 179 inches, and it measures just 70.7 inches in width. You can't expect more space from such a small car.
General Pros and Cons of the Mercedes-Benz A-Class
The Mercedes-Benz A-Class has some notable advantages as well as a few downsides. Check them below:
Pros
It offers an enticing interior design.
Its cabin quality features top-grade materials.
The car comes with loads of intuitive tech features.
Its fuel economy is quite impressive.
It offers a snappy acceleration.
Cons
It's a little cramped in the rear.
It could be a little noisy on the road.
The car makes a provision for only a small trunk.
What Do the Reviews Say?
The Mercedes-Benz A-Class is Mercedes' least expensive car, and it offers either front-wheel drive or all-wheel drive. Regardless of its price, it offers loads of impressive technology and luxury.
The A-Class excels at offering the modern Mercedes-Benz experience in simply a smaller package. It's loaded with tech, features and luxury.

Source: Edmunds
This car is somewhat small. It measures just 179 inches in length, 57 inches in height, and 71 inches in width. As a result, it doesn't offer enough rear space.
While the front seats are comfortable, adults won't want to sit in the tight rear seat for long.
Aside from the cramped rear seat, this car introduces the Mercedes MBUX infotainment system, which is reportedly distractive.
Fit and finish throughout the cabin is very good, but Mercedes' latest infotainment system is distracting to use, and it's too easy to accidentally brush the small, touch-sensitive buttons on the steering wheel.

Source: Consumer Reports
The Mercedes-Benz A-Class may come short of a few features. However, when compared with most of its rivals, it offers enough value for the money.
The Mercedes-Benz A-Class is a good car. Its standard turbocharged engine is energetic, and the performance-oriented AMG model is significantly quicker.

Gas mileage is good for the class, and agile handling makes the A-Class fun to drive.

Source: US News
As impressive as you may agree that the Mercedes-Benz A-Class seems, it also suffers from a few manufacturing defects. It falls amongst the few Mercedes-Benz models recalled by the automaker for an issue with the fuel feed hose.
2020 Mercedes-Benz A-Class, CLA, and GLB models are at risk of an engine fire due to an issue with their fuel feed hoses.

Mercedes-Benz is recalling (these cars) as an issue with their fuel feed hose could ignite a fire.

Source: CarExpert
What's the Resale Value for the Mercedes-Benz A-Class?
The Mercedes-Benz A-Class is one of the few rides that retains much of its value.
In fact, while reviewing cars that retain their values, CarScoop rates this car atop, with a claim that it drops just 5.03% after three years of ownership in the UK.
Mind you, CarEdge claims that the Mercedes-Benz A-Class will lose 44% of its value after 5 years, with a resale value of $22,632 if its initial selling price is $40,434.
The truth is, as a vehicle gets a newer model, the older models lose a certain percentage of their value. Depreciation rates, however, depend largely on how well the car is used and maintained.
That said, check the resale values of different Mercedes-Benz A-Class models below.
| | | |
| --- | --- | --- |
| Model | Mileage | Price |
| 2022 Mercedes-Benz A-Class A 220 | 6,213 | $36,999 |
| 2022 Mercedes-Benz A-Class A 220 | 4,319 | $40,995 |
| 2021 Mercedes-Benz A-Class A 220 | 20,204 | $$30,698 |
| 2020 Mercedes-Benz A-Class A 220 | 37,289 | $29,850 |
| 2019 Mercedes-Benz A-Class A 220 | 27,530 | $31,534 |
Make sure to also check out the best and worst years for Mercedes-Benz A-Class here.
Final Thoughts
The Mercedes-Benz A-Class is available in hatchback and sedan, although only the sedan is available in the US.
In spite of being a luxury car, it is less fancied by critics, not because it's a bad car but because it has a lot more outperforming rivals. That's to say people believe they can get more for more affordable prices from other brands.
The 2020 Mercedes-Benz A-Class is only ranked #11 out of 21 2020 luxury small cars by US News. Even the more recent 2022 version didn't fare any better. US News ranks it just 15 out of 22 luxury small cars.
Only the 2019 version fares somewhat better, as it ranks #8 out of 22 in 2019 luxury small cars. Ultimately, if you'd go for the Mercedes-Benz A-Class, ensure it is the most practical vehicle that'll suit your needs.
Go Back: Problems for all Mercedes models.
Was this article helpful?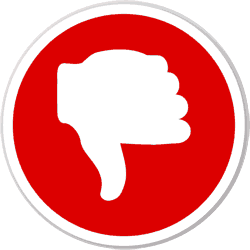 Did you find wrong information or was something missing?
We would love to hear your thoughts! (PS: We read ALL feedback)
ⓘ  The information in this article is based on data from National Highway Traffic Safety Administration (NHTSA) recall reports, consumer complaints submitted to the NHTSA, reliability ratings from J.D. Power, auto review and rating sites such as Edmunds, specialist forums, etc. We analyzed this data to provide insights into the best and worst years for these vehicle models.
---