Wondering just how much weight you can safely hitch up to your Nissan Rogue?
The answer will likely vary based on your specific year and model.
Read our guide below to find a complete breakdown of the Rogue's tow capacity through all generations.
First Generation: 2008 – 2013
We saw some problems with the early Nissan Rogue models but most issues were fixed within a few years as the next model was released.
The Rogue first appeared for the 2008 model year, with a 2.5 liter I4 engine providing 170-hp and a tow capacity ranging from 1,000 to 1,500 lbs.
For early first-generation models, towing capacity varied based on the choice of transmission. After 2010, Nissan switched to different tow specifications based on trim level.
We still see LOTS of these on the roads and the older Nissan Rogue models have proven to last long.
2008 – 2010 Manual Transmission
Drivers opting for manual transmission had the benefit of a higher tow capacity, with an official rating of 1,500 pounds. The maximum tongue load for these models was 150 pounds.
Nissan also recommends the use of trailer brakes when towing loads greater than 1,000 pounds.
Of the older models (first-gen) the 2009 model proved to be good. We have a list here of the best and worst years for Nissan Rogue.
2008 – 2010 Automatic Transmission
Automatic transmission can make controlling the weight of a towed load more difficult; hence the lower rating for these Rogue models, coming in at only 1,000 pounds. The rating for maximum tongue load was the same, also at 150 pounds.
2011 – 2013 S (Base) Trim
The tow rating in the U.S. for the base trim Rogue was a maximum of 1,000 pounds. The maximum tongue load remained at 150 pounds.
2011 – 2013 SL and SV Trims
During these model years, the tow rating for a more premium trim was higher, at 1,500 pounds, while the maximum tongue load stayed the same as the base model.
Again, trailer brakes are recommended when towing loads greater than 1,000 pounds.
Second Generation: 2014 – 2020
For this generation, towing capacity varied depending on model and engine type.
Nissan's owner's manuals also note that towing specifications were made using the base model, with the weight of the vehicle and driver factored in.
Rogue (2.5 L I4 Engine)
The standard Rogue had a towing capacity of 1,100 pounds throughout it's second generation run, along with a maximum tongue load of 110 pounds.
The new tow capacity holds across transmission and drivetrain options.
This era of Rogues continued to offer drivers three trim levels – the S, SV, and SL. All trims come with a 170-hp 2.5 liter engine with either front-wheel or all-wheel drive.
Rogue Select (2.5 L I4 Engine)
The Rogue Select was a continued version of the first generation, and was produced for only two model years, 2014 and 2015.
With the same engine and a slightly smaller build, the Select had a towing capacity comparable to the standard version, at 1,000 pounds. The maximum tongue load was 150 pounds.
The Select was available in only one trim, the S level, with the option of front-wheel or all-wheel drive. The choice of drivetrain did not affect the official tow capacity.
Rogue Sport (2.0 L I4 Engine)
The Rogue Sport replaced the niche previously filled by the Select.
Released for the 2017 model year, the Sport was slightly smaller and less expensive than the standard version of the Rogue, and had a tow capacity of 1,000 pounds.
Rogue Hybrid
Running from 2017 to 2020, the hybrid version of the Rogue featured a lithium-ion battery and an engine with 140 horsepower.
It is not officially approved for towing.
Third Generation: 2021 – current
For the third generation of Rogues, the towing capacities vary based solely on engine type.
Nissan again makes its towing recommendations using the base model as its standard, and accounts for the weight of the vehicle, factory towing equipment, and a driver in the capacity. The three trim levels remain standard.
2021 – 2023 2.5 L PR25DD Engine
For the latest generation, Nissan made an effort to step up the power of the Rogue to be within a more competitive range.
With the help of a new direct-injected engine, the Rogue's horsepower increased from 170 to 181 hp, boosting towing capability to 1,350 pounds.
The maximum tongue load is recommended as 135 pounds.
2022 – 2023 1.5 L KR15DDT Engine
The new KR15DDT engine gave the Rogue even more power, increasing its specs to 201 horsepower and 225 pounds/feet of torque.
This allowed Nissan to raise the towing capacity to 1,500 pounds and the maximum tongue load to 150 pounds.
Rogue Sport
The latest generation of Rogue Sports are not officially approved for towing.
How Much Can You Pack in a Nissan Rogue?
The Nissan Rogue has lots of space.
I've personally test-driven it and I was impressed with the amount of space.
We put together a guide to how much cargo you can bring in a Nissan Rogue.
Guidelines For Towing With Your Nissan Rogue
Although you likely won't be doing any heavy-duty towing while driving a Rogue, there are some standard protocols you should still follow to help ensure safe towing.
Take turns slowly, and allow extra time and space when accelerating and braking – the extra weight of your trailer will affect your ability to slow down and speed up. You may want to practice in a low-traffic area before taking a real drive.
Determine your trailer's clearance height before driving.
Plan for parking and reversing – when towing, your rear camera will likely be obstructed, so you may want to have someone help direct you when backing up.
Check to see if your trailer is heavy enough to require its own braking system. While many trailers above a certain weight automatically have their own brakes, regulations may vary based on your state.
Sway control devices can help cut down on swaying effects from wind and sudden maneuvers – just make sure to find one that fits your vehicle and trailer.
Always use a safety chain between your vehicle and trailer in case of a hitch malfunction.
Check to make sure your tires are at the proper pressure for towing. Tire information will likely be in your owner's manual or on your vehicle's towing information label.
Load up your gear and equipment only after attaching your trailer to your hitch.
Properly secure all cargo, both within your car and within the item you are towing. Not only do you want your belongings to stay safe, but shifting weight can lead to dangerous situations when towing. Cargo should also be distributed fairly evenly throughout your trailer, with more of the weight at the front.
What Type of Hitch Should I Use for My Rogue?
All Nissan Rogues that are approved for towing come with the option to add on a factory-installed trailer hitch. If you're driving a used model that didn't come with a hitch, official Nissan hitch packages can also be purchased online or through a dealership.
It's also important to make sure to choose the proper class ball and mount, based on your trailer weight. 
For the Nissan Rogue, this will likely be a Class I hitch.
How Big a Boat Can a Nissan Rogue Tow?
Depending on the exact tow capacity of your Rogue, it's best to stick to boats that weigh less than 1,200 pounds. This includes small sailboats, fishing boats, and skiffs, as well as kayaks, canoes, pedal boats, and jet skis.
When towing a boat, there are also a few extra weights that will likely have to be factored in:
Boat trailer: 200 – 1,000 pounds
Gas, if your tank is full: 6 pounds per gallon, 5 to 25 gallons
Equipment and gear: 25 – 100 pounds
The combined weight of your boat, trailer, and extra gear will need to be less than your Rogue's maximum tow capacity.
How Big a Camper Can a Nissan Rogue Tow?
The Nissan Rogue's fairly low tow ratings mean that you're best off choosing a camper in the 'ultra-lightweight' category. These campers will typically be either pop-up or pyramid style campers.
Ultra-lightweight campers can run from 700 to 950 pounds, making them the perfect option when driving a Rogue.
If your vehicle has a tow rating on the higher end of the range – 1,500 pounds – you may be also able to tow a slightly larger camper that weighs up to 1,200 pounds.
Remember when choosing a camper to account for the weight of your trailer hitch (typically between 1,000 and 1,500 pounds) along with any extra gear you may store in your camper. These elements, combined with the weight of your trailer, must fall below your maximum tow capacity for safe and effective towing.
Sources
Was this article helpful?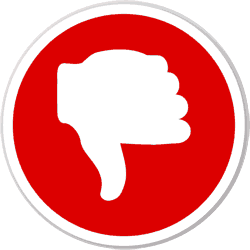 Did you find wrong information or was something missing?
We would love to hear your thoughts! (PS: We read ALL feedback)