In its early renditions, the Nissan Rogue looked much like the Murano. However, between 2007 and today, the Rogue has developed its own style and has become Nissan's bestseller.
The Rogue is a fuel-efficient, comfortable, and spacious compact crossover vehicle.
However, like all vehicles, it has a few common issues that run through several model years. Some are deal-breakers, while others may just be a nuisance that many cars have.
However, you should start by reading about how long the Nissan Rogue models typically lasts.
1. Failure of the continuously variable transmission (CVT)
One of the most expensive part failures in this list is transmission failure.
Some of the car's performance issues have been traced to a slipping CVT. However, the vehicle is slightly underpowered, and this problem does not help.
For 2022, along with the new engine, the Rogue also receives a new CVT transmission that covers a wider ratio of gears, has 32 percent less friction, and increases the Rogues fuel mileage to 33 miles per gallon, highway city, combined.
2. Noise from the suspension
Mysterious suspension noise is another complaint with the Rogue.
Some owners claim that there is popping and squeaking from the suspension. This problem has been traced to the strut-bearing assembly.
If it is faulty, it will need to be replaced, and depending on which part of it has failed, the repair price can be close to $1000.
3. Brake malfunctions
This problem is inherent in the 2018 Rogue and newer models. Nissan has released a technical service bulletin about the issue, so if you buy this model year or any other, check to see if recall maintenance is up to date.
The problem is that the vehicle brakes for no reason.
It can happen at lower speeds or highway speeds, where it can be hazardous when everyone is traveling at high speeds.
It has usually happened on new cars at around the 15000-mile mark. However, they are working on several of their models that seem to have this inherent flaw.
So, again, if you are looking at this model year to buy, check its history with the dealer.
You can see here what Nissan Rogue years to avoid and the best ones too.
4. Wiring harness failure
This issue occurred in the 2008 to 2014 model years, and the problem came about due to a leaky floorboard that allowed the harness to get wet and short it out.
So again, this is an item that you need to check out if you buy this model year.
If you own or are buying a Rogue of this vintage, it is worth checking to see if this work has been done.
A car that you purchase in an arid state may not have had a problem because it has seen very little rain or snow.
If you purchase it and take it to a state that has a lot of rain, it could be a problem waiting to happen if it has not been repaired. In addition, wiring harness replacement is expensive and can potentially set your car on fire.
The 2019 model also had wiring harness issues that could cause the car to stall. If you have this model year and have not had it checked out, now is the time to do so.
5. Air conditioner issues
This problem has cropped up in 2015 models. The Rogue had AC issues partially resolved that model year by replacing the evaporative emissions control system sensor (EVAP).
This may not be a permanent fix and happened to this vehicle at around 15,000.
If you are buying this model year or own it, the repair has likely been made, but be sure to pay close attention to the AC and heat when purchasing one.
6. Paint fade and clear coat issues
The 2011 model year had paint and clear coat issues at about the 50,000-mile mark. You may have this year's car and have had it painted or bought one that was. Or you may have one that is peeling and needs painting.
If you purchase or own a 2011 model with bad paint, the entire car will likely need to be painted to correct the matter.
Any car's paint can peel and fade depending on where you live and whether your car is under cover most of the time.
Some production years of certain vehicles, like the 2011 Rogue, had paint fade and clear coat issues from the start on many of the cars produced that year.
7. Inaccurate fuel gauge
This problem showed up on Rogue models from 2008 to 2018. A fuel gauge that does not let you know how much fuel remains in the tank can be a nuisance and a danger in some instances.
The culprit is usually a faulty fuel sensor, and the replacement cost can be expensive.
The problem arises with models that have around 60000 miles on them, and it is something you need to be aware of if you own one or are buying one.
It's worth looking into the different generations of the Nissan Rogue and their different engine sizes.
8. The backup camera image will not display
The backup camera for the 2018 and 2019 model years has displays that will go out, sometimes at the worst possible moment. In addition, the infotainment system of the Rogue has been plagued with bugs, and this is one of them.
The problem was so widespread that Nissan issued a recall to correct the problem.
Unfortunately, the recall was also for several other models. If you are purchasing any car, whether it's a Nissan, a Chrysler, or a GMC, check with the dealer to see if it has any recall notices that need to be addressed.
The history of a car is not a guarantee you will not have a problem, but it will let you know if a known problem has been addressed or not.
9. Lackluster acceleration
Although this could partly be blamed on a slipping transmission, the biggest problem with acceleration is the output of the standard 2.5-liter, 4cylinder engine. Its performance is modest at best and needed a little kick.
For the 2022 model Rogue, Nissan replaced the former 2.5-liter 4cylinder with a turbocharged 1.5-liter three-cylinder that produces 201 horsepower and 225-pound feet of torque.
That is impressive!
This power plant should increase the Rogues' mileage and give it a bit more pep in its step, whether driving the front wheels or all four.
This new feature will also make this model more appealing to those who might be considering the competition.
Other than the powertrain, the only upgrade of the Rogues electronics for 2022 is an optional head, up display, standard on the Platinum trim, and an optional larger display screen.
General Pros and Cons for the Nissan Rogue
Looking at the timeline of recalls and the improvements made over the years, the Nissan Rogue is a solid crossover.
The good tends to outweigh the bad when you consider that even though owners have complaints, they are few when considering the number of these units Nissan has sold worldwide.
Of course, the decision is yours, and here are the major pros and cons of the Nissan Rogue.
Pros
Available all-wheel drive
Increased fuel mileage for 2022
Comfortable ride quality and seating
New engine
Cons
The backseat could be roomier.
The wind noise at highway speeds makes the cabin noisy.
The infotainment's voice recognition system and other functions can be quirky.
Lackluster acceleration when equipped with the standard 2.5-liter engine.
The Rogue is priced a little higher than some competitors are.
What do the Reviews Say?
"The 2022 Nissan Rogue is a small SUV that is the company's top-selling vehicle. It was redesigned last year, and we liked the added comfort, storage space, and available technology so much that we moved near the top of our small SUV rankings."
– Edmunds.
"The Rogue is built to serve as a well-rounded crossover, but its driving character doesn't get our juices flowing."
– Car & Driver.
"Getting the Rogue over the 200-horsepower line is a marketing win, for sure, but it also replaces the "competent enough" description with "lively and eager."
– Kelly Blue Book.
What's the Resale Value of the Nissan Rogue?
How well a vehicle retains its value five years down the road is essential, especially if you are one of those drivers who want a new car every three to five years.
For example, the Nissan Rogue retains 50 percent of its initial value once five years of age.
Therefore, the better you have maintained it, the more likely you will get its value in a sale or trade.
| | | | | | |
| --- | --- | --- | --- | --- | --- |
| Years Old | Depreciation | Residual Value | Resale Value | Mileage | Resale Year |
| 1 | $7,830 | 70.76% | $18,948 | 12,000 | 2022 |
| 2 | $9,578 | 64.23% | $17,200 | 24,000 | 2023 |
| 3 | $10,039 | 62.51% | $16,739 | 36,000 | 2024 |
| 4 | $11,294 | 57.82% | $15,484 | 48,000 | 2025 |
| 5 | $13,416 | 49.90% | $13,362 | 60,000 | 2026 |
| 6 | $14,990 | 44.02% | $11,788 | 72,000 | 2027 |
| 7 | $15,172 | 43.34% | $11,606 | 84,000 | 2028 |
| 8 | $18,113 | 32.36% | $8,665 | 96,000 | 2029 |
| 9 | $19,725 | 26.34% | $7,053 | 108,000 | 2030 |
| 10 | $20,145 | 24.77% | $6,633 | 120,000 | 2031 |
Final Thoughts
As the Rogue has aged, Nissan has corrected most of the above problems. 
As a result, 2019, 2020, and 2021 models have had fewer complaints than some earlier models.
The addition of a peppier engine in the Nissan Rogue for 2022 will be a big drawing card, along with its increased fuel mileage that will make it more appealing than the competition.
Was this article helpful?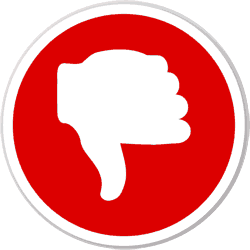 Did you find wrong information or was something missing?
We would love to hear your thoughts! (PS: We read ALL feedback)
ⓘ  The information in this article is based on data from National Highway Traffic Safety Administration (NHTSA) recall reports, consumer complaints submitted to the NHTSA, reliability ratings from J.D. Power, auto review and rating sites such as Edmunds, specialist forums, etc. We analyzed this data to provide insights into the best and worst years for these vehicle models.
---