We've looked at plug-in hybrids with long range, and now let's look at fully electric cars with long driving range.
Electric cars are more practical than gas-powered cars in a lot of ways—they need less maintenance, cost less to refuel, and often come with tax credits, not to mention their lack of emissions.
The big exception here is their low maximum range which often restricts them to short trips and city driving. They also tend to cost significantly more than gas-powered vehicles.
Here's a price-to-range breakdown of each car's trim options so you can pick the car with the ideal range and features without breaking the bank.
We have looked at small electric cars with good range and also a list of SUVs with long driving range.
Now lets' turn to the CHEAP electric cars with good range!
1. Hyundai Kona Electric
The Hyundai Kona Electric offers one of the best range-to-price ratios of any EV to hit the market at a base price of $37,495 and a maximum range of 258 miles per charge.
That said, there are issues with every car model at some point, and we also have a list of problems with the Hyundai Kona models.
The Kona has two trim options: the SEL and the Limited, which is a luxury trim.
Both trims have the same range on a full charge, so if you're just after getting the most range for your buck, the SEL trim is the way to go.
If you want to add some quality-of-life features for a good value, it's worth getting the Convenience package for the SEL trim, which adds a sunroof, heated seats, and a wireless charging pad.
The Kona is able to muster such a high range in part because of its regenerative braking technology, which captures some of the car's inertia that the brakes must overcome and converts it back into battery power.
Read more here about how brakes work differently in electric cars.
2. Hyundai IONIQ 5
The Iqoniq 5 has a striking, futuristic design and the maximum range to back it up. With a maximum range of 303 miles and a base price of $41,245, the IONIQ has a highly competitive range-to-price ratio.
There are a variety of trims for the IONIQ:
the SE Standard Range,
the SE Long Range,
SEL Long Range,
SE Long Range AWD,
SEL Long Range AWD,
Limited Long Range,
and the Limited Long Range AWD.
Out of these trims, the two ranges on offer are 256 miles for the Standard trims and 303 miles per charge for the Long Range trims.
The overall price range across all trims starts at $41,245 for the cheapest option and $55,745 for the most expensive.
The cheapest long-range option is the SE Long Range which comes in at $45,295, which isn't a bad price point for 300 miles of range.
Check also our article here about common problems with the Hyundai Ioniq models.
3. Nissan Leaf
This EV's range isn't exceptional, but its 226 mile maximum range for $33,495 is a bargain and places it solidly on this list.
For reference, most EVs in the $30,000 to $50,000 range fall somewhere between 100 and 300 miles of range.
The Leaf has five trims on offer—S, SV, S Plus, SV Plus, and SL Plus—with two possible ranges. The Standard (S and SV) trims offer just 149 miles of range, while all other trims have 226 miles of range.
The standard trims are quite inexpensive for an EV, at $28,495 and $29,895 respectively, but their low range significantly limits their usefulness.
On the other hand, the Standard Plus option bumps the range up to a more practical level while keeping the car still relatively inexpensive at $33,495. If you'd like to explore gasoline-powered cars as well, check out the cheapest full-size SUVs in the US.
4. Chevy Bolt EV
The Chevy Bolt is designed to be as affordable as possible, and though its range may not wow you, its low price will. It gets a spot on this list for sheer affordability at $26,5959.
The bolt comes in a 1LT and 2LT trim, both of which have 259 miles of range. 1LT costs $26,595 and 2LT costs $29,795.
The Bolt's range would've put the car at the top of the electric car market ten years ago, but EVs have advanced so much that now you can get that range from an ultra-cheap subcompact.
While the 1LT has quite a high range for its low price, the 2LT is worth it only because the car's already low price offsets the cost of some very desirable features that come with the 2LT.
The 2LT package comes with safety features like forward collision warning and automated braking that make it a good investment.
A noteworthy feature from the bolt is a toggleable single-pedal driving feature which improves battery life through regenerative braking.
5. Polestar 2 Single Motor
The Polestar 2 is a performance car with a design that emphasizes driving feel, handling, and acceleration over sheer range. However, the Polestar 2's base price is relatively low for the maximum range it has—$49,800 for 270 miles of range and a beautiful car to boot.
The Polestar 2 is available in a single-motor trim that's both the cheapest option and, surprisingly, the highest-range one for 270 miles at $49,800. The next trim up is the Dual Motor trim which costs $53,300.
Obviously, the single-motor trim is the way to go if you're just after cheap range, but the Dual Motor trim is worthwhile if you're buying the Polestar for its sports car qualities. The extra motor gives the car an extra punch and quicker acceleration.
There's also a super limited-run BST edition trim which is for those with money to spend who are looking for what amounts to an electric luxury sports car.
6. Kia Niro EV
The Kia Niro has a respectable price-to-range value at 239 miles starting at $40,385.
The Niro comes in a Standard, an EX, and an EX Premium trim. All three trims come with the same 293-mile range on a full charge.
The EX trim is a worthwhile addition to the base trim at just $900 more than the Standard trim because of its safety features, which include automatic emergency braking and blind-spot monitoring.
7. Tesla Model 3
At a base price of $48,440 and a base range of 272 miles on a full charge, the Tesla Model 3 is a great range-to-price proposition.
The three trims on offer are the Rear-Wheel Drive, the Long Range, and the Performance trims. The base trim already has a respectable range of 272 miles, and for about $9000 more, the Long Range version is well worth the upgrade at an impressive 358 miles per charge.
The Performance trim comes in at $64,440, and it emphasizes the car's sportier aspects like acceleration and handling while still sporting an impressive 315-mile range per charge.
8. Mini Cooper SE
With an official maximum range of 110 miles, the 2022 Mini Cooper SE may not shine in terms of range, but it's affordable at a base price of $30,750, not including any tax credits that apply to it.
Its range tends to exceed what it says on the tin by up to 50 miles, which clinches the car's status as a good range-to-price bargain.
The three trims on offer are:
the Signature, which cost $30,750
the Signature Plus, at $34,750
and the Iconic, at $37,750
The Signature trim sits right in the sweet spot between range, price, and amenities—the price of the higher trims does't justify the car's otherwise lackluster range.
9. Kia EV6
The Kia EV6 is a respectable middle-of-the-road option in terms of range and price, especially when you take into account its superior driving experience, comfort, and style.
At a base price of $42,195 and a maximum range of 310 miles per charge, the EV6 deserves a spot on this list.
The five trims on offer—Light RWD, Wind RWD, Wind AWD, GT-Line RWD, and GT-Line AWD—range in price from $42,195 to $57,115.
If you're just after a bargain for range per charge, the Light RWD trim is the way to go for the EV6.
However, it's worth considering the AWD (all-wheel drive) options on offer if you're looking for extra security in inclement weather and the versatility that's traditionally only been the domain of gas-powered vehicles.
10. Volkswagen ID.4 Pro
The ID.4 Pro from Volkswagen has an attractive range of 280 miles per charge, putting it just shy of the Tesla Model 3's 330-mile range. At a base price of $35,000, it's still a competitive range-to-price proposition.
There's the Base, Pro, and Pro S trim on offer here, and while the higher-price trims don't add any range, they do improve the car's performance and handling significantly.
The ID.4 Pro is another example of new-and-improved regenerative braking technology which helps it squeeze out those extra miles of range.
11. Chevy Bolt EUV
Easily confused with the Chevy Bolt Ev, this car is an attempt to put an EV on the market that satisfies the same needs as an SUV—the "U" in EUV stands for "utility."
At 247 miles per charge, the Bolt EUV has a good range-to-price value. It may not have the handling, acceleration, and driving experience of other cars on this list, but it's intended as a no-frills utility vehicle with a practical range, and it achieves that goal handily.
The trims on offer are the LT for $28,195 and the Premier at $32,695.
The trims have the same 247-mile range, but the Premier's added lane-keeping assist and blind spot monitoring aren't a bad buy, particularly because the car has seen a price cut since the previous model year and the features are well worth the extra $4000 dollars.
12. Ford F-150 Lightning
This ambitious design deserves a spot on this list for its bold attempt to make an EV truck with an ample towing and load capacity that still has a decent range.
At a base range of 230 miles for $41,769, the Lightning pulls off a good range-to-price value while venturing where nearly no EV has gone before.
A 230-mile range is a decent starting position for an EV that's got to have increased torque and performance. However, if you want towing capacity that competes with a gas-powered truck, you'll have to buy one of the higher-priced trims.
The trims on offer are the Pro, the XLT, the Lariat, the XLT Extended Range, the Lariat Extended Range, and the Platinum Extended range, which start at $41,769 and cap out at $92,669.
The cheapest Extended Range trim costs $74,169 and has a competitive range at 320 miles per full charge.
13. Volvo XC40 Recharge Twin
This compact SUV is a competitive range-to-price option if you're set on having the practicality of an SUV. It doesn't outshine its range rivals, but it does offer the storage capacity, performance, terrain versatility, and safety of an SUV.
At a base price of $52,795 and a range of 223 miles per full charge, the Volvo XC40 Recharge Twin has a good range-to-price value for an SUV crossover.
The available trims are the Twin, the Twin Plus, and the Twin Ultimate, which cost $52,795, $56,396, and $59,245 respectively.
The best bargain strictly in terms of range and price is the Twin trim, but the Twin Ultimate comes with some great amenities and features like semi-autonomous driving, adaptive cruise control, and automatic high-beams.
14. Audi Q4 e-tron Sportback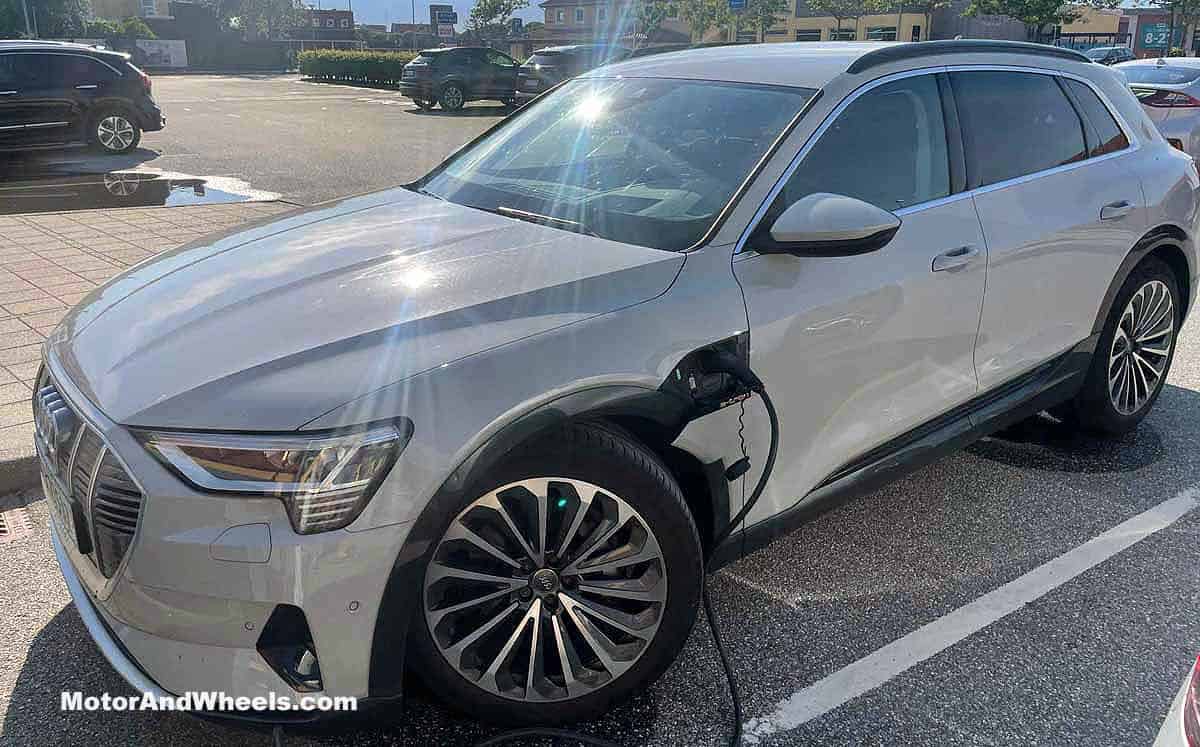 If you're in the market for a luxury SUV EV and you're looking for the best range-to-price value, the Audi Q4 e-tron Sportback is a true contender with its 241-mile range and $45,095.
Here are the best and worst Audi Q4 years.
Its big competitor in the luxury SUV EV domain is the Tesla Model Y, and while the Y outcompetes it in terms of range, the Sportback beats the Y far and away in terms of handling, amenities, acceleration, and driving experience.
The trims range in price from $45,095, which is a cheaper base price than the Sportback's gas-powered equivalent, to $61,495.
They include:
Premium,
Premium Plus,
Sportback Premium,
Sportback Premium Plus,
Prestige,
and the Sportback Prestige.
The best range-to-price value here is the Premium trim, since all trims offer the same range.
15. Ford Mustang Mach-E
This electric sports car is a lot like the F-150 Lightning EV truck in that it's an attempt to push EVs out of their relatively small corner of the car market and give them the appeal and features of gas-powered cars. And it delivers.
The Mustang Mach-E takes full advantage of electric cars' superior acceleration and quick response to deliver a driving experience that approximates that of its gas-powered namesake.
Its base price of $44,995 paired with its 305-mile range make the Mustang Mach-E a phenomenal range-to-price bargain too.
The trims on offer are the Select, Premium, California Route 1, GT, and GT Performance Edition. As usual, going up the trim ladder increases the price, amenities, and handling, and the most expensive trim caps out at $66,095.
You can choose between an all-wheel and rear-wheel drive version.
The rear-wheel version has the superior range, and it's possible to get a whopping 305 miles of range at a low price if you opt for the RWD version of one of the lower-tier trims.
Are Electric Cars Getting Cheaper?
We have seen several metals used for batteries in electric cars getting more expensive and harder to get recently. Such as nickel, lithium, and cobalt.
This means that electric cars probably won't get cheaper anytime soon.
Better range soon…
But electric cars are on a steep upward trend in terms of how much range you can buy for a reasonable price.
Every EV comes with a range of trim options with different prices and sometimes with different maximum range ratings.
We also have an article with a list of electric cars with range extenders that is worth checking out!
Sources
https://www.bloomberg.com/news/articles/2022-05-07/what-to-know-about-u-s-electric-car-tax-credits-and-rebates
https://www.cnbc.com/2022/03/19/cost-of-charging-ev-vs-gas-prices.html
afdc.energy.gov/vehicles/electric_maintenance.html
https://www.cars.com/articles/here-are-the-11-cheapest-electric-vehicles-you-can-buy-439849/
https://www.caranddriver.com/
Was this article helpful?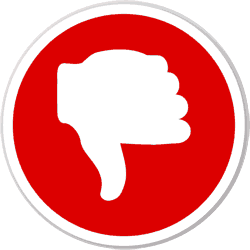 Did you find wrong information or was something missing?
We would love to hear your thoughts! (PS: We read ALL feedback)