Maybe you've noticed it before or maybe you haven't, but not all cars that drive past you have rear wipers.
This is not because they're old models, since manufacturers also built many modern cars that way.
In a short while, you'd understand why they're designed like that.
1. Hyundai Accent Sedan
Forget its spacious interior and impressive fuel economy for a while. The Hyundai Accent, like most sedans, doesn't have a rear wiper.
Needful to say, this doesn't affect the rear window glass as you'd hardly find any with dirt on it.
Of course, the major reason the manufacturer omits rear wipers is simple.
The Hyundai Accent sedan has a sloping rear. This means it's easier for air going over the windshield to sweep over the roof and down the rear window.
This means, unlike the hatchback version, the Accent sedan self-cleans its rear window. If you're considering buying a Hyundai Accent, know that it's the perfect car for you if you're on a budget.
Check also our list of most common problems with Hyundai Accent cars.
2. Kia Rio Sedan
The Kia Rio has more in common with the Hyundai Accent than just being an affordable and reliable small vehicle. Like the Accent, the Rio sedan has no rear wiper.
Edmunds.com rates the 2022 Kia Rio 9.0 out of 10 in fuel economy. Their tests even bore more impressive results than the EPA estimates. According to them, they could squeeze out as much as 43 miles per gallon from the Kia Rio.
The absence of a rear wiper contributes a lot to its remarkable fuel efficiency. Rear wipers require a motor to function. The rear wiper and motor being absent reduces the car's weight hence this reduces the drag when in motion.
To simplify this, heavier cars consume more fuel and the Rio's lightweight design affects its fuel economy positively.
3. Honda Civic Sedan
The Honda Civic is one of the most popular and trusted cars in America. It has been the best-selling retail passenger vehicle in the United States several times. That being said, the sedan version has no rear wiper.
With this information, be rest assured that even trusted models leave out rear wipers. So if the teen-favorite Civic has no rear wiper, then we can forgive other models.
You may know that parents love the Civic for their kids because it's safe. In fact, the International Institute for Highway Safety rated the 2022 Honda Civic as a top safety pick. It also got the highest rating in all crash safety tests.
Also, U.S. News gave the 2022 model a 10 out of 10 rating for safety. Its overall ratings cause it to secure the number 1 spot in compact cars on U.S. News.
"Why these safety ratings" you might ask. Well, because we can boldly say the absence of a rear wiper does not affect its safety.
Related: Honda Civic Problems: 4 Common Issues (Explained)
4. Kia K5
The Kia K5, except for the wagon, has no rear wiper. As you'd guess, this doesn't mean dirt obstructs your view when driving in reverse. All thanks to its unique shape that allows for excellent airflow.
In fact, despite the absence of a rear wiper, the K5 is a very safe vehicle to drive. U.S. News gives the 2022 Kia K5 a 9.4 out of 10.0 safety rating.
It can also deliver as much as 38 mpg on the highway. However, its city gas mileage can get as low as 27 mpg. We can't say how much the absence of a rear wiper motor helps the fuel economy, though.
It also comes with the standard modern tech features which are clear in its easy-to-use infotainment system. With such features, we could simply view its lack of a rear wiper as classy.
5. Toyota Avalon
The Toyota Avalon comes with the full package of features you'll expect from a flagship sedan
First, it is a full-size sedan with optimum space for adults and kids alike. Second, it keeps up with technology by having outstanding luxurious and convenience features.
Therefore, it's almost shocking that the Toyota Avalon has no rear wiper.
We can also say the absence of a rear wiper contributes to the Avalon's fuel economy. While it doesn't exactly have an unmatched fuel economy, it's worth the remark for a full-size sedan.
The 2022 Toyota Avalon, for example, has a fuel economy of 32 mpg on the highway. The 2021 model also has similar ratings. With rear wipers installed, the ratings could be worse.
So although the Toyota Avalon has seen its last year, it's a superb choice for car owners. Rear wiper or not.
Related: How Long Do Toyota Avalon Last? (Solved & Explained!)
6. BMW 7-Series
The BMW 7-series is one of the few cars on this list without a hatchback or wagon variant. This means all of its variants and all of its trims have no rear wiper.
It is one of the most luxurious cars in the market.
The series has been in production non-stop since 1977. Its omission of a rear wiper hasn't affected its sales negatively.
7. Audi A6
Except for the 5-door Avant, the Audi A6 doesn't come with a rear wiper.
Needful to say, like most cars on the list, this doesn't affect its safety ratings or sales figures. Its sales grew by a whopping 69% in 2019, while it has a 9.4/10 safety rating from U.S. News.
Its IIHS safety ratings are also at their peaks. The car's roof strength, rear crash protection and side impact tests are all rated "Good".
However, the rear crash protection results are the most important since we're considering rear wipers and a clear rear window.
8. Genesis G80
Perhaps the G80 has the most obvious reason for not having a rear wiper. Its rear window slope is so inclined, you'd think anything that lands on it falls downwards instantly. With such a design, its aerodynamics substitutes for a rear wiper.
Its executive design makes it odd to imagine a rear window wiper on it. It'll seem redundant on a car like the G80.
Thus, a rear wiper might just spoil the G80's look.
Also explore the best and worst Genesis G80 years.
9. Volvo S90
The S90 has only been in the market since 2016. It, like all other cars on the list, has no rear wiper.
The S90 comes with a standard infotainment system that includes an in-built navigation system and other handy features.
Of course, we expect all of this from a modern car.
Which is why we're convinced the absence of a rear wiper is neither an old school nor a modern trend. It is simply because of the peculiar designs that the S90 has, along with the other cars on the list.
Related: 5 Volvo Models With The Most Recalls (Check Before Buying!)
Additional Information
While these may seem like justifiable reasons sedans have no rear wipers, there's usually an argument on the topic.
Many people believe that sedans, despite their slopping rear, still need rear wipers. Some drivers often complain that the "self-cleaning" is only possible when they go at high speeds.
Thus, they shouldn't be expected to over-speed in their neighborhoods just because that's how the rear windows get clean.
For these reasons, many people accuse automakers of simply trying to cut costs and increase profits. Their argument doesn't seem baseless when you consider the cost of replacing a wiper motor.
RepairPal says "the average cost for windshield wiper motor replacement is between $297 and $352".
However, different states have different weathers. Thus, drivers in warmer states may not really feel the absence of a rear wiper compared to others.
Final Thoughts
Ultimately, it's up to you to make your decision. If you are uncomfortable with cars that don't have rear wipers, it's best you avoid them.
These are sedans or saloon cars. You'd be better off with an SUV or a station wagon.
Sources
Windshield Wiper Motor Replacement Cost | RepairPal Estimate
Was this article helpful?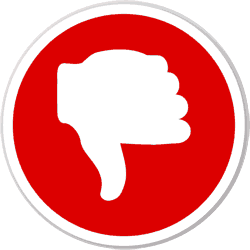 Did you find wrong information or was something missing?
We would love to hear your thoughts! (PS: We read ALL feedback)