With Apple CarPlay and Android Auto, a smartphone user can now synchronize their phone to the vehicle's infotainment system.
Modern infotainment systems now come with large touchscreens that are operated much like you would a normal smartphone. The contact list, call logs and music is directly accessible through the car's infotainment system.
Apple CarPlay is Apple's version of this system, whereas Android users can sync their phones using the Android Auto app. Both versions are available for download in their respective app stores.
It's no secret that technological advances move really fast, so in most cases, manufacturers can't keep up. Not all vehicle brands have Apple CarPlay or Android Auto installed in their models.
In this article, we are taking a look at some cars without Apple CarPlay. Meanwhile, also explore some SUVs with Apple CarPlay.
1. Toyota Land Cruiser
Most modern Toyotas now come with a range of infotainment system features that rival even the luxury big-brand models.
Toyotas are not only popular for their reliability but also for being up to date on modern technologies.
For the Land Cruiser, the Japanese automaker decided not to include a full suite of the infotainment system. The Land Cruiser uses Toyota's Entune Audio Plus system.
The Entune Audio Plus system from Toyota is developed by the Scout GPS Link navigation system. It offers seamless integration with your Android or Apple smartphone.
In the Land Cruiser, the infotainment system comes as a 9-inch touchscreen display with large on-screen buttons. The user has access to weather updates, audio controls, and a smartphone charging pad.
Unfortunately, this large unit does not have Apple CarPlay or Android Auto compatibility. The system is a bit slow to use even when using the navigation system.
A smartphone can still be connected to the system for push-to-talk functionality. This allows the user to receive and answer calls hands free.
Luxury and a comfortable ride are some of the Land Cruiser's best features. Without Apple CarPlay and Android Auto, long trips might be a bit boring for travelers.
Taking your eyes off the road to reach for your phone is very dangerous. This is why most car brands now have phone integration in their infotainment systems.
Answering a call with just one button on the steering wheel or touchscreen means drivers can focus on the road. This not only reduces motor accidents, but is also very convenient on long drives.
Toyota has now rolled out updated infotainment systems for most of their latest models. The Entune Audio Plus system from Toyota can now be updated to include Apple CarPlay.
This means that the touchscreen will be synchronized with the smartphone. Users can now browse apps, control music, take calls and use voice commands.
Related: 11 Toyota Land Cruiser Statistics You Should Know (Facts & Numbers)
2. Volkswagen Sharan
The VW Sharan is an MPV (Multi-Purpose Vehicle) from Volkswagen, and one of the best in its class. It has a quality feel to it and the driving experience is just as satisfying.
The Sharan offers passengers a wide range of in-car gadgets and sufficient space for long trips. With seating of up to seven people, it's important that the Sharan can entertain all those people.
Unfortunately, the VW Sharan does not include the automaker's best infotainment system. It features a 6.5-inch touchscreen display with a basic radio and USB connectivity.
This is a big surprise for Volkswagen because it is now known for having some of the best infotainment systems.
Sharan's sound system is crispy and clear and the Bluetooth connectivity is reliable. However, this does not make up for no CarPlay and Android Auto compatibility.
The basic functions in the Sharan include Mirror-Link and a rear-view camera.
You have an option to upgrade the infotainment system at an extra cost. CarPlay and Android Auto will then be available.
Owners who have models of the Sharan without the latest features choose to install third-party solutions. This often means aftermarket infotainment units that include a modern operating system and CarPlay compatibility.
3. Suzuki Ignis
The 2021 Suzuki Ignis is an urban SUV that promises stellar engine performance coupled with low running costs. The Ignis has the latest technologies in the rather spacious interior.
With rivals like the Volkswagen Up!, Toyota Aygo, and Hyundai i10, the Ignis comes equally packed with features.
It gets a sleek modern design, and it is small enough as a first car and reliable enough for city driving.
The Ignis has had its share of bad reviews and problem areas, but this affordable city car has a lot to offer. It offers great driving ergonomics but drivers also complained about the bumpy rides.
A modern suite of standard technology is available on the base trim, with twin charging ports and a Bluetooth audio system. The audio is clearly audible when listening to music and during calls through Bluetooth connectivity.
For the 2021 model, Suzuki chose a basic infotainment system that has limited features. With only Bluetooth connectivity, the system in the Ignis is not advanced enough for CarPlay.
In later models, Suzuki tried to up their game on the entertainment side. There's an Ignis model with a third-party Pioneer infotainment system which is rather laggy.
Mainstream Suzuki models now come with SmartPlay Infotainment Systems. Smartplay gets a cutting-edge 7-inch capacitive touchscreen that's reliable and responsive.
SmartPlay Infotainment System Features
Here are some of the features of the SmartPlay infotainment system:
Over the air updates
Apple CarPlay and Android Auto connectivity
Voice Assistant
Advanced information and controls
User interface with personalization
All latest models from Suzuki now include the SmartPlay infotainment system for seamless smartphone connectivity. The Suzuki Ignis is probably one of the last models without Apple CarPlay compatibility.
Related: 5 Suzuki Models With The Most Recalls (Check Before Buying)
4. Ford Ka+
Ford is one of the best-selling automakers in the world and one that takes technological advancements to heart. The Ford Ka+ is not to be confused with other Fords that preceded it.
The Ka+ is great for first-time car buyers because of its affordability and upgraded aesthetics. With rivals such as the Dacia Sandero, the Ka+ promises a wide range of features to compete.
It is powered by a 1.2-liter four-cylinder engine that delivers up to 84bhp. Unlike the sibling Ford Fiesta, the Ka+ does not include technologies such as EcoBoost or diesel options.
One of the best features of the Ford Ka+ is how spacious it feels for such a small car. Boot space goes up as high as 9.5 cubic feet, big enough for weekend shopping sprees and short trips.
The interior feels rather cheap, filled with hard plastic. Controls feel well-made and are systemically placed for convenience.
When it comes to entertainment, the Ford Ka+ gets the basic infotainment system without the bells and whistles.
SYNC is Ford's infotainment system that's controlled from the 4.2-inch display, available in other Fords.
The infotainment system does not have a touchscreen display and has a basic radio with Bluetooth connectivity. This particular infotainment system does not support Apple CarPlay and Android Auto.
Due to the plastic material in the car's interior, the sound system sounds muffled and not clear enough. Music and calls via Bluetooth connectivity are not as crisp as one would expect from Ford.
SYNC infotainment systems were discontinued by Ford, which moved on to better technologies.
The SYNC 3 is Ford's third version of this infotainment system and it offers a much better user experience than its predecessors.
With hands-free connectivity via most big brand smartphones, the system integrates effectively. Answering calls, getting directions, and playing music are voice-activated and the system supports both CarPlay and Android Auto.
Ford is now pushing out models with some of the most innovative infotainment systems in the industry. With an all updated SYNC 4 infotainment system, personalization and user convenience are innovative.
Related: 5 Reasons The Ford Ranger Is So Popular (Explained)
Was this article helpful?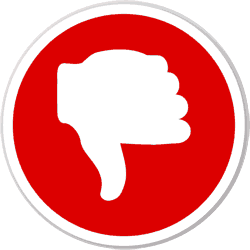 Did you find wrong information or was something missing?
We would love to hear your thoughts! (PS: We read ALL feedback)