Made legendary by movies such as The Italian Job and The Bourne Identity, the Mini Cooper has made its way into the history books.
It gets its demeanor from the compact size and its engineering spark from BMW.
The Mini Cooper has been redesigned over decades in the industry and is still one of the iconic British brands. The Mini is a small hatchback that's also available in the convertible.
The MINI got a big redesign for the 2007 model but still sticks to its iconic look. It is still one of the most recognizable vehicles on the road and now performs just as well.
For a small car like this, buyers might be worried about going on long trips in the Mini.
In this article, we look into how well a Mini performs on the highway and on long trips.
How Comfortable Is a Mini Cooper for Long-Distance Road Trips?
Other than deciding on the destination, the mode of transport is the second thing people worry about when going on road trips.
We have more here on how the Mini Cooper handles longer road trips.
With the Mini, this is a valid question to ask because it is a relatively small car. The redesigned modern Cooper is now surprisingly very comfortable for long highway drives.
With a two-door setup, the Cooper's stylish interior and the iconic centered speedometer give the interior a fresh look.
When on long-distance trips, cars can often get really hot inside. This is not an issue for the Mini Cooper, which has an effective air-conditioning with micron.
Micron is a type of air filtering system that filters dust particles in the air. In a car, this ensures the air flowing in is clean of unwanted dust particles and fumes, giving out clean cool air.
Interior styling and comfort are enhanced by leatherette upholstery, with cloth available as an option.
The central area has controls for settings and the infotainment system, which supports Apple CarPlay but not Android Auto.
An 8.8-inch touch screen is large and responsive enough for navigation vehicle controls.
The system has:
Bluetooth,
HD radio,
satellite radio,
USB ports,
and wireless device charging.
Long road trips are even more fun with music playing in the car.
The Cooper now features a 12-speaker Harman Kardon stereo system for clear music listening and crisp voice calls.
The 4-door Hardtop Mini Cooper can seat up to five people with three passengers in the back.
However, for long highway road trips, it might be a bit uncomfortable for three people in the back.
Over a long-distance trip, tall adults might be slightly uncomfortable in the rear seats.
For small children, the rear seat gives ample space.
On the other hand, the front seats have plenty of space for a relaxed sitting position. However, the Mini has been given low scores for the child seat latch system for ease of use.
We have an overview here of the best and worst years for the Mini Cooper.
How Much Stuff Can You Pack in the Trunk of a Mini Cooper?
Long road trips often come with a lot of suitcases that need to fit in the car. The trunk should have plenty of space without the need to fold over the rear seats.
The Mini Cooper has variants such as the convertible and hardtop, with the convertible being the smallest in the range.
It's a subcompact car but is rather small in terms of trunk space compared to competitors.
In the convertible, you'd get about 5.7 cubic-foot of trunk space, which expands when the rear seats are folded down. The hardtop 2022 Mini Cooper's trunk space is about 8.7 cubic feet for the 2-door and about 13.1 cubic feet for the 4-door.
For the largest in the range, the Hardtop 4-door Mini Cooper, folding down the rear seat, can get you up to 40.7 cubic feet. This is about 30% percent larger than the previous model but still smaller than other subcompacts in the segment.
This trunk space should be enough for two medium-sized suitcases, but anything bigger will need more trunk space. However, a trunk of this size is more suited for weekend shopping than long trips.
Thanks to BMW's redesign, the MINI is longer between the rear and front wheels, resulting in a larger trunk space.
Compared to competitors such as the VW Polo and Ford Fiesta, the MINI's trunk is much smaller.
The rear seats fold over to split to a 60:40 ratio and create a flat surface for packing even more luggage.
Does It Have GPS Built-In?
Setting a destination and knowing how long your road trip will take is one of the aspects of planning a trip. An in-built GPS system comes in very handy when going on long journeys.
BMW is now the parent company of Mini, and as a result, the technological advantages spill over to the Mini Cooper.
The MINI's 8.8-inch screen and infotainment system are responsive and easy to control.
MINI Connected is the company's interface for controlling the infotainment and built-in navigation system.
It works together with the touchscreen to help you plan journeys and get you where you need to go.
The navigation system is easy to use and can also be connected to your smartphone, enabling you to plan trips.
Using the intuitive send-to-car facility, you can map out your journey from the comfort of your home.
Electronic navigation maps in the MINI are always up to date and you can even plan stops along your journey.
This will result in reduced fuel costs and inform you exactly how long your trip will take.
The ability to use third-party apps is always welcomed and the MINI's Apple CarPlay compatibility will make this a simple process. This will enable you to use your favorite third-party navigation apps.
How Reliable Is a Mini Cooper Over Long Distances?
According to the Bureau of Transportation Statistics, an average long-distance road trip is about 194 miles. This is with about 97% of personal vehicles being used for long-distance personal trips.
With this in mind, safety and reliability are important for people who are going on long trips.
In most cases, people worry about how reliable their cars are when on the road for long periods of travel.
The 2022 Mini Cooper scored a reliability score of 83 out of 100, which is considered great. Practicality and a stiffer ride are one of the factors that affect reliability scores for the MINI.
Most Mini Coopers tend to be quite reliable for long-distance drives.
But vehicles always have common problems that keep turning up every now and again.
Common Problems With Mini Coopers
Here are some common problems of Mini Coopers:
Power steering pump failure
Water pump leak
Clutch failure
Loose timing chain
Automatic transmission failure
With good maintenance and proper care, most Mini Coopers can last about 200,000 and 250,000 miles on average.
When you drive the MINI conservatively and maintain it well, it should be good to go on a long trip every now and again.
The MINI company has done a lot to improve reliability scores for the MINI. So much so that J.D. Power awarded the MINI the most dependable car in 2019.
It was also awarded top of the list for vehicle dependability for the 2020 model.
Most of the common problems for the MINI have been addressed by the redesign back in 2014. Later models are now enjoying better reliability.
The average annual repair cost for the MINI is just over $850 and this gets higher considering labor and parts. Models from 2016 seem to be showing a lot fewer issues than models from previous years.
Related: Are Kia Souls Good For Road Trips? (Explained)
How Long Can a Mini Cooper Drive With No Breaks?
Mini Coopers have a wide range of fuel tank sizes. Most come with fuel tanks that can take about 12-13 gallons of fuel.
With a full tank, you can drive the Cooper for about 435 miles without a break.
The Countryman comes with a 16.1 gallon fuel tank, so it should probably take you even farther.
However, we doubt you can drive that far without needing to take a break or two to rest, relieve yourself, and get refreshments.
Does a Mini Cooper Offer Good Mileage Over Long Distances?
Most owners of the MINI report excellent mileage over long distances. But does the MINI stack up well against competitors?
Good mileage in a vehicle can mean that driving the car over long distances saves fuel.
In most cases, the MINI is comfortable enough for drives lasting two or more hours. This is due to the excellent front seat that makes driving this car such a pleasure.
Petrol engines have been known to be less economical than diesel. This is also evident with the MINI.
With the 1.5-liter petrol engine in the MINI One, it's claimed to be achieving up to 39 mpg for highway driving. This mileage is with both the manual and automatic transmission.
A bigger 2.0-liter turbocharged engine gets about 27 mpg and 37 mpg for city and highway driving, respectively, using a manual gearbox.
Some more expensive options make the MINI less economical. Options like a sunroof, bigger wheels, and even driver habits can increase running costs.
Compared to competitors, the MINI is less fuel-efficient when you consider it uses premium gas.
Related: Are Toyota Prius Good For Road Trips? (Explained)
How Many People Can Comfortably Go on Road a Trip in a Mini Cooper?
5 people can be squeezed into the Hardtop 4-door, which seems to be the biggest in the range. However, if there are 3 adults in the rear seats, they might be uncomfortable for long road trips.
With that in mind, it's best to say that the MINI can comfortably fit 4 people. Two tall adults can comfortably sit in the rear seats if there isn't any luggage too.
Another issue with tall adults is the knee space between the front and rear seats. A tall adult might find it harder to move their knees around in the MINI, leading to cramps.
The MINI also has a somewhat complicated latch system for child seats. These child seat anchors are difficult to operate. The Insurance Institute for Highway Safety gave this latch system a score of "marginal".
With a child seat in the car, the MINI can comfortably seat only one adult in the rear seat for long drives.
Related: Are Sedans Good For Road Trips? (Explained)
What Are The Best Cars for Long Road Trips?
Here are some of the best cars for long road trips:
Honda Accord
Kia Soul
Nissan Altima
Renault Duster
Mini Cooper S
Ford Fiesta
Was this article helpful?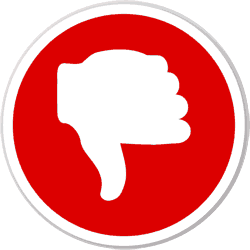 Did you find wrong information or was something missing?
We would love to hear your thoughts! (PS: We read ALL feedback)