Blind spots are one of the most important things you'll learn about when you start driving lessons. They are areas in your vehicle's environment that you cannot see properly.
Too many blind spots and you could get yourself in an accident. This is why cars with low blind spots are highly preferable. For SUV lovers, there are also SUVs with the fewest blind spots.
In this new article, we review cars with high visibility and the least blind spots. Let's go!
1. Subaru Legacy
The Subaru Legacy is a four-door sedan that competes against cars like the Honda Accord, Mazda Mazda6, and Toyota Camry.
Like its rivals, the Subaru has several practical elements that make it a good option for families.
Safety is particularly a strong suit for the Legacy models. The Legacy Sedan comes with standard all-wheel-drive, which is rare among sedans.
That said, there are problems with any car and we have a list of common problems with the Subaru Legacy.
It also has stellar visibility and an astonishingly low number of blind spots. In fact, Consumer Reports ranks the Legacy as one of the best in terms of visibility.
Thin pillars, enormous windows, and an upright greenhouse are some reasons visibility is great on the Subaru Legacy.
In addition, drivers can use the rear-view camera to monitor objects and reduce blind spots while driving.
Lest we forget, the Legacy has a high-tech blind spot monitor that decreases blind spots you have to deal with. The front-crash prevention technology also increases visibility.
2. Honda Fit
The Honda Fit might be a subcompact, but it packs a lot of value for a car its size. For us, the Fit is a compelling option in the subcompact segment, thanks to its frugal fuel consumption and good storage capacity.
If you are a stickler for safe vehicles, we recommend buying the Honda Fit. From what we know, the Fit makes it easy for drivers to see what's going on in their environment. It is even rated by Consumer Reports as the subcompact model with best visibility.
A feature that reduces the Fit's blind spots is the standard multi-angle rearview camera. This device has normal, wide, and top-down modes, and helps you see object in your vehicle's surroundings.
Previously, Fits used to have Honda LaneWatch, which helps eliminate blind spots while changing lanes. While the feature is absent on newer models, Fits still come with a blind spot monitor that offers the same benefits.
Make sure to read our article about driving the Honda Fit in snow and winter.
3. Nissan Altima
Sedans are usually mixed when it comes to outward visibility. Luckily, the Altima is one of those sedans with great visibility.
The Nissan Altima has many things going for it in terms of situational awareness.
For example, the car's well-thought-out design makes it easy for drivers to see outside. Plus, it has a rear-quarter window that's super-helpful for promoting visibility.
In addition, the Altima has a blind spot monitor that alerts you of vehicles in your vicinity.
The rear-view camera and rear cross-traffic alert are other technologies on the Altima that enhance driver visibility.
We should also add that the Altima has a forward-collision prevention feature that sees two (instead of one) vehicles ahead.
If that second vehicle, which is obscured from view, slows down unexpectedly, the sensors will warn you in time to forestall a collision.
4. Toyota Camry
The Toyota Camry is already considered one of the best sedans ever made. That it has such a low number of blind spots is only proof that it performs well on all fronts.
As far as we can tell, the Camry is one of the best sedans for visibility. This is partly due to the model's tall side windows and large front windshield.
The Camry also has several technologies designed to decrease blind spots and bolster on-road visibility. Among these is an advanced blind spot monitoring system and a lane departure alert feature.
Camry buyers will also benefit from the available front-crash prevention technology. This piece of tech will help you avoid colliding with vehicles, even if they are in your blind spot.
Please also read our article about how long Toyota Camry lasts.
5. Audi A4
Not many luxury sedans are best for visibility and although the Audi A4 has problems, it manages to offer acceptable visibility for drivers through its combination of advanced design and technology.
It's easy to see outside from the Audi A4 because the model has a relatively tall greenhouse and thin pillars.
Thin pillars are becoming rarer on cars as automakers race to improve aerodynamics and styling.
Asides from having a visibility-enhancing design, the A4 sedan has tech that promotes better all-round visibility. For example, it comes with rear cross-traffic alert and an advanced forward-collision prevention feature.
With these features, you won't have that many blind spots to deal with when driving.
6. Subaru Outback
Subaru is an automaker big on driver safety, so we are not surprised it has two vehicles on this list.
Like the Legacy sedan, the Outback does a good job of granting drivers better rearward and forward visibility.
The Outback models have the available Subaru EyeSight technology that enhances driving safety. More importantly, the EyeSight helps reduce blind spots by providing better all-round visibility.
7. Honda Pilot
The Honda Pilot is a crossover that many families love for its many practical elements. For instance, it has a practical three-row seating and a big cargo hold for hauling stuff.
Thanks to its tall windows and slim pillars, the Honda Pilot is a great performer in the driver visibility category. Those innovative design elements make it easy for you to see what's in front of you, behind you, and in your blind spots.
The Pilot also has available features, like blind spot monitoring technology, that helps improve visibility.
Also check out article about where the Honda Pilot is made.
8. Subaru Forester
If you want an SUV that has little to zero blind spots, you'd be hard pressed to find a better option than the Subaru Forester. The Forester's visibility is so good that Consumer Reports named it the best compact SUV for visibility.
If you take time to evaluate the Forester's design, you'll see why it has so few blind spots. The Subaru Forester has none of the thick pillars found on newer SUVs. It also has a low beltline and massive windows.
In its review, Cars.com mentioned that windshield pillars are pulled back toward the driver and the side mirrors are down to the door level. This, it says, gives the Subaru Forester little blind spots compared to rival SUVs.
If you're looking for more in-depth information about SUVs and blindspots, we have an article dedicated to this. Check out our article, do SUVs have more blind spots?
9. Infiniti QX80
The Infiniti QX80 is a great SUV that offers plenty of value for money. Among other things, the QX80 models also offer lush seating and rugged performance.
Safety on the Infiniti QX80 is paramount, with the model sporting various safety-focused technologies. To further promote safety, the Infiniti QX80 has minimal blind spots.
From our research, the QX80's low blind spots are down to a generous ride height and tall windows. Optional blind spot monitoring technology can improve all-round visibility while driving.
Was this article helpful?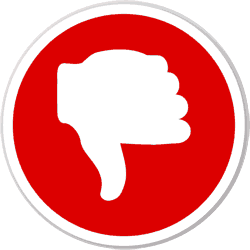 Did you find wrong information or was something missing?
We would love to hear your thoughts! (PS: We read ALL feedback)