The GMC Yukon has been a popular luxury SUV choice since its introduction in the early 1990s.
Known for its off-road capabilities and impressive towing capacity, some model years have outshined others in terms of quality and performance.
However, not every Yukon model year has been a hit with enthusiasts.
This article aims to provide insight on the top-performing and least-favorable Yukon models throughout its production history.
A variety of factors can contribute to a model's strengths and weaknesses, and consumers should be aware of the best and worst GMC Yukon years to make an informed decision when purchasing.
The Best Year for GMC Yukon
Obviously, the brand new models are great! But if you're looking for some of the best models within the last decade, or so, here are some good options.
2016 GMC Yukon: Building on the previous year's improvements, the 2016 model year saw the introduction of Apple CarPlay, lane keep assist, and an enhanced GMC IntelliLink system.
2018 GMC Yukon: This model year added a 10-speed automatic transmission to the Denali trim, providing smoother and more efficient performance.
2020 GMC Yukon: This model year continued the fourth-generation features, offering a good balance between luxury, performance, and size.
Older Yukon Models Years (Good Ones!)
GMC Yukons are made to last a long time, and have become very popular.
When it comes to GMC Yukon models, there are a few other standout years that deserve recognition. These years are known for their reliability, power, and unique features.
The 2001 GMC Yukon XL stands out as one of the best GMC Yukon models of all time.
This SUV is powered by a 6.0-liter V8 engine, which boasts an impressive towing capacity of up to 8,400 pounds. With four-wheel drive as standard, drivers benefit from increased stability and off-road capabilities.
The 2001 Yukon XL also features a third-row seat, accommodating larger families or groups with ease. Additionally, it comes equipped with a tachometer, providing drivers valuable information about the vehicle's performance at a glance.
More recent offerings, such as the 2021 GMC Yukon, have also received notable improvements. The length of this model has increased by 6.1 inches, providing even more space and comfort for passengers. The wheelbase has also been stretched by 4.9 inches, allowing for a more comfortable and stable ride. However, the 2001 model maintains the spotlight due to its balance of powerful performance, off-road capabilities, and passenger accommodations.
1998 GMC Yukon XL
This year's Yukon XL tops the list for reliable models, boasting high user ratings and providing trouble-free driving experiences. They appreciated the comfortable dimensions, as well as the potent Vortec V8 engine that can tow up to 8,400 pounds.
These models have proven to be reliable and powerful vehicles for their respective years. Owners have found them to be well-suited for towing, carrying cargo, and offering comfort during long drives.
While the GMC brand has had just a few disappointing years, these standout models are worth considering for anyone interested in purchasing a GMC Yukon or Savana.
The Worst Year for GMC Yukon
The 2015 GMC Yukon stands out as a particularly troublesome model year.
Some owners have reported various issues with this specific year. While it's crucial to note that not every 2015 GMC Yukon has problems, the frequency of these complaints warrants caution for potential buyers.
One recurring issue with the 2015 GMC Yukon is the interior accessories.
To fix the interior accessories problems is around $800, and they tend to arise at around 70,000 miles. This model year, along with 2007 and 2003, had the worst performance in this category.
In addition to interior accessories problems, the 2015 Yukon experienced several other minor setbacks. Be that as it may, it's essential to remember that not all vehicles from any given year will have the same complications. Prospective buyers should always research and inspect their chosen car thoroughly before making a decision.
However, it's also worth mentioning the positives of the 2015 Yukon. While some owners encountered issues, others enjoyed features like its powerful engine, comfortable and roomy cabin, and excellent towing capacity. As with any situation, it's essential to weigh the pros and cons when purchasing a used vehicle.
Other Bad Years
2007 GMC Yukon: This year had its fair share of issues, particularly with the interior accessories, similar to those seen in the 2015 model year. While it might not have been the brand's best work, this year still managed to showcase GMC's commitment to providing reliable vehicles.
2003 GMC Yukon: Again, the 2003 model year had some issues with interior accessories, making it one of the less impressive years for the vehicle line. However, this should not distract from the overall performance and quality found in other GMC Yukon models.
It's crucial to remember that despite these issues, GMC has produced many successful and reliable Yukon models. The company has continually worked to improve its products, resulting in an increasingly better driving experience for loyal GMC customers.
So, while these specific years may have had some drawbacks, the overall Yukon lineup remains solid and dependable.
Common Problems to Look for in a Used GMC Yukon
The GMC Yukon is a highly versatile vehicle, used by many for family travels, heavy-duty road trips, and everyday activities. However, across its various model years, some models are more reliable than others.
Make sure to check our full list of problems across the GMC Yukon models.
When looking to buy a used GMC Yukon, keep an eye out for these common issues:
2015 GMC Yukon – Taillight Issues: Many owners have reported problems with the taillights on the 2015 GMC Yukon. This model's taillight assembly tends to malfunction, requiring replacement around 60,000 miles at an average repair cost of $760.
Transmission Problems: Some GMC Yukon models have transmission issues. These can range from slipping gears to complete transmission failure. Make sure to inspect the transmission and consider test-driving the vehicle to ensure smooth shifting to avoid costly repairs down the line.
Electrical Issues: In various model years, the Yukon has experienced electrical problems, including faulty door locks, power window malfunctions, and dashboard electrical issues. Inspect the vehicle thoroughly and test all electrical components to avoid future headaches and repair costs.
Air Conditioning Issues: A comfortable cabin is essential for those long drives or hot summer days. Some Yukon models have had occasional issues with their air conditioning systems. Check for proper AC functioning before purchasing, as repair costs can be steep.
Suspension Issues: Some GMC Yukon owners have encountered suspension problems, such as loud noises, uneven tire wear, and a rough ride. A thorough inspection of the suspension system and test drive should reveal any potential issues in this area.
When shopping for a used GMC Yukon, paying attention to these common problems can help ensure you choose a vehicle that will serve you well for years to come.
Why GMC Yukons are So Popular Through the Years
Here are some of the standout features:
Powerful Performance: GMC Yukon comes equipped with strong engine options, including a V8 and an efficient turbodiesel, delivering powerful performance and robust towing capacities.
Roomy Interior: Yukon is renowned for its spacious interior. The three-row seating arrangement can accommodate up to nine passengers, depending on the configuration, making it an ideal vehicle for large families or groups. Here's a good list of 3rd-row Hybrid SUVs people love.
High-Quality Interior: The interior of the Yukon is made with high-quality materials, adding a touch of luxury. Higher trims like the Denali offer near-luxury levels of refinement.
Cargo Space: The Yukon boasts impressive cargo capacity, especially in the extended-wheelbase Yukon XL variant. This makes it a good option for road trips, camping, or simply hauling a lot of gear.
Advanced Technology: Yukon models come with advanced infotainment systems, including Apple CarPlay and Android Auto compatibility. Higher trims offer features such as a Wi-Fi hotspot, premium sound systems, and more.
Safety Features: Yukon is equipped with a range of safety features, such as a rearview camera, front and rear park assist, Teen Driver system, and more. Advanced safety features like forward collision warning, automatic emergency braking, and lane keep assist are also available.
Comfortable Ride: Despite its large size, the Yukon offers a smooth and comfortable ride. The latest models, which feature an independent rear suspension, provide even better handling and comfort.
Off-Road Capability: With the right setup, such as the AT4 trim, the Yukon can be a capable off-road vehicle, making it versatile for both city and adventure driving.
Go Back: Best & Worst data on all Chevrolet models.
Was this article helpful?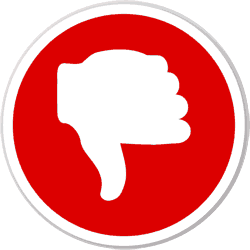 Did you find wrong information or was something missing?
We would love to hear your thoughts! (PS: We read ALL feedback)
ⓘ  The information in this article is based on data from National Highway Traffic Safety Administration (NHTSA) recall reports, consumer complaints submitted to the NHTSA, reliability ratings from J.D. Power, auto review and rating sites such as Edmunds, specialist forums, etc. We analyzed this data to provide insights into the best and worst years for these vehicle models.
---