The GMC Terrain, a popular compact SUV, has seen various changes throughout its production years.
As with any vehicle, some model years stand out as excellent choices, while others may be best avoided.
In this article, we will explore the best and worst years for the GMC Terrain, providing insights into crucial factors such as performance, reliability, and value.
The Best Year for GMC Terrain
The GMC Terrain has been a reliable and stylish compact SUV option for many consumers since its introduction in 2010. While some model years have had their share of issues, such as the 2011 Terrain, recent models have made significant improvements.
One standout year for the GMC Terrain is the 2020 model.
The 2020 GMC Terrain offers an impressive array of standard features, including a 7-inch touch screen, a Wi-Fi hot spot, and a high-quality infotainment system.
These amenities greatly enhance the driving experience and keep passengers entertained and connected on the road.
Another appealing aspect of the 2020 Terrain is its striking design. With sleek lines and an athletic stance, this model year is both attractive and functional, making it an excellent choice for those seeking a vehicle that's easy on the eyes and also practical for everyday use.
Fuel economy is another factor to consider when purchasing a vehicle, and the 2020 Terrain delivers on that front. With its efficient engine options, the SUV provides good gas mileage, making it a cost-effective choice for those who want a balance of performance and efficiency.
Additionally, the 2020 GMC Terrain comes with a comprehensive warranty that includes free maintenance for two years or 24,000 miles. This added bonus gives buyers peace of mind about their investment and helps reduce the overall cost of ownership.
In summary, the 2020 model year is an excellent choice for those in the market for a GMC Terrain. With its array of standard features, eye-catching design, efficient engine options, and comprehensive warranty, it's no wonder this model year has earned a reputation as one of the best in the Terrain's history.
The 2nd Best Year
2018 marked a significant year for the GMC Terrain, as it ushered in the 2nd generation of the model, boasting new features and improvements over the previous generation. This model year stands out for several reasons, making it one of the best years for the compact SUV.
First and foremost, the 2018 GMC Terrain came with a fresh and sleek design, deviating from the boxy look of its predecessors. The new design gave the model a sportier and more modern feel, appealing to a wider range of consumers looking for a compact SUV with style.
Under the hood, the 2018 Terrain offered three engine options:
a 1.5L turbocharged 4-cylinder,
a 2.0L turbocharged 4-cylinder,
and a 1.6L turbo-diesel engine.
This variety allowed buyers to choose the power and fuel efficiency that best suited their needs. Notably, the 2.0L turbocharged engine provided a significant boost in performance compared to the 1.5L turbo, with 252 horsepower and 260 lb-ft of torque.
The 2018 Terrain also boasted some noteworthy tech features, like the GMC's IntelliLink infotainment system with a 7-inch touchscreen, Apple CarPlay, and Android Auto.
Higher trims offered an 8-inch touchscreen, built-in navigation, and a rear-seat entertainment system, ensuring a comfortable and connected experience for all passengers.
Safety was another strong point for the 2018 GMC Terrain, as it received a 5-star rating from the National Highway Traffic Safety Administration (NHTSA).
This model year offered various advanced driver assistance features, such as forward-collision warning, lane-keep assist, and blind-spot monitoring, giving drivers peace of mind on the road.
Taking all these factors into consideration, the 2018 GMC Terrain stands out as the second-best year for the model, showcasing a sleek design, diverse engine options, modern tech features, and excellent safety ratings that make it an attractive option in the compact SUV market.
Other Good Years
While the GMC Terrain has faced issues in its early years, there have been several notable good years for the model. These standout years delivered reliability and enjoyable driving experiences to owners.
Here's a list of additional good years for the GMC Terrain:
2013: The 2013 model exhibited noticeable improvements over its previous year's performances. Issues from the past, such as excessive oil consumption and transmission failure, were less common in this model year. This year showcased the manufacturer's effort to revamp and improve the Terrain, making it a good pick for those seeking reliability in this crossover.
2014: Building upon the foundation laid by the 2013 model, the 2014 GMC Terrain further enhanced the vehicle's performance and reliability. This model year continued to address and overcome the issues faced in earlier years, resulting in better user satisfaction and lower complaint counts.
2016: Another solid year for the Terrain, the 2016 model made strides in areas like fuel economy and safety features. This model year marked a new era for the Terrain as it transitioned into a more environmentally friendly, fuel-efficient vehicle. Additionally, the 2016 Terrain came with more advanced safety features, offering drivers peace of mind on the road.
2019: Launched after a complete redesign, the 2019 GMC Terrain boasted a more premium feel, improved handling, and a modern suite of technology features. The vehicle's performance received praise for its smooth ride and driver-friendly nature, and the infotainment system offered an intuitive user experience, elevating the overall driving experience.
These are just some examples of the GMC Terrain's commendable offerings throughout the years.
Though the vehicle faced challenges in its early years, GMC has consistently made strides to improve overall quality, ensuring subsequent models deliver better driving experiences for their customers.
The Worst Year for GMC Terrain
The 2011 GMC Terrain stands out as a less-than-ideal model year for this popular SUV.
As the second model year of the Terrain, it experienced growing pains and received the highest number of complaints according to Car Complaints.
One notable issue with the 2011 Terrain was its engine trouble.
Owners reported excessive oil consumption and engine stalling as some of the problems they faced. While these concerns can be alarming, it's important to remember that not all 2011 Terrains were affected, and many have been running smoothly without incident.
Additionally, the 2011 model faced some minor issues with the electronic systems and interior accessories.
Some drivers encountered problems with the infotainment system's responsiveness and functionality. However, these issues were not widespread and were manageable for most owners who encountered them.
Though the 2011 Terrain didn't have the most stellar reputation, it's crucial to keep in mind that every vehicle can experience occasional hiccups and this particular model year doesn't represent the overall quality of the GMC Terrain series.
Later model years saw improvements and enhancements that have contributed to the Terrain's well-regarded status in the SUV market.
Other Bad Years
2012 GMC Terrain: Although not as problematic as the 2010 and 2011 models, the 2012 GMC Terrain had its share of issues, with 82 complaints submitted. Its most significant problems were associated with excessive oil consumption, which could lead to engine failure in severe cases.
2013 GMC Terrain: The 2013 model saw a slight decrease in complaints, with 60 reported. Transmission issues were the primary concern, along with other minor engine problems. However, the frequency of severe issues was relatively low compared to other years.
2014 GMC Terrain: With 64 complaints, the 2014 Terrain had similar problems to the 2013 model, but engine troubles seemed to be even more prominent. The excessive oil consumption problem persisted, along with a few cases of engine stalling.
2015 GMC Terrain: The 2015 model recorded 57 complaints, and although the count is lower than previous years, transmission issues continued to plague the vehicle. Similar to the 2015 models of the Yukon and Sierra 1500, this year saw reliability ratings slip for the brand.
It's worth noting that despite these issues, many GMC Terrain owners are satisfied with their vehicles, and the problems mentioned do not affect all units from these years.
Remember that every car brand has its share of bad years and issues, and GMC is no exception.
Common Problems to Look for in a GMC Terrain
The GMC Terrain has faced problems issues in several model years, with some problems being more significant than others. For instance, the 2011 GMC Terrain has a major issue with excessive oil consumption.
This fault can wreak havoc on the engine if it's not dealt with promptly and may cost around $1,000 to fix when the vehicle reaches an average mileage of 88,000 miles.
Another prevalent issue with both the 2010 and 2011 GMC Terrain models is transmission failure. This problem requires immediate attention, as it can lead to further damage and costly repairs. The average cost of transmission-related fixes can vary widely, but be prepared for a hefty bill if you encounter this issue.
While driving, some owners have experienced engine shutdowns.
This problem can be both inconvenient and dangerous, as it often occurs suddenly and without warning. The average cost to fix this issue is roughly $1,900, with engine shutdowns typically occurring around 82,000 miles. This issue is especially prevalent in the 2010 and 2011 models.
To help you make the most informed decision when considering a used GMC Terrain, here are the most common issues to look out for:
2010 GMC Terrain: transmission failure and excessive oil consumption
2011 GMC Terrain: excessive oil consumption, engine shutdowns, and transmission issues
Remember to inspect the vehicle thoroughly before making a purchase, and consider getting a pre-purchase inspection to ensure you're aware of any potential problems.
A little research and preparation can save you a lot of headache and money in the long run when buying a used GMC Terrain.
Go Back: Best & Worst data on all Chevrolet models.
Was this article helpful?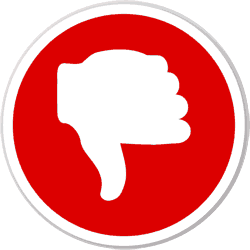 Did you find wrong information or was something missing?
We would love to hear your thoughts! (PS: We read ALL feedback)
ⓘ  The information in this article is based on data from National Highway Traffic Safety Administration (NHTSA) recall reports, consumer complaints submitted to the NHTSA, reliability ratings from J.D. Power, auto review and rating sites such as Edmunds, specialist forums, etc. We analyzed this data to provide insights into the best and worst years for these vehicle models.
---