The GMC Terrain is an SUV manufactured by General Motors, and has been on the market since 2010. When it arrived, it was considered a similar option to many smaller SUVs, but still considered an average SUV by most consumer reviews, both formal and anecdotal.
We have previously talked about how long the GMC Terrain lasts and now we'll turn to the problems with these models.
Since then, while the Terrain has experienced some problems, its reliability has held up to the test.
Here's what the people are saying about problems with the GMC Terrain.
Excessive Oil Consumption
One thing the Terrain is known for is a problem with excessive oil consumption.
It does not appear to matter what model year the vehicle came out, and a class-action lawsuit was filed in 2019 on the matter.
2011 was a bad year for the Terrain's complaints on excessive oil consumption, and that would have been one year after the make hit the market.
The 2019 lawsuit alleged that the cause was faulty piston rings, a cause that General Motors has already corrected, though GM has not connected that issue to the oil consumption issue.
The complaint in the lawsuit and by some owners online is that the engine will burn one quart of oil for approximately every one thousand miles or 1.6 thousand kilometers.
The outcome was General Motors paying out for the cost of repairs, with most owners keeping ownership of their Terrain.
GM also has offered to extend the warranty from 100,000 miles to 120,000 miles for many owners, an exception that may not apply to some owners experiencing this issue.
Engine replacement was the most common resolution for this issue, for consumers both in and out of the lawsuit, with repair costs averaging at just over $5,000 per repair.
It's important to check the best and worst years for GMC Terrain before making a purchase.
StabiliTrak Electrical System Not So Stable
There are repeated complaints of the StabiliTrak electrical system in the Terrain.
The issues are said to impact both the overall performance of the vehicle and the control of the vehicle.
Some drivers report that the vehicle stalls out. Other drivers say that the problem causes stalling, jerking, erratic engine performance, and a total vehicle shut down.
It does not seem to matter what model year of the Terrain, as this has been a commonly cited issue.
It starts off as what appears to be an electrical issue like the dashboard goes dark, and then it turns out to be an engine issue or an issue connected to the StabiliTrak.
The lower the mileage, the more this problem occurs.
Owners are experiencing multiple repair costs before the electrical problem is pinpointed to StabiliTrak and ultimately resolved.
A key reason that electrical issues point to StabiliTrak is that the StabiliTrak light can come up on the dashboard when there are issues.
The car fails to start again after this, with mechanics having a difficult time finding the electrical problem.
Instead, other issues such as failed oil compression without an oil light are being noticed. Engine failures on a low mileage vehicle are the result, and for many owners, attributed to GMC's fault.
What many owners are seeing here is that when the StabiliTrak light comes up, the power of the engine suffers.
The Failed Transmission
Nobody wants a failed transmission on their vehicle.
Some Terrain owners reported that transmissions were going well before the 100,000-mile mark.
Issues with the car were seen as jerking or difficulty hard-shifting.
Lags, stalls, and other symptoms are signs of a problem with the Terrain.
In some reports, consumers had to get their entire transmission replaced for thousands of dollars between parts and labor. Some consumers have even reported having their transmissions replaced more than once.
The cause of this is frequently connected to a faulty torque converter. You might also see some excessive exhaust smoke or idling that is rougher than usual.
For these symptoms, you're going to be looking at a clogged catalytic converter, faulty oxygen sensors, bad spark plugs, or dirty fuel injectors.
You may also hear a clunk when the vehicle is shifting between gears, specifically when shifting into reverse.
Engine Stalls or Shuts Down While Driving
An engine stalling is reported by consumers of the GMC Terrain. For some, the stalling was repaired by a replaced engine, for others, by changing the camshaft actuator.
The fuel pump has also been known to interfere with GMC Terrain engine performance as well.
Engine cooling appears to be a key issue connected with the stalling of the engine for the GMC Terrain.
Cooling keeps coming up as a common problem. When the engine fails to cool, the vehicle stalls or suddenly stops.
Diagnostics are sometimes difficult, with no engine light pointing to this potential problem and nothing showing up on the vehicle's diagnostic dash at all.
Another issue with the engine cooling has been a problem with the timing chain, with some dealerships saying this issue was connected back to the oil consumption issue.
Wiper Issues
There are numerous issues reported with the wipers on the GMC Terrain. The most commonly reported issue with wipers was that they stopped working while in use and during inclement weather, creating a danger on the road.
Wiper issues have resulted in headlights and plugs melting with problems leading to the headlights as well.
The solution here has been headlight replacement, with wiper replacements as well.
The primary cause is a wire harness for both of these features. With these problems, drivers reported smells from inside the vehicle.
Smoke has been seen coming out of the wiper arms and near the vents of the vehicle, and in some cases, the wipers had fallen off due to a dead wiper motor.
The motor of the wiper has been cited as a concern for some drivers, with new wiper motors failing even after a three-month replacement.
General Pros and Cons for the GMC Terrain
Reliability is consistently listed as the number one pro for the GMC Terrain.
It is given reliability ratings of over 4 out of 5 on most reports. Its first two model years were not the best when it came to reliability, but it is now a much different story.
NHTSA ratings are consistently at the five-star level as well in crash tests.
The vehicle has standard and automatic emergency braking, along with lane braking, and this is a key safety feature of the car. The braking system is a key feature contributing to the GMC Terrain's reliability.
Brake distance is good at 128 feet at 60 miles per hour.
Gas mileage is also a pro on this vehicle, and this is not an SUV where you are going to complain about the fuel costs, much more than the average driver of any vehicle and fuel costs.
This is a vehicle that rings in as only slightly less economical than your average mid-sized car or sedan. It is the powertrain model that is the model to go with if fuel efficiency is your goal.
This is a turbocharged four-cylinder 2.0-Liter engine with 252 horsepower and 260 lb-ft of torque. You'll notice the difference in the test drive the second you put your foot on the pedal.
Versatility is another key feature of this model, and perhaps the reason it was innovated.
It offers a tow package that can handle 3,500 pounds.
Boats and ATVs will ride well with you here.
You'll love the off-road driving mode that will help you to tow all of that.
The last pro, and the one every new car buyer loves, is that you are getting a base model that is loaded with the stuff that you normally don't find in a base model.
You have active noise cancellation here, grille shutters, and a 7.0 -inch touchscreen equipped with onboard Wi-Fi, Bluetooth capability, and a total of four USB ports.
Cons
Oil consumption
Electronic Stability Control System
Transmission problems
Engine stalling and engine problems
Wiper problems
What Do the Reviews Say?
The GMC Terrain is considered reliable and roomy enough and good for fuel economy, but its interior is not considered the best-in-class.
"Roomy interior, good fuel economy numbers, rugged appearance. Plasticky cabin bits, irksome shifter toggle switches, middling acceleration performance."
[Source: CarandDriver.com]
While it is true the vehicle can offer a unique look, buyers that aren't too thrilled about the interior can consider upgrading to a chrome Denali model.
On the other hand, some reviewers found that the Terrain's styling was nice, but not enough to stand out, and the vehicle wasn't roomy enough.
"We appreciate the Terrain's unique styling, but it's not enough to help it stand out. Cargo space is limited, and the shifter takes some getting used to. The Terrain is competent, yet forgettable."
[Source: Motortrend.com]
What is the Resale Value on the GMC Terrain?
| | | | |
| --- | --- | --- | --- |
| MODEL | YEAR | MILEAGE (KM/H) | PRICE ($) |
| GMC TERRAIN SLE | 2019 | 29,995 | $30,685 |
| GMC TERRAIN | 2018 | 42,135 | $27,842 |
| GMC TERRAIN SLE-2 | 2015 | 60,714 | $19,360 |
| GMC TERRAIN SLE-2 | 2013 | 140,594 | $10,499 |
Note: The above prices are estimates and may vary based on vehicle options and location.
Final Thoughts
Overall, the GMC Terrain wins on reliability but loses on affordability.
When it comes to the main problems with the vehicle, they are problems that are commonly reported, but not as much as with these models.
So you may see 300 reports of the StabiliTrak issue causing electrical system problems annually.
You're going to see as many reports of oil consumption issues with many other kinds of cars across the board.
The key problem with the Terrain when compared to its counterparts is that it is more expensive, but it doesn't really seem to have a reason to be.
It is smaller, with excellent standard features such as CarPlay and other superior base features, but it doesn't match in style and aesthetics for the price tag when compared to similar vehicles in its class.
Go Back: Car problems for all GMC models.
Sources:
Was this article helpful?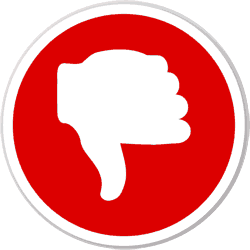 Did you find wrong information or was something missing?
We would love to hear your thoughts! (PS: We read ALL feedback)
ⓘ  The information in this article is based on data from National Highway Traffic Safety Administration (NHTSA) recall reports, consumer complaints submitted to the NHTSA, reliability ratings from J.D. Power, auto review and rating sites such as Edmunds, specialist forums, etc. We analyzed this data to provide insights into the best and worst years for these vehicle models.
---