In 2020, the Ram 2500 ranked supreme as Motor Trend's best pickup in its class.
While this truck may be extremely aerodynamic and can tow and haul well, like all vehicles, the Ram 2500 does have some known kinks at times.
We have looked at how long the Ram 2500 lasts and now we'll turn to some of the most common problems people face.
Also, before we start – we have a list here of the best and worst years for Ram 2500 here.
1. Various Transmission Problems
We know we're starting with a doozy, but we feel this is the worst of them all.
Transmission issues were a possibility in the 2018 models.
For instance, some users reported their transmission gave out while they were driving. When this happens, your engine may lose power. With this issue, the engine will idle at a high rate.
You may notice a pungent odor coming from your exhaust. When a gear blows, you won't be able to use that particular one anymore.
Check this article if your car won't come out of gear.
Drivers of Rams made between 2009 and 2017 may experience the vehicle popping in and out of gear without having to depress the brake.
It stems from a faulty interlock pin.
While you can have a mechanic repair this issue, there was a recall on the trucks for this problem. Therefore, reach out to the manufacturer and inquire where you can have it repaired at no cost to you.
Other possible transmission problems include the following:
The transmission service light false alarm
Transmission fluid leak
Sporadic shifting
Smoking transmission
With certain transmission problems, you can receive servicing through the manufacturer's warranty.
If you blew your transmission, you may need a reconstruction or a new transmission. On the other hand, when a transmission shifts erratically, it could mean that you have a bad solenoid or sensor.
A transmission light coming on could mean a number of issues, like gear or program problems.
If you know anything about vehicles, you may be able to figure it out. However, if you're not automotive inclined, you may want to bring it to a professional to determine the exact cause of the problem.
Ram 2500s manufactured from 2010 through 2017 were known to have issues, such as not being to shift into park. This was covered under a recall.
2. Issues With the Electrical System
A faulty electrical system is one of the more commonly reported issues with the 2019 Ram 2500.
This may cause your Uconnect display or stereo to fail or malfunction.
These issues stem from a wiring or electrical problem. Typically, you'll see this problem when your vehicle has slightly over 8,000 miles on it.
You may be able to reset the Uconnect by unplugging the negative battery cable. Then, leave it disconnected for 10 seconds or so and reconnect it.
If you aren't familiar with the electrical system on your vehicle, it's best to consult a professional to diagnose and repair the problem, unless you're okay without having Uconnect or a stereo.
On the other hand, if you have a more complicated electrical problem, you should consult with a mechanic. This could prevent a serious issue from occurring.
Keep in mind that if this is a newer vehicle or you recently bought it from a dealership used, faulty electrical may be covered.
3. Defroster Starting Upon Acceleration
Ram 2500 owners have noted their defroster kicking on when they press on the gas without them turning it on.
The cause of this issue is a faulty vacuum check valve.
Replacing it will stop the defrosters from coming on. It also helps to check the vacuum for any leaks. If this isn't in your skillset, a trained mechanic can easily repair the problem, and it's not a costly fix.
4. Difficulty Getting the Vehicle in and out of 4WD
Ram 2500 has had difficulty getting their vehicle in and out of 4WD. In some cases, the reason was a failed actuator for the front axle. The problem can't be repaired; the piece must be replaced to correct the issue.
The Totally Integrated Power module might need a software update.
In the past, other automobiles required this update, but the Dodge Ram wasn't included in any of the recalls.
If you're having trouble putting the vehicle in and out of 4WD, you could replace the failed actuator yourself.
If not, a mechanic will be able to easily replace the actuator.
5. Engine Excessively Uses Oil
Ram trucks tend to need an oil change every 7,500 or 10,000 miles if you're using synthetic oil.
On the contrary, you'll need to change your oil every 3,000 to 5,000 miles if you're using conventional oil.
If you're finding that your truck is consuming more oil than normal once it reaches 120,000 miles, you may have an intake manifold gasket that deteriorated, which will cause oil leakage around the plenum.
Oftentimes, you'll notice a knocking sound before you notice your vehicle is using more oil than normal.
Correcting the excessive usage of oil is usually as easy as replacing the gasket. At that point, your vehicle should use oil as it once did.
6. Engine Stalls or Won't Crank
When your engine won't crank, you may hear a whining noise. This happens when the engine won't engage with the flywheel.
The flywheel then spins on its own.
Several drivers noted that their engines wouldn't crank. In some cases, the engine would stall.
You won't need to troubleshoot why this is happening with your vehicle. It's already been determined that when this occurs, it's from the camshaft sensor failing.
As a result, the engine can't engage. It's been known to cause the truck to stall while it's in motion.
Fortunately, this is a simple fix that just requires a camshaft sensor replacement.
General Pros and Con for Ram 2500
Like any vehicle, the Ram 2500 has its share of pros and cons. Let's discuss.
Pros
Some of the pros of this vehicle include the following:
Engine performance
Towing and hauling capacity
Fantastic handling
Comfortable interior
Advanced safety features
Accolade
Even though the Ram has been known to have a few problems, it still ranks as Car and Driver's Best Heavy-Duty Pickup of 2020.
Engine Performance
Although the Ram has had several engines, transmissions, and other special features throughout the years, one factor has remained static — the Ram was built tough.
The 2021 either comes with a 6.4-liter V8 HEMI engine with 410 horsepower or a 6.7-liter I6 Cummins turbo-diesel.
Even in years prior to that, the Dodge Ram 2500 had a powerful engine that stood out from other vehicles in its class. For instance, the 2019 model was either a 6.4-liter HEMI V8 with 410 horsepower or a 6.7-liter Cummins turbo diesel.
Towing Capabilities
The 2021 Ram 2500's maximum-towing capacity is 19,680 pounds, particularly the model with the 6.7-liter Cummins engine. If you look at the rear axel, it's specially designed with towing in mind.
It has a structural cross-member directly from the factory when the vehicle has the fifth-wheel package.
The 2019 Ram can tow up to 17,580 pounds with its 6.4-liter HEMI model.
We have a good guide to how much the Ram trucks can tow.
Handling
You might look at a large truck and automatically assume that it probably doesn't handle well. However, Rams will prove you wrong. You'll notice when you turn the wheel in a 2021 Ram that the steering wheel turns tightly and accurately. Not to mention, when you're driving, this vehicle provides a superb amount of feedback from the road.
Comfortable Interior
The Dodge Ram 2500 of any year is a great option for an everyday driver with its comfortable interior.
Let's take the 2021 Ram for example. This particular truck has a luxurious interior that truly makes you forget it's a truck.
In this particular model, the seats are large and come with enough cushioning to make even a long ride comfortable.
You may also opt for leather if you purchase it new or can find used models with it.
Plus, the driver and passenger seats provide lumbar support in just the right places, reducing the prevalence of back pain, even if you're out on the road frequently or regularly take road trips.
Advanced Safety Features
Like all special features of a, or any vehicle, the types of safety features available depend on the year and trim. With that being said, the 2021 models come with the option of an emergency braking system.
What this means is the vehicle's sensor system will automatically detect if you're ready to get into an accident and will gently push the brakes for you to prevent a collision.
The 2021 model also has a rear-view camera so you never run over a bike or anything else behind your vehicle. The ParkView camera allows you to see what's behind you on the screen inside of your automobile. This is an optional feature.
Cons
As you can see, the Ram has its share of benefits, and the cons are the possibility of problems, such as the following:
Transmission problems
Electrical system issues
Defroster starting up randomly
4WD difficulties
Excessive oil use
Engine won't crank
What Do the Reviews Say?
We took some time to research the Ram and what customers had to say about it. This is what we found:
James Winstead purchased a 2020 Ram used, and this is what he had to say: "Reliability: this is without a doubt the most solid vehicle I've ever been in. Interior Space: lots of space for me and my growing family. Weather Versatility: it's 4wd and 7,000lbs so not much can stop it."
Noe Mercado bought a 2019 Ram and said, "It has plenty of power to tow and very comfortable interior."
John C. said, "This truck exceeds my expectations, I pull a 11500lb skid steer and with the correct trailer it's safe and easy to get to the job site. Brakes are solid, interior is amazing, comfortable. Couldn't be happier."
What's the Resale Value on a Ram 2500?
While the year, special features, mileage, condition, etc. affect the resale value of the vehicle, the automobile tends to depreciate about 39 percent after five years.
In general, though, a 2021 would have a resale value of $37,363 after five years.
Final Thoughts
Although the Ram 2500 is known to have certain issues and those vary based on the year, it's an overall reliable vehicle with the engine strength you need for towing and an interior that's aesthetically appealing and comfortable.
Most of the issues on the vehicle can be repaired by you or a mechanic at a low cost.
If not, there have been recalls on some of the problems so you can have it repaired at no cost to you. 
Was this article helpful?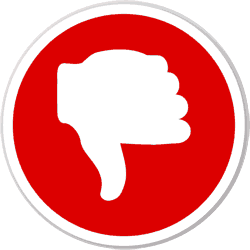 Did you find wrong information or was something missing?
We would love to hear your thoughts! (PS: We read ALL feedback)
ⓘ  The information in this article is based on data from National Highway Traffic Safety Administration (NHTSA) recall reports, consumer complaints submitted to the NHTSA, reliability ratings from J.D. Power, auto review and rating sites such as Edmunds, specialist forums, etc. We analyzed this data to provide insights into the best and worst years for these vehicle models.
---