The GMC Yukon is a full-size SUV twinned with the Chevrolet Tahoe and marketed by General Motors.
Armed with a V8 engine, decent gas mileage, and enormous cargo room, the Yukon is one of the very best large SUVs in the market.
The big question is whether longevity is part of the Yukon's qualities. Thankfully, we'll be getting accurate answers shortly.
Before we dive in, bookmark this list of the most common problems with the GMC Yukon models.
Here is the short answer to how long the GMC Yukon lasts:
The GMC Yukons can last as long as 250,000-300,000 miles with regular maintenance. A few owners on vehicle discussion forums have reported hitting 400k with minimal issues and repairs over the years. Basically, you can get 20 years and more from the Yukon if it is properly maintained.
How Many Miles Can You Expect From a GMC Yukon?
Our findings show that you can expect 300,000 miles or more from the GMC Yukon with adequate maintenance.
As a matter of fact, the GMC Yukon was featured on Forbes' list of 15 Vehicles that can run for 200,000-Even 300,000-Miles Or More. That's a testament to its longevity and reliability.
However, if the Yukon is going to last that long, maintenance has to be rock solid. Not just that, your driving habits also have a role to play in your Yukon's longevity.
Your GMC Yukon is less likely to hit those numbers if you drive it recklessly for an extended period. The more you take care of it, the longer it serves you.
HOwever, this depends a lot on the specific year you get. Here are the best and worst years for GMC Yukon.
How Soon Should You Expect Rust On A GMC Yukon?
The GMC Yukon can stay rust-free for eight to ten years.
However, there have been several reports indicating a frame rust problem with certain models of the Yukon. The models include the 2013, 2012, 2008, 2004, 2002, and 2001 models.
These rust problems are, however, not common on newer GMC Yukon models. Nevertheless, you should inspect your vehicle for rust at regular intervals, especially if you drive in rust belt states.
If you use any of the models listed above, you can try ceramic coating or just get rustproofing sprays as a preventive measure.
How Long Does the GMC Yukon Last Compared to Similar Models?
There are myriads of vehicles in the full-size SUV category, some of which are direct competitors of the GMC Yukon. Let's look at a few of these competitors and compare their longevity with the Yukon's.
GMC Yukon Vs. Toyota Sequoia
Toyota announced the launch of the Toyota Sequoia in 2000 for the 2001 model year. It is currently in its second generation and rivals the GMC Yukon in the full-size SUV class.
Known for its potent engine and excellent reliability ratings, the Sequoia also boasts stellar longevity. It made second place on iSeeCars' list of the top longest-lasting cars and can last for 250,000-300,000 miles.
That is pretty much the same as the GMC Yukon's expected lifetime mileage. However, the Toyota Sequoia outranked the Yukon on iSeeCars' list.
Please also read our article about how long the Toyota Sequoia lasts.
GMC Yukon Vs. Ford Expedition
Ford launched the Ford Expedition in 1997 and named it the successor of the famous Ford Bronco. Presently in its fourth generation, the Ford Expedition has garnered critical acclaim and tops several lists of full-size SUVs.
It boasts an excellent towing capacity, a profoundly spacious cabin, and has one of the best gas mileage in its class. In addition, the Expedition lasts incredibly long with an expected life service of 250,000-300,000 miles.
In terms of longevity, it is certainly up there with the GMC Yukon. It also landed in 3rd place on iSeeCars' list of longest-lasting cars, ceding the 2nd and 1st spots to the Toyota Sequoia and the Land Cruiser.
Make sure to also read our article about how long the Ford Expedition lasts. 
GMC Yukon Vs. Chevrolet Suburban
The Chevrolet Suburban launched way back in 1935, and is still going strong even in its twelfth generation. It ranks 2nd on U.S. News' list of the top large SUVs and most notably holds a star in the Hollywood Walk of Fame.
The Suburban boasts a spacious cargo area, loads of standard features, and exceptional longevity.
The Chevrolet Suburban can go as long as 250,000-300,000 miles if it is properly maintained.
Its estimated lifetime mileage is apparently the same as the GMC Yukon's. However, the Suburban did rank above the GMC Yukon on iSeeCars' famed list of the longest-lasting vehicles.
Also read our article about 11 Chevrolet Suburban facts and statistics you should know. 
How Reliable Is a GMC Yukon?
One of the GMC Yukon's downsides is its average reliability ratings. On U.S. News, the 2021 GMC Yukon scored a 2.5 out of 5 reliability rating.
On RepiairPal, it notched a 3.5 out of 5 rating and ranked 6th on their list of top 14 full-size SUVs.
J.D. Power was a little more approving, giving it a quality and reliability rating of 84 out of a possible 100.
On carproblemzoo.com, the GMC Yukon has a total of 8,066 listed problems from all model years.
Truth is, the GMC Yukon is very much below excellent when it comes to reliability, and the stats have shown that much.
The Best and Worst Years of the GMC Yukon
Like pretty much every other vehicle, the GMC Yukon has had its fair share of excellent and below-average model years.
According to MotorBiscuit, the 2015 GMC Yukon is the worst GMC Yukon ever made. It had a total of 155 complaints on CarComplaints, which is way more than those of other years.
The 2015 Yukon is also listed as the Yukon model with the most problems on Carproblemzoo.com with 1,010 problems. That's about 1/8 of the overall tally from every model year – 8,066.
The 2007 model comes in at a close second with 982 problems.
The model with the fewest problems on Carproblemzoo.com is the 2020 Yukon, with eight so far. To put that in perspective, the 2021 model already has 24 listed problems.
On Cars.Com, the 2018, 2019, and 2020 models all have an excellent 4.9 rating from scores of reviews so far. The 2015 and 2021, however, are among the worst-rated models with 4.4 and 4.1 ratings, respectively.
What About Recalls for These Models?
The GMC Yukon has had a ton of recalls over the years because of recurrent issues that threaten its functionality. Below is a list of model years and the number of times they have been recalled so far:
1992- 2 recalls
1993- 1 recall
1994- 4 recalls
1995- 7 recalls
1996- 4 recalls
1997- 1 recall
1998- 3 recalls
1999- 2 recalls
2000- 9 recalls
2001- 8 recalls
2002- 5 recalls
2003- 6 recalls
2004- 4 recalls
2005- 5 recalls
2006- 3 recalls
2007- 4 recalls
2008- 4 recalls
2009- 5 recalls
2010- 4 recalls
2011- 5 recalls
2012- 3 recalls
2013- 5 recalls
2014- 3 recalls
2015- 16 recalls
2016- 11 recalls
2017- 7 recalls
2018- 5 recalls
2019- 3 recalls
2020- 5 recalls
2021- 9 recalls
Every GMC Yukon model has been recalled at least once, and the 2015 model has the most recalls so far, with 16. It is worth noting that the 2021 model is the newest and already has the third-highest number of recalls in the Yukon's history with 9.
GMC Yukon Model Year List
GM has rolled out Yukon models for every model year since 1992, and there have been no hiatuses so far. Here is a list of the GMC Yukon model years and their generations:
First Generation: 1992-1999
Second Generation: 2000-2006
Third Generation: 2007-2014
Fourth Generation: 2015- 2020
Fifth Generation: 2021-Present
That makes a total of 30 model years for the GMC Yukon.
Are GMC Yukons Expensive to Maintain?
According to RepairPal, it would cost an average of $747 yearly to maintain and repair the GMC Yukon. That's lesser than the $784 average for full-size SUVs.
Maintenance cost for the GMC Yukon is relatively cheap compared to its competitors. For instance, the Chevrolet Suburban costs an average of $944 annually, while the Ford Expedition costs an average of $861 to maintain and repair.
How Long Do the Brakes Last?
Subject to factors such as driving habits, the GMC Yukon brakes can last for 30,000 to 70,000 miles. It is important to have the brakes inspected routinely, especially if you use your Yukon for heavy-duty stuff.
Below are signs your brake isn't functioning well:
Pulsating brake pedals
Grinding noise
Irregular vehicle movement when brakes are applied
If you notice any of the above problems or any other irregularity, we advise getting a trusted expert on it as soon as possible.
How Long Do the Batteries Last?
GMC Yukon batteries last anywhere from three to five years, depending on factors such as temperature.
Regular checks by auto experts will keep your batteries at an optimal level and ensure you never get stranded.
How Long Do the Tires Last?
You can expect the tires on your GMC Yukon to last for at least 50,000 miles. They could last even longer than that, depending on use and maintenance.
We advise checking the level of wear on the tires at periodic intervals and reporting any suspicions to qualified experts.
How Long Do the Transmissions Last?
On average, the GMC Yukon transmission lasts for 130,000 to 180,000 miles. Once your car crosses 150,000 miles, we advise having the transmissions checked thoroughly to catch any issues before they become major problems.
How Long Do the Spark Plugs Last?
The GMC Yukon's spark plugs can last for over 100,000 miles. However, you may replace your spark plugs once your Yukon hits between 80,000-100,000 miles if they are affecting performance.
What About Insurance Costs?
Insuraviz estimates that owners spend an average of $1,630 yearly in insurance costs for the GMC Yukon. Car Edge also estimates an average yearly insurance cost of $1,617 per year, beating the national average by $170.
Insurance costs depend on several factors, including driving history, credit score, location, and the insurers' rates.
Tips to Prolong the Life of Your GMC Yukon
If you are looking to hit exceptional mileages with your GMC Yukon, below are some tips that can help with that:
Prompt and proper maintenance
Regular servicing
Cautious and gentle driving
Regular cleaning (interior and exterior parts)
Resources
GMC Yukon Reliability – 2021 Ratings | RepairPal
2021 GMC Yukon Ratings, Pricing, Reviews and Awards | J.D. Power
Was this article helpful?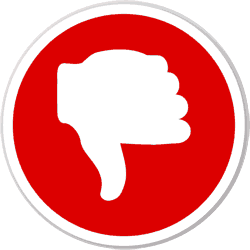 Did you find wrong information or was something missing?
We would love to hear your thoughts! (PS: We read ALL feedback)