If you're going to be purchasing a new vehicle soon, then a compact SUV may sound appealing to you. The Chevy Equinox is a compact SUV that is so attractive and has so many amenities that it has become quite popular since its debut.
So, if choosing a Chevy Equinox is definitely on your radar, then there is something that you should take into consideration:
Not every year was a good one for the Chevy Equinox, and some years are better than others.
Here is an overview of the five best and worst Chevy Equinox years, so you can increase your chances of choosing the perfect one.
Best Years for Chevy Equinox
There are some years when the Chevy Equinox has made its debut that have been better than others.
Here is an overview of the first generation years that were the best for Chevy Equinox.
The First Generation – 2005 – 2009
Although the Chevy Equinox made its debut in 2005, it wasn't until 2009 that the Equinox became reliable to the point that very few mechanical problems existed.
The 2008 Chevy Equinox wasn't too shabby either, although the 2009 was somewhat more improved than the prior year's model.
The models prior to 2009 were plagued with numerous mechanical issues, such as with the gaskets, which led to problems with the coolant failing to work as it should, and also fuel pump failure.
The gasket problems led to the engines of these vehicles frequently running hot, leading to other problems.
The 2009 Chevy Equinox was deemed to be a safe family vehicle in comparison to the previous models. Many owners raved about the 2009 Equinox when it was first introduced, and even now, due to its reliable upgraded V-6 engine and more.
Owners also adore the ample cargo space of the Equinox in general, as well as the improvement from the previous year's problems.
We still see lots of older models on the roads across the States, which shows that the Chevrolet Equinox models last many years.
The Second Generation 2010 – 2017
The second generation of Chevy Equinoxes underwent a transformation which was intended to decrease the number of mechanical issues as well as improve its appearance.
The second generation of Equinoxes was more like a car than an SUV, but its appearance was more like a crossover.
Also, the 3.5L V6 engine that had so many issues during the first generation was replaced with a new 2.4L I4. In fact, there was more than one engine change.
The best years for the Equinox of the second generation are the 2013-2017 models. The years 2010 – 2016 all received two highly-acclaimed awards for safety. The 2017 Equinox, while just as safe as the prior years of the second generation Equinoxes, failed to meet the latest criteria to be eligible to win such awards.
We have an article with lots of facts about the Chevy Equinox such as how many there are for each generation.
The Third Generation 2018 – Present
The third generation introduced an Equinox that was as sleek and as attractive as ever, but in a different manner.
There are many things about the third generation Equinoxes to love, because not only are they attractive and offer some nice amenities, but they have been declared extremely safe and ideal for families.
The third generation Equinox has won several safety awards, and its reliability has improved significantly over the years.
Compared to the two earlier generations, which had as many as 500+ complaints a year, the latest generation Equinox has had fewer than 90 a year so far.
This is a huge improvement, as well as a relief for owners as well as manufacturers. So, as long as it's within your budget, if you want a reliable Equinox, then purchasing a third generation model is a great idea.
The Worst Chevy Equinox Years
While there were definitely some good years for the Chevy Equinox, there were also some bad ones, as well. Also as the Chevy Equinox is made in several countries.
Here is an overview of these bad years, which includes model years from all three generations.
The First Generation – 2005-2009
The 2005 Equinox made its debut in hopes of competing with other compact SUVs that were on the market. While this early model certainly had its positive aspects, it also had its fair share of negative qualities, as well.
The 2005 Chevy Equinox had numerous problems with the ignition, which was faulty.
Again, there was a problem with the coolant and gasket malfunctions causing engine overheating, which was major. This sometimes results in other, even more, serious problems if not fixed right away.
Another problem that 2005, 2006, and 2007 models had was an issue with the heater failing.
This led to safety concerns, because not only were the occupants in the vehicle quite cold during the winter months, but it prevented the defroster from working, and frost, snow, ice, etc. often obscured the windshield, making driving dangerous.
There have been a number of recalls on first-generation Equinoxes, including one for faulty airbag sensors, which exclusively affected the 2007 models.
The Second Generation – 2010 – 2017
Chevrolet was determined to correct all of the issues that the Equinox experienced with the second generation line of Equinox. Each year, the manufacturer makes more and more improvements.
Some were great, while others weren't quite as effective as expected.
One huge issue occurred with the 2010-2012 models, as the timing chain frequently failed. Another problem that occurred with all models during this generation was windshield wiper failure.
This widespread wiper failure triggered an investigation that was conducted by the National Highway Traffic Safety Administration (NHSTA).
The Third Generation – 2018 – Present
This generation brought even more changes to the appearance of the exterior of the Chevy Equinox, causing it to look even more like a crossover rather than an SUV.
The Equinox had become very popular and was and still is a top-selling vehicle, right alongside the Silverado.
The third generation Equinox weighs less and has lost nearly five inches in height. So far, there are no "worse" years for this generation of Equinoxes, as Chevrolet has added an abundance of new safety features like:
Land Assist,
Brake Assist,
a wider-angled back-camera,
and more.
As you can see, each generation of Chevy Equinoxes has their fair share of positive and negative aspects.
When it comes to actual recalls, here is a list of recalls that have occurred in the past ten years or so:
The 2005 Equinox was recalled due to the ignition key parking lock cable.
The 2007 Chevrolet Equinox was recalled due to fuel pump malfunctioning, windshield mounting, airbag issues.
The 2010, 2011, and 2012 Chevy Equinoxes were recalled due to the defrosting system, seat adjustment bolt, and ignition key.
The 2011 Equinox was also recalled due to the seat falling out of position while being driven, power steering failure, and excessive oil use.
In 2012, there were three Equinox recalls due to the car key coming out of the ignition, even with the vehicle in motion, a faulty tire pressure monitoring system, and the same seat height problem that occurred in the 2011 model.
The 2013 Equinox was recalled for windshield wiper system issues. Another 2013 Chevy Equinox recall involves the electronic parking lock lever, which could allow the ignition key to be removed without the transmission being put in park. This makes it risky for anyone exiting the vehicle, as the vehicle could potentially roll and result in injury.
The 2014 Chevy Equinox had one recall, which again, involves the windshield wipers failing.
The 2015 Chevy Equinox was recalled due to wiper system failure.
Here's a full list of problems with the Chevy Equinox.
Which Chevy Equinox Generation Should You Buy?
This is a matter of choice and depends on your budget. If your budget is low, then a first generation is fine, but just make sure that you opt for a 2008 or 2009 instead of an Equinox from the prior years.
However, if you don't have a strict budget, then choosing a second or third-generation Equinox might be a better bet. Just be sure to choose one from what was determined to be the best model years.
What year is the most reliable Chevy Equinox?
According to experts, 2009 was the most reliable Chevy Equinox. This is due to the fact that there were fewer complaints, an upgraded V6 engine, and more.
What Are the Most Common Problems with Chevy Equinoxes?
Some of the most common problems with Chevy Equinoxes are engine-related issues such as excessive oil use, in addition to various difficult-to-diagnose electrical problems, as well as early transmission failure.
How Many Miles Will an Equinox Last?
The third generation Equinoxes are more likely to last for approximately 200,000 miles.
This is because of the fact that by the third generation, Chevrolet had tweaked some of the problems that the other two generations experienced that had a negative impact on the lifespan of the vehicle.
Up to 200,000 miles is equivalent to approximately 16 or so years, with 12,000 annual miles being the norm.
What Are the Closest Competitors to the Chevy Equinox?
There are plenty of other SUVs that are close competitors of the Chevy Equinox.
There are:
the Nissan Rogue,
Toyota RAV4,
Honda CR-V,
Mazda CX-5,
and the Subaru Forester.
How Long Do the Transmissions Normally Last On These Models?
If you care for your Equinox as you should and you perform regular maintenance on it, then you can expect your transmission to last for about 150,000 to 200,000 miles. However, it isn't uncommon for some other models' transmissions to last for 300,000 miles, with optimal maintenance.
Go Back: Best & Worst data on all Chevrolet models
Was this article helpful?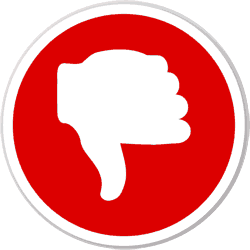 Did you find wrong information or was something missing?
We would love to hear your thoughts! (PS: We read ALL feedback)
ⓘ  The information in this article is based on data from National Highway Traffic Safety Administration (NHTSA) recall reports, consumer complaints submitted to the NHTSA, reliability ratings from J.D. Power, auto review and rating sites such as Edmunds, specialist forums, etc. We analyzed this data to provide insights into the best and worst years for these vehicle models.
---