Toyota is known for making vehicles that people can depend on, but as with any vehicle manufacturer, unexpected problems sometimes arise. If you're on the market for a new vehicle, you might be considering purchasing a Toyota Tacoma.
While the Tacoma is a mighty and impressive truck, all of its years have not been the greatest.
Here is an overview of the eight best and the worst Toyota Tacoma years, so you can be sure to choose one of the best.
Best Years for Toyota Tacoma
Like Toyota's other vehicles, the Toyota Tacoma has had some great years where there have been minimal problems, complaints and recalls.
Here is an overview of 8 of the best years for the Tacoma, explained in detail.
The First Generation of Toyota Tacomas – 1995 – 2004
When the Tacoma made its debut in 1995, a beloved vehicle was born. Toyota did a great job of creating a dependable mid-sized truck that performed well and had very few problems.
In fact, there were typically only complaints made regarding minor cosmetic defects and flaws.
More serious mechanical problems often didn't occur until the vehicles had well over 100,000 miles. The eight best years during the first generation of the Toyota Tacoma include:
1995 – this was the Tacoma's first year, which was a good year.
1996 – this continued to be a great year for the Toyota Tacoma, and owners experienced very few mechanical problems.
1997 – again, this was another great year for this particular vehicle, which continued to have minimal complaints.
1998 – like previous years, there continued to be very few complaints about the mechanical capabilities of this truck.
1999 – 1999 was yet another great year for the Toyota Tacoma, which remained dependable.
2000 – the 2000 Toyota Tacoma starts another decade performing as reliably as ever.
2001– there were no notable issues with this year's Toyota Tacoma.
2002 – like prior years, this Toyota truck continues to be one of the most dependable trucks on the road.
The Second Generation of the Toyota Tacoma – 2005 – 2015
The second generation Toyota Tacoma brought improvements overall, as well as an upgraded and sportier body style.
Unlike the first generation, the second generation Tacoma came equipped with a 2.7-liter four-cylinder engine with a 4.0-liter V6 option.
Unfortunately, the second generation wasn't known for its immense level of reliability like the first one.
Some of the best years for this truck during this generation include:
2005 Toyota Tacoma – owners really didn't have many complaints, and they loved the reliability and great gas mileage.
2010 Toyota Tacoma – owners continued to love the Tacoma during this year, although there were some recalls for this model.
2013 Toyota Tacoma – four-point-five out of five owners rave about their 2013 Tacomas and state that they are extremely reliable.
2014 Toyota Tacoma – this particular model received a lower reliability score of three, but owners continued to adore their Tacomas.
2015 Toyota Tacoma – owners rated the Tacoma of 2015 an 85 out of 100, but drivability received a "fair" at 67%. However, it remained a great truck.
The Third Generation of Toyota Tacomas – 2016 – Present
The third generation of Toyota Tacomas are as impressive as ever, and they only get better. Massive improvements have been made, including many safety improvements.
Owners enjoy driving their third generation Toyota Tacomas, but this truck isn't equipped for hauling very heavy loads. Its maximum towing capacity is about 6,800 lbs, so it can't be expected to perform as a full-size truck.
Tacomas are not only extremely reliable, but they're great for driving off-road, which is what many owners love about these trucks. If you've decided to purchase a third generation Tacoma, be sure to check out these years as your top choices:
2018 Toyota Tacoma – the reliability rating for a 2018 Tacoma is a four.five out of five, which is a very high score.
2019 Toyota Tacoma – this year's Tacoma continues to be reliable despite having four recalls. It's no secret: people love their 2019 Toyota Tacomas.
2020 Toyota Tacoma – the reliability decreased somewhat this year, but owners continued to love their Tacomas. The reliability score was a 77 out of 100.
Toyota Tacoma Years to Avoid
Toyota Tacomas will likely always be loved by those who drive them, but despite this fact, there have been some issues that have caused the truck to have "bad years" just like any other vehicles.
Also, check our list of known problems with Tacoma models.
Here are some years that you might want to steer clear of:
The First Generation – 1995 – 2004
The first generation of the Toyota Tacoma was such a success that there are no years that you need to avoid, as they were all reliable during that generation.
We still see the first generation of the Tacoma on the streets. This shows the great longevity of the Toyota Tacoma.
The Second Generation – 2005 – 2015
Again, the second generation of the Toyota Tacoma wasn't as successful as the first. As a result, there were, unfortunately, some years that should be avoided.
2006 Toyota Tacoma – this year's Tacoma experienced various problems, including issues with the airbags, suspension, vehicle speed control, structure, electrical system, engine and cooling, among others. There have been several recalls of the 2006 Tacoma, including a seat heater/cooler, which could result in a fire, the rear suspension, and more.
2007 Toyota Tacoma – there were also several recalls for this year's Tacoma, including recalls for seatbelt, suspension, front seats, among others.
2008 Toyota Tacoma – some recalls for this particular year involve a faulty tire monitoring system, front seat, and more.
2009 Toyota Tacoma – equipment, airbags, heater/cooler, and the rear suspension are just some of the recalls for the 2009 Toyota Tacoma.
2011 Toyota Tacoma – the Tacoma that came out this year was no different than the prior year's as it had practically the same recalls.
2012 Toyota Tacoma – again, this year's Tacoma has experienced some similar issues as other years, and also many similar recalls.
This generation of the Tacoma could tow more than the previous models.
The Third Generation – 2016 – Present
After an amazing first generation and then a mediocre one, Toyota manufacturers felt that they needed to redeem themselves, and that's exactly what they did with the Toyota Tacoma.
These two years of Tacoma should be avoided, if at all possible.
2016 Toyota Tacoma – this year's Tacoma was not as reliable, and it actually caused more issues, such as an issue with the transmission, which, of course, can be pricey if replacement is necessary.
2017 Toyota Tacoma – five recalls for this year caused the reliability score to be dramatically reduced. The 2017 Tacoma has faulty air bag sensors, sudden stalling of the engine, as well as unusual noise that is a challenge to diagnose or determine where it's coming from.
The late Tacoma models have more cargo capacity. You can compare the cargo capacity for all Toyota Tacoma models here.
Which Toyota Tacoma Generation Should You Buy?
According to various sources, the second generation Toyota Tacoma is one of the best generations, because many of the problems of the first generation had been corrected, and there were new features added, many of them pertaining to safety.
What Year is the Most Reliable Toyota Tacoma?
There isn't just one year that is considered to be the most reliable for the Toyota Tacoma. Due to this fact, you must research further about each individual year in order to determine which one will best meet your needs.
What Are the Most Common Problems with Toyota Tacomas?
Each vehicle has its own specific problems that are more common, and the Toyota Tacoma isn't any different. Some common Tacoma issues are low quality paint that is liable to experience flaking, peeling, cracking and fading.
There is also the tendency for Tacomas to experience widespread transmission issues as well as noise problems that are sometimes challenging to diagnose.
How Many Miles Will a Tacoma Last?
A Tacoma that is well-taken care of and that receives regular maintenance with no lapses should last for at least 200,000, if not longer.
What are the closest competitors to the Toyota Tacoma?
The Toyota Tacoma has many close competitors, and some other mid-size trucks that are in close competition are the Jeep Gladiator, the Chevy Colorado, the Nissan Froniter, and the Ford Ranger.
How Long Do the Transmissions Normally Last on These Models?
The transmissions in these mid-size trucks normally last up to 200,000 miles, or more, depending on how well the truck is maintained. It isn't unheard of for a transmission to last up to 300,000 miles in special cases.
Go back: Best/Worst years for all Toyota models.
Was this article helpful?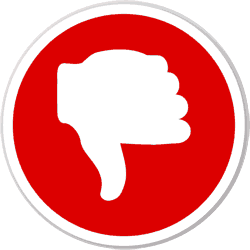 Did you find wrong information or was something missing?
We would love to hear your thoughts! (PS: We read ALL feedback)
ⓘ  The information in this article is based on data from National Highway Traffic Safety Administration (NHTSA) recall reports, consumer complaints submitted to the NHTSA, reliability ratings from J.D. Power, auto review and rating sites such as Edmunds, specialist forums, etc. We analyzed this data to provide insights into the best and worst years for these vehicle models.
---