The Toyota 4Runner is yet another great offering from the Japanese automaker. Not only is it sufficient for the whole family, but it can also serve as a reliable daily driver.
The 4Runner is one of the best SUVs in the market and it offers both improved performance and safety features. It's suitable both for those offroading trips and highway trips alike.
With its variety of trim levels, you can choose the model that best suits your needs. This model from the Japanese automaker is more targeted towards offroading than normal, everyday highway driving.
With that said, the 4Runner is more than capable of being responsible for daily commutes. It's got plenty of space and boasts several safety features to boot.
In this article, we'll be taking a look at how well the Toyota 4Runner performs on the highway.
Are Toyota 4Runners Good for Daily Commutes on the Highway?
Daily commutes to work or leisure trips often need plenty of cargo space and passenger space. The 4Runner has plenty of seats and cargo space for highway driving or normal everyday trips.
The 2020 model features a 4.0-liter V-6 engine with an automatic transmission. Such an engine is not great for everyday driving because the fuel consumption adds up.
As a daily driver, the 4Runner can be quite expensive to keep up with. This is due to the large engine and four-wheel-drive capabilities.
SUVs like the 4Runner almost always have poor fuel efficiency scores. As a daily driver on the highway, one might be tempted to go for a car with a smaller engine.
On the upside, highway driving often fares better when it comes to fuel consumption. This is because there aren't so many gear changes and speed changes which use up a lot of fuel.
Highway driving is comfortable, and the engine is not under a lot of stress when overtaking other cars.
It can go as fast as 0 to 60 in just under 7,5 seconds, so overtaking other cars on the highway should be stable.
Although it is geared towards off-roading, the 4Runner feels quite comfortable and premium in the interior. The base trim level features cloth seats, keyless entry, and an 8.0-inch touchscreen infotainment system that supports Apple CarPlay and Android Auto.
The dashboard area is not modern-looking and seems a bit basic. The steering wheel gives a firm grip and has all the buttons to control media and other components of the car.
More premium models add on leatherette heated seats and a host of upgraded features. Dual-zone climate control, leather seats, and 20-inch wheels are a great addition for highway driving.
SUVs like the Toyota 4Runner are not often the best choice for daily commutes. This also goes for competitors like the Hyundai Santa Fe, Subaru Outback, and Kia Sorento.
Are Toyota 4Runners Safe on The Highway?
Base trim levels of the Toyota 4Runner have sufficient technological and safety features for safe highway driving. Toyota made sure to give the 4Runner a good chance of getting great safety scores.
Highway speeds are fast and that increases the chances of a crash. This is why manufacturers equip their cars with modern safety features in case of a crash.
With the 2020 and earlier models of the Toyota 4Runner, safety got a big improvement. This is evident in these models because of the addition of features, such as adaptive cruise control and automatic emergency braking.
Toyota is known for releasing some of the safest models and this is apparent in the 4Runner. The newer models of the 4Runner now include a suite of safety features that Toyota calls the Safety Sense-P suite.
Safety Sense-P suite from Toyota offers features that protect passengers by warning the driver in order to avoid a collision.
These include Lane Departure Alert, Dynamic Radar Cruise Control, and Vehicle and Pedestrian Detection.
On the highway, these safety features can make a huge difference in detecting and avoiding a crash.
Not all these features are available in the base trim, but the basic features are more than enough for safe highway driving.
In crash test scores, the 4Runner got a 4-star out of 5 from the NHTSA. The 2020 model of the Toyota 4Runner has not yet gotten a crash test rating from the IIHS.
Before you make up your mind, you should have a good look at our article featuring the best and worst Toyota 4Runner years.
The latest model received 4 out of 5 stars for overall and frontal crash protection. It got only 3 stars for rollover protection and 5 stars for side protection.
Crash tests are important in determining how safe a car will be for the passengers in the case of a crash. Sometimes the basic safety features like airbags and seatbelts are not enough to protect passengers in a serious crash.
Overall, the 4Runner is considered one of the safest SUVs on the market. This also goes for other Toyota models, such as the Toyota Highlander and Toyota Land Cruiser.
How Fast Can You Comfortably Go in Toyota 4Runners?
The 4Runner is not the fastest car in the segment due to its four-wheel-drive capabilities. It can get you from 0 to 60 in about 7.6 seconds.
Due to its off-roading features and build frame, the 4Runner is not designed for fast highway driving. This might be due to its boxy frame design, which does not accommodate windy conditions when driving.
The 4.0-liter V-6 engine with 270 horsepower is more than enough to reach highway speeds quickly. However, acceleration is not its best suit.
On the highway, good acceleration is important for overtaking other cars or reaching the desired on-ramp speed. The 4Runner will get you to speed quickly, but not as quickly as other types of vehicles.
SUVs like the Toyota 4Runner, Jeep Cherokees, and Kia Sorento aren't exactly made for speed and highway driving. This is apparent in both the design and trim levels offered by these models.
Check also the full SUV lineup from Toyota here.
If speed will be a big buying factor, it is better to try other brands. The base model of the 4Runner with only 2-wheel drive is also a good option for highway speeds.
Speed is also affected by various components, such as the suspension and the weight of the car. The 4Runner is more on the heavy side and is capable of towing up to 5,000 pounds.
With that said, cars in the same segment get around the same speed ratings as the 4Runner.
Another issue owners face when it comes to the 4Runner's speed is fuel consumption. The big engine uses a lot of fuel and this adds up the ownership costs.
How Noisy Are Toyota 4Runners At Highway Speed?
When the 4Runner is put under a lot of stress, such as when accelerating, it can get quite noisy. This is due to the big 4.0-liter V-6 engine.
The noise can be heard when speeding up to the on-ramp on the highway and when overtaking other cars. It's not particularly irritating but rather a roaring noise coming from the engine.
If you are not used to the noise a truck makes when idling, then the 4Runner would sound loud. Toyota 4Runner is still loud even when idling.
A noisy truck is not a surprise, and this is exactly how the Toyota 4Runner sounds. Big SUVs often have the same noise characteristics as trucks.
Other factors that add to the overall sound include wind noise, road noise, and cabin noise.
Wind noise comes from the design of the car when it hits the wind when driving. It can be heard while driving at high speeds on the highway.
Big SUVs often use really big all-terrain tires that have better traction on the road. When the tires meet the road, they make more noise than traditional tires.
This is due to the design tread on all-weather and all-terrain tires, which have bigger gaps. When the gaps in the tire meet the surface or road, they make more noise.
Cabin noise is the noise you hear when inside the car and driving. This is mostly caused by rattling and cabin noises that seep through the metal doors and other vehicle components.
If there's a bad or worrying sound coming from the engine area, it's best to consult a mechanic. Engine rattling and cranking noises usually point to a larger problem that needs attention.
If the Toyota 4Runner is relatively new and the noise is still a bit annoying, sound deadening might be best. Aftermarket floor mats and sound deadening material can be installed to decrease vehicle noise.
Sound-deadening solutions like floor mats or soundproofing material will only do so much. Tire noise is one of the noises that can't be quietened by simple solutions.
A big SUV like the 4Runnner will always be noisy by nature because of its off-road features. With that said, close competitors like the Hyundai Santa Fe are much quieter than the 4Runner.
Is Driving a Toyota 4Runner Hard?
Toyota 4Runners are some of the most enjoyable and easy-to-drive SUVs on the market. This is due to an improved suspension that makes for a smooth ride together with the interior.
The 4Runner is more suitable for off-roading than being the traditional everyday driver. This does not hold it back from being as comfortable as a luxury sedan.
Most parts in the 4Runner are targeted at the 4-wheel drive market but can also be seen as luxurious. This is evident with the wide variety of gadgets available in the 4Runner.
If coming from a relatively smaller vehicle, the much bigger size of the 4Runner might be threatening. This diminishes as soon as you get to drive around in it.
The interior is welcoming, and the suspension and automatic transmission make for a smooth and flawless drive.
The Safety Sense-P suite from Toyota also puts your mind at ease when driving the 4Runner. The host of technological safety features makes this SUV a pleasure to drive.
For a new driver, driver-assist features like rearview cameras and lane-departure warnings can be helpful.
For such a big car, the 4Runner is surprisingly easy to drive and maneuverable. The power steering wheel on most modern vehicles makes steering easy.
With that said, the 4Runner is quite big and for those that are new to SUVs, parking could be an issue. It measures a big 192.5 cm in width and about 181.6 cm in height, which can be daunting to maneuver.
Its size is not as surprising when put into comparison with other vehicles in the same segment. The size is on par with others such as the Jeep Cherokee and Jeep Patriot.
Related: 11 Toyota 4Runner Statistics You Should Know (Facts & Numbers)
How Stable Are Toyota 4Runners on a Highway?
From the 2019 model onwards, the Toyota 4Runner has been improved when it comes to reliability and stability.
Many owners of the Toyota 4Runner have said that it drives and feels like a car even though it's an SUV. This is because most SUVs have stability issues because of their size.
Reliability is one of the traits that Toyota is known for. The Japanese automaker has always had a great reputation for releasing reliable cars.
The 4Runner has a large following of owners who swear by its reliability and stability. Fans of this SUV say the car is well balanced in dynamics and components as a rugged four-wheeler.
With an off-roading car like this, the vehicle has to withstand the roughest of terrains without facing major issues. This rugged build and frame from Toyota ensure the vehicle will last long.
All the four-wheel-drive features are not entirely necessary for everyday highway driving. But its stability on rough terrain means that the 4Runner will hold its own even on smooth surfaces and highways.
The traction control on this SUV is excellent and this can be due to the all-terrain tires installed. Tire treads are designed in bigger gaps, making sure the vehicle grips the road for a steady drive.
This improves handling on the highway, especially at high speeds and while taking sharp corners and curves.
One issue that was pointed out by previous owners was the towing capacity and cargo volume. Both are great, but the 4Runner was a bit sluggish on the highway when it was towing a large load.
This was more apparent with the rear-wheel-drive trim level of the 4Runner. The 4-wheel drive trim level does not have issues when carrying heavy loads.
Related: Toyota 4Runner In Snow & Winter Driving? (Explained)
How Many Miles Can You Get in a Toyota 4runner?
A 4Runner is able to outlast many of its competitors when it comes to longevity. With proper maintenance, the 4Runner can last up to 3000,000 miles.
The impressive build quality and frame from Toyota make sure the 4Runner can outlast some of the most rugged cars out there.
It's no secret that to get a car to last up to 200,000 miles, you will need to take really good care of it. The 4Runner is no different, requiring regular maintenance checks and component checks.
The most common issue faced by old Toyota models is that they are susceptible to rust. After a few years of owning a 4Runner, owners noticed that rust started to set in.
Routine maintenance is key to the 4Runner's longevity, which can see the car last well over the 200,000-mile mark. For such a big car, owners should also be aware of ownership and maintenance costs.
On average, the annual repair costs for the 4Runner are just $550. This is surprisingly low compared to other SUVs in the same segment.
When it comes to fuel efficiency, the 4Runner has average numbers and ratings with its 23-gallon fuel tank capacity. This is not a surprise, seeing as the 4.0-liter V6 is a rather large engine.
The latest 2021 Toyota 4Runner can get you 16 mpg for city driving and about 19 mpg for highway driving. These EPA ratings are fair for such a big engine and they are the same across the various trim levels.
Reliability and longevity have always been Toyota's strong suit from decades of experience in the automaker's history.
Models such as the Toyota Tundra, Toyota Land Cruiser, and Toyota Highlander also enjoy such high mileage scores.
This is all, of course, if you put in the effort to take good care of the car. The rust issue can be avoided by spotting it early on.
Common issues with Toyota 4Runner
Front Brake Rotor Wear
Airbag Deployment Problems
Rust
Worn or Corroded Solenoid Contacts in Starter
Any vehicle is susceptible to common problems and research before purchase is a must. Toyotas, like any other car model, have common problems that owners experience.
All these issues can add up and cost you more money if not attended to as soon as they show up. A good warranty on major parts will be of great help when it comes time to repair an issue.
The Toyota 4Runner come with a Powertrain warranty of 5 years or 60,000 miles. It also comes with a corrosion perforation warranty of 5 years and unlimited miles.
For such a long-lasting vehicle, it would be best to take out an extended warranty plan for unexpected wear and tear.
Read more: How Long Do Toyota 4Runner Last? (Solved & Explained!)
Was this article helpful?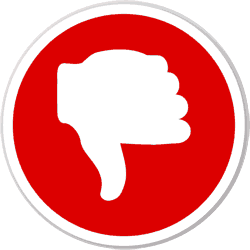 Did you find wrong information or was something missing?
We would love to hear your thoughts! (PS: We read ALL feedback)