Toyota SUVs are famous for their longevity, power, build quality, and timeless Toyota style. The lineup has evolved over the last decade, with several models, such as the FJ cruiser, being discontinued in 2014 and others going strong from subcompact to full size.
Most Toyota SUVs score well in terms of reliability as they're awarded a 4.0 out of 5.0 reliability rating. From the compact RAV4 to the three-row Highlander and Sequoia to the off-road 4Runner, there's always a Toyota for everyone.
If you're wondering which Toyota SUV is right for you, this post will help you with all the information you need to make an informed decision.
Overview of the CURRENT Toyota SUV Lineup
You'll have six different SUVs to choose from in the Toyota model lineup. While they face a lot of competition from other brands, Toyota SUVs compete amongst themselves.
That means every SUV will have unique features, and all boast generous cargo and passenger space, bold styling, superior performance, and smooth handling.
The new Toyota SUVs are equipped with the latest multimedia technology and other safety features that check off all the boxes. Let's look at Toyota's extensive 2022 lineup of new SUVs below.
Here are the demographic data for Toyota owners.
1. Toyota Highlander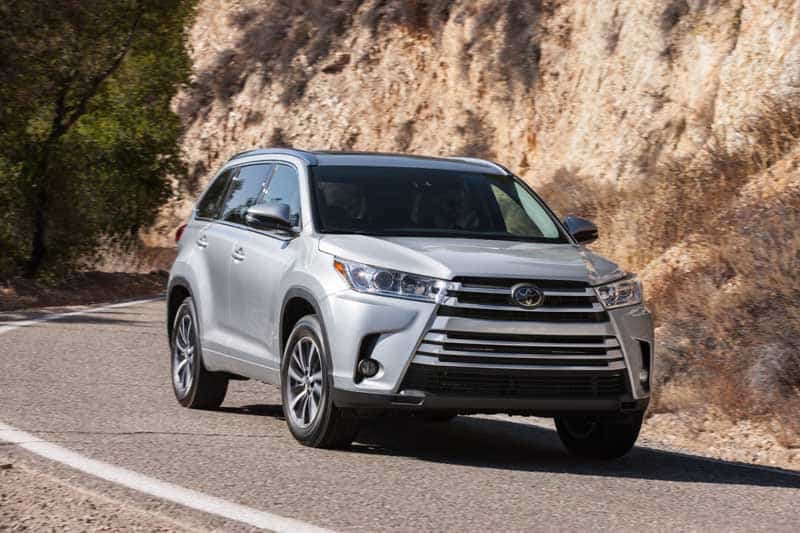 With a seating space for up to eight people, the Toyota highlander is an excellent option for growing families. It offers plenty of space for seating and cargo.
The SUV scores well in driver assistance technology, safety, build quality, and reliability.
It's equipped with a standard V6, 8-speed automatic transmission, and Dynamic Torque–Control AWD system that provides the driver with plenty of capabilities, including towing up to 5000 pounds.
Available in five distinct trim levels, you can be sure there will be a trim that perfectly fits your lifestyle.
2. Toyota Sequoia
Commanding, powerful, and spacious enough for the family, the Toyota Sequoia has the capabilities you need thanks to its 5.7-liter V8 engine that produces 381 horsepower.
That means you can tow up to 7,400 pounds, which is ideal for boats or trailers. The three-row seating space is enough to hold eight people with plenty of room for gear.
We have a list here of the most prevalent problems across the Sequoia models.
3. Toyota 4Runner
Featuring rugged styling, the Toyota 4Runner has impressive off-road performance combined with innovative tech features that makes it an excellent companion for exploring off the beaten path.
The 4.0-liter V6 engine that produces 270 horsepower and body-on-frame construction gives the 4Runner plenty of muscle whenever you need it.
These are the best and worst 4Runner years.
The ventilated and perforated front seats, smart key system, and power moonroof with sunshade add to the refinement. 4Runners can tow up to 5,000 pounds.
3. Toyota Corolla Cross
The 2022 Toyota Corolla Cross is the latest addition to the Toyota Family of SUVs. As you would guess, this SUV shares a name and a few of its mechanical components with the popular Toyota Corolla.
It comes with a standard 2.0-liter Dynamic Force Engine producing 169 horsepower and is available in All-Wheel Drive.
What sets this SUV apart is the award-winning Toyota Safety Sense and active driver assistance technology designed to improve your safety and boost your driving experience and peace of mind.
4. Toyota RAV4
The 2022 RAV4 features a few improvements, including restyling of the LED lighting on all trims and glove compartments.
We've written a LOT about the fantastic Rav4 from Toyota. Here are a few of out best articles about it:
The improvements vary from one trim level to another, such as brighter headlights for the XLE and Limited trims.
Thanks to the Dynamic Force 2.5-liter inline four-cylinder engine paired with an 8-speed automatic transmission, the RAV4 is powerful and efficient with sharp road handling.
5. Toyota C-HR
With improved style and attitude, the 2022 Toyota C-HR is perfect for narrow streets and small spaces.
The 2.0-liter 4-cylinder engine is paired with a Continuously Variable Transmission with Intelligence and Shift Mode (CVTI-S) that produces 144 horsepower.
We have a list of the most common issues with the Toyota C-HR here.
6. Toyota Venza
The Toyota Venza, the latest model since 2014, is a remarkably efficient hybrid Toyota SUV. It was reviewed last year as a semi-luxury car.
It drives like an RV but looks like a Lexus.
Thanks to Toyota's state-of-the-art technology and innovative Toyota Hybrid system, you can get a combination of effortless power delivery and exceptional capability regardless of the road surface.
Toyota's Sub-Compact SUVs Over the Years
Let's look at the past.
Toyota C-HR
2nd Gen: 2020 – Now
1st Gen: 2018 -2019
The first version of the Toyota C-HR hit the market in 2018. Since then, Toyota has been keen on making a few key feature improvements.
For instance, the latest 2022 models have added front-wheel drive, standard automatic emergency braking, Apple CarPlay, and Android Auto, which is also standard.
The price for the 2022 base model ranges between $24,280 and $27,300.
The Toyota C-HR might seem a decent pick. After all, it has a quirky styling, it's affordable, and has many safety features. Unfortunately, its competitors are doing even much better.
For instance, the MazdaCX-30 is more reliable and boasts a better price tag. The Kia Soul is also a cheaper alternative, while the Honda HR-V is more spacious.
Toyota Corolla cross
1st Gen: 2022
As previously noted, the Toyota Corolla Cross is a new SUV. That means it's the first of its kind, and there are no previous models to compare it to. This entry-level crossover SUV offers solid standard features with a comfortable interior. It also boasts good fuel economy.
The Toyota Corolla Cross comes in three trim levels: XG10L, XG10LE, and XG10XLE. The base model costs $22,445, while the XG10LE costs $ 24,795. The top trim costs $26,575.
Offering plenty of perks at an attractive price, the Toyota Corolla Cross is way ahead of its competitors. However, other subcompact SUVs have put up a fierce fight, including its sister model, the Toyota C-HR.
However, the Corolla Cross appears more performance-oriented, powerful, and roomier. It also offers better fuel economy.
Hyundai Kona is a worthy competitor as it offers an energetic engine and a more refined interior. The Mazda CX-30 is more fun to drive and roomier.
Kia Soul has better handling. Overall, this new 2022 model is off to a good start and has hit all the right notes for a brighter future.
Toyota's Compact SUVs Over the Years
First, make sure to check out our list of how long the Toyota SUVs last (depreciation).
Toyota RAV4
5th Gen: 2019 – Now
4th Gen: 2013 – 2018
3rd Gen: 2007 – 2012
2nd Gen: 2002 – 2006
1st Gen: 1996 – 2001
The Toyota RAV4 is one of the market's earliest and most popular SUVs. Now in its fifth generation, it's also one of the best-selling vehicles in America and the only compact SUV in the category.
The 1st generation RAV4 had a rugged style but was efficient and comfortable. It featured a five 2.0 liter four-cylinder engine with 120 horsepower, a five-speed manual as standard, and a four-speed automatic as optional.
The 5th generation, or what we have today, is a completely revamped RAV4 featuring a 2.5-liter four-cylinder engine that produces 206 horsepower, with a hybrid option that increases the horsepower to 302.
The latest model includes a range of technological features that have revolutionized the automotive industry over the years.
The MSRP price range for the latest Toyota RAV4 is $27575 to $32,280.
Having been in the market for so long, the RAV4 has proved time and again that it's a versatile SUV with plenty to offer.
It can be an excellent companion for everyday commutes and weekend family travels.
For this reason, the RAV4 faces stiff competition from other compact SUVs. One worthy competitor is the Chevy Equinox, which commands the same price as the RAV 4.
However, the RAV 4 seems to win in terms of cargo space, high-tech safety features, and passenger space. The Ford Escape is a similar SUV worth mentioning as it has a 181 horsepower engine- slightly lower than our RAV4.
Toyota's Mid-Size SUVs Over The Years
Toyota Highlander
4th Gen 2020 – Now
3rd Gen: 2014 – 2019
2nd Gen: 2008 – 2013
1st Gen: 2001 – 2007
From the generation preview, the Toyota Highlander debuted in 2001 as the fifth model in Toyota's lineup. This midsize SUV has a masculine design that delivers car-like handling and a comfortable ride.
The pioneer Highlanders had two rows to seat only five people, but by 2004, the Highlander could seat up to seven people. The 3rd generation Highlander increased the seating space to occupy eight people thanks to the broader row.
The latest generation is a bit bigger but can still seat up to eight people. The MSRP price range for the latest Toyota Highlander is between $36,420 and $52,025, depending on the trim level you choose.
The Highlander faces competition from all angles, including its brother, the Toyota 4Runner.
Some competitors worth mentioning include the mighty Jeep Grand Cherokee, the family-friendly Hyundai Palisade, the spacious Chevrolet Traverse, and the sporty Mazda CX-9.
Generally, what you choose depends on the features you want.
Toyota's Full-Size SUVs Over The Years
Toyota Sequoia
3rd Gen: 2023 – Now
2nd Gen: 2008 – 2022
1st Gen: 2001 – 2007
The Toyota Sequoia is a full-size SUV that has been around since 2001. In more than 20 years, there have only been three completely new Sequoias, with the latest being the 2022 version.
That means not much has been going on with this model except a few styling changes, but with the discontinuation of the Land Cruiser in the US, Toyota hopes to give more attention to the Sequoia in the coming years.
The momentum is already set with the 2023 version already on the market.
The 2023 Toyota Sequoia ranges in price from $58,300 to $78,300.
However, don't let the few generations fool you. Toyota Sequoia is the most luxurious SUV in Toyota's portfolio, almost overlapping the Lexus territory with outstanding off-road capabilities.
It's closely related to the Toyota Tundra pick-up truck and rivaled the famous Chevy Tahoe, Ford Expedition, and GMC Yukon.
It may not be the most tech-savvy or fuel-efficient option, but it's spacious, powerful, and affordable compared to its competitors.
How do Toyota's SUVs compare to the competition?
Toyota SUVs are known for their roomy cabins, affordability, performance, and reliability. Most models beat their competitors like the Honda, Hyundai, Nissan, Chevy, and Ford in almost every category, from engine performance to seating capacity.
As a buyer, your decision is highly influenced by personal preferences and needs. 
It's crucial to go through the features you want before making a final decision.
Overall, Toyota SUVs seem to understand their assignment well and offer their customers precisely what they need.
Sources
Was this article helpful?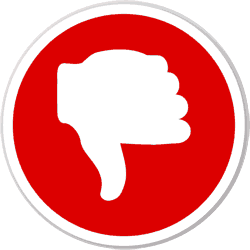 Did you find wrong information or was something missing?
We would love to hear your thoughts! (PS: We read ALL feedback)