The Toyota 4Runner was introduced onto the market in the year 1984. Since then, this SUV has gained popularity for its great performance, versatility, and sturdy outlook.
But just like any other car, this vehicle has had quite an interesting journey. There have been good years and bad years.
Let's break down the best and worst years for the Toyota 4Runner.
Best Years for Toyota 4Runner
We'll start with the best years.
2017 Toyota 4Runner (5th Generation)
Even though it has been around for many years, it is one of the best Toyota 4Runners. It's an exceptional model, equipped with a 270-horsepower 4.0-liter V6 engine. This is enough to make your drives exciting even when you go off-road.
In addition, according to NHTSA safety ratings, this is a reliable vehicle you can be comfortable taking your loved ones in.
The crash test ratings found that you'd still be well protected if an accident happened.
Another advantage of this car is the infotainment system.
While a lot of people complained about the infotainment system in previous years, all those issues were resolved with the 2017 model. Toyota redesigned it, giving it an eye-catching design, making it more responsive, and ensuring it is easy to use.
2013 Toyota 4Runner (5th Generation)
While other Toyota 4Runner models were consuming a lot of fuel, the 2013 model solved that problem. This vehicle's fuel economy is pocket-friendly, meaning you won't have to worry so much about increasing fuel prices.
Another strong selling point for this vehicle is its off-road capability. Compared to its competitors, it easily stands out.
The car was also redesigned, giving it a more sturdy and rugged look. There's no doubt Toyota managed to represent that brand image to its customers.
The 2013 model also gives you a comfortable ride as the controls are within your reach and easy to use. You don't have to worry about struggling to connect to Bluetooth as you drive.
2009 Toyota 4Runner (4th Generation)
4th generation Toyota 4Runners were definitely more functional, and this model is a testament to that. It came with a sportier look, ideal for off-road activities.
And if you often find yourself on paved roads, you'll still find this car functional and fun to drive.
The 2009 model gives you two engine options, but both are still impressive.
You can choose:
the 265-horsepower 4.7-liter V8 engine
or the 245-horsepower 4.0-liter V6.
2006 Toyota 4Runner (4th Generation)
If you're looking for a highly reliable SUV that satisfies customers, this is the car to get.
Unlike the previous models, which had loud vibration noises and rust issues, Toyota fixed those problems with this model.
The car gives you a comfortable ride and features a high off-road capability. The tall body gives the SUV a spacious cabin, and the seats are also comfortable even for a tall person.
Moreover, the interior aesthetics are quite pleasing.
2000 Toyota Runner (3rd Generation)
One can say that the 2000 model is one of the best. That's because it underwent a lot of remodeling and redesigning after the audience criticized the previous models.
For starters, Toyota changed the transmission. The change from a manual car to an automatic made buyers very happy. And out of all the models, this one has the lowest maintenance cost.
While the engine may not be as powerful as some of the models that came after, you still have options.
You can choose between the 183-horsepower 3.4-liter V6 and the 150-horsepower 2.7-liter four-cylinder.
Both will still give you a smooth ride, a fun time, and for less money.
Toyota 4Runner Years to Avoid
Next up, we have the worst Toyota 4Runner years.
2015 Toyota 4Runner (5th Generation)
The 2015 Toyota 4Runner has been rated as the worst on the board. The biggest issue is the infotainment system.
It just doesn't work properly.
Many buyers said the sound system isn't satisfying enough, especially because the Bluetooth doesn't connect easily. You may also need to restart your vehicle whenever you want to use the radio.
This may seem like a non-issue, but it can be annoying.
With this model, drivers can lose control of the car when applying brakes. The steering can get out of control, and it takes too much manual power before regain control.
2014 Toyota 4Runner (5th Generation)
With this model, a lot of customers complained of multiple electric issues. For instance, the sound system and your doors can malfunction out of the blue.
Another issue we witnessed with this model is that it could give up on you when you stopped at a traffic light. The whole operating system would stop working, requiring the driver to call a mechanic to fix it.
2005 Toyota 4Runner (4th Generation)
The biggest issue with this model was rust.
The issue would get so bad that the vehicle's exterior would show signs of premature aging.
To top it off, this model's maintenance and repair costs were almost emptying the pockets of its drivers.
The other problem was with the head gasket, giving the drivers an uncomfortable driving experience. You can see a full overview of the known problems across the Toyota 4Runner models here.
2003 Toyota 4Runner (4th Generation)
Still in the fourth generation, this model came with several complaints, starting with rust. This Toyota 4runner wasn't ideal for driving during winter.
That's because the salt poured on the roads to melt the snow would cause the internal and external components to rust.
The head restraints and seats weren't optimal, increasing the possibility of serious injuries in case of an accident. And even if no accident occurred, one could still experience body pain after long hours of traveling.
1995 Toyota 4Runner (2nd Generation)
The first few years after this vehicle was introduced into the market came with dissatisfaction.
Customers would complain about different internal components. For instance, the head gaskets would malfunction often. And even after repairs, the same issue would arise after a couple of weeks or months.
Other drivers said they occasionally lost control of the steering wheel, making this model unreliable.
Toyota 4Runner Generations
Here is the list of the Toyota 4Runner Generation and the improvements made.
1st Generation: 1984 -1989
When the 4Runner entered the market, it resembled a modified Toyota Hilux pickup truck. Considering that it was a two-door truck, it felt like somebody installed a fiberglass shell over the bed and added seats to make it look like an SUV.
The car came with a 4-cylinder 2.4L engine and a retractable windshield at the back, which became a signature for the 4Runner. Halfway through this generation, Toyota replaced the front axle with an independent suspension to improve road manners.
As the year progressed, Toyota dropped a lot of upgrades. For instance, they removed the original engine and, in its place, installed a fuel-injected version.
In 1986, they also replaced the transmission.
2nd Generation: 1990 -1995
While the 4-cylinder engine continued, there was also a 6-cylinder option, and the vehicle was available in both automatic and manual.
Between 1990 and 1995, 4-door SUVs were starting to become common, but 2-doors were still being produced. Today, getting a 4-door 4Runner is much easier than a 2-door.
Also, this generation didn't include the removable fiberglass shell, and power steering became a standard option. By 1994, the 4Runner's interior was much classier and equipped with high-end tech from those years.
3rd Generation: 1996 -2002
The third generation came with major upgrades, changing the 4Runner completely. It got a new body style and no longer shared a chassis with a pickup.
The vehicle was also safer and more comfortable, meeting the needs of the current customer base.
The engines were upgraded to a 2.7-liter cylinder engine and a 3.4-liter 6-cylinder engine. And just like the second generation, you could pick between an automatic and manual transmission.
4th Generation: 2003 -2009
As the third generation ended in 2002, the fourth generation brought a more road-oriented midsize SUV. The vehicle was equipped with a 4.0-liter V-6 instead of the previous 4-cylinder engines.
There was also the option of a 4.7-liter V-8.
They rebuilt the body, giving it a more-rounded look, and the interior was more spacious.
They also stopped making the manual transmission, only sticking with automatic, a move that didn't make everyone happy.
5th Generation: 2009 to Present
The present 4Runner generation boasts enhanced comfort and capability. The vehicle is exclusively powered by a 4.0-liter V-6, and it's more luxurious than the previous models.
In 2019, manufacturers introduced the drive-assist technology and extra USB ports, making the driving experience even better.
Which Toyota 4Runner Generation Should You Buy?
The fourth generation has some of the best cars.
For starters, with proper maintenance, these engines can run for about 500,000 miles, which is quite remarkable. (though you shouldn't expect the rest of the vehicle to last that long!)
Also, this is the only generation with an optional 4.7-liter V8 engine, giving your vehicle the highest towing capacity. But we can't fail to mention that even the standard 4.0-liter V6 in most fourth-generation vehicles is still great.
And as a bonus, the replacement parts are easily available and affordable, keeping your car's cost of maintenance low.
You can check the best and worst Toyota 4Runner years in this article.
What Year Is the Most Reliable Toyota 4Runner?
The most reliable 4Runner is the model from 2008. The car got a reliability score of 87/100 and was ranked among the best SUVs then.
What Are the Most Common Problems With Toyota 4Runners?
Like most cars, Toyota 4Runners have had their fair share of problems.
Some of the common ones include:
Electrical issues
Faulty transmission
Rusting
How Many Miles Will a 4Runner Last?
The 4Runner is likely to go beyond 200,000 miles. Car owners say that with regular maintenance, your 4Runner can last up to 300,000 miles. We have even seen models run as long as 400,000 miles but that requires extensive care and maintenance.
Change the oil and filter regularly, replace damaged parts, and rotate the tires, and you're good to go.
We also have a full list of depreciation for each Toyota SUV.
What Are the Closest Competitors to the Toyota 4Runner?
The Toyota 4Runner's closest competitors in the midsize SUV category include the following:
Toyota Highlander
Jeep Grand Cherokee
Jeep Wrangler
Ford Explorer
Subaru Outback
Honda Pilot
Nissan Pathfinder
How Long Do the Transmissions Normally Last on These Models?
Toyota 4Runners transmissions can typically last anywhere between 100,000 to 200,000 miles. With proper maintenance, it can last even longer.
This includes changing the transmission fluid and replacing the transmission filter regularly.
Go back: Best/Worst years for all Toyota models.
Was this article helpful?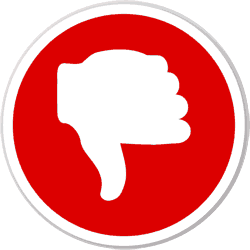 Did you find wrong information or was something missing?
We would love to hear your thoughts! (PS: We read ALL feedback)
ⓘ  The information in this article is based on data from National Highway Traffic Safety Administration (NHTSA) recall reports, consumer complaints submitted to the NHTSA, reliability ratings from J.D. Power, auto review and rating sites such as Edmunds, specialist forums, etc. We analyzed this data to provide insights into the best and worst years for these vehicle models.
---