One of the most practical, family-friendly vehicles to own must be the Chevy Traverse.
This midsized SUV dominated the market from 2008 by delivering exceptional comfort, performance, and off-road abilities. Most love it for its luxury styling and reliable performance without breaking down.
According to reliability scores from different websites, this vehicle can last you for an extended period. Here are the best and worst Chevy Traverse years and the generations available.
5 Best Years for Chevy Traverse
2014 Chevy Traverse
One of the best model years of the Chevy Traverse you can own is the 2014 Chevy Traverse. 
The vehicle's car-like handling is the main reason this model year ranks high. You also get additional cargo space to get the most out of those long trips.
The latest 2014 models include safety features like forward collision alert and lane departure warning. Its spacious storage and advanced safety features are some reasons you should consider this unit for a safe and secure family ride.
According to J.D. Power, the 2014 Chevy Traverse has a reliability rating of 3.0 out of 5.0. You also get high-quality features from the different trim levels available.
2016 Chevy Traverse
There are various reasons why the 2016 Chevy Traverse won the 2016 Best Car for the Money, which is why it features among the best Traverse model years.
You can accommodate up to eight passengers comfortably while delivering an interior with super convenient features.
The model year also offers a new leather and driver confidence package, including:
leather-appointed seating,
passenger seats,
and an eight-way power driver.
Other outstanding features include the Rear Cross-Traffic Alert and Side Blind Zone Alert, which help improve safety.
It would be best if you considered the 2 LT level to enjoy a power-folding, auto-dimming driver-side mirror. Turn signal indicators complement the advanced mirrors, resulting in a safe and comfortable ride.
2019 Chevy Traverse
Another outstanding model of the Chevy Traverse is the 2019 unit.
It is among the most comfortable SUVs to ride in, with a lot of space for your passengers and cargo. 
You also get a powerful engine, enough to carry the weight of your passengers and heavy items effortlessly.
Car critics argue that the 2019 Chevy Traverse is lighter, bigger, and more modern than its predecessors. An upgraded steering wheel complements its powerful engine, guaranteeing outstanding driver control regardless of the terrain.
Some safety features on the vehicle include:
stability control,
anti-lock brakes,
front-impact,
side-impact,
and overhead airbags.
2020 Chevy Traverse
The 2020 Chevy Traverse has everything you need for a midsize SUV and is among the best model years to consider.
The unit features a three-row seat arrangement with extra space for cargo. You also get the latest design and technology, elevating your driving experience significantly.
The SmartSlide Seating feature is unique to this unit and is among the best design decisions ever implemented. This feature allows you to slide into the second-row seats for extra space, to avoid compromising comfort on heavily-loaded trips.
There are two hidden storage spaces at the front and back to help accommodate your belongings safely and promote comfortable traveling.
Its hands-free features, like keyless entry and remote start, make the car extremely convenient.
2021 Chevy Traverse
Another model year worth considering in the Chevy Traverse catalog is the 2021 version.
Its powerful and efficient V6 engine is the main reason the 2021 Chevy Traverse is among the best. 
The engine can produce around 310 hp, increasing with higher trim levels. Fuel efficiency is another advantage of owning a 2021 Traverse.
On the highway, you can achieve 25 mpg, something most SUVs cannot do.
Unlike most SUVs its size, the 2021 Chevy Traverse offers better stability and handling. The 5000 pounds towing capacity allows you to carry heavy luggage and passengers effortlessly.
Chevy Traverse Years to Avoid
2010 Chevy Traverse
One of the Chevy Traverse years to avoid is the 2010 model.
Numerous owners reported severe engine problems that caused hazardous road situations affecting driving. Most of these units break down after 103,000 miles and are expensive to fix.
Some individuals reported total engine failure while driving, which is disappointing as most Chevy Traverse units promise power, efficiency, and reliability.
You will find the unit reviewed with a "Beware of the Clunker" badge on some car complaint websites to help potential buyers be more careful.
2011 Chevy Traverse
Although the 2011 Chevy Traverse is an upgrade from its predecessor, it has similar issues.
Engine system failure is the primary reason you should avoid this unit. However, the problem in this unit can start early at 70,000 miles.
Reports from several drivers showed the car randomly stalling when driving.
In some instances, the problems became more severe and required additional fixing costs or complete replacement. Significant repairs may start appearing after 85,000 miles on the odometer.
2012 Chevy Traverse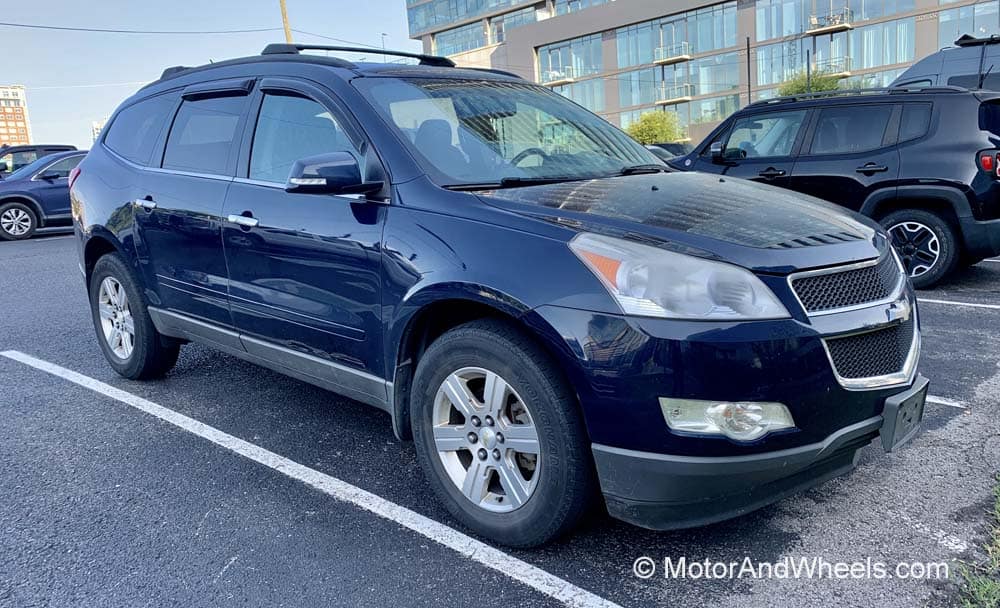 The 2012 Chevy Traverse is another model year you should avoid because of several engine issues.
The issues with this model were so severe that the Chevy team had to resolve them in the preceding model years. Many users reported the engine losing power randomly, which required expensive repairs.
The main reason for a faulty engine in the 2012 Chevy Traverse was defective timing chains, and replacement was necessary.
Worn-out spark plugs can also contribute to a leaking valve gasket and hoses.
You must repair these damaged parts immediately after they stop working to avoid damaging other engine components.
2015 Chevy Traverse
There are several reasons you should avoid the 2015 Chevy Traverse.
The first is poor fuel economy. Excessive oil consumption and leak are reasons this vehicle is uneconomical in fuel consumption.
Other components in the vehicle's interior, like a faulty infotainment system, make it hard for drivers to navigate.
The vehicle's acceleration can also be tricky, primarily because of transmission problems. You are more likely to experience acceleration complications when driving at high speeds while at full capacity.
This problem has been an issue across more models. You can see a full overview of the most common problems with Chevy Traverse models here.
2018 Chevy Traverse
The 2018 Chevy Traverse is the worst version you can buy.
Most complications involve problems with:
the powertrain,
engine,
and electrical system.
Reports from several owners show the vehicle shudders and vibrate a lot when driving.
The engine problems also cause your vehicle to lose power, randomly leaving you stranded on the road. Its transmission is also likely to start having problems after 11,000 miles, making driving challenging on a busy highway.
Chevrolet Traverse Generations
2nd Generation; 2018 – Present
The latest Chevrolet Traverse is the 2022 model, which falls in the second generation. This model year has a modern exterior styling, giving it a sleeker appearance in addition to the outstanding features guaranteed.
Some of its highlights include:
lane-departure warning,
pedestrian-detecting
automatic emergency brakes,
and lane-keep assist.
The 2018 Chevy Traverse was the first second-generation unit.
Although most categorize it as a full-size SUV, it is technically a midsize crossover with a spacious interior and outstanding performance.
Previous generations of the Traverse had the Lambda platform, but this generation uses the new C1XX platform.
One of the most outstanding improvements is expanding your engine choices.
Some of the most popular engine configurations available are the 3.6-liter V6 engine and the 2.0-liter turbocharged engine. You get a nine-speed automatic transmission on all trims and engine choices.
Units in the second generation also come with improved safety features. They include a rear-seat child reminder, rearview camera, electronic stability control, and traction mode selection.
1st Generation; 2009 – 2017
The traverse entered the industry in the worst period in automotive history, 2008. The 2009 model released in 2008 received loads of praise from car reviewers for its sleek design, outstanding safety ratings, and quiet ride experience. 
Although it lacked off-roading abilities, the vehicle still proved versatile and powerful from the available front-wheel and all-wheel drive options.
The first generation models featured one engine and transmission, which included a 3.6-liter V6 engine and a six-speed automatic transmission.
The LTZ trim had a slight power boost, producing 288 hp and 270 lb-ft of torque.
There was a mid-cycle refresh involving cosmetic upgrades on the 2013 Traverse model. It featured a revised grille and taillights and reprogrammed transmission upgrades for quicker and smoother shifting.
Which Chevy Traverse Generation Should You Buy?
It would be best to consider buying the second-generation models of the Chevy Traverse. 
They feature more advanced features and are more reliable.
The 2021 Traverse is the best year as it has the least customer complaints and won the IIHS Top Safety Pick Award.
What Year Is the Most Reliable Chevy Traverse?
The most reliable Chevy Traverse to consider buying is the 2022 model.
This model has advanced luxury features like Family Link and Teen Driver to help improve safety, comfort, and reliability.
You also get a wide range of trims from this sturdy and reliable unit, which guarantees exemplary performance and fuel economy.
What Are the Most Common Problems with Chevy Traverses?
Chevy Traverses are not the most reliable SUVs out there.
Most first-generation models had engine problems from 2010 to 2012. Some owners also reported brake problems, significantly affecting driving quality.
Other common problems include:
Steering problems
AC and heater problems
Faulty electrical system
How Many Miles Will a Traverse Last?
You can expect your Traverse to last 200,000 miles, provided you maintain a strict maintenance schedule.
It can provide 13 years of problem-free performance if driven 15,000 miles yearly like an average American driver.
What Are the Closest Competitors to the Chevy Traverse?
The high number of car manufacturers means stiff competition in all categories.
Several midsized SUVs are close competitors to the Traverse.
The closest competitors are:
Toyota Highlander
Toyota 4Runner
Subaru Outback
Honda Pilot
Ford Explorer
Jeep Wrangler
Jeep Grand Cherokee
How Long Do the Transmissions Normally Last on These Models?
Most Chevy Traverse units start experiencing transmission complications between 130,000 and 180,000 miles.
You should consider a high-quality transmission replacement and proper maintenance to ensure it lasts longer.
Go Back: Best & Worst data on all Chevrolet models
Was this article helpful?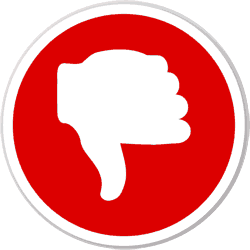 Did you find wrong information or was something missing?
We would love to hear your thoughts! (PS: We read ALL feedback)
ⓘ  The information in this article is based on data from National Highway Traffic Safety Administration (NHTSA) recall reports, consumer complaints submitted to the NHTSA, reliability ratings from J.D. Power, auto review and rating sites such as Edmunds, specialist forums, etc. We analyzed this data to provide insights into the best and worst years for these vehicle models.
---