There's nothing like the feeling of air blowing through your hair while driving in a car without a roof. Better visibility and an overall stylish look are just some of the benefits of a convertible.
Back in the day, it was thought that you needed a lot of money in order to own and drive a convertible. Gone are those days as cars without roofs are now just as affordable as normal cars.
In this article, we're listing out some affordable cars without a roof so let's get started.
1. Mazda MX‑5 Miata
Powered by a 2.0-liter naturally aspirated four-cylinder engine, the Mazda Miata is capable of great speeds.
This convertible car is one of the best models from Mazda and is now being upgraded with better features.
This version of the Miata sticks to the classic design and has a feeling of exoticness to it. The overall sporty exterior design works well when there is no roof.
Miata have been around for quite a few decades and are still going with the classic look.
A Mazda Miata RF version is an upgrade and has a costlier price tag but more appealing features. The most notable of the features is the hard roof that can also be retracted.
It comes as no surprise that the Miata drives much like a sports car. This is evident with the suspension and the way it handles around corners.
Mazda made sure the Miata is as affordable as possible with a base price of about $27,825. For this price, the value is great for a convertible and you'll be able to enjoy those sunny days.
Also, check out some cars without doors you can buy.
2. Fiat 500c
This is one of the smallest city cars around but still has a lot going for it in terms of value. The 500C is similar to its predecessor except for a few minor details.
Here are the most common problems across the Fiat 500 years.
The previous version Fiat 500 had a fully convertible roof that covered the entire backside of the car. This version, the 500C only has a cloth material roof that retracts in stages.
Even though this Fiat line has its fair share of problems, the 500C still has not addressed the major issues yet. The biggest issue with the car is the small spaces for both passengers and cargo.
If you're a tall adult, this Fiat will be quite uncomfortable both upfront and for rear passengers. The cargo or trunk space is also limited and can only hold a few small items, definitely not grocery shopping bags.
Check also: who's the demographic who buys convertible cars.
With that said, most owners found it fun to drive around town with. Because of its size, another benefit is being able to park in tight spots without worry.
You can expect a range of about 186 miles on a single charge of this Fiat's 42kWh battery. This range comes as no surprise as the car can retail for around $23,600.
It might not be the biggest car on the road, but it does save quite a ton of money and adds some value to your driving experience.
3. Mini Convertible
Other than a VW Beetle and a Jeep, the Mini is one of the most iconic cars of late. Its looks can be recognized from anywhere and it now has some of the most modern features there are.
Meanwhile, convertible cars have problems of their own.
In terms of features and performance, this convertible variant is quite similar to the hardtop version. Both the cars are super small and should make driving and [arking in tight spots a breeze.
MINI made sure to make this version as upgradeable as possible with a selection of engines and style elements you can choose from. These optional packages come at a price but are sure to improve the MINI's performance and looks.
Because of its size and the BMW-powered engine, this car is fun to drive around town and has a selection of driver-assist features to boot.
Interior space is average with good space for front passengers and limited shoulder space for rear passengers. As such, only two adults will fit comfortably in the rear passenger seats due to limited space.
The interior design sticks to the iconic look of the earlier versions of the Mini Cooper. Materials feel plasticky in base models but have quality interior materials such as leather seats for premium models.
The retracting roof feels well-made but lets in a lot of noise from the road when driving. However, the ride quality is good enough with only a few big bumps being felt.
This is not exactly a family to go grocery shopping with but can work great as a first car. The price is also a huge selling point for the safety and driver-assistance features the car has.
4. Smart EQ Fortwo Cabrio
At a base selling point of about $28,100, the Smart EQ Fortwo Cabrio is a no-brainer if you want to feel the sunshine on your face.
This is also one of the smallest convertible cars around and it still packs quite a punch.
The EQ Fortwo Cabrio has a retractable roof that spans across most of its roof to the back. Sometimes the process of opening the roof can be quite tedious, but it is worth it.
Even though it only seats two passengers, it can still zip around town in style. The stylish look of the EQ Fortwo Cabrio is accentuated when the roof is open.
Unfortunately, the car can only drive for around 81 miles on a single charge. It is quite small to fit in a bigger battery to increase the mileage.
It retails for around $19,200 which is a great price range by electric vehicle standards.
Premium trim can go as high as $24,495 which is still quite affordable for a modern vehicle.
There are four different trim levels you can choose from. They feature performance and design elements that are too subtle to notice.
An EQ Fortwo Cabrio was not designed with space in mind as it is very limited in terms of interior space. Tall adults will have a difficult time getting in and out of the car.
Headroom and legroom are also quite limited and so many buyers opt for the Cabrio version without a roof. Tall adults will be allowed more headroom when the roof is opened up and enjoy the sunshine.
With that said, the EQ Fortwo Cabrio is great for parking in really tight spots. This, together with an open roof makes this city car a pleasant option.
Meanwhile, explore some problems with car sunroofs.
5. Toyota Solara
You might have some trouble spotting this Toyota around town because it was discontinued some time back.
However, it was still one of the best options for a car without a roof back when it was still in production.
It's no secret that Toyota produces some of the most reliable vehicles around and this is no different for the Solara. This Camry-based sedan has plenty of features going for it and was thought to be ahead of its time.
The retractable hardtop was a huge selling point for the Solara because it also had a spacious cabin just like a regular Camry. Its two-door variant was the most famous because it looked a lot sportier.
Unfortunately, the exterior design did not appeal to the younger generation. This was partly due to other manufacturers releasing more attractive and sportier convertibles.
Toyota got it right with the interior design of the Solara because it used quality materials throughout. The seats feel upscale and so does the rest of the cabin.
Due to its size, the Solara could comfortably seat four adults even if they're tall.
This is mostly due to the original Camry's big and spacious design.
An affordable price tag of about $27,440 was also what made the Solara such a pleasing option for a convertible. Most convertibles of this size would've been higher priced from other manufacturers.
6. Volkswagen Beetle Convertible
One other iconic car is the distinguished VW Beetle which can be spotted from afar because of its classic look.
Its 2019 model looks much like older models but gets a few surprise upgrades to move it into a new era. The latest version is now more comfortable and better performing for the most part.
As soon as you get into the interior, you can immediately tell that the car was well-made. The cabin is spacious and stylish with a touch of the classic VW Beetle looks.
The front passenger seats are comfortable with a healthy amount of storage bins for drinks and small items. Tall adults will however find the rear seat a bit cramped together with limited headroom and legroom.
Other than the sportier looks of the car when the top is open, it also gets an improved engine with a turbo.
This gives it more power output but also has a good balance for fuel economy.
Owners noticed that there was a bit of turbo lag when accelerating and the brakes were a bit too soft. These issues went away once the car gets warmed and the driver gets used to the feel.
Driving with the top down is a complete pleasure with this VW Beetle. At a base price tag of about $25,995, this convertible is one of the most appealing purchases around.
The higher-priced Final Edition SEL convertible of the VW Beetle can have a different color top. This means even if the Beetle is green, the retracting top can be a different color which adds more design appeal.
This convertible has a decent amount of power and comfort for daily city driving. Because of its size, zipping around traffic and parking in tight spots is a breeze.
One of the most appealing aspects of the 2019 VW Beetle is the price range for a convertible. The price is just right if you take into consideration the open-air experience of a convertible.
You may also be interested in popular cars without sunroofs.
Pros and Cons of Cars Without a Roof
| | |
| --- | --- |
| Pros | Cons |
| More headroom | Cabin Noise |
| Better visibility | Roof Leaks |
| Sporty and stylish | Minimized Security |
| Versatile | Sun-damaged Interior |
Was this article helpful?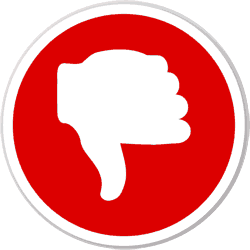 Did you find wrong information or was something missing?
We would love to hear your thoughts! (PS: We read ALL feedback)