Introduced as Lexus smallest crossover SUV in 2018, the very modern Lexus UX has five model years. From the 2019 version to the newly introduced 2023 Lexus UX, there are the best models and the ones you'll love to avoid.
In this article, we have reviewed all the Lexus UX years to make you determine the best models and the worst.
The Best and Worst Years for Lexus UX Are:
The 2020 and the 2021 are the best Lexus UX so far. You may want to avoid the 2019 and the 2022 years for some few issues you'll discover later in the article.
The 2023 edition is still very recent; so we did not feature it at the moment.
What Lexus UX Years Are the Most Reliable?
Here are the Lexus UX models that are the most reliable:
1. 2020 Lexus UX
Built similar to a hatchback, the stylish 2020 Lexus UX comes with a more refined driving characteristics regardless of its average price.
While it offers little difference from the 2019 model in terms of acceleration, it comes with a little more advanced driver safety features. Lexus also added a rear cross-traffic alert to the blind spot monitoring system in its premium trim.
Like its predecessors, the 2020 Lexus UX also features a dull acceleration. However, you can go for the hybrid UX250h or the F Sport version for a more enhanced acceleration and sporty feel.
This model also includes Android Auto and Google Assistant to its infotainment system. So, even when the interface is still difficult to use, there is a complementary feature to consider.
That being said, why not check out our article on 11 cheap SUVs with Apple CarPlay?
This vehicle also boasts of a near perfect crash reports from NHTSA. It has 4/5 on overall frontal barrier crash rating, rollover rating, and frontal barrier crash rating for driver/passenger. Moreover, the SUV has a perfect 5/5 ratings on other crash test results, which earned it a 5-star rating on CarandDriver.
Some of its driver safety assistance features include:
Backup camera
Dynamic cruise control
Blind spot monitor
Lane departure warning
Vehicle stability control
While CarandDriver gave the 2020 Lexus UX an overall rating of 8/10, Cars.com score it 4.9/5 while Edmunds rate it at 7.2/10.
2. 2021 Lexus UX
The 2021 Lexus UX features an interesting interior and a fun to drive SUV. In spite of being a more recent version, its price range is not significantly higher than its predecessors.
However, like the 2019 model, its acceleration is also not very impressive and it could also be noisy when raised higher. For a better acceleration, you can consider the UX250h or higher trims.
The 2021 Lexus UX made the blind-spot monitoring and rear cross-traffic alert standard, which is a plus.
Regardless of its sluggish acceleration, this SUV still offers an above-average fuel economy. You may admire its mpg estimates of 29/37 city/highway drive.
Aside from the lackluster and buzzing acceleration, this SUV is quite impressive. It has been able to accrue 80% quality and reliability score on J.D. Power.
Other reviewers, such as MotorTrend, also score it 7.8/10 while Edmunds marks it 7/10.
Some of the notable features of the 2021 Lexus UX include:
Blind spot and lane departure warning system
Pre-collision safety system
4-wheel ABS
Emergency Braking assist
Tire pressure monitoring
What Lexus UX Years Should You Avoid?
Aside from the issues with slow acceleration, complex infotainment system, and a less active brake, the Lexus UX is not really a bad choice. You may, however, want to avoid the years highlighted below for the aforementioned reasons.
1. 2022 Lexus UX
Amongst the new Lexus vehicles, the 2022 Lexus UX serves as the least expensive, with its starting price of $34,225. However, it's still not the best for a large family due to its small cargo area and diminutive rear seats, especially when compared to other competitors.
While it maintains an above-average fuel economy, its powertrain is still less powerful. In fact, Edmunds reports that it took the ride 10 seconds to make 60 mph, which is even slower than the 2019 version.
Unless you go for the hybrid UX250h version, which boasts of an all-wheel drive, you still won't enjoy a swift acceleration in this ride.
You may also not enjoy the noise that burst out of the engine when you seek more power. Regardless, you'll love driving the small SUV because it still maintains its low center of gravity.
The 2022 Lexus UX also features dual-zone climate control, power-adjustable and heated front seats.
Being a more recent model, you would expect an adjustment to the less covetous trackpad of the infotainment system. However, Lexus maintained the same trackpad control in the 2022 version.
This ride may also not be fantastic to android lovers as it only features Apple CarPlay and no Android Auto.
You can also check out our article on 4 popular cars without Apple CarPlay.
Overall, the 2022 Lexus UX has its own fair share of overall ratings from reviewers. While CarandDriver gave it 7.5/10, Edmunds score it 7.1/10.
2. 2019 Lexus UX
The 2019 UX is Lexus entry-level subcompact crossover SUV that has surprised many with its elegant exterior and snazzy interior quality.
Lexus UX is not notable for swift acceleration. In fact, the UX200h runs with a 2.0L four-cylinder engine that makes only 169 hp. A test by CarandDriver claimed that it took the acceleration of this model 8.6 seconds to move to 60 mph.
Aside from speed, the performance of its brake is around average rate as well. Edmunds reported that it took the vehicle about 129 feet to stop when the brake is applied from 60 mph.
The ABS could also be noisy when you use the brake at maximum effort.
Meanwhile, the handling and transmission system of the SUV is quite cool, and its interior also smells of luxury.
While it features a dual-zone climate control, proximity entry and push button start, driver and the front-seat passenger can enjoy power front seats and Apple CarPlay integration.
The 2019 Lexus UX sits at 5 out of 10 amongst the 2019 luxury subcompact SUV ranked by U.S.News. This is also attributed to its dull acceleration, cramp rear seats, and complex infotainment control.
However, the reliability of the SUV has been rated above average. While it attracts 8/10 on CarandDriver and 7.5 on Car.U.S.News, JD Power gives it a 4.5/5 reliability rating and 85% overall score.
This SUV also offers loads of driver assistance features that include the following:
Forward collision warning
Automatic emergency braking
Adaptive cruise control
Road sign recognition
Lane keeping assist
Its luxury trims even offer more premium features.
In all, the 2019 Lexus UX is a somewhat reliable ride for an entry-lever crossover SUV. Its only downside is its average engine performance and the subpar infotainment control.
Make sure to also check out our article on 5 full-size SUVs with great sound system.
What Are Some Typical Problems With the Lexus UX Models?
Some of the typical issues with the Lexus UX include:
Slow Acceleration
Defective Brake Booster Pump Motor
Faulty Emergency Calling System (eCall)
Complex infotainment control
Uncomfortable back seat
Trackpad base infotainment system
Final Thoughts
Lexus UX is a very recent model introduced by Lexus in 2018. With its years, ranging from 2019 to 2023, there have been little user reviews over the years.
Nevertheless, while this entry-level crossover SUV may be quite affordable, it doesn't offer enough space, unlike many competitors.
Besides, many of its models work with a 2.0L four-cylinder engine that makes only169-hp and an unattractive acceleration. Still, the vehicle has remained a popular drive, probably because of its affordability.
Did we also mention that it boasts of an estimated combined City/Highway 33MPG?
Go back: Overview of best/worst years for all Lexus models.
Was this article helpful?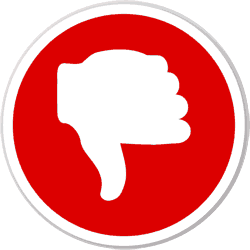 Did you find wrong information or was something missing?
We would love to hear your thoughts! (PS: We read ALL feedback)
ⓘ  The information in this article is based on data from National Highway Traffic Safety Administration (NHTSA) recall reports, consumer complaints submitted to the NHTSA, reliability ratings from J.D. Power, auto review and rating sites such as Edmunds, specialist forums, etc. We analyzed this data to provide insights into the best and worst years for these vehicle models.
---