Other than the Dodge Charger, today's police vehicles are primarily SUVs. Their size, ground clearance, and ability to go off-road make them perfect vehicles for law enforcement.
You will also see Vans, pickup trucks, and other vehicles wearing law enforcement emblems.
However, today's law enforcement vehicles are predominately SUVs.
What SUVs do the police use, and why?
The Dodge Charger is still used today as a police pursuit vehicle and is one of the last sedans used for this purpose.
However, in the previous ten years, SUVs have been used more frequently by police departments and have reached a point where they are used almost exclusively.
Part of the reason is that SUVs have larger cargo and passenger room. Another reason, however, is that fewer full-size sedans are being made than there were in the past.
Once SUVs caught on, everyone wanted one, and the companies complied.
An SUV can hold more passengers than a sedan. They give the officer a higher vantage point than a sedan, and SUVs are safer for officers to drive. Their size, powerful engines, and tuned suspension systems make them a better tool to manage the highways than vehicles that came before.
We have more here on why the Chevy Tahoe is so durable.
Chevrolet Tahoe — Law Enforcement Pursuit Unit
Along with the Ford Expedition, the Chevrolet Tahoe is one of the largest SUVs on the road. It has room for five full-size adults and their gear. This is important when law enforcement needs to send in a team or when they need to transport individuals.
SUVs used for law enforcement have added features exclusive to their use by the police.
For example, the Chevrolet Tahoe, a full-sized SUV, is powered by a 5.3L V8 that produces 355 horsepower and 383-pound feet of torque.
That's similar to the civilian variant. However, other components are exclusive to a police car conversion.
The suspension of the Tahoe is beefed up for this application, as are the brakes, cooling system, and transmission.
These upgrades to the Tahoe, along with spotlights, light bars, and department insignias, turn an everyday Tahoe into one purpose-built for law enforcement.
We have more here on common police car upgrades.
County, state, and federal law enforcement have used SUVs for years as transportation for officers and passengers that were not wanted for breaking the law but upholding it. Therefore, transitioning the Tahoe from a recreational vehicle to law enforcement is a practical move for Chevy and the government entities purchasing them.
Dodge Durango — Law Enforcement Pursuit Unit
The law enforcement version of the Dodge Durango is offered with a 3.6L V6 that produces 293 horsepower and 260-pound feet of torque. Or, the Durango can be equipped with a 360 horsepower 5.7L V8 that produces 390-pound feet of torque.
A law enforcement Dodge Durango cabin gets an added safety cage to keep the occupants safe during a crash. It is also available with heating and cooling in the rear of the vehicle, so your K9 partner is comfortable, too.
the Dodge Durango is also known for lasting long.
Not as big as the Ford Expedition, the Durango is as powerful and has space for gear, a K9 police officer, or several passengers.
Dodge has built cars for law enforcement for decades, and the move from Dodge or Chrysler sedans to Dodge Durango SUVs is a natural progression.
The Dodge Durango has proven its worth since the first model hit the streets.
The Dodge Durango is a suitable SUV for law enforcement patrolling highways or back roads. Its power also makes it an excellent vehicle for intercepting other cars. In addition, the Durango is as fast as any SUV on this list, except for the Explorer Hybrid, which wins the cop car speed award.
Ford Police Interceptor Utility Hybrid Vehicle (aka Ford Explorer)
The fastest SUV on this list is the Ford Explorer. Standard Hybrid power and a police package that beefs up the cooling system, transmission, and suspension,
Powered by a twin-turbo 3.3L V6 with assistance from an electric motor.
The 318 horsepower produced from this combination can propel the Ford Explorer from zero to 60 miles per hour in 5.5 seconds. Zero to 100 miles per hour can be attained in about 13.5 seconds.
Hybrid power is one of several options available in the Ford Police Interceptor. It can also be purchased with a 3.3L direct-injection V6 or a 3.0L EcoBoost engine.
The options give different police departments options when purchasing police interceptors.
In other words, for an SUV, the Ford Explorer Interceptor Hybrid is quick and worthy of being called an interceptor. It's just what the police need to run down suspects and stolen vehicles, and it offers plenty of space to carry gear.
That said, there has also been some bad years for the Ford Explorer models.
Ford Expedition — Special Service Law Enforcement Vehicle
Like the Chevrolet Tahoe, the Ford Expedition is a big vehicle. What it lacks over the Chevy, however, is a V8 option. They are rarer than the Chevrolet Tahoe for law enforcement use. However, the Ford Expedition equipped for law enforcement use is used in some cities.
The 3.5L EcoBoost V6 used in the Ford Expedition produces 380 horsepower and 470-pound feet of torque.
Impressive numbers and this power level give the Expedition the grunt to haul a load of equipment or officers to where they need to be.
For extra space, the Expedition MAX is longer and has more cargo capacity than the regular model. The MAX is also available with police upgrades. Coming in at over 18 feet in length, the Expedition MAX is a lot of SUV and can carry several passengers and cargo and pull a trailer, too, if necessary.
As for being used as an interceptor, it's fast for a full-size SUV.
However, with their hybrid power, the smaller Ford Explorer and the Dodge Durango can handle those tasks better because they are quicker and more agile.
However, not all Ford Expedition last as long. 
Are SUVs the only type of vehicle used by the police?
The only sedan still used as a police vehicle is the Dodge Charger. It is one of the few sedans affordable enough to use as a law enforcement vehicle.
Other vehicles used by the police are pickup trucks and vans, which are used for prisoner transport. In addition, Chevrolet sells an EV Bolt Special Service Vehicle that can be used within a city's limits.
Police vehicles are driven 12 hours or more daily and must endure grueling road and weather conditions. However, the additional features added to law enforcement vehicles enable them to accomplish this feat.
Was this article helpful?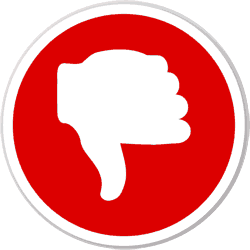 Did you find wrong information or was something missing?
We would love to hear your thoughts! (PS: We read ALL feedback)