The Ford Explorer is a range of SUVs introduced by Ford. As of 2020, it has been reported as the best-selling SUV of all time across America.
Thanks to its massive popularity and appeal, Ford has had a storied history and has seen six generations' worth of evolution.
The following guide explores each generation to help you figure out which Ford Explorer models are the best purchases and possible models and versions to avoid.
Best years for Ford Explorer
Expert ratings describe the 2022 Ford Explorer as an SUV that has seen some tweaks from its previous model to make it a more complete vehicle.
Agile handling and a roomier cabin have been welcome additions to the lineup for the current year.
The following lists the top 5 best years for Ford Explorers based on the fewest number of consumer-reported issues, overall least serious reported problems, and standard or optional features.
2021
The 2021 Ford Explorer has the best of both worlds in that it is classically iconic as well as holds all the advantages of a modern-day vehicle.
It comes in many different trim levels and includes the latest in safety and entertainment technology.
This is also one of the SUV models that the police use.
2019
This model features a powerful engine, many trims, and colors, and excellent handling that far exceeds other competitors in its class.
You can see here how much each Ford Explorer model can tow (up to +7,100 pounds!)
While it does not have the same qualities as the 2022 model, it makes up for that by being an excellent value vehicle that is both affordable and safe.
2010
Power, reliability, and a high-quality exterior design make the 2010 model of Ford Explorer one of the best of all time.
It is a great value vehicle as it can be bought for a lower price point yet still has powerful towing and cargo-hauling capabilities.
Again, we saw very few complaints and recalls on this model and it stands out as one of the best years for Ford Explorer.
2008
The 2008 Ford Explorer model has the power to use for towing and also the highway mpg to make longer road trips.
In addition to new interior electronic capabilities like a voice-activated multimedia system, the 2008 model also has new-to-2008 20-inch wheels.
This model has a towing capacity of 3,500 and 7,310 pounds with the 4.6L engine. 
2001
The 2001 Ford Explorer has a 90% vehicle recommendation primarily due to its longevity, towing capabilities, and highly ranked city and highway mpg. While it may not have the most up-to-date driving experience, it has a retro feel that many cars can't match today.
Thanks to its age, experienced buyers can likely get a good deal for the purchase of one.
Most Ford Explorer models are made in Chicago.
Ford Explorer years to Avoid
Ford Explorer models of the past have been critiqued for a variety of reasons, including transmission issues, bad brakes, warning light problems, and hard shifts.
The following 5 models take a closer look at where Ford Explorers can go wrong based on the number of costly repairs that, if not fixed, can lead to high-risk and safety issues.
2017
The 2017 Ford Explorer model shows significant wear and tear over less than 25,000 miles, which can be extremely costly to repair.
Some other issues that plague this model include:
premature tire wear,
cabin exhaust fumes,
and windows spontaneously shattering.
2016
An electrical defect consisted of a wrench light not turning off after servicing.
This occurred at around the 8,000-mile marker.
Additional problems included transmission issues, power steering failures, and faulty electrical lights and switches.
2015
The 2015 model of the Ford Explorer could have been dubbed the nightmare version primarily because of a power steering failure. We have more here on the problems with the Ford Explorers.
This would cost upwards of $1,800 and would occur at the 44,000-mile marker. Even worse, however, was that this was an issue that could result in serious injuries and potentially death.
2014
While not as serious an issue as the 2015 model, the 2014 model also experienced it's own share of issues, paint bubbling being a common issue.
Drivers did also notice issues with the transmission.
2013
Rust bubbles and paint bubbles that cost thousands of dollars to repair were major issues in the 2013 Ford Explorer.
Additional problems included transmission problems that resulted in exhaust odors in the cabin.
1st Generation: 1991—1994
The first generation of the Ford Explorer utilized the Mazda 5-speed manual transmission as the standard transmission while also offering a 4-speed automatic transmission as well.
A rarity at the time and what first put the Explorer on the map.
This generation also included a 4.0L Cologne V6 engine that replaced the Ford Bronco 2.9L V6 engine.
2nd Generation: 1995—2001
The next generation of the Ford Explorer introduced a very powerful 210 hp 4.9L V8 engine in order to compete with other vehicles from Jeep and Land Rover.
Additionally, the vehicle included an all-wheel drive option that resulted in increased horsepower output.
3rd Generation: 2002—2005
The third generation of the Explorer again upped the ante on torque and velocity with a 239 hp 4.6L Modular V8 engine.
The beginning of the generation began a new era in the vehicle for the 2002 model being the last to offer a manual transmission.
The rest used automatic transmission on a V8 engine instead.
4th Generation: 2006—2010
The fourth generation of the Ford Explorer was the first to offer a 292 hp 4.6L 24-valve SOHC V8 engine on par with that of the Ford Mustang.
The V8 engine included an automatic transmission that became standard for V8 engines of the model.
Thanks to its quality engineering and development, the 2006 version of the fourth generation was also the first model to be nominated for the North American Truck of the Year award.
5th Generation: 2011-2019
The fifth generation of the Ford Explorer went through a number of different models in order to become more economical for the average driver.
While it started out with a 290hp 255 lb-ft torque V6 engine, the manufacturer decided to scale back to a 240hp 270 lb-ft torque transmission system in order to fulfill this goal.
This generation came with some inherent problems as the manufacturer experienced a recall in 2019 from 2011 to 2017 versions having suspension issues that could affect steering and major traffic fatalities.
6th Generation: 2020-Present
In order to "restart" the line after a disastrous fifth generation, Ford offered a 300 hp 310lb-ft torque with a 10-speed automatic transmission.
This is likely the most turbocharged vehicle as the engine can make 400 hp and 415lbft of torque as well as an increased towing capacity.
Which Ford Explorer generation should you buy?
The current generation is likely the best you can buy as they have undergone significant changes since the recall of the previous generation.
Mistakes tend to lead to major process changes that the organization was more than willing to undergo.
What year is the most reliable Ford Explorer?
The 2021 and 2022 models have given Ford a chance to reflect on previous issues and reinforce what has made the vehicle so reliable in the first place.
What are the most common problems with Ford Explorers?
Transmission Failure
The Ford Explorer has numerous examples of transmission failures.
One major issue includes transmission slipping, which results in a burning engine smell and difficulty in shifting gears. This can be a major issue for drivers and passengers alike.
One way owners can alleviate this problem is to replace and reprogram the transmission, which might completely eradicate the issues that were occurring in the previous transmission.
Wheel Bearing Failure
A wheel bearing failure can result in friction with smooth wheel rotation. This can seriously hamper vehicle function and harm drivers and passengers.
It can result from excessive wheel modifications or even poor road conditions.
Paint bubbling
Paint and rust bubbles are known to be an issue related to the manufacturer's bodywork.
This can result in injuries when individual hands attempt to open or close doors and trunks. Although there has been no recall for this issue, many are claiming that factory conditions inherent to Ford manufacturing plants have created chemicals in the vehicle coating that has resulted in the formation of these bubbles.
How many miles will a Ford Explorer last?
Ford Explorers have an extreme level of longevity and have been known to hit up to 300,000 miles over the course of their lifetimes. Normally, though, you'll see closer to 220,00 miles or 16-17 years on these models.
We have more here on how long the Ford Explorer models last.
What are the closest competitors to the Ford Explorer?
Competitors include:
Honda Pilot
Toyota Highlander
Chevrolet Traverse
How long do the transmissions normally last on the Ford Explorer?
The transmission will typically last around 200,000 miles or 16-17 years. It's a very sturdy and high-quality system and you should expect it to last as long as the vehicle when taken good care of.
Go Back: See best and worst years for all ford models.
Was this article helpful?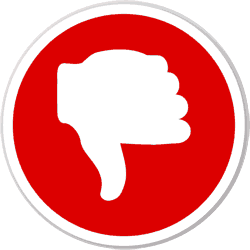 Did you find wrong information or was something missing?
We would love to hear your thoughts! (PS: We read ALL feedback)
ⓘ  The information in this article is based on data from National Highway Traffic Safety Administration (NHTSA) recall reports, consumer complaints submitted to the NHTSA, reliability ratings from J.D. Power, auto review and rating sites such as Edmunds, specialist forums, etc. We analyzed this data to provide insights into the best and worst years for these vehicle models.
---