As a mid-size crossover, Toyota's Highlander aims at maximum cargo space without sacrificing on drivability. Chances are, if you own or are looking to own a Highlander, cargo space is an important factor – so how exactly does the model measure up?
Below, we'll answer in detail all your questions about the storage capacity of the Highlander through the years.
How Much Cargo Space Do Toyota Highlanders Have?
The total storage capacity of the Toyota Highlander ranges from 81.4 to 95.4 cubic feet, measured from the inside of the back door to the back of the front seats.
The payload capacity for the Highlander – the total weight of added cargo the vehicle can carry – falls between 982 and 1,840 pounds.
First Generation: 2001 – 2007
We still see many first-gen models on the roads. This shows that Toyota Highlander cars last long.
Dimensions
At its debut, the Highlander came in a two-row, five-seat option; this option stayed consistent over the years, and in 2004 Toyota began offering an additional three-row model which could seat up to seven.
Overall, this generation had a maximum storage capacity of 81.4 cubic feet with the back seats lowered. The cargo area in the trunk with the back seats up was 38.5 cubic feet. With the addition of a third row of seats, trunk capacity decreases to 10.5 cubic feet.
Other dimension stayed roughly the same across models:
Front & second head room: 40 inches
Front & second shoulder room: 57-58 inches
Front leg room: 40 inches
Second leg room: 36 inches
The third row backseat was considerably smaller, with head room measuring 32 inches, shoulder room 53 inches, and leg room 30 inches.
Payload Capacity
The maximum payload capacity for this generation is 1,840 pounds. This holds for the Base trim with front-wheel drive for first generation models after 2003. The maximum payload capacity between 2001 and 2003 was 1,500 pounds.
The add-ons that your vehicle has will affect payload. The V6 engine option, compared to the standard I4 engine, increases the car's total weight by 150 to 200 pounds, thereby decreasing the payload capacity. The same is true for an all-wheel drive system when compared to a front-wheel drive one, which lowered capacity by between 200 to 300 pounds.
The lowest payload capacity for this generation was 982 pounds, for the 2002-2003 Limited V6 all-wheel drive option.
Toyota also introduced a hybrid version of the highlander for the 2006 model year. This first generation of hybrid models had payload capacities between 1,485 and 1,608 pounds.
Second Generation: 2008 – 2013
Dimensions
Starting with the 2008 model, Toyota no longer offered a 5-seater option for the hybrid. Both the second and third row of seats fold down, however, and Toyota has actually increased the total storage area with this generation. The maximum back-seat capacity is 95.4 cubic feet, up from 81.4.
The cargo volume with the third row down was about 42.3 cubic feet, and was again about 10 cubic feet when all rows of seats were in use.
The seating dimensions also increased slightly across models:
Front & second head room: 40 inches
Front & second shoulder room: 60 inches
Front leg room: 43 inches
Second leg room: 38 inches
The third row was also a bit more roomy, with 30 inches of leg room of, 36 of head room, and 55 of shoulder room.
Payload Capacity
On average, payload capacities were higher for this generation, with none that dipped below 1,400 pounds.
The highest payload capacity was 1,822 pounds, for the 2008 Base model. 2010 and 2011 had the lowest capacities, at 1,450 pounds for the Limited trims with V6 engines and all-wheel drive.
The capacity for the Base trim front-wheel drive models from 2009 to 2013 was also a bit lower, due to a lower gross vehicle weight rating (GVWR) for these models. The GVWR is essentially the total weight limit for a car, including its curb weight and any additional cargo; the GVWR of the base FWD models was 5,500 pounds rather than the 5,800 or 6,000 given for other models.
The hybrid Highlanders for this generation had a somewhat lowered payload capacity, ranging from 1,359 to 1,427 pounds.
Third Generation: 2014 – 2019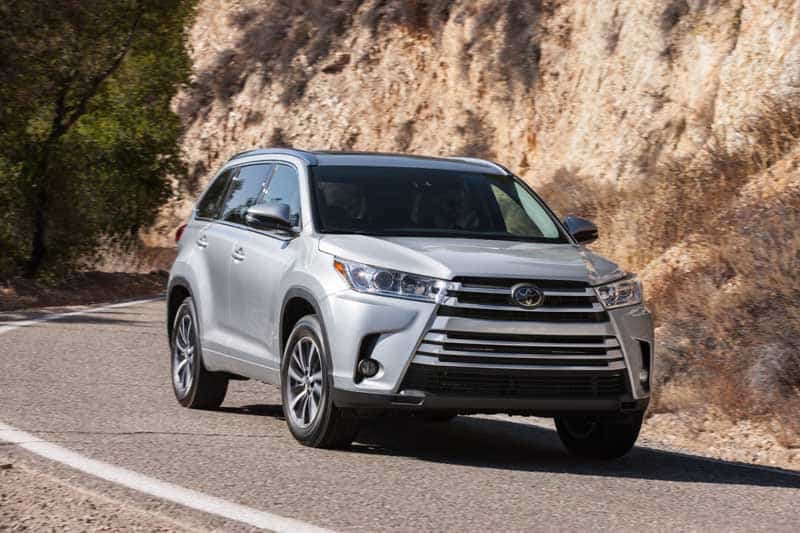 2019 was one of the best years for the Highlander. We have a full list here of the best Toyota Highlander years and years to avoid.
Dimensions
Starting in 2014, the overall dimensions of the Highlander were again smaller, offering only 83.7 cubic feet of cargo space in the back. However, they did manage to squeeze in an extra seat, bringing the total up to 8, and trunk room increased by about 3 cubic feet.
Front and second row head and shoulder room stayed about the same, at about 40 inches and 60 inches, respectively. Front leg room increased by about an inch, up to 44 inches.
The third row became significantly smaller, and would likely be a tight ride for adults.
Toyota seemed to be betting that most Highlander drivers would be using their third row mainly for kids, and provided only 27 inches of leg room, 36 inches of head room, and 55 of shoulder room.
Payload Capacity
The third generation of Highlanders had payload capacities ranging from 1,126 to 1,602 pounds.
The 2014 model year had some of the lowest capacities for this generation, with the V6 front-wheel drive models ranging from 1,126 to 1,236 pounds. Later years tended to have higher capacities across the board, with the 2019 LE and LE Plus V6 all-wheel drive models providing maximum payload.
Fourth Generation: 2020 – current
Dimensions
The dimensions for the most recent generation remain roughly the same as the previous, with a total maximum storage area of 84.3 cubic feet.
The storage capacity with the third row down was 48.4 cubic feet, while the trunk storage was 16 cubic feet, both up from previous years.
For seating, the first row saw a couple inches lost, while the second row got a few added inches of legroom.
Front & second head room: 40 inches
Front & second shoulder room: 59 inches
Front leg room: 40-42 inches
Second leg room: 41 inches
The third row dimensions remained pretty much the same as the third generation – and again, is probably best suited to kids and smaller-than-average adults.
Payload Capacity
The latest generation of Highlanders had a fairly small range in terms of payload, falling between 1,485 and 1,685 pounds.
Base models, again, tended to be on the higher end of the range, while premium trims and an all-wheel drive system lowered the payload.
Hybrid models were roughly the same, ranging from 1,405 to 1,630 pounds.
How Much Cargo Space Do Similar Mid-Size SUVs Have?
Hoping to compare the Highlander's cargo offerings to SUVs competing in the same class? We've looked into some of the most common alternatives to see how they match up in terms of storage and payload.
Jeep Grand Cherokee: 
The Grand Cherokee is comparable in payload, ranging from 1,266 to 1,987 pounds. But it also offers less than half the back-seat storage capacity at only 37.7 cubic feet.
Jeep Wrangler: 
Likely due to its heavier duty mechanical components, the Wrangler ranks slightly lower in payload, offering between 636 and 1,405 pounds. It's also considerably smaller in terms of storage, with a maximum of 31.7 cubic feet, not counting the front row – though it does have the benefit of removable doors.
Ford Explorer: 
The Explorer beats out all but the second generation of Highlanders in terms of storage capacity, with 87.8 cubic feet on the latest model. It's payload ranges from 1,084 to 1,815 pounds.
Subaru Outback:
The Subaru Outback is overall smaller in terms of storage, offering 948 to 1,209 pounds of payload, and 32.6 cubic feet of back-seat space. Definitely a strong option overall, but not if you're looking for lots of in-cabin cargo space.
Honda Pilot:
The Honda Pilot is perhaps most comparable to the Highlander in terms of storage, with a capacity of 83.9 cubic feet for its latest generation. The Pilot's payload capacity has held a pretty steady range, hovering between 1,405 an 1,684 pounds across production.
Toyota 4Runner: 
The Highlander's smaller and more outdoorsy cousin, the 4Runner comes with a storage space measuring 47.2 cubic feet and a payload capacity between 1,208 and 1,700 pounds.
Can You Mount a Rooftop Box on a Highlander?
If you're looking to increase storage area, you can mount a rooftop box on your Highlander. Rooftop boxes will provide between 10 and 25 cubic feet of extra protected storage space, and come in both soft- and hard-shell varieties.
They're typically strapped on your car directly or attached via a roof rack.
If you decide to install a rooftop carrier, just make sure to check that the weight of the box and any gear you carry in it doesn't exceed the maximum payload for your vehicle.
How Big a Trailer Can the Highlander Tow?
The Highlander offers between 1,000 and 5,000 pounds of towing capacity. The latest generation is able to tow 5,000 pounds, regardless of trim.
A capacity of 4,000 to 5,000 pounds is plenty for a pop-up camper or a travel trailer on the smaller side, while for a capacity under 2,500 pounds only the most lightweight of trailers would be best.
We have a full towing guide to Toyota Highlanders here.
When considering which trailers you can tow, remember to add a cushion of between 1,000 to 1,500 pounds to account for the weight of your hitch and any extra gear.
Which Highlander Model Has the Most Cargo Space?
Any vehicle from the second generation of Highlanders will provide you with the most cargo space for the model. With 95.4 cubic feet of room behind the front-row seats, the 2008-2013 models boast about as much storage space as you can fit in a mid-size SUV.
Which Mid-Size SUV Has the Most Space?
Compared to the other mid-size SUVs on our list, the Highlander's second generation still holds the record for the highest storage capacity, at 95.4 cubic feet.
This generation is also the roomiest in general, with increased leg and shoulder room.
However, if you're in the market for a more recent model, the latest Ford Explorer has about 4 more cubic feet of space than the latest Highlander, offering 87.4 cubic feet in total.
Sources
– Toyota Highlander: Reseach & Specs
Was this article helpful?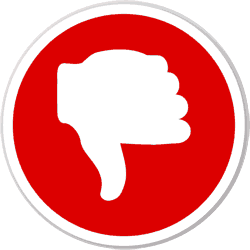 Did you find wrong information or was something missing?
We would love to hear your thoughts! (PS: We read ALL feedback)