Did you know that the Toyota Sienna is considered one of the most reliable minivans you can drive? It has high-value features which come with ideal comfort and is rated highly for its safety requirements.
This model should be your choice if you're looking for a minivan.
Every car has several issues from time to time. When shopping for a new car, you should consider overall costs that include repairs and expected problems that you don't want to deal with before you reach your expected mileage.
Read on to find out why the Toyota Sienna is worth buying and which models you should avoid altogether.
4 Best Years for Toyota Sienna
Every car model has some of its best and worst years. The Toyota Sienna is no exception to this generalization. When looking for a minivan like the Toyota Sienna, you want to ensure that you don't experience its transmission issues.
'A good car isn't one that doesn't come with problems, but it's also a car that is low on maintenance. It's ideal to buy a car model that doesn't have any issues at all.
With the best Toyota Sienna models, you should be satisfied with its upkeep and overall driving comfort.
The best Toyota Sienna years have combined this car's best features and capabilities for your ultimate driving pleasure.
There's no doubt that when you want a reliable minivan, this is an excellent choice for your needs.
This is why you should know the best Toyota Sienna years overall in terms of performance and value.
Here are the buyer demographics of minivans.
1. 2019 Toyota Sienna
One of the best things that you'll agree on about the 2019 Toyota Sienna model is that it has a few variants. 
As a driver, you're exposed to different features and benefits from each variant to suit your needs.
This model offers the most comfortable, efficient, and pleasant driving experience.
When you buy a car, you want to know that you can rely on its longevity and mileage. The great news is that research shows that with the 2019 Toyota Sienna model, you can expect to go for the 300 000-mile mark.
It has excellent seats and storage space and scored above-average safety ratings by the National Highway Traffic Safety Administration (NHTSA).
You can expect standard features and other modern features in this model. For instance, the infotainment is packed with several options, from Apple Carplay to Amazon's Alexa.
You get dual-power sliding doors and a much firmer suspension, to name a few.
All of these are available at an affordable price for an array of variants. It depends on your preferences, but you can choose from:
the LE,
SE,
SE Premium,
XLE,
and Limited variants.
2. 2021 Toyota Sienna
Welcome to the future with this hybrid Toyota Sienna model.
This model is part of the 4th generation of Sienna vehicles. Adding to more amazing modern features, the 2021 Toyota Sienna gives more attention to saving fuel consumption.
Its hybrid batteries aren't the only thing you should look forward to. If you're shopping for an advanced minivan, the design of this model is worth it.
While it has lost what you consider its mainstream appeal, it delivers performance and comfort and provides ample storage for your long-distance driving needs.
3. 2014 Toyota Sienna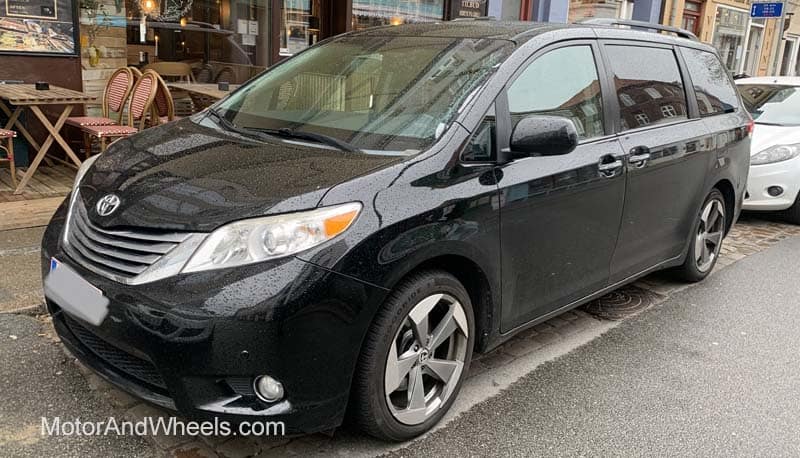 The 2014 Toyota Sienna model is one of the best Siennas out there because it changed to a V6 engine. This means that riding in your Sienna becomes nicer and smoother overall.
It was still spacious and cozy as it stuck to its 7 to 8-seat design with AWDs.
Overall, there weren't many external changes made to this model.
Yet, its consistent comfort and style have earned it a place to be counted among the best models thus far. Moreover, it had an impressive 200 000 mileage mark or 300 000 miles with adequate maintenance.
4. 2012 Toyota Sienna
The 2012 Toyota Sienna was the all-new third-generation minivan with two engine choices.
It improved from the previous model and came with several trim levels to offer variety.
The optional power plant had horsepower with a 3.5-liter V-6 engine, while the base engine was 2.7 liters.
This model came with good handling characteristics for a minivan that offered immense power. It came with notable changes to its interior size, body, and features. For example, additional equipment options were included for a minivan.
4 Toyota Sienna Years to Avoid
Not all cars are created equally. This is no exception for the Toyota Sienna. As a result, you'll find that some Sienna models should be avoided for several reasons, including performance, features, and capabilities.
'The last thing you need is to spend more money repairing your minivan than is necessary. The following are the Toyota Sienna models that you should avoid.
There are other common defects that you'll find with these models, but others have severe defects which affect your safety.
That said, we still see quite a few of this generation on the roads so you'll see that the Toyota Sienna lasts long.
1. 2004 Toyota Sienna
This model received a staggering number of complaints compared to other Sienna models.
The most common issue was the body and paint, which cost clients a lot of money for repairs as soon as this model reached 50,000- 70,000 miles.
Customers also reported acceleration-related problems that caused their cars to slow down while driving, among others.
2. 2005 Toyota Sienna
There were significant safety concerns due to malfunctioning seatbelts and airbags. The worst issues with this model were poor automatic sliding doors.
The doors would either jam halfway or open on their own while you're driving.
You can check the most common problems across the Toyota Sienna models here.
3. 2006/2007/2008 Toyota Sienna
These models are generally grouped because you're likely to encounter the same problems when you drive them.
The issues that customers experienced the most involved engine transmissions and electrical problems.
Airbags, automatic sliding doors, and seat belts are the most prevalent issues.
4. 2011 Toyota Sienna
This model had a wide range of problems.
You will experience:
loose inner tire rods,
and malfunctioning automatic sliding doors at specific mileage intervals.
Toyota Sienna 1st Generation: 1998 – 2003
This was the first Toyota Sienna that offered gasoline engines with an output of 213 horsepower.
This automatic front-wheel type of drive changed the status of minivans. Exactly the 4WD feature makes this minivan stand out.
It wasn't long until the production line saw the need to make additions and a facelift to the XL10.
The facelift version had taillamps, a new grille, and an automatic sliding door.
Other refurbishments included high fuel efficiency capacity and front-seat airbags. However, engine oil sludge issues that affected engine performance brought a class-action suit to this generation of the Sienna.
Toyota Sienna 2nd Generation: 2004-2010
In 2003, a new generation of Toyota Sienna was born. It started with an updated 3.3 liter 3MZ-FE V-6 engine with automatic transmission.
Another impressive update is the top-speed performance that was ULEV certified.
Yearly updates such as standard anti-lock braking, control of tire pressure, and a monitoring system ensured the longevity of this generation of Toyota Sienna.
Between 2004 and 2007, you could get a tilt and telescoping steering wheel. Additionally, this generation comes with solar-absorbing glass for your windows and windshield.
Toyota Sienna 3rd Generation: 2011- 2020
It was increasing up to 296 horsepower.
Formidable updates with this generation of models include the 2GR-FE/3.5 V6 engines that were upgraded with a D4-S direct injection fuel.
A navigation system for Apple Car-Play with USB ports improved the infotainment features.
In addition, adaptive cruise control and vibration enhancements for the front grille came standard.
Automatic emergency braking and a pre-collision system ensured that safety requirements were met. This generation of the Toyota Sienna has provided the advanced inception of features while fixing any kinks from previous models.
Toyota Sienna 4th Generation: 2021 till present
This generation of the Sienna is only offered as a hybrid model. Its rugged exterior design shows that the standard minivan is different.
The interior comprises all the modern and stylish features you love.
This generation boasts interior comfort and optimum space.
The fourth-generation drive is smooth with a powertrain of electric motors and a gasoline-powered four-cylinder engine. The fuel economy efficiency and estimated 36 mpg for this generation's city and highway drives make it a contender among its competitors.
Which Toyota Sienna generation should you buy?
It depends on what you're looking for.
The most bought generation of Toyota Sienna is the 3rd generation. It offers more updates and improvements in features and performance capabilities.
While the 4th generation is still new, time will tell on the issues that need reassessment. But, if you want the best of both worlds, consider adding a hybrid minivan to your collection.
What year is the most reliable Toyota Sienna?
The best contender for the year with the most reliable Toyota Sienna is 2019.
This model checked all the boxes, including safety and comfort on the road. Plus, its pricing is ideal when you compare it to how the newer models are priced.
What are the most common problems with Toyota Siennas?
The most common problems with Toyota Siennas include the following.
Automatic sliding doors malfunction before reaching 50 000 miles.
Faulty oxygen sensors that affect the engine performance
Perforated oil line that leads to leaks and oil pressure problems
Cracks in the dashboard on older models
Loss of power that affects transmission
How many miles will a Sienna last?
If you take care of your Toyota Sienna, you should expect to get to 200 000 miles. At times, you can reach 300 000 miles of unproblematic driving.
This means you can keep your minivan for up to 20 years with regular and adequate maintenance.
What are the closest competitors to the Toyota Sienna?
When you think of a minivan, you want to find many options. This ensures that you make the best choice.
If you want to compare your Toyota Sienna, these are some of its well-known competitors.
Honda Odyssey
Chrysler Pacifica
Dodge Grand Caravan
KIA Sedona
Ford Transit Connect
Chrysler Pacifica Hybrid
How long do the transmissions typically last on these models?
When you ensure that your car is well-maintained, you can ensure maximum transmission.
Ensure that your model doesn't have any leaks or a faulty torque converter to avoid transmission problems.
In most cases, the transmission on these models can last up to 200 000 miles.
Go back: Best/Worst years for all Toyota models.
Was this article helpful?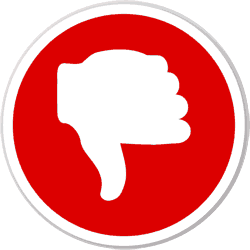 Did you find wrong information or was something missing?
We would love to hear your thoughts! (PS: We read ALL feedback)
ⓘ  The information in this article is based on data from National Highway Traffic Safety Administration (NHTSA) recall reports, consumer complaints submitted to the NHTSA, reliability ratings from J.D. Power, auto review and rating sites such as Edmunds, specialist forums, etc. We analyzed this data to provide insights into the best and worst years for these vehicle models.
---