The Chrysler brand is renowned for its fantastic line of minivans and luxury sedans.
Originally an American car company, Chrysler is now part of the Stellantis conglomerate.
Some models manufactured by Chrysler are PT Cruiser, Chrysler Pacifica, Chrysler 300, and the Town and Country.
This article will discuss each problem associated with some Chrysler models.
1. Blind Spot Detection Issues
There have been several complaints about issues with the blind spot detection module of many Chrysler models.
Some issues include malfunctioning backup camera and blind spot detector, illumination of the blind spot protection unavailable warning, and corroded and destroyed connections in the blind spot monitor module.
Many of these issues can lead to crashes, injuries and loss of life if you don't repair or replace the faulty components.
Most of the users who reported the problem drive a 2012 or 2014 Chrysler Town & Country. The 2018 Chrysler Pacifica also has this issue.
Meanwhile, also check out the best and worst Chrysler Pacifica years.
2. Electrical Issues, Faulty Totally Integrated Power Modules [TIPM]
The Chrysler Town and Country model has many problems, ranging from engine stalling while driving, drained batteries, electrical problems, and faulty Totally Integrated Power Modules.
If you are planning to own one of these models, it is essential to note that it is more expensive to fix the engine.
The 2010 and 2011 models of the Chrysler Town and Country also have electrical problems.
You will likely experience a draining battery if you own this model, which is one of the most reported problems.
Imagine your vehicle fails to start when you are ready for work; that delay could make it hard for you to resume work on time.
3. Engine Issues
Out of all the problems with the Chrysler Town and Country model, engine issues seem to be the most prominent.
2008, 2010, and 2012 models have these common signs whenever their engines are about to malfunction. These are:
Failure of the engine to turn over
Shut down of the engine when you are driving
Switching off of the engine light arbitrarily
These problems can cause discomfort if not addressed on time, and the repair is usually expensive.
However, avoiding the models of the years mentioned above is a brilliant idea. It will save you from unnecessary expenses in the future.
Check more in the article about Chrysler Crossfire problems.
5. Failure of Electrical System
Most of the Chrysler models have this issue, but the Chrysler 300 model seems most affected.
Some drivers protested about the loss of power while driving and the complete failure of the electrical system.
There are reports of crashes and short-circuiting due to electrical problems. For instance, there was a safety recall of the 2005-2010 models due to reports that airbags have moisture and their material breaks quickly.
Drivers reported that during a crash, their vehicle's airbag inflators ruptured, leading to multiple acute injuries to them and other occupants.
Don't forget to check out the best and worst Chrysler 300 years.
6. Defective Active Head Restraints and Transmission Issues
The 2011-2013 Chrysler 200 and Chrysler Sebring model has problems with active head restraints, which is quite dangerous.
According to a study, some model years have faulty active head restraints that fail to deploy when needed. Some drivers even suffered concussions and severe injuries because of an erratic deployment of the AHR.
Another critical problem most drivers face with the Chrysler 200 model is the transmission and engine problem. Sometimes, the transmissions automatically shift into a lower gear, leading to a brake failure.
Once the brake fails, it is likely to lead to a crash that might cause loss of lives.
If you own a Chrysler 200, you may also experience faulty powertrain control modules that cause stalling of the engine without notice.
7. Transmission Failure, Faulty Cruise Control, Leaks
Most Pacifica drivers complained about problems such as weird noises, leaks and failure of the transmission system.
Due to defective wiring of the Pacifica model, you may experience cruise control problems from time to time.
In 2018, there was a major recall of more than four million vehicles because of the failure of the cruise control to disengage.
When the cruise control fails to disengage, it could lead to a severe accident.
8. Loss of Steering Control
In 2019, more than 50,000 Pacifica minivans were recalled because of a potential loss of steering control while in motion.
Most drivers said there was no warning on their dashboard as they lost control of the steering.
The defective control arm ball joint can lead to the disconnection of the joint from the steering knuckle. It makes the steering wheel to be unresponsive to the driver's input.
The most affected models are the 2018 Chrysler Pacifica.
You will also like our article about problems with Saturn cars.
9. Defective Signals and Headlights and Electrical Issues
The Chryler PT Cruiser is plagued by problems ranging from defective turn signals and headlights to electrical issues.
Surprisingly, most PT cruiser owners are not complaining about these issues.
However, many Chrysler PT Cruiser users complained about its continuous need for software updates to solve powertrain control module issues.
10. Exploding Airbags
The airbags produced by Takata were installed in the 2010-2015 Chrysler 300 models.
Experts noticed that these airbags could result in a deadly explosion under the wrong conditions. Based on the report from a government agency, the defective part in the airbag can make the airbags deploy at a dangerous velocity.
The force will unleash shrapnel toward the drivers and occupants in the car and can lead to their deaths.
The airbag defect has caused the death of more than twenty people, and it is one of the reasons why some of the models were recalled.
11. Emissions Scandal
If you are conversant with the news from the automobile industry, you are likely aware of the emissions scandal. The scandal harmed the Chrysler brand.
The Chrysler Company was indicted for falsifying emissions reports and was compelled to recall about one million vehicles in 2019. It was also compelled to pay a hefty fine of $300 million.
The Chrysler 300 and the Pacifica models do not have emission software installed. It is important to note that the Chrysler 200 models from 2011 through 2014 are the only affected ones.
Make sure to also read our article about problems with Buick cars:
General Pros and Cons of Chrysler Cars
Here are some pros and cons of Chrysler cars:
Pros of Chrysler
They come with high-performance powertrain. V6 engine
They have the best minivans in the market
Assured quality
They are reliable and fuel-efficient
Check also: Demographics of Chrysler buyers.
Cons of Chrysler
There are limited options of the vehicle to choose from. It has a few minivans, one luxury sedan and one convertible.
It has poor reliability ratings
Engine issues are common with the automobile.
Transmission issues are also prevalent
Please also read our article about problems with French cars.
What Do the Reviews Say?
While there once was a broad range of Chrysler vehicles, today its lineup currently includes just two models.

You could say the Pacifica minivan (previously known as the Town & Country) is Chrysler's crown jewel and we would agree: we consider it the best minivan you can buy and one of the few three-row hybrid vehicles on the market; we also put 40,000 miles on one in our long-term test.

The 300 sedan's star is dimming, however, as it continues to live on without any major changes in many years.
Source: caranddriver.com
Resale Value of Chrysler Vehicles
Here are resale values for some Chrysler vehicles:
| | | |
| --- | --- | --- |
| Model | Approx. Miles | Price ($) |
| 2022 Chrysler 300 | 13,500 | $31,990 |
| 2019 Chrysler Pacifica | 12,000 | $25,990 |
| Chrysler Voyager | 16,000 | $25,981 |
Was this article helpful?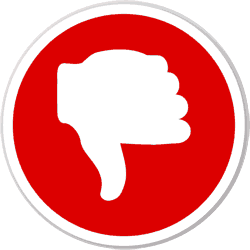 Did you find wrong information or was something missing?
We would love to hear your thoughts! (PS: We read ALL feedback)