The Buick brand portrays comfort and luxury, and the demand for this automobile has recently increased.
This article provides you with the everyday problems of the Buick models. We will discuss five models and each of their peculiar situations.
Some common problems with Buick vehicles are engine issues, transmission system problems, inaccurate fuel gauges, and faulty electrical systems.
Check also: Problems with the Buick Encore models.
1. Faulty Power Windows, Jerky Shifting
The 2002 Buick LeSabre has a notorious reputation for several faults, making it one of the least dependable automobiles from the Buick Company. We have a list here of the best and worst LeSabre years.
However, its faulty power window assembly seems to be its biggest problem.
Many drivers of the model years 2000-2002 complained about the power windows, tattered regulator cable, defective heating and cooling temperatures, fake fuel gauge readings, and broken transmission.
Check also: Problems with Buick Electra.
2. Brake Issues, Defective Battery, Engine Problems, and Faulty Seatbelts and Airbags
If there is anything that gives the owners of the Buick Encore 2015-2017 model sleepless nights, it would be defective seatbelts and airbags.
General Motors had to recall more than 3.6 million vehicles. The Encore model is also known for brake issues, as drivers complained of weird noises whenever they applied them.
Check more here about problematic years for the Buick Encore.
There has also been problems with the airbags on the Buick Envision. You can check out here what years to avoid for the Buick Envision.
3. Defective Fuel Gauge and Door Latch, Fuel Pump Failure and Unreliable Shifting
The Buick Rendezvous has several common problems, including overheating engine, power loss, rough shifting due to transmission issues, and a misfiring engine.
Drivers have also complained of stalling due to fuel pump failure. This problem results from congested filters and strainers in the fuel system.
However, fixing fuel pumps in the Buick Rendezvous model is not a cheap adventure, and you should be ready for the expenses.
4. Engine Misfires, Power Steering Issues, and Transmission Problems
The Buick Enclave model is known for engine and transmission problems.
Make sure to check our list of the best years and worst years for Buick Enclave.
Drivers complained about their transmission's vulnerability to extreme vibrations and tripping between gears while in motion.
The Buick Enclave engine also misfires, and some owners complained of metal shavings in the engine oil of their vehicles. Here are all the most common problems with Buick Enclave models.
5. Power Steering Hose Leakage, Failure of Headlight, and Door Lock Failure
One major issue with the LaCrosse model is the door lock actuator, which is known to stick and needs to be replaced as soon as possible.
Leakage of the power steering hose causes loss of the power steering.
6. Fuel Level Sensor Failure
A major problem of the 2002 Buick LeSabre model is the failure of the fuel level sensor.
Some drivers have complained about several issues, such as pressure control failure, stalling engine, failure of the door actuator, and transmission pressure control failure.
7. Transmission Problems
Despite being one of the best models of the Buick brand, it is plagued with transmission problems that cause jerky shifting.
Some drivers also complained that its acceleration could be slow, which is common with most Encore vehicles.
Check also common issues with Buick Riviera here.
8. Incorrect Fuel Gauge
Most of the Buick models have a problem in common, and that is an inaccurate fuel gauge.
This is not good, as you need to be sure of the fuel level in your vehicle before embarking on a long-distance journey.
Most drivers said the fuel gauge needle does not show fuel signs when the tank is not full.
However, one of the reasons for this problem is the failure of the instrument cluster. This is likely to be caused by the electrical system failure.
A faulty fuel sensor that causes tank corrosion and leads to inaccurate readings can also be the cause. However, it is advisable to change the sensor if you notice that it is the leading cause.
9. Transmission Problems With Error Codes
The transmission system failure is common to the Buick Rendezvous models. However, several error codes will come up, each of which has a different meaning.
You can expect the car to throw off standard error codes, such as P0716, P0776, P0717, P0777, P2714, P2715, and P02723. 
Check also the best and worst years for Buick Park Avenue.
10. Deficient Power
As one of the famous models of the Buick brand, Encore is suitable for individuals who want a compact vehicle.
However, the Buick Encore has a problem with insufficient power, and this has been traced to turbo or engine temperature.
If the problem comes from the turbo, it needs replacement. On the other hand, if the engine temperature issue, leave it for a few minutes to start again.
You will also like our article about problems with Nissan cars.
11. Gasket Leakage
If you plan to own a Buick Century model, you may have to cope with the solenoid failure.
The most common issue of this model is with the seals and intake manifold gasket.
Experts have discovered a reaction of the General Motor Dexcool coolant with the gasket, leading to the leakage.
Drivers complaining about this problem have been advised to find a quick solution. If left unattended, it could cause severe damage.
You may need to change the gasket, and a competent mechanical expert can do this.
12. Stretched Timing Chains and Window Assembly Failure
Window assembly failure and stretched timing chains are two common problems that usually affect most Buick models.
For instance, there is no trace or sign that there is about to be a failure of the window assembly. The windows suddenly fall into the frame, and its plastic part breaks down.
You are likely to get the windows replaced by the manufacturer, and this would cost you around $450 for each window. This does not stop it from happening again, as the assembly remains the same.
The Buick Enclave models have the Stretched Timing Chains problem. Once there is a stretch of the timing chain, it leads to combustion problems.
A timing chain is a crucial connection between the crankshaft and the camshaft. It is situated in the front of the vehicle, and the chain runs through pulleys, gear, and guides.
The responsibility of a functional timing chain is to keep the engine timing in check. The timing chain coordinates the activities of moving parts, such as pistons and cylinders.
Timing chain slack can be caused by a faulty chain tensioner or stretched chain.
This problem can also make the pistons bend the valves and damage the car engine. You can solve this issue by ensuring a regular change of oil from time to time.
This model's estimated repair expense for a stretched timing chain is usually around $3,200 and $3,400.
If you fail to resolve this stretched timing chain problem, it could cause damage to other components, such as O2 sensors, cylinder heads, and camshaft position sensors.
Make sure to also read our article about problems with Chevrolet cars.
General Pros and Cons of Buick Cars
Pros of Buick
Seamless Infotainment system
Noise-cancelling technology for smooth ride
Adaptive cruise control
Spacious room for leg
Cons of Buick
Hard to install child safety seats
Pricier than competitors
Low-quality interior setup
Its Regal model uses unleaded fuel, most expensive fuel
Unreliable engine stop button
Poor fuel economy
What Do the Reviews Say?
On 2022 Consumer Reports rankings, Buick earned a rating above average in terms of reliability and it is ranked 11th out of the 32 car brands.
Though it is not as reliable as Toyota and Mazda, it has earned the highest mark for an American brand above Chevrolet and Ford.
Buick came second in the 2022 J D Power U.S. Vehicle dependability study, and this is because most Buick owners do not experience many problems during the first three years of car ownership.
Please also read our article about problems with Geely cars.
Final Thoughts
As an automobile that is well positioned between luxury brands and the mainstream, Buick cars come with an incredible infotainment system, exquisite interiors and design.
You need to be aware that Buick fails to match the gas mileage of its competitors, but the brand offers more than average ratings.
It has an excellent ranking in the top five among all auto brands, and the Buick Encore scored a 4.0 out of 5.0, making it rank 5th out of 7 vehicles for subcompact SUVs.
Sources
Was this article helpful?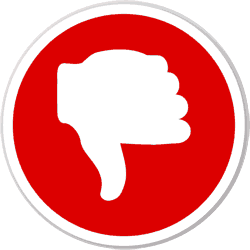 Did you find wrong information or was something missing?
We would love to hear your thoughts! (PS: We read ALL feedback)
ⓘ  The information in this article is based on data from National Highway Traffic Safety Administration (NHTSA) recall reports, consumer complaints submitted to the NHTSA, reliability ratings from J.D. Power, auto review and rating sites such as Edmunds, specialist forums, etc. We analyzed this data to provide insights into the best and worst years for these vehicle models.
---