The Lexus NX is a compact luxury crossover SUV.
According to the United States News and World Report, the Lexus NX is ranked 8th in the Luxury Compact sport utility vehicles list.
The Lexus NX also has its common issues, and we will evaluate each of these problems.
1. Suspension Issues
The Lexus NX is a great vehicle, and there is no doubt about it. However, it is known for suspension problems. 
There are also reports of unusual deafening noises, rattles, and leaks. For instance, leaks are noticed in the suspension system.
This causes the fluids to move out and adversely affects the vehicle's performance.
When there is a problem with the suspension system, you can notice unwanted noises and rattles while in motion.
You may even experience strange handling, including an unnecessary body roll or an unpleasant ride.
If you notice inconvenience while driving, it is one of the signs that something is wrong with the suspension system.
Suspension problems are triggered by several factors, such as:
Damage from road debris

Manufacturing faults, and

Wear and tear of the vehicle
However, it is crucial to seek the advice of a professional mechanic for a proper inspection of the Lexus NX if you notice any problem with your vehicle's suspension system.
You can upgrade the suspension system to enhance performance and handling. You can also probe into the best and worst Lexus NX years.
2. Transmission Problems
Transmission issues are noticed when there are signs of severe shifting and hesitation while in motion. 
Lexus NX models with transmission problems may show symptoms of severe shifting when gears are abruptly shifting. 
It takes longer to respond to the accelerator pedal, which is a sign of hesitation. 
In most cases, Lexus NX vehicles experience a surge in their transmissions, where there is an unexpected loss of power. 
There could also be delayed engagement when your transmission has issues. This is noticed when there is a delay between the time you depress the accelerator pedal and the time the vehicle moves. 
Several factors, such as
Normal wear and tear

Mechanical failures, and

Low fluid levels
cause transmission problems. 
Make sure you speak to a professional mechanic once you notice an issue with the transmission system of your Lexus NX. 
3. Malfunctioning of the Touchscreen
The Lexus NX has a 14-inch touchscreen Lexus Interface system with the Lexus Intelligent Assist feature. 
When there is an issue with the touchscreen, the system may experience freeze and touchscreen sensitivity problems. 
When there is an issue with the touchscreen, it could lead to a Diagnostic Trouble Code. The issue, also known as B1559, can affect the touchscreen's functionality. 
Approaching a certified Lexus service center for a proper evaluation and repair is advisable. 
4. Fuel System Problems
Lexus NX vehicles are known to have fuel system problems. These include the illumination of engine warning lights and poor fuel economy. 
You will notice these signs when your Lexus NX is having fuel system issues. When your Lexus NX is consuming more fuel than expected, it is a symptom that the fuel system is terrible. 
Illuminating the engine warning lights is another signal that your Lexus NX has a fuel system. 
If you find it hard to start the engine, it could signal that something is wrong with the fuel system. 
When there is a problem with the fuel system, the engine will experience an abrupt stalling. 
Other factors responsible for fuel system failures are:
Malfunctioning fuel pump

Low fuel pressure

Clogged fuel filters. 
Ensure a professional mechanic evaluates your Lexus NX vehicle if you notice any of these issues, as mentioned above.
Meanwhile, if these problems scare you, you may be excited to know that the Lexus NX is among the Lexus models you can lease.
General Pros and Cons of the Lexus NX
These are the good and bad sides of the Lexus NX. Unfortunately, most times, the good comes with the bad.
Pros
Exquisite Design
Excellent Fuel Efficiency
Sophisticated Interior
Excellent Safety Ratings
Dependability
Cons
Expensive to Maintain
Insufficient Cargo Space
Suspension and Transmission Problems
Limited Rear Visibility
What Do the Reviews Say?
The Lexus NX has received positive reviews and commendations from enthusiasts around the globe.
The vehicle has received applause regarding its upscale appearance, convenient driving experience, and plush interior. 
Based on the US New Best Cars report, it has a predicted reliability score of 67 out of 100.
The improved infotainment system delivers quality music and offers a broader range of engine options, including a plug-in hybrid.
You will fall in love with the user-friendly heating and cooling buttons.
Driving the Lexus NX is fun and convenient for all passengers. The cabin is loaded with a more sophisticated instrument panel.
It has several standard safety features, offering the vehicle extra charm and allure. You can also explore some common Lexus SUV problems.
What's the Resale Value of the Lexus NX?
The Lexus NX has a 35% depreciation rate after five years, and its 5-year resale value is $32,557. 
The average insurance expense to insure a Lexus NX 300 is around $1,942 per annum. You may need to spend around $9,710 after owning the vehicle for five years. 
The resale value of the Lexus NX 300 is valued around $32,557, while the resale value of the 2022 Lexus NX 350h is between $39,388 and $43,057. 
| | | |
| --- | --- | --- |
| Year | Mileage | Price |
| 2018 | 33,209 | $34,499 |
| 2019 | 35,463 | $32,990 |
| 2020 | 30,718 | $34,200 |
| 2021 | 23,189 | $38,590 |
Final Thoughts
The Lexus NX is an attractive two-row sport utility vehicle with a convenient riding experience, a user-friendly infotainment system, and a plush interior. 
It is a classic vehicle that delivers superior performance and a smooth ride. 
It also has excellent safety ratings as it is loaded with several advanced safety features that ensure the safety of drivers and passengers. 
The Lexus NX has premium interior materials that enable you to enjoy your ride to your destination. 
However, some of the downsides of this Lexus NX are insufficient cargo space, high maintenance costs, and cramped rear seats. 
You may also have to cope with its limited rear visibility and susceptibility to suspension and transmission problems. 
It is essential to ensure your vehicle is correctly serviced from time to time. This will improve the overall performance of your Lexus NX vehicle. 
The Lexus NX is a superb vehicle for individuals searching for a premium compact sport utility vehicle. 
GO BACK: Problems for all Lexus models.
Was this article helpful?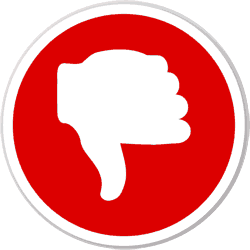 Did you find wrong information or was something missing?
We would love to hear your thoughts! (PS: We read ALL feedback)
ⓘ  The information in this article is based on data from National Highway Traffic Safety Administration (NHTSA) recall reports, consumer complaints submitted to the NHTSA, reliability ratings from J.D. Power, auto review and rating sites such as Edmunds, specialist forums, etc. We analyzed this data to provide insights into the best and worst years for these vehicle models.
---