The Lexus NX is a luxury compact SUV, and it's a great model that doesn't lack excellent exterior craftsmanship and interior refinement.
Its smooth ride, quality cabin materials, and impressive technology garner mostly positive reviews from consumers and reviewers alike.
However, it is important to note that, though the Lexus NX is an impressive and likable crossover, not all model years are close to perfection.
The Best and Worst Years for the Lexus NX Are:
The best Lexus NX model years include the 2017, 2018, 2019, 2020, and 2021 model years. On the other hand, the worst Lexus NX model years to skip are the 2015, 2016, and 2022 models.
It is only right to note these model years as it would be of great service to you while shopping for a Lexus NX.
What Lexus NX Years Are the Most Reliable?
The Lexus NX is generally a dependable crossover SUV. The goal here is to highlight the most exceptionally reliable model years among them all. The Lexus NX is also a great Lexus model that you can lease.
Below are the most reliable Lexus NX model years.
1. 2017 Lexus NX
It is no mistake that the 2017 Lexus NX appears at the top of the list. This NX model year has fared excellently and has no recalls whatsoever by the National Highway Traffic Safety Administration as recorded by ARFC.
Its top-notch fuel economy is second to none in its class and its comfortable ride and ample passenger room is a plus. In terms of reliability, the 2017 NX scored a remarkable 4/5, according to J.D. Power.
Little wonder the 2017 NX was crowned the 2017 Best Luxury Compact SUV for the Money award by U.S. News. Needless to say, the 2017 NX model year is a top contender amongst competitors.
2. 2018 Lexus NX
The 2018 Lexus NX is one of the best NX model years, with no noticeable changes to its predecessor. An 8-inch screen was added to its infotainment system to display a clearer interface.
This NX boasts a comfortable and roomy cabin. It still maintains excellent fuel economy, which is a constant trait of the NX models and myriads of driver safety features now come as standard.
However, its 17.7 cubic feet of cargo space is nothing the competition would worry about.
The 2018 NX has an overall rating of 84/100, which is a good score compared to some crossovers in its class.
It scored a notable 85/100 in quality and reliability from J.D. Power to put it in front of some rivals on the basis of how qualitative they are.
3. 2019 Lexus NX
A 5-star overall safety rating from the National Highway Traffic Safety Administration (NHTSA) is a glaring indication of how safe the 2019 NX is.
This was made possible with safety features that came as standard, such as pre-collision braking, lane keeps assist, lane departure warning, rearview camera, et cetera.
With flawless heating and air-conditioning, the 2019 NX has standard infotainment techs to complement the cozy interior such as Apple CarPlay. It also has a relatively spacious backseat, something that some rivals struggle with.
J.D. Power ranked the 2019 NX 2nd on its platform for the Best Compact Premium SUV of 2019 alongside its rival, the BMW X4. The 2019 Lexus NX unconditionally deserves to be listed amongst the best just for achieving such a feat.
4. 2020 Lexus NX
The 2020 Lexus NX, like its predecessor, boasts ample interior space save for the small 16.8 cubic feet of cargo capacity. But its 2000-pound towing ability, when well-equipped, serves to help out in this aspect.
Its combined 31 mpg fuel economy is another advantage that distinguishes it from some luxury compact crossover SUVs. The vehicle safety system and voice assistance aid the 2020 NX to have a generally comfortable ride.
This NX's value is great as it scores an impressive 85/100 by J.D. Power, while its quality and reliability rating stands at 80/100, above average.
Like its predecessor, the 2019 NX, the 2020 NX was also ranked 2nd in the Best Compact Premium SUV of 2020.
So far, the 2020 Lexus NX has had no recalls according to ARFC.
5. 2021 Lexus NX
The 2021 Lexus NX received a ''great'' overall rating of 83/100 by J.D. Power to mark its eligibility into this category.
This luxury crossover SUV delivers a smooth ride quality and its quiet cabin on highways makes its acceleration seem seamless.
The 2021 NX is quite a reliable vehicle based on its above-average 81/100 quality and reliability rating. This makes it a highly dependable automobile.
It mainly remained unchanged, and the only new feature was the blind spot monitoring that became standard.
This NX model year is one of only a few that has enjoyed zero recalls based on data provided by the National Highway Traffic Safety Administration.
What Lexus NX Years Should You Avoid?
The Lexus NX is ultimately a good luxury compact SUV with accompanying positive reviews to crown it.
However, we'd all agree that it is quite impossible to attain perfection in the automotive world. Therefore, we'll be looking at the Lexus NX model years you should shy away from.
Meanwhile, the NX also earns a position among cars without the auto-locking feature.
1. 2015 Lexus NX
Beginning the Lexus NX line was the all-new 2015 NX model year. Being the pioneer model, it is safe to say manufacturers couldn't have gotten it all right.
Its resale value was rated an average of 77/100 by J.D. Power, which is the lowest of any NX.
Another setback was its unsatisfactory acceleration in comparison with rivals, and one could get easily distracted when operating the remote touch system.
Its limited cargo space is another downside of the 2015 NX, not allowing it to carry much luxury luggage.
It scored an average driving experience rating of 79/100 and an overall rating of 80/100 on J.D. Power, this explains its position in this list.
It has had seven NHTSA recalls according to ARFC. The recalls were based on problems ranging from faulty frontal airbags to defective sensor/control modules.
2. 2016 Lexus NX
Not faring better than its predecessor, the 2016 NX has also suffered some recalls.
The reason for the recalls was given as failure of frontal airbags and side/curtain airbags to deploy in the event of a crash. This is because of possible defects from the airbag pressure sensor and the acceleration sensor.
The navigation control system also is another worry, as it could be frustrating to operate and may cause distraction. Its remote touch interface is not the easiest to understand among the competition.
The 2016 NX acceleration is disappointingly subpar, in contrast to its sporty exterior. It was also rated 7.8/10 for performance according to U.S. News.
Its small cargo space would be an issue, especially for people or families that do not travel light. The 16.8 cubic ft. cargo space is considered small for a crossover of its size.
J.D. Power scored the 2016 NX 75/100 for a rating on the driving experience and that isn't an encouraging performance for this NX.
3. 2022 Lexus NX
Usually, one would think that the latest versions (model-year in this case) are the best or, at least, better than the previous ones. This is not exactly the case with the 2022 Lexus NX.
Since it was fully redesigned, anticipation was high for the 2022 NX. However, it disappointed some car lovers by falling short of expectations.
Some even insinuate that this model year is the worst of all NXs so far.
The underpowered base engine of the previous model years was not improved upon. This lack of improvement is a significant cause of the weak acceleration plaguing the 2022 NX.
It got an unimpressive overall rating of 76/100 on J.D. Power. For quality/reliability and driving experience, the 2022 NX was rated a low 67/100 and 73/100, respectively, on the same platform.
This model year is also the first one that did not make the annual top ten best compact premium SUV list.
So, we'd all agree that the 2022 Lexus NX deserves a spot on this part of the list.
What Are Some Typical Problems With the Lexus NX Models?
We've mentioned some typical problems with the Lexus NX models:
• Underpowered base engine
• Sensor and airbag issues
• Small cargo space
You can also explore some common problems with Lexus SUVs.
Go back: Overview of best/worst years for all Lexus models.
Was this article helpful?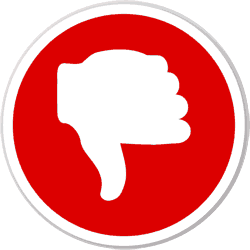 Did you find wrong information or was something missing?
We would love to hear your thoughts! (PS: We read ALL feedback)
ⓘ  The information in this article is based on data from National Highway Traffic Safety Administration (NHTSA) recall reports, consumer complaints submitted to the NHTSA, reliability ratings from J.D. Power, auto review and rating sites such as Edmunds, specialist forums, etc. We analyzed this data to provide insights into the best and worst years for these vehicle models.
---