The Audi A5 is the classier version of the Audi A4 and is available in the convertible, coupe, or 4-door Sportback form.
However, there are various problems associated with the Audi A5, and we are here to list them one after the other.
Some of the common issues with the Audi A5 include transmission problems, excess oil consumption, and timing chain problems, among others.
Also, here are the best and worst Audi A5 years.
1. Transmission issues
The transmission problem is the most severe issue facing most Audi A5 owners, and it could be traced to the CVT Multitronic gearbox.
The gearbox has earned a notorious reputation as the worst automatic gearbox from Audi.
This problem arises when the transmission fluid is not changed when due. In some new Audi A5 vehicles, transmissions are somehow slow.
In some cases, the S-Tronic dual-clutch box performs poorly at lower speeds, and this is a major headache for most drivers.
2. Cooling system issues
The Audi A5 vehicles tend to leak when experiencing low coolant levels.
The models with 3.0L TDI are faced with this problem and the models with 3.2L petrol engines are not exempted because of coolant pump failure.
However, it is advisable to check your temperature gauge and coolant levels regularly to prevent this issue.
Failure to check your coolant levels may cause harm to your engine.
3. Airbag Failure to Deploy
A defective clock spring or passenger occupancy sensor may trigger the airbag lights of the Audi A5.
Oxidation on the connecting cable of the airbag control unit may cause corrosion of the unit.
If there is an issue with the Supplemental Restraint System, the airbag light may stay on and may cause the airbags not to deploy in case of an accident.
You can fix this issue by taking your vehicle to a competent mechanic to address the problem.
4. Electrical Glitches and Failure
This issue can be triggered by several reasons, and these include:
A defective battery sensor is responsible for the abrupt showing of warning lights on the dashboard, and this significantly affects the overall performance of the battery.
The failure of the alternator can cause engine stalling and battery discharge.
Several important components, such as the taillights, headlamps, and other exterior lights can malfunction, thereby making it hard to drive at night.
On the other hand, software issue failure can mess up your vehicle electronics, such as the instrument cluster and infotainment system.
It is crucial to ensure the proper maintenance and servicing of your Audi A5 to minimize the risk of electrical failures.
Using premium parts and engaging the services of licensed technicians can also prevent some of these problems.
5. Busted Timing Chain Issues
The Audi A5 has a timing chain system that can be affected by tensioner and guide issues.
Once the timing chain is stretched, it results in misfires while in motion when the pistons and valves are out of place.
This problem needs to be addressed quickly to prevent permanent damage to your engine.
6. Engine Issues
The engine is an integral part of any vehicle, and if the engine has problems, it will affect everything.
However, some of the problems associated with the Audi A5 engine are
Excessive oil consumption
Turbocharger failure
Engine warning light, and
Engine stalling
When there is an issue with the Audi A5 engine, it is likely to consume more oil at a faster rate than the normal one, and this will result in low oil levels and could damage the engine.
On the other hand, the turbocharger is an essential part of the car engine that enhances efficiency and performance.
In some cases, the turbocharger may fail without notice and affect the overall performance of the vehicle.
Audi A5 engines may suddenly stop while in motion, and problems with the fuel system cause this. It could be a severe problem if not addressed on time.
If there is a problem with the emissions system and other components of the engine, the engine warning light may illuminate.
These aforementioned problems can be resolved by proper maintenance, including prompt repairs and regular oil changes.
General Pros and Cons of the Audi A5
These are some pros and cons of the Audi A5 models. Car owners would want to be mindful of them.
Pros
Powerful Engine
A pleasant Ride
Superior Interior
Loaded with Unique Tech Features
Loaded With Safety and Entertainment Features
Power-adjustable front seats
Cons
Smaller Trunk Space in Coupe and Convertible Models
High Starting Price
Rivals offer better fuel economy
Meanwhile, explore Audis and Depreciation and find out whether or not that'll count as a pro or con for the A5.
What Do the Reviews Say?
The Audi A5 is a two-door vehicle that can conveniently seat four people. It is an even more stylish and more captivating vehicle than the previous model, Audi A4.
Its safety features are also some of the amazing attributes that some people love about the vehicle.
Meanwhile, let's hear what Edmunds has to say about the A5:
The base A5 comes well equipped, but stepping up to the mid-tier Premium Plus trim gets you the best bang for your buck. Choosing it unlocks extra goodies that include Audi's upgraded Virtual Cockpit Plus fully digital instrument display, a premium audio system from Bang & Olufsen, a 360-degree camera and all the contents of the Convenience package, including adaptive cruise control.
Though the fuel economy is not great, some enthusiasts still prefer the Audi A5 due to its eye-catching design and responsive steering.
The Audi A5 is a relatively good vehicle that offers speed and comfort for drivers and passengers.
What's the Resale Value of the Audi A5?
Audis have a reputation for holding their value better than other luxury automobiles, but some Audi models lose up to 65% of their value within three years of ownership.
An Audi A5 depreciates 42% after five years, and the resale value of the vehicle after five years is around $30,166.
The annual insurance cost of an Audi A5 is about $2,254, and you are likely to pay around $11,270 if you own the vehicle for five years.
| | | |
| --- | --- | --- |
| Year | Mileage | Price |
| 2015 | 36,345 | $25,590 |
| 2016 | 26,019 | $26,590 |
| 2017 | 32,832 | $31,990 |
| 2018 | 53,217 | $28,590 |
| 2019 | 24,426 | $35,592 |
| 2020 | 33,669 | $36,498 |
| 2021 | 25,698 | $35,398 |
| 2022 | 5,979 | $39,900 |
The good news is that the Audi A5 is among the Audi models you can lease. This is great if buying one isn't your priority.
Final Thoughts
The Audi A5 is a popular luxury automobile with exquisite features that deliver quality, performance, and comfort.
The Audi A5 has 40 TFSI and 45 TSFI engines, and a highly responsive steering wheel that delivers a comfortable ride.
This vehicle also has a well-insulated cabin that is free from the noise of the environment outside your vehicle.
The interior is made with sophisticated materials and a beautiful masterpiece from the automaker.
However, if you want to overlook some of its disadvantages, such as the high starting price, lack of an advanced driver assistance system, and uncomfortable rear seats.
The fuel economy of the Audi A5 is not fantastic, though the engine type plays a role in this factor.
In general, the Audi A5 is an excellent vehicle for people who desire a luxury car with several features, such as a seamless infotainment system and safety features.
Make sure you check the merits and demerits of the Audi A5 before making an informed decision.
Check problems for all Audi models here.
Sources
Audi A5 Depreciation | CarEdge
Was this article helpful?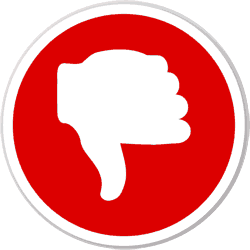 Did you find wrong information or was something missing?
We would love to hear your thoughts! (PS: We read ALL feedback)
ⓘ  The information in this article is based on data from National Highway Traffic Safety Administration (NHTSA) recall reports, consumer complaints submitted to the NHTSA, reliability ratings from J.D. Power, auto review and rating sites such as Edmunds, specialist forums, etc. We analyzed this data to provide insights into the best and worst years for these vehicle models.
---