Jeep is a popular automobile company that started originally in America and was acquired by Stellantis in 1987. The Jeep lineup only consists of SUVs, including crossover SUVs and more off-road-friendly ones.
Only five jeep models are currently in production, and three others adopt the famous Jeep brand name/logo.
Jeep models are often known for their ruggedness and efficiency, especially in horrid and off-road conditions. That explains why it was one of the vehicle brands selected by the US DOD during World War 2. The crossover models have also had a great reception in the American market and are constantly praised by critics for their nimbleness.
Since 1978, Jeep has issued 808 recalls for its models, according to ARFC.org. This puts it at #13 in total recalls issued by an automaker.
It goes without saying that certain models are responsible for the bulk of this huge recall figure. Let's look at some of the Jeep models with plenty of recalls.
1. Jeep Grand Cherokee
The Jeep Grand Cherokee is one of Jeep's line-ups of mid-size SUVs. Production kicked off in 1992, and the model entered its fifth generation in 2021.
It has achieved immense commercial success and maintained a streak of 200,000 units sold annually for the past five years, including the pandemic-stricken 2020.
Number of Recalls
The Jeep Grand Cherokee is an absolutely reliable model and boasts a reliability rating of 84/100 on JD Power.
Check also our article with the most common problems with the Jeep Grand Cherokee generations.
However, it finds itself atop the list of Jeep models with the most recalls, with a whopping 187 recalls so far.
We must mention that it is important to not judge this model harshly based on this number. This is especially because it has been around for way more than two decades. However, what we can do is fish out the problematic model years with the most recalls.
The 2014 Jeep Grand Cherokee has been recalled 22 times, making it the most-recalled Grand Cherokee model year. The model has battled and possibly is still battling a myriad of issues, which is why you should watch out for it.
Other Grand Cherokee with an alarming number of recalls are:
the 2012 Grand Cherokee (13),
the 2013 Grand Cherokee (12),
the 2002 Grand Cherokee (11),
the 2011 Grand Cherokee (9),
and the 2004 Grand Cherokee (9).
We have a list here of the best years for Jeep Grand Cherokee and some years to avoid.
Most other Grand Cherokee models, apart from these, have between 5-8 recalls.
The Grand Cherokee model years with the fewest recalls are the 1994, 1999, 2001, 2005 and 2017 models, with 4 each. Besides the most recent ones, these are probably models you should consider if you are looking to buy a used Grand Cherokee.
Below is a compilation of the most common issues with the Jeep Grand Cherokee, as seen in recall statements:
Electrical system faults (possible short circuit within the wiring that could hamper cruise control disengagement, possible failure of power train module, alternator, and transfer case)
Service brake problems (potential corrosion of brake booster shell and resultant water entry, possible loss of ABS due to sudden breakdown of computer communications)
Airbag defects (OCR module fault and possible airbag failure, improperly assembled inflator connectors, internal failure in the electronic control module)
Seat issues (disability of heater elements in SUVs with heated seats)
Fuel system issues (possible leakage and failure of fuel tanks in older models)
Related: How Long Do Jeeps Last? 7 Models Compared (Miles & Years)
2. Jeep Cherokee
The Jeep Cherokee is a line of SUVs manufactured and marketed by Jeep since 1974. Currently classified as a compact crossover SUV, the Cherokee spent several years as a full-size SUV and compact SUV.
It entered its fifth generation in 2014 and has been described by certain pundits as a capable vehicle for off-roading.
Number of Recalls
The Jeep Cherokee, even with the several changes over the years, has maintained a respectable level of acceptance with customers.
However, one of its major drawbacks is the huge number of recalls that have been issued for its models-173.
Check our article with the most common problems with the Jeep Cherokee models.
This figure lands the Cherokee at the top of the most-recalled Jeep models, second only to the similarly named Grand Cherokee. It racks up 21.4% of all Jeep recalls, according to the ARFC. While this figure is perplexing, we would look at individual model years to put this into perspective.
The 2014 Jeep Cherokee is the most-recalled Jeep model, with a whooping 16 recalls. It is followed closely by the 2015 model, with 14 recalls, the 1995 and 1996 models with 11, and the 1994, 2016, and 2019 models with 10.
The abovementioned models have serious flaws, and you may want to avoid them.
The 1974, 1977, 1983, 1992, and 2000 models are the least-recalled Cherokee models, with 1 each. Meanwhile, the 2001 and 2020 models also have 2 recalls each.
Below is a list of recall-worthy issues that have battled Jeep Cherokee models:
Service brake problems (insufficient coating of rear brake caliper pistons, worn power brake booster vacuum, possible corrosion of front disc brake rotors, especially in salt belt regions. )
Electrical system issues (failure of voltage regulator chip in the powertrain control module, possible no start condition, failure of instrument cluster, possible short circuit in vehicle wiring)
Visibility issues (possible damage of body control module due to usage of wipers on dry glass)
Airbag defects (possible corrosion of airbag control module due to road salt, unintended airbag deployment)
Steering problems (possible breakage of rack gear and consequent loss of steering control)
Related: Are All Jeeps 4-Wheel Drive? 7 Models Compared (Explained)
3. Jeep Wrangler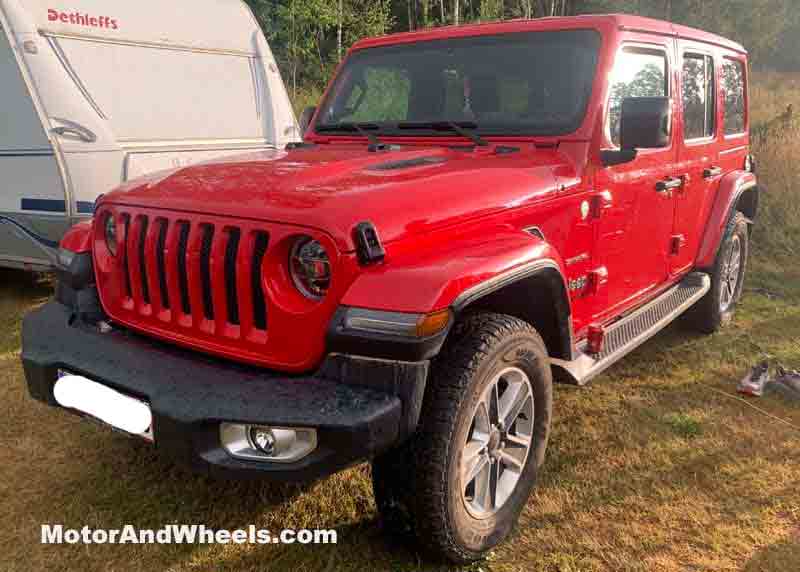 The Jeep Wrangler is a line of compact and mid-size off-road SUVs manufactured and marketed by Jeep since 1986. Now in its fourth generation, the Jeep Wrangler has enjoyed increasing popularity with millions of units sold.
Number of Recalls
Many critics regard the Jeep Wrangler as an above-average SUV, plus it notched an impressive 84/100 reliability score on JD Power.
Contrastingly, it is the third-most recalled Jeep model with 144 recalls.
This figure is about 17.8% of all Jeep recalls, according to the ARFC. However, we understand that while the figure is high, certain Wrangler model years have way too many recalls that have hiked the figure.
Of the 144 recalls, the 2018 Jeep Wrangler has picked up 13, making it the most-recalled Wrangler model on record.
Other Wrangler models with concerning figures include the 2011 and 2012 Wrangler, with 11 each, and the 2010 Wrangler with 10. The 2007 and 2013 Wrangler also notably have 8 recalls each. These are the Wrangler models you might want to avoid because of their issues.
As for the fewest recalls, the 1995, 1999, 2000, 2004, and 2005 Wrangler models share that crown with just 1 each. The 1994, 2002, and 2020 are right behind with 2 recalls each, while the 1993, 1997, 2001, 2006, and 2015 models have 3 each.
Common recall-worthy issues that have battled Jeep Wrangler models over the years include:
Airbag faults (sensor wiring defects, possible contamination of clock spring assembly and resultant airbag circuit failure, possible inflator explosion, control module error)
Service brake problems (Brake tube wear and potential brake fluid leak, unintended rear brake lockup by ABS module)
Electrical system failures (possible short in the vehicle wiring that could hinder cruise control disengagement, electrical short due to corrosion of power mirror electrical connector)
Seat belt issues (possible mounting strap fracture)
Steering problems (damaged power steering line and resultant brake fluid loss, missing or improperly installed steering column pivot rivet)
Related: Can Jeeps Tow Boats, Campers & Trailers? (21 Helpful Examples)
4. Jeep Liberty
The Jeep Liberty was produced for the North American market between the 2002 and 2012 model year. During its short stint, it had two generations and sold over a million units until its last production in late 2011.
Number of Recalls
Even though it has been discontinued for several years, the Liberty still finds itself at the 4th place on the list of most-recalled Jeep models. 67 recalls were issued for the Jeep Liberty during its time, which accounts for about 8.3% of all Jeep recalls, according to ARFC.org.
Here are the most typical problems with Jeep Liberty.
The 2002 and 2006 models of the Jeep Liberty have the joint most recalls with 10 each. The 2003 Liberty follows closely with 9, and the 2004 model trails behind with 8. If you are looking to cop a used Liberty model, you know which ones to avoid.
With just 2 recalls, the 2010 model is the least-recalled Jeep Liberty on record. Other models with notably few recalls include the 2012 model with 4 recalls and the 2011 model with 5.
Below are the most prevalent issues that necessitated Jeep Liberty recalls:
Airbag faults (electrical over-stress of resistor in OCS module, possible non-deployment of active headrests, and unintended deployment due to control module failure)
Suspension issues (loss of lubrication in lower control arm ball joints and possible corrosion, fracture, and loss of vehicle control)
Structural issues (failure and leakage of fuel tanks, sudden drop-down of transfer case heat shield)
Was this article helpful?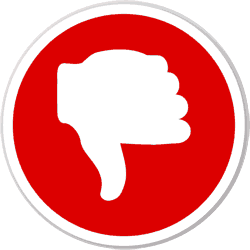 Did you find wrong information or was something missing?
We would love to hear your thoughts! (PS: We read ALL feedback)