The Jeep Grand Cherokee is a range of mid-size SUVs introduced by American manufacturer Jeep in 1993. As of 2022, Jeep has sold over 5 million units.
Thanks to its massive popularity and appeal, the Jeep has had a storied history and has seen five generations' worth of evolution.
The following guide explores each generation to help you figure out which Jeep Grand Cherokee models are the best purchases and possible models and versions to avoid.
We've previously covered 0-60 MPH times for Jeeps – including the Grand Cherokee.
Best years for Jeep Grand Cherokee
Expert ratings describe the 2022 Jeep Grand Cherokee as a mid-size SUV with roominess for the entire family as well as quite an adventurous streak.
With several features like air suspension and a limited-slip differential, this model has the capacity to go off-roading.
The following lists the top 5 best years for Jeep Grand Cherokees based on the fewest number of consumer-reported issues, overall least serious reported problems, and standard or optional features.
2020
The 2020 model of the Jeep Grand Cherokee consists of significant mechanical, exterior, and interior upgrades from the previous year.
Additionally, a significant safety update made this Jeep model one of the safest of all time.
As it is already two years out on the market, it is relatively more affordable than the newer models, giving drivers the best of affordability and quality.
2018
Like the 2020 class, the 2018 class is affordable yet does not skimp on the quality of the vehicle.
A durable, off-roading machine, the 2018 vehicle has suspensions that allow it to ride smoothly in off-roading terrain. A rearview camera and parallel park assist, in addition to collision warning, also make it a relatively safe vehicle to drive in cities.
A 3.2L V6 transmission and 271hp at 6,500RPM make the vehicle quite powerful as well.
2011
2011 saw Jeep being incredibly ambitious with its Grand Cherokee's driving abilities.
Whether the driver was comfortable off-roading or driving in the city, the 2011 model of the vehicle had them covered. Additionally, this version of the Grand Cherokee was more spacious than previous models and had a rear-seat DVD entertainment system, perfect for families.
This model was powerful with a 3.6L V6 engine with a trim that could perform 290lb-ft of torque at 6400 rpm.
2010
The 2010 model of the Jeep Grand Cherokee included a 5.7L HEMI V8 transmission engine trim that could hit 236lbft of torque at 4000rpm.
The main advantage of this vehicle was its interior, which proved far more spacious than other competitors in the off-roading market.
2009
The 2009 Jeep Grand Cherokee is still one of the most popular versions of the model to this day.
Its great interior design combined with a powerful V8 engine made it popular when it was released and continued its popularity over ten years later.
While the vehicle itself is small and compact, a spacious interior gives it a luxurious feel that is not attributed to other competitor vehicles on the market.
Jeep Grand Cherokee years to Avoid
Not all Grand Cherokee models are created equally as there are some that have been critiqued for having transmission issues, faulty brakes, and warning light problems that can result in both financial issues and other issues for the driver and passengers.
The next five are the Jeep Grand Cherokees, which have seen the most issues and pose a high risk to individual safety.
2015
The 2015 model of the Jeep Grand Cherokee faced a plethora of transmission problems.
Drivers would not be able to start the vehicle and would have to deal with a burning smell inside the vehicle as a result. This required owners to replace the transmission and update software, issues that could be costly to fix.
2014
The 2014 Jeep Grand Cherokee faced many issues including transmission, electronic software, and alternator problems.
More specifically, shifting and locking gears made it tough to park, while software problems resulted in multiple failed units.
The Jeep Grand Cherokee was also prone to stalling, which could have resulted in collisions on busy city roads.
2013
Like the model that would come after it, the 2013 version of the Jeep Grand Cherokee also faced many issues that resulted in an engine that would stall. More specifically, it was due to a wireless control module fault.
Additionally, drivers would have to endure uncomfortable temperatures within the car due to a temperature recirculation issue that would cause AC problems.
2012
The 2012 version of the Grand Cherokee experienced faulty electrical systems that could result in ignition switch locking that could be problematic for drivers and result in a hard start.
Other issues included malfunctioning navigation systems that led to traction, climate, and AC problems that would be both dangerous to drive with as well as costly to repair.
2011
A total of 741 complaints makes this one of the worst-performing Jeep Grand Cherokees of all time.
TIPM issues included faulty engine mechanics that resulted in the engine failing to start for several owners.
Additional interior styling and electrical wiring malfunctions also caused issues for vehicle owners. While there were many problems with the model, it was also the first of its generation, meaning that it had a higher likelihood of experiencing issues.
1st Generation: 1993 -1998
The very first generation of this legendary model introduced a 4.0L six engine that could hit 190 hp.
It also included a four-speed automatic transmission with the manual transmission model being discontinued as a result of low demand in North America.
The middle of this generation saw Jeep looking forward in its environmental consciousness by dropping the horsepower to 185lbft.
2nd Generation: 1999-2004
The next generation of the Jeep Grand Cherokee included a redesigned exterior that only shared 127 parts with its predecessor.
The new V8 engine produced less torque, which made it have a more efficient fuel economy. The intake manifold included a redesign that was able to add horsepower while maintaining adherence to strict EPA regulations.
3rd Generation: 2005-2010
The next generation of the Jeep Grand Cherokee saw a revised headlight redesign which included HID (high-intensity discharge) headlamps with automatic light leveling.
This version also saw a more refined 4.7L V8 engine that could hit 305hp and 334lbft of torque.
4th Generation: 2011—2020
As we noted earlier, the 2011 model kicked off the fourth generation of the Jeep Grand Cherokee with a plethora of problems and issues.
Not to be deterred, however, Jeep doubled down on making improvements that resulted in the 2020 model, one of the best-performing off-roading vehicles on the market.
The engine included a European-manufactured 3.0L turbocharged diesel V6 that could hit 406lbft of torque, more powerful than any other Jeep Grand Cherokee to come out to market.
5th Generation: 2021-Present
The current generation of Jeep Grand Cherokee has five trim levels that are powered by a 3.6L V6 engine that produces 290hp and 257 lbft of torque at the base level.
Overland and Summit trim levels have a 5.7 L HEMI V8 engine that can produce 357 hp and a whopping 390 lbft of torque.
Which Jeep Grand Cherokee generation should you buy?
While the fourth generation saw a great improvement in the Grand Cherokee, the current generation builds upon that and is the most complete of any that has ever gone out on the market.
What year is the most reliable Jeep Grand Cherokee?
The most reliable Jeep Grand Cherokee is the 2020 model. This is likely because it caps off a generation that started with various issues. Jeep looked for ways to correct these issues resulting in an incredibly reliable off-roading vehicle.
What are the most common problems with Jeep Grand Cherokees?
We have a full list of problems with each Jeep Grand Cherokee.
Erratic electronic shifting
Thousands of units were recalled due to transmission problems that resulted in the vehicle being stuck in park despite the driver shifting gears.
This resulted in many reports of vehicles rolling away from drivers after they had exited the vehicle.
Engine stalling comes from a TIPM (totally integrated power module) issue that left many drivers stalled in the middle of busy intersections which could have proved fatal.
These were mainly from early in the fourth-generation model, which, as we mentioned earlier, was beset with issues from the get-go.
The alternator failure would result in loud whining sounds, burning odors coming from the engine, and electrical system power failures.
This could result in fatal crashes as well as be costly to repair and replace as it is a crucial part of the underlying transmission system.
How many miles will a Jeep Grand Cherokee last?
The Jeep Grand Cherokee can typically last 200,000 miles before needing to be upgraded to another model.
We have a full article here on how long each Jeep last.
What are the closest competitors to the Jeep Grand Cherokee?
Competitors include:
Honda CRV
Mazda CX-5
Subaru Forester
How long do the transmissions normally last on these models?
The Honda CRV can last anywhere from 120,000 to 180,000 miles, while the Mazda CX-5 has a lifetime mileage of roughly 150,000 miles. The Subaru Forester transmission can last up to 300,000 miles.
Was this article helpful?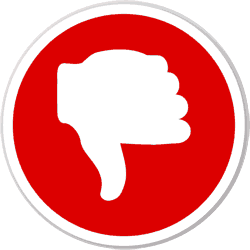 Did you find wrong information or was something missing?
We would love to hear your thoughts! (PS: We read ALL feedback)
ⓘ  The information in this article is based on data from National Highway Traffic Safety Administration (NHTSA) recall reports, consumer complaints submitted to the NHTSA, reliability ratings from J.D. Power, auto review and rating sites such as Edmunds, specialist forums, etc. We analyzed this data to provide insights into the best and worst years for these vehicle models.
---