Jaguar used to be a subdivision of the Land Rover Company, a British auto manufacturer headquartered in Coventry, England. This was until the operations of the two companies were completely merged in 2013.
As a brand, Jaguar hit the auto market scene way back in 1935 and has produced millions of vehicles in different classes.
It's always been known as a luxury auto brand, and its popularity soared when it started entering sports rating competition, where it achieved a few successes.
Jaguar has done well at its business of making breezy sedans and athletic sports cars. However, it has now extended its range to include SUVs and crossovers, all of which the auto market appears to have taken kindly to.
Since 1977, Jaguar Cars has issued 319 recalls for its models. According to ARFC.org, this equals about 1.0% of all NHTSA recalls on record.
Below is a compilation of Jaguar models with the most recalls:
1. Jaguar XF
The Jaguar XF is a mid-size executive luxury car manufactured and marketed by Jaguar Cars since 2007. The first variant, known as the X250, was in production between 2007 and 2015. It was succeeded by the X260, which has been around since 2015.
With several awards under its belt, including the Car of the Decade Award by Auto Express in 2011, the Jaguar XF is undoubtedly an elite model.
Number of Recalls
The first-ever recall for the Jaguar XF was issued in 2008, and Jaguar Cars have issued 65 others in the years following.
This makes it the most-recalled Jaguar model. And according to an estimation by ARFC.org, that figure equates to 20.7% of total Jaguar recalls since 1977.
With 14 recalls on record, the 2013 Jaguar XF holds an incontestable spot at #1 on the list of most-recalled Jaguar XF models. The 2010 Jaguar XF stays closely behind at the #2 spot with 11 total recalls on record.
The third spot on the list goes to the 2014 Jaguar XF with 9 recalls, and the 2015 Jaguar XF has had 8 recalls so far.
These four model years account for more than half of all Jaguar XF recalls. Hence, we reckon that if you are looking to cop a Jaguar XF model, you might want to exercise some caution in buying them.
The 2017 Jaguar XF is the least-recalled model with just 2 recalls on record. The 2018 Jaguar XF holds the second spot on this list with 3 recalls so far.
Meanwhile, make sure to read up on the common problems with Jaguar cars.
Below is a list of common issues with the Jaguar XF that have triggered recalls over the years:
Airbag defects (incorrect calibration in supplemental restraint system (SRS) leading to the frontal airbags deploying shabbily in low-speed crashes, possible explosion of inflator caused by propellant degradation)
Fuel system issues (possible leak of fuel rail end caps and resultant leakage of fuel vapor into the engine bay, cracked left-hand inner sill panel leading to rupture of underfloor fuel lines, and eventual leakage)
Electrical system issues (intermittent blank out of instrument cluster, possible fracture of speaker wires in instrument cluster)
Steering faults (breakdown of certain components in the power steering assist system and restriction of fluid flow within the system hose leading to loss of PSA)
Related: 5 Lincoln Models With Most Recalls (Check Before Buying!)
2. Jaguar XJS
The Jaguar XJS was a vintage grand tourer in production between 1975 and 1996. It was famous for its entry into international sports racing competitions, where it had a decent level of success.
By the end of its run in 1996, Jaguar had produced a little over 115,000 units of the elite grand tourer.
Number of Recalls
Starting in 1977, the Jaguar XJS was recalled a total of 52 times during its 25-year run. It used to be the most-recalled Jaguar model until the Jaguar XF came along and pushed it to the second spot.
The 52 recalls for the Jaguar XJS equates to 16.3% of all Jaguar recalls, according to an estimation by ARFC.org.
With 6 recalls each, the 1982 and 1987 Jaguar XJS model years have the joint most-recalls amongst XJS models. The second position is shared by the 1980, 1983, 1986, and 1989 models of the Jaguar XJS with 4 recalls each.
The 1979, 1991 and 1992 Jaguar XJS models have the joint-fewest recalls amongst all models with just 1 on record.
The 1976, 1977, 1978, and 1981 models have 2 recalls each, earning them the 2nd spot on the list of the least-recalled Jaguar XJS models.
Below is a list of common problems that have caused recalls for the Jaguar XJS:
Fuel system issues (possibility of excessive fuel vapor pressure leading to a weak fuel tank structure, possible failure of lower fuel tank gauge seals, and resultant gas leak into lower fuel tank cavity)
Electrical system faults (inopportune contact of the engine harness and air conditioning expansion valve protection plate and resultant chafing of harness, displacement of high tension lead to an area around the fuel injector hose, leading to a crack of inner and outer injection hoses)
Vehicle speed control system (failure of electronically controlled valves due to entry of dirt and debris into the valves)
Related: 5 Infiniti Models With The Most Recalls (Read Before Buying)
3. Jaguar XK
The Jaguar XK was launched in 1996 and positioned as a successor to the defunct grand tourer, Jaguar XJS.
The XK was in production between 1996 and 2014 and had coupe and convertible variants, which spanned two generations.
Its run ended in July 2014 when Jaguar Cars pulled the plugs on production.
Number of Recalls
Not only is the Jaguar XK the successor of the Jaguar XJS, but it is also directly behind the XJS on the list of most-recalled Jaguar models.
The Jaguar XK is the third most-recalled Jaguar model on record, with 32 recalls to its name. That's about 10.0% of all recalls for Jaguar models, according to ARFC.org.
The 2013 and 2014 Jaguar XK models are the most-recalled models with 5 recalls on record. They are followed closely by the 2015 model with 3 recalls.
On the other end, we have the 1997-2002, 2004, 2006, 2008, and 2009 Jaguar XK models as the least-recalled models with 1 each. The 2003, 2010, 2011, and 2012 model years take the 2nd spot in this category with 2 recalls each.
It is clear from the breakdown above that the Jaguar XK recalls are almost evenly shared amongst the model years, with most having 1-2 recalls each.
The models you might want to steer clear of are those with 5 recalls, and some might say that's not even a sinister figure when put into perspective.
Below is a list of the most prevalent issues that have brought about Jaguar XK recalls:
Exterior lighting faults (front side parking lamps turning off after about five minutes and non-compliance with Federal Motor Vehicle Safety Standard (FMVSS), absence of suitable instructions about the headlamp adjustment mechanism in the manual)
Electrical system defects (inoperative or erratic switch in the overhead roof console which often fails to slide downward to close the windows, non-compliance with FMVSS standards)
Tire problems (incorrect information on the tire placards about the inflation pressure of the spare wheel; failure of instrument cluster lights to illuminate when tire pressure monitoring system signal is sent)
Automatic transmission issues (wrong selection of reverse gear in automatic variants when the forward drive gear has been selected, and the vehicle is in a forward motion)
Related: 5 BMW Models With Most Recalls (Check Before Buying!)
4. Jaguar XJ6
The Jaguar XJ6 is a distinguished part of the Jaguar XJ series, a line of full-size luxury cars produced between 1968 and 2019 across five platform generations.
The XJ6 was unveiled in 1968, and it took the market by storm, with many publications naming it the best car in 1969.
Number of Recalls
During its production run, Jaguar XJ6 models were recalled multiple times. According to NHTSA records, recalls for the Jaguar XJ6 started in 1977 and now totals 29. This makes for 9.1% of all Jaguar recalls.
The 1988 Jaguar XJ6 is the most-recalled model year on record with 4 recalls. The 1977, 1978, 1979, and 1989 Jaguar XJ6 model years have 3 recalls each, which sits them firmly in the second spot.
With 1 recall each, the 1974, 1980, 1981, 1991, and 1992 models of the Jaguar XJ6 have the joint fewest recalls. The 1975-1977, 1982, and 1990 models have 2 recalls each, putting them at the #2 spot on the list.
It is safe to say that most Jaguar XJ6 models or all, in some other people's opinions, have auspicious and non-threatening recall figures.
Below is a list of common problems with the Jaguar XJ6 as gleaned from recall announcements:
Fuel system issues (potential fuel leak in the engine compartment as a result of degradation of high-pressure fuel hose connections; failure of throttle butterfly to return to idle position during cold weather)
Engine cooling problems (possible displacement of exhaust gas recirculation core plugs and resultant loss of engine vacuum, stalling and erratic engine operations)
Service brake faults (leakage from brake accumulator switch leading to loss of fluid in the power brake assist system; possible rupture of high pressure fluid supply hose)
Seatbelt defects (malfunction of the normal lockup function and resultant lockup of belt motor winch assembly and non-deployment of passive belt system)
Was this article helpful?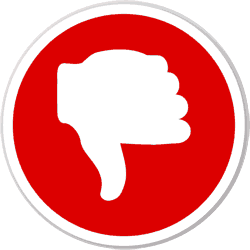 Did you find wrong information or was something missing?
We would love to hear your thoughts! (PS: We read ALL feedback)