The motorcycle market for 600cc and 650cc motorcycles has greatly slowed down over the last few years, but there are still holdouts in the sportbike category for this intermediate displacement-size ripper. 
We've gotten together a list of 6 motorcycles in the 600cc and 650cc class that epitomize their sleek design and power!
Check out our findings to get a good idea of how fast 600cc and 650cc can go.
What Are 600cc & 650cc Motorcycles?
You may have heard people referring to their motorcycles by a number (usually in increments of 50 or 100) followed by the initials cc. If you are unsure what that means, exactly, let's clarify for you before we proceed to the specs, top speeds, and general information for each bike.
600cc and 650cc motorcycles are mid-sized, intermediate machines. 'CC' refers to the cubic centimeters of displacement, which is the way engine sizes are measured. Some motorcycles like ones made by Harley-Davidson are measured in cubic inches.
These motorcycles are generally sportbikes because 600cc and 650cc cruisers, roadsters, and cafe motorcycles have been slowly phased out of the market.
Because 600cc and 650cc motorcycles are mid-sized, they generally tend to be a good fit for riders with some level of skill who want to go fast, but may not be totally comfortable graduating into the larger, 1,000cc+ range of motorcycles.
These motorcycles can sometimes be overlooked by 'superbike' enthusiasts because they don't pack the same punch as larger bikes where high speed, power, and torque are concerned. But that doesn't mean they aren't incredible, high-speed machines!
1. Aprilia RS660
Italy's Aprilia has been manufacturing bicycles, scooters, and smaller-displacement motorcycles since the company's founding in 1945.
In more recent years, the subsidiary of Piaggio has been focused on creating competitive sportbikes and the RS660 is solidly in the middle of their range of products.
The Aprilia RS660 is powered by a 659cc, liquid-cooled, DOHC parallel twin with 4 valves per cylinder.
Touted as very powerful between 4,000 and 10,500 rpm, the bike can scream alongside other crackers in their category but isn't too aggressive for the rider to handle. In fact, one word used to describe this 404 lb (curb weight) is 'nimble.'
The Aprilia RS660's true showmanship can be measured in horsepower (a cool 100 hp at 10,500 rpm) and an equally impressive torque of 49.4 ft-lbs at 8,500 rpm. 
Equally impressive is a truly comfortable riding position, which is often the first complaint from sportbike riders (who can sometimes look like adults riding tricycles). 
While these specs are great, sportbike enthusiasts have complained that the high-performance RS660 does have some mechanical flaws, begins to leak oil far too early in their life, and is difficult to maintain due to lack of parts, especially in the US market.
Maybe the RS660 isn't the bike you're going to happily purchase for everyday commuting, but a claimed top speed of 147 mph is worth it if you're mechanically inclined and want to whoop the competition on track days!  
2. Honda CBR600RR
Honda's CBR series is certainly known worldwide as one of the fastest bikes on the consumer market. The CBR600RR is no exception to the rule and continues to dominate on racetrack straightaways and curvy canyon bombing alike. 
The Honda CBR600RR's liquid-cooled, 599cc, inline four-cylinder engine is known among riders for its smooth delivery throughout the power band.
Truly a racer's dream, this 410 lb bike can handle everything that's thrown at it. Add to the mix Honda's reputation for reliability and long life, we can't think of a better mid-weight bike for all-around performance.
Returning to the engine specifications, we are mightily impressed with the power and torque performances.
The CBR600RR delivers 113 hp at 13,500 rpm as well as 49 ft-lbs of torque at 11,250 rpm and we were impressed with their ability to crank out these specs at such a high power band, even for a sportbike.
To top it all off, the CBR600RR is recorded as reaching the top speed of 160.1 mph on a straightaway- a true racer! 
3. Kawasaki Ninja ZX-6R
Perhaps forgotten as the redheaded stepchild of the Ninja series, the ZX-6R still performs incredibly well on those exhilarating track days.
The iconic Kawasaki Ninja engine is a liquid-cooled, 636cc, 4-stroke, DOHC inline-four behemoth that screams 'crotch-rocket' in every aspect of its power.
Capable of 127.3 hp at 13,500 rpm and 52.1 ft-lbs of torque at 11,500 rpm, the ZX-6R competes well above average in the 600cc to 650cc category.
While the 636cc Kawasaki Ninja isn't everyone's cup of tea, it handles well for curve-heavy weekend rides and track straightaways. Riders have little complaints about these champion supersports.
Engine, chassis, and systems combined, the Kawasaki Ninja ZX-6R's curb weight of 430 lbs is relatively average for a sportbike but doesn't detract from the incredible speeds it is capable of. 
The ability to top 60 mph in 3.1 seconds is only secondarily impressive when we consider that the top speed of a Ninja ZX-6R is 164 mph, which it can achieve in 15.42 seconds! 
4. Triumph Trident 660
Beginner riders have always been turned away at Triumph's doorstep because they simply didn't have a bike small enough to appeal to novices. Enter the Triumph Trident 660.
More a roadster than a sportbike, the stripped-down, 'naked' Trident 660 is part of Triumph's 660 platform that we assume will grow with the immediate appeal of these mid-sized monsters.
The Trident 660 sports a liquid-cooled, 660cc, DOHC, 4-stroke, transverse 3-cylinder engine planted inside a sleek, modern chassis.
While we aren't strangers to Triumph's transverse engines, and although they seem perhaps a bit gimmicky, we'd like to see how their performance holds up (and improves) as the 660 platform grows in the next few years.
But for now, color us impressed with the Trident 660 power and performance.
Although the sportbikes that dominate the 600cc and 650cc categories are more powerful, these stripped-down roadsters can generate 80 hp at 10,250 rpm and 47 ft-lbs of torque at 6,250 rpm.
Take that with a grain of salt, though, because A2 restrictions allow for slightly less power and torque.
Altogether, the Triumph Trident 660 is a stunning neo-roadster with a top speed of 132 mph.
5. Triumph Daytona 600 
Another offering from the UK is the Triumph Daytona 600, a name we find slightly humorous as Daytona is seated smack-dab in the US.
But by name alone, we know we're gearing up for a mid-sized supersport that can lap the track with ferocious speed and an impressive power band. Incredibly, the Daytona 600 is known as a solid street bike as well, handling traffic and the light-to-light action of the everyday motorcycle rider. 
Debuted in 2002 and discontinued only 2 years later in 2004, the Daytona 600's 15 minutes of fame were well-deserved. Although modern models of sportbikes have lots of tweaks and decades of improvements for performance, the Daytona 600 was comparable to anything introduced at the time.
While the body style is a bit chunky and outdated due to its limited production during the early 2000s, we've got to appreciate a midsized bike that solidly weighs in at 413 lbs on the curb.
The engine in the Daytona 600 is a liquid-cooled, 599cc, 4-stroke, transverse four-cylinder. We're solidly impressed with 110 hp at 12,750 rpm and 50.2 ft-lbs at 11,000 rpm.
Although it's slightly sad that the Daytona 600 was discontinued, these bikes can still be had on the used market. And who wouldn't want one considering the Triumph Daytona 600 is capable of a top speed of 160 mph?
Related: How Fast Do 300cc Motorcycles Go? 5 Examples
6. Yamaha YZF-6R
According to our research, the Yamaha YZF-6R is possibly the fastest bike in the 600 and 650cc categories. And there are several elements that come together to make this the case.
Famed for its engineering, Yamaha's YZF-6R is no exception to the rule in the world of sportbikes and is one of the first bikes under 1,000cc to break 100 hp.
With a liquid-cooled, 599cc, DOHC inline 4 cylinder that comes equipped with 16 titanium valves, the YZF-6R seems pretty bulletproof. Although the YZF-6R has had several minute changes since its introduction in 1999, its durability is a testament to the fact that it is still in production to this day.
At its power height in the 2008-2009 models, the power output of the engine on these incredible bikes is a whopping 125.2 hp at 14,500 rpm and 43.3 ft-lbs of torque at 10,500 rpm.
The Yamaha YZF-6R has a solid curb weight of 418 lbs but handles well in all settings.
But how do these specs measure up when it comes to top speeds? The Yamaha YZF-6R has a reported top speed of 165 mph! 
Related: How Fast Do 1000cc Motorcycles Go? (6 Examples)
What Is the Average Top Speed of 600cc & 650cc Motorcycles?
Although it may seem vague, the top speed of 600cc and 650cc motorcycles varies between 90-140 mph.
This broad range takes into consideration the sportbikes we've covered here and also the now-defunct class of roadsters, cruisers, and cafes in the same category. 
If you are considering the top speeds of our list of sportbikes, we'd narrow that down to 150-160 mph.
Related: How Fast Do 750cc Motorcycles Go? (6 Examples)
What Are the Fastest 600cc & 650cc Motorcycles?
The fastest 600cc and 650cc motorcycles are the Yamaha YZF-6R, the Kawasaki Ninja ZX-6R, and the Honda CBR600RR.
The Yamaha YZF-6R has a top speed of 165 mph.

Coming in second is the Kawasaki Ninja ZX-6R which is capable of 164 mph.

Lastly, is the Honda CBR600RR, which can go 160.1 mph.
Can Complete Beginners Ride a 600cc Motorcycle?
A 600cc motorcycle is often the tipping point between what a complete beginner can handle and a bike that might take a bit more skill to ride.
Taking into consideration that many 600cc motorcycles are sportbikes with top speeds higher than most anyone has ever achieved in an automobile, we recommend extreme caution when riding one. 
Perhaps a smaller bike might be a better choice for a complete beginner.
Sources
2021 Aprilia RS 660 Buyer's Guide: Specs, Photos, Price | Cycle World
2022 Honda CBR600RR [Model Overview] | wBW
Was this article helpful?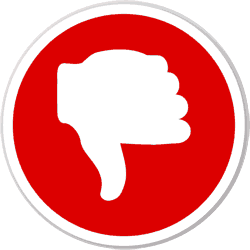 Did you find wrong information or was something missing?
We would love to hear your thoughts! (PS: We read ALL feedback)