300cc motorcycles are an excellent choice for beginner riders and smaller, lower-weight riders.
Engine size is rated in CCs, which stand for cubic centimeters and a 300cc engine is considered to be relatively small.
But size doesn't necessarily matter. These days, lots of 300cc engines are capable of tremendous amounts of power and torque.
In this article, we discuss how fast 300cc motorcycles can go.
Are All 300cc Top Speeds Similar?
Different 300cc engine bikes have different top speeds. This has more to do with the torque and subsequent horsepower that the engine produces. 
Sportbikes and street racers that are made with more torque and horsepower are capable of higher speeds. Cruisers and street bikes have torque in the lower range and produce lower top speeds.
Because the total volume of available combustion space inside the engine is lower, a smaller displacement engine will have a hard time competing with the larger displacement engines that have more combustion space to ignite more fuel and create more torque and power.
Some 300cc engines with high torque and power ratings are actually faster than relatively larger displacement engines. This is because their torque and power outputs are higher than the larger engine with lower torque and power ratings.
So What Is the Speed Range for a 300cc Motorcycle? 
Let's take a look at a variety of bikes available on the market today!
Everything in this category is sitting at the 300cc range, but remember that cruisers, sportbikes, cafes, or adventure bikes are going to be built with different specifications for the different tasks the engines handle.
Generally, cruisers and around-the-city street bikes will not go quite as fast as their sportbike and racer class cousins.
We've found that cruisers and street bikes like the Honda Rebel 300 top out in the 85-95 range, naked sportbikes like Honda's CB300R stay on the top side of the 95-100 mph range.
Sportbikes and racers can top out quite a bit higher with top speeds in the 100-112 mph range.
Honda Rebel 300
The sleek, laid-back design of the Honda Rebel 300 is enough to want to get on this bike and start zipping around! And man, does it have the stats to back it up!
A lot of people will complain about 300cc motorcycles' lack of power, but this dreamy bike is going to 'rebel' against that notion.
Dad jokes aside, the Rebel is powered by a 286cc 4-stroke, single-cylinder, liquid-cooled engine. This sleek thumper has nice torque in the low-mid range, and finally peaks at 17.6 lb-ft. Right above 7,000 RPMs. 
This translates into a wonderful 25 horsepower at 7,600 RPMs, which is a really nice bonus when you consider that the bike sports an engine on the small end of our 300cc category.
Another complaint about smaller displacement bikes is lower speed ranges, but this bike will comfortably thump along at top highway speeds of 75 mph.
But the Honda Rebel 300cc doesn't top out there. One review we found claimed a comfortable top speed of 92 mph on a straightaway! 
Related: How Long Do Honda Rebels Last? 8 Examples
Honda CB300R
The more we looked into this next offering from Honda, the more we went gaga over this incredible-looking naked sportbike.
Honda's CB300R is one of our favorites in the naked sportbike category and for good reason.
The stripped-down look of this upright sportbike is enough to turn some heads on the straightaways, twisties, and stoplights alike. 
The engine is the same 286cc liquid-cooled, 4-stroke, single-cylinder engine as the Honda Rebel 300, but with a twist.
Canted forward at 20 degrees, the engine lowers the center of gravity, placing more weight on the front end of the bike for excellent control and turning.
The engine does vary slightly from the Honda Rebel 300 in the areas of torque and power. The varying configurations of the CB300R engine and design are styled off of the incredibly popular CB1000R. 
Because of its R (race) classification, the torque and subsequent horsepower are going to be slightly higher. In this case, with an initial torque of 20.3 lb-ft at 8,290 RPMs. This translates very well to 31 horsepower at 8,500 RPMs. 
When compared to the Honda Rebel 300, we thought this would drastically affect the top speed of this neo-cafe sportbike, but it only adds another 3 mph, screaming down a straightaway at 95 mph.
Related: 4 Most-Common Problems With Honda CB300F
Yamaha MT-03
Another naked sportbike from Yamaha, the MT-03 is known for being a high-quality homage to the larger torque monsters in the MT series.
We've found that the Japanese Big Four, Ducati, and KTM are leaning into naked sportbikes and we couldn't be happier than with the incredible space-age design of the Yamaha MT-03.
Firm front suspension and a rigid chassis make this pot-bellied little sportbike handle like the bigger MTs, and it helps when you have such high torque and power ratings from a 321cc engine.
Truer to its racer roots than other 'cheater' sportbikes available from competitors, the engine puts out a comparable 20.2 lb-ft of torque around 9,000 RPMs. 
One difference from other sportbikes is the relatively flat line through all RPM ranges. This is impressive when you consider that at 10,600 RPMs, this engine is putting out a whopping 37.1 horsepower.
This is most certainly a feat to keep you accelerating against wind resistance at high speeds.
And the high speeds might not compare to the gargantuan MT-09 or MT-15, but to top out at 112 mph with a 321cc engine is impressive.
Related: 3 Most Common Problems With Yamaha V Star 250
BMW G310 GS
Revealed to the market in 2015, the BMW G310 GS is an exquisite adventure model born out of the G-series. Considered the real pipsqueak of adventure bikes because of their size, it is perfect for entry-level riders. 
Of course, an adventure bike is built for equal performance on the road and track alike, so the top speed isn't going to be nearly that of a classic sportbike like the Yamaha MT-03 or the Kawasaki Ninja 300. 
That being said, it is still an impressive 300cc motorcycle and deserves a little bit of credit in the category.
The BMW G310 GS comes equipped with a liquid-cooled, 313cc, 4-stroke, single-cylinder engine. The true power of the G310 lies in a great max torque rating of 21 lb-ft at 7,500 RPMs and 34 horsepower.
Although these power and torque ratings might look similar to some of the racing and sportbike models we've already covered, it isn't going to hit those top speeds above 100 mph. And that's ok!
The BMW G310 GS is going to max out at a paltry 88 mph, but it shouldn't be a deterrent to anyone interested in these amazing bikes.
Although we've compiled this research to show off the sometimes impressive top speeds of smaller-displacement motorcycles, 88 mph is still faster than any posted speed limit in the US.
Kawasaki Ninja 300
Kawasaki has done it again with the Ninja series, folks. In terms of unaltered, off-the-lot bikes available widely to consumers, the Kawasaki Ninja 300 is one of the fastest in its category.
It's no surprise that top speed specs in any engine size category will generally be sportbikes.
And what sportbike is more iconic than a Kawasaki Ninja?
Many hopeful sportbike riders are bound to drool over this surprisingly powerful beginner bike because of the incredible power of larger bikes in the Ninja series.
But the Ninja 300 will never bring shame to the Kawasaki name because it trounces almost every bike in the 300cc category.
Sleek looks, smooth shifting, and easy handling aren't the only stunning features of this bike.
The true cherry-on-top for the Ninja 300 are the torque and power specifications associated with the liquid-cooled, 296cc, 4-stroke, parallel twin engine that powers it.
Finding the max torque rating of 18 lb-ft at 8,370 RPMs is no surprise, as is the unassuming max horsepower rating of 34.96 lb-ft at 10,860 RPMs.
So how does this sportbike/racer pop up to the top of the charts with similar stats as other 300cc bikes?
A low curb weight of 385 lbs, taller gearing ratios, and aerodynamic faring are just some of the Kawasaki Ninja 300 features that contribute to a top speed of 112 mph!
Related: 7 Most Common Problems with Kawasaki Ninja 250, 300 & 400
What Is the Average Top Speed of 300cc Motorcycles?
Most 300cc motorcycles are going to top out at speeds around 100 mph, although there are some sportbike and R models (racing models) that breeze past 100 mph with a twist of the throttle. 
We'd wager a top speed range of 85-112 mph for 300cc motorcycles.
What Are the Fastest 300cc Motorcycles?
The fastest 300cc motorcycles are sportbikes and racing models. We've already mentioned some incredible sportbikes and racers, but let's put our mark on the top 5 fastest 300cc motorcycles!
KTM 390 Duke is about as high of an engine displacement volume that we've considered part of the 300cc category, but its impressive top speed is 104 mph.
Yamaha YZF-R3 is an incredible racer that will blow by you at 110 mph.
KTM RC 390 is another bike topping out our requirements for a bike being considered for 300cc, but we include it anyway. 111 mph seems like a good number for a top speed!
The Kawasaki Ninja 300, almost eponymous with speed for 3+ decades, is one of the fastest bikes around, at 112 mph!
Yamaha MT-03's 321cc engine is going to pace just fine alongside the Ninja 300 with the exact same top speed of 112 mph.
Can Complete Beginners Ride a 300cc Motorcycle?
The short answer is yes, a complete beginner can feel comfortable learning to ride on a 300cc motorcycle.
300cc motorcycles can be had, brand-new, for a fraction of the price of a larger bike. That's a great boon to this category because chances are, a new rider is going to drop that bike.
Another thing to consider about a 300cc bike is the relatively low weight, so when you do inevitably drop your first bike, you won't have as much trouble picking up a bike that weighs less than 400 lbs.
300cc bikes are a great place for beginners to start because they handle well and keep the power that's available at a minimum so you don't find yourself in deep water if you can't handle the torque or high-range power of a bigger bike.
Sources
2021 Honda Rebel 300 ABS | CycleWorld.com
Was this article helpful?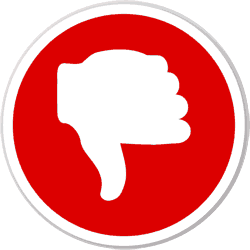 Did you find wrong information or was something missing?
We would love to hear your thoughts! (PS: We read ALL feedback)