The SUV category has been a hot topic in the automotive world for years, but many people still don't know what characterizes full-size SUVs, especially as it concerns its similarities with the mid-size variants.
Full-size SUVs are typically designed with four doors, with seating for at least seven to eight passengers. 
Read on to learn what characteristics specifically define a full-size SUV. 
1. Full-Size SUVs Have the Ability To Tow Heavy Items
Most SUV buyers choose their vehicle based on its looks, size, and features. Many people hardly consider towing capacities and whether they'll need to haul something with their new car. 
Towing capacity is essential for families who enjoy going away on adventures and camping trips.
That said, only the full-size SUV can effectively perform towing and other heavy-hauling tasks amongst all SUV variants.
They are the only other type of vehicle, aside from trucks, capable of pulling heavier objects, such as trailers carrying boats, camping vans, or occasionally other cars.
A few examples would be the Toyota Sequoia and Hyundai Palisade. 
While the Hyundai Palisade can tow a mediocre 5000 pounds, the Toyota Sequoia adds a further 4000 pounds to offer to towing capacity of a whopping 9000 pounds.
Ultimately, full-size SUVs are popular among many buyers because they can tow large items while offering the same comfort and luxury as other vehicle types.
2. They Can Handle Rough and Challenging Terrains
SUVs are great for everyday road trips, but if you want the ultimate off-road experience, you need a vehicle designed to tackle rough terrain and challenging off-road tracks – a full-size SUV is precisely that. 
If you've ever driven through the countryside, you've probably noticed that certain vehicles are better equipped to handle bad weather and rough terrains than others. 
The same can be said for off-roading. Full-size SUVs are often better equipped to handle more challenging environments than sedans and even some trucks.
A full-size SUV is ideal if you appreciate adventuring, camping, off-roading, or any other outdoor activity.
SUVs are typically constructed using the body-on-frame system, which utilizes a truck's framework as a foundation and is virtually always paired with a potent powertrain.
Their powerful engines ensure they can get you and your passengers to your favorite camping destination, whether you decide to travel on a major freeway or an unpaved trail on the unbeaten path.
Full-size SUVs usually have off-road features such as high frames (ground clearance), hard paneling to shield against rough terrain, and all-wheel drive (AWD). This is why SUVs with 4×4 and specially designed off-road tires can traverse almost any environment with substantial off-road capability. 
Nonetheless, if you occasionally intend to drive on unpaved roads, an all-wheel-drive full-size SUV with all-terrain or even on-road tires would suffice.
Here are the classic buying demographics of full-size cars.
3. Offers Plenty of Space for Passengers and Cargo
When buying a vehicle, various factors are considered by different individuals. Sometimes people are interested in the latest, more innovative technologies, whereas others are more concerned with the prospective vehicle's immense power.
However, many drivers may concur that a vehicle's overall space capacity is crucial while shopping for a new car. This explains why numerous motorists choose an SUV, which offers all you could possibly need in a vehicle.
Naturally, not all SUVs are considered equal. Some are better suited to carry both luggage and passengers than others.
If you're looking for an SUV that can accommodate a large family, you'll want to consider a full-size SUV. These vehicles offer a lot of space and comfort, making them ideal for families with kids or pets.
Full-sized SUVs are also designed with cargo capacity in mind. They offer ample cargo room to transport bags and other items. 
Additionally, you can always fold the middle and the last seats to provide additional space, even when it initially doesn't appear to be lacking.
For example, the Toyota Sequoia is a large family SUV that provides 22.3 cubic feet of space behind the third row, 49.0 cubic feet behind the second row, and 86.9 cubic feet of space behind the first row (with all seats folded down).
Ultimately, a full-size SUV is a great option if you're in the market for a new SUV and want something that offers plenty of space for passengers and cargo.
4. Most full-size SUVs feature Three Rows of Seats
Family cars have been trending toward larger models for years now. 
As families get bigger, they need larger vehicles to accommodate them. And as those families grow older, they need more room than a regular sedan or even a mid-size SUV can provide.
This is where another definition is attributed to a full-size SUV.
Contrary to their smaller counterparts, full-size SUVs are roomier and more perfect for older and taller occupants as they provide greater head and legroom.
Additionally, most full-size SUVs offer a minimum of 7-8 seats across three rows.
Owners can also fold second and third-row seats when they're not in use to give their passengers additional legroom or to utilize the room to carry extra baggage.
Make sure to also check out our article on 5 full-size SUVs for all-round use.
Full-Size SUV Examples
Although no specific dimensions separate full-size SUVs from their smaller counterparts, there are still a few things we can look for to determine the vehicle class. 
By now, it's clear that full-size SUVs are large vehicles with plenty of space for passengers and cargo. They're more comfortable than smaller SUVs without sacrificing performance or capability.
Let's take a closer look at Toyota's 2023 Sequoia. 
1. 2023 Toyota Sequoia
The updated Toyota Sequoia is a good choice if you're looking for a huge SUV. 
A range of standard driver aid systems, such as blind spot monitoring and adaptive cruise control, are included in the Sequoia's upscale cabin, which also has ample first and second-row seating.
The Sequoia's hybrid V6 engine, which offers quick performance and strong towing capacity (as previously mentioned) with the advantage of more miles per gallon, is the vehicle's greatest selling point.
With no shudders or jitters like those frequently seen in truck-based SUVs, its robust suspension cruises over rough road conditions and pleasantly absorbs knocks and uneven surfaces on the roadway.
For off-road enthusiasts, the Sequoia's suspension traverses well over rocks and grooves, and its all-wheel-drive system does an excellent job of keeping grip in challenging situations.
Some of its valuable off-road equipment includes:
Two-speed transfer case with high- and low-range gearing
Low-speed crawl control
Locking rear differential
All-terrain tires and skid plates
Meanwhile, the Sequoia provides up to 86.9 cubic feet of cargo capacity with the second and third rows down in addition to 22.3 cubic feet of room behind the third-row seats while these seats are up. 
Although some of the Sequoia's full-size rivals have substantially greater cargo capacity, the SUV still offers more than enough space to transport cargo.
On the contrary, competitors like the Chevy Tahoe, Ford Expedition, and Jeep Wagoneer function best when towing passengers and cargo if ample interior room is a need.
Sources
What Are the Types of SUVs? | CarAndDriver
What is a full-size SUV? | Kia
Was this article helpful?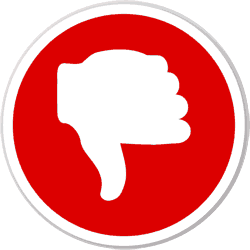 Did you find wrong information or was something missing?
We would love to hear your thoughts! (PS: We read ALL feedback)