Modern infotainment systems that feature Android Automotive and Apple CarPlay are becoming the norm in the car industry.
Once your Android smartphone is connected to the vehicle's infotainment system via Android Auto, you can control the car's infotainment system with your phone.
Since this is a relatively new auto industry development, not many electric cars will have it.
In this article, we'll be going through a list of electric cars that have Android Auto.
1. Kia e-Niro
The 2021 model of the Kia E-Niro now features Android Auto for seamless smartphone integration. It is important to note that the 2017 model of the E-Niro does not support wireless Android Auto.
Wireless Android Auto has the ability to establish a connection without any additional wires. Its wired alternative is one that has to have a USB cable connected to the infotainment system.
With the 2021 model of the Kia E-Niro, you get quality of life improvement such as wireless Android Auto. The E-Niro has an impressive 10.25-inch touchscreen to improve user experience.
The infotainment system allows you to connect your smartphone to the car and use apps and navigation. Your smartphone will reconnect wirelessly once it is close enough to the car.
You can easily see the modern improvements as soon as you get into this Kia electric vehicle. It has plenty of storage and cabin space, which is different from the previous model.
Wireless Android Auto is a good addition when you take out the Kia for a long-distance drive. The extra passenger space in the back means even rear passengers are able to stretch their legs.
Along with Android Auto and Apple Carplay, the Kia E-Niro features standard safety features on its base model. It includes features such as automatic emergency braking, lane-keeping assist, and dual-zone climate control.
Owners of the E-Niro have found it to be a fun car to drive and also reported on its efficiency. This is mainly because of the solid build and a charging time of about 9 hours on a 240-volt charger.
Kia has made sure that the E-Niro offers real value for money in terms of design and performance. Potential owners will welcome the Android Auto support for intuitive interaction with the car's components and features.
2. Hyundai Kona Electric
The Kona Electric is a subcompact SUV from Hyundai that supports both Android Auto and Apple CarPlay. Smartphone integration and connectivity are seamless through the 8-inch touchscreen display.
Wireless connectivity is available on the base model of the Hyundai Kona Electric all the way to the premium models. Premium models get a larger 10.3-inch touchscreen along with some extras.
It is important to note that earlier models of the Kona Electric and some models from the UK do not have wireless connectivity. The infotainment system had to have a USB attached to use Android Auto.
Older models got integrated smartphone connectivity, but you had to connect it using an extra cable. This means that the old Kona did not have the necessary hardware to connect smartphones wirelessly.
Some vehicles that don't support wireless connectivity can't do an over-the-air update that will enable wireless connections. Another alternative is to use a wireless dongle to get wireless Android connectivity.
Another issue with older Kona Electric models and the models in the UK is that they also do not have Wi-Fi support. Just like the wireless Android Auto, the vehicle is falsely advertised as having these features.
Infotainment systems that do have the option to turn on the Android auto without having the necessary hardware cannot do so.
They might be displayed on the display screen, but there's no hardware for the software to use.
In other instances, the infotainment system is just not up to date yet but does have the hardware factory installed. In this case, a quick update of the system will allow you to use wireless Android Auto without extra cables.
The latest Hyundai Kona Electric now has wireless Android Auto with mirroring. Mirroring allows a connected smartphone to be controlled directly from the infotainment system.
If you're also interested in a regular gas-powered car with this feature, please read our article about popular cars with Android Auto.
3. Renault Megane E-Tech Electric
This hot hatchback from the giant automaker Renault has a slew of impressive tech features. The infotainment system runs Google software natively, so Android Auto support will be flawless.
Google is the maker of Android Auto so it only makes sense that the infotainment system which runs on it will make integration a breeze. Your smartphone will connect automatically as soon as you're in the car.
Another great benefit for Android-based smartphone users is that the system is familiar with layout and design. Using the infotainment system will just be as easy as using your smartphone.
Potential owners of the 2016-2017 models of the Renault Megane did not have Android Auto as an option. These models used the R-Link infotainment system, which did not support Android Auto and Apple CarPlay.
Later updates of the R-Link 2 infotainment system on the Renault Megane then got Android Auto. Depending on where the car was sold, the Android Auto was either wireless or wired.
For older Renault owners, Android Auto was introduced later, and they had to try alternative methods of connectivity.
This means a dongle that supports Android Auto or an aftermarket stereo system altogether. It can be a rather expensive exercise to install third-party players and dongles.
Fortunately, the new Renault Megane E-Tech Electric has a lot going for it both in performance and design. The interior is stylish and sports an intuitive infotainment system that supports both Android Auto and Apple CarPlay.
If you use an iPhone or other Apple devices, read this article to learn about electric cars with Apple CarPlay.
Owners of the Renault Megane Electric are pleased with the intuitiveness and how responsive the infotainment system is. Google maps and using the voice assistant function are easy and fun to use.
It is believed that more cars in the Renault lineup will use a Google-based infotainment system in the future. It is such a success on this Renault Megane Electric and will hopefully be introduced in other models.
4. Volvo XC40 Recharge
This SUV from Volvo has the Android Automotive OS (AAOS) which provides seamless smartphone integration. It ensured benefits such as Google navigation and speech recognition are enjoyed by their buyers.
Older models of the XC40 did not have native Android Auto as an option in their infotainment system. These models used Sensus, which is Volvo's native infotainment operating system.
The Volvo XC40 Recharge was introduced back in 2020 as a plugin-hybrid model and did not have native Android Auto support. Later models then started introducing Android Auto as standard across the models.
This SUV is also the first model from Volvo to have an infotainment system powered by Google's Android operating system. It has the ability to receive over-the-air updates, making sure it is always up to date.
Potential owners of the XC40 Recharge who had the Census OS were worried that there would be an upgrade. It is simply not possible because these are two separate operating systems and cannot be interchanged.
Android Automotive is super intuitive when integrated into an electric car such as the XC40 Recharge. For example, when you put a destination into the system, it also calculates how much battery range you have.
This sort of unison in the system means the infotainment system puts the car's abilities and features into consideration. The voice assistant system is also intuitive and limits having to touch the screen for certain functions.
Unfortunately, the XC40 Recharge does not look different from the gas-powered earlier models. However, the Recharge keeps all the practicality and adds a bit of electric magic that can get you about 223 miles of drive time.
It comes in only three trims, but they all have standard safety features, which get it a leg up on its competitors. For example, its 223-mile range means it can compete with EVs such as the Audi E-Tron and Jaguar I-Pace.
On top of all that, the XC40 Recharge is capable of DC fast charging for its 75.0-kWh battery pack. The snappy powertrain gives out 402 horsepower and gets the XC40 Recharge from 0 to 60 mph in about 4.3 seconds.
It is easy to tell that Volvo was designing the XC40 Recharge to be a force to be recognized in the electric SUV market. The tech features and performance mean that this Volvo is here to stay.
Meanwhile, you may also be interested in our article about electric cars without touch screens.
Was this article helpful?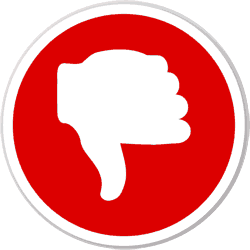 Did you find wrong information or was something missing?
We would love to hear your thoughts! (PS: We read ALL feedback)