Dodge is an American automobile brand with a range of vehicles produced under its parent company, Stellantis. It was founded in 1900 and was later sold to Chrysler after the death of the original founders.
Data from ARFC.org and the NHTSA shows Dodge has recalled its vehicles 1,946 times since 1977. This earns it the 5th spot in the overall number of recalls issued by automobile brands, while holding 5.4% of all NHTSA recalls.
Below is a list of Dodge vehicles responsible for the bulk of these recalls.
1. Dodge Durango
The Dodge Durango was first introduced as a mid-size SUV in 1997 for the 1998 model year. It became a full-size SUV between 2004 and 2009 and has transitioned to a crossover SUV since 2011.
Now in its third generation, the Dodge Durango is a few thousands short of 2 million total units, which shows its huge success commercially.
Number of Recalls
The Dodge Durango has received favorable reviews from critics. However, it finds itself atop the infamous list of the Dodge models with the most recalls. The Dodge Durango has received 134 recalls since 1998 while holding 6.9% of all Dodge recalls.
With so many recalls, no doubt you'd want to know the best and worst Dodge Durango years.
Of the 134 total recalls, the 2014 Dodge Durango alone has 17 recalls, making it the most-recalled Dodge Durango model year on record. The 2013 Durango seizes the 2nd spot with 15 recalls, and the 2012 model comes in at 3rd with 13 recalls.
The 2011 Dodge Durango also adds 11 recalls to the tally, making it the 4th most-recalled Durango model. These four model years alone account for almost half of Dodge Durango's total recalls, and you might want to avoid them.
With just 1 recall, the 1997 Dodge Durango is the least-recalled model year. The 2008 Dodge Durango has the second-fewest recalls with 2, and the 1999 Dodge Durango is 3rd with 3 recalls. Many other Dodge Durango model years, including the 2017 and 2018 models, have between 4-5 recalls.
Below is a list of the most prevalent issues with the Dodge Durango as deduced from recall statements:
Electrical system faults (possible short circuit within the vehicle's wiring and difficulty disengaging cruise control, possible failure of powertrain module's voltage regulator chip, and resultant no-start or stalling condition)
Airbag defects (faulty occupant restraint control module and possible non-deployment of side airbags and pre-tensioners, possible inflator explosion due to propellant deterioration)
Service brake problems (manufacturing flaw and resultant crack of front left brake caliper, possible corrosion of brake booster's center shell)
Related: How Long Do Dodge Durangos Last? (9 Questions Answered)
2. Dodge Charger
The Dodge Charger is a series of automobiles that first hit the market in 1966 and is currently in its seventh generation. Cars of different classes, including subcompacts, hatchbacks, muscle cars, and personal luxury coupes, have been produced under the Dodge Charger nameplate.
The vehicle is now a four-door sedan and is one of the best cars in its class, landing the #2 spot on US News' top large cars.
You should also be reading our article which talks about 5 Chrysler Models With Most Recalls
Number of Recalls
Dodge recalled a Charger model for the first time in 1966, and through the years, it has added another 128 recalls, totaling 129. This figure puts it at the #2 spot on the list of most-recalled Dodge models while accounting for 6.6% of total Dodge recalls.
The 2012 Dodge Charger is the most-recalled Charger model year, with a whooping 19 recalls so far. Trailing right behind is the 2011 Charger with 16 recalls, and the 2014 Dodge Charger with 12. The 2015 Dodge Charger is 4th with 10 recalls, and the 2013 Charger snatches the 5th spot with 9 recalls.
Regarding Dodge Charger models by year, you should know some of the best and worst Dodge Charger years.
These figures, as mentioned immediately above, are quite troubling, and they betoken myriad issues and faults. If you are looking to buy a Charger, we'd very much advise due diligence with these models.
The 1975, 1976, 1978, 1983, 1984, and 1987 model years have the fewest recalls with 1 each. Our findings also show that every 21st century Dodge Charge model on the recalls list has at least 5 recalls.
Below are issues commonly stated as reasons for Dodge Charger recalls:
Airbag faults (absence of airbag warning information from driver and passenger sun visors, overly sensitive side impact sensor calibration and unintended deployment, possible explosion of airbag inflator due to excess internal pressure)
Electrical system defects (improper illumination of driver warnings from instrument cluster, short circuit within wiring that could obstruct cruise control disengagement, sudden failure of alternator)
Powertrain issues (possible installation of wrong transmission park lock rod, potential fracture of front driveshaft universal joint, potential loss of motive power)
Related: How Long Do Dodge Chargers Last? (9 Important Facts)
3. Dodge Grand Caravan
The Dodge Grand Caravan is a line of minivans that were in production between the 1984 and 2020 model years. Production spanned five generations across 36 model years, with well over 3 million units sold by year 2020.
Number of Recalls
Not only is it the second longest-produced Dodge model, but the Grand Caravan also has the third most recalls amongst Dodge models. With 121 recalls, starting in 1993, the Dodge Grand alone holds 6.2% of all Dodge recalls, according to ARFC.org.
The 2008 Dodge Grand Caravan has the highest recalls amongst Grand Caravan models with 10. The 1996 Dodge Caravan takes the 2nd spot with 9 recalls, and the 1993 and 2009 Grand Caravan model years are 3rd with 7 each.
These figures indicate multiple issues with these model years, so you should watch out for them.
The 2004 and 2017 model years of the Grand Caravan have the fewest recalls, with 1 each. A few Grand Caravan model years, including the 2003, 2007, 2008 and 2019 model years, have 2 recalls bumping them up to the #2 spot.
Below are commonly listed issues in Dodge Grand Caravan recalls:
Airbag defects (software errors resulting in deployment of side airbags at inopportune times, possible chafe and short circuit of wiring harness leading to unintended deployment, possible corrosion, and failure of airbag control units)
Electrical system faults (possible malfunction or failure of voltage regulator chip in powertrain module, overheating of vent window switch around driver's armrest)
Equipment faults (clogging and potential malfunction of fire extinguishers in certain models, malfunctioning right side liftgate pinch sensor, air conditioner (HVAC) condensate leak)
Fuel system issues (separation of fuel tank control valve weld joint and possible fuel leak, fuel leakage from underhood fuel injection rail)
Related: How Long Do Dodge Grand Caravans Last? (9 Important Facts)
4. Dodge Caravan
The Dodge Caravan was sold alongside its twin and long-wheelbase version, known as the Grand Caravan. Also discontinued in 2020, the Dodge Caravan had a good run and was frequently cited as one of the best minivans in its time.
Number of Recalls
With 98 recalls starting in 1984, the Dodge Caravan is the 4th most-recalled Dodge model on record. It also accounts for about 5.0% of all Dodge recalls, according to ARFC.org.
The 1991, 1992, and 1996 model years have the joint most recalls amongst Dodge Caravan models, with 9. 8 recalls put the 1993 model at the 2nd spot and the 1997 model comes in at 3rd with 7 recalls. These figures suggest multiple issues with these models, which is a source of great concern.
Speaking of concern, the 1986, 1995, 2004, and 2017 model years offer little to zero of it with just 1 recall on record. Other models with auspicious figures include the 1988, 1989, 2006, 2008, 2009, and 2010 Caravan model years, with 2 recalls each.
Below are common issues that have provoked Dodge Caravan recalls:
Fuel system issues (intermittent contact of tire and fuel fill pipe in rough driving situations, fuel leakage from underhood fuel injection rail, and potential fire incident)
Seatbelt faults (improperly assembled right front seatbelt retractor assembly, possible loosening of trim material, and resultant seatbelt malfunction)
Airbag defects (crack and possible malfunction of front crash sensors, clock spring failure, and resultant airbag disablement)
Service brake problems (malfunction of brake switches and continued brake light illumination, improperly sealed master cylinder rear seal)
5. Dodge Dakota
The Dodge Dakota was a mid-size pickup truck produced between 1986 and 2011, spanning three generations.
It scored a nomination for the North American Truck of the Year in 2000 and enjoyed immense commercial success, especially in its first 7 years.
Number of Recalls
Since 1986, Dodge has issued no less than 93 recalls for the Dodge Dakota, making it the fifth most-recalled Dodge model. The Dakota alone holds 4.8% of all Dodge recalls since 1977, according to ARFC.org.
The 2001 and 2010 Dodge Dakota models have the joint most recalls, with 7 each. They are followed closely by the 1998, 2005, and 2011 model years, with 6 recalls each. The 1997, 2000, 2002, 2006, and 2009 Dakota model years all share the 3rd spot, with 5 each.
With 1 recall each, the 1992, 1993, 1996, and 2004 model years have the joint-fewest recalls amongst Dodge Dakota models. 
Below are some Issues that have necessitated Dodge Dakota recalls over the years:
Airbag faults (susceptibility to moisture intrusion and possible rupture of inflator, potential inflator exposure due to propellant degradation)
Powertrain issues (potential loosening of rear axle pinion due to lack of adhesive, park sprag rod assembly may be out of place)
Service brake problems (improper clearance between power steering hose and left front brake tube, possible abrasion of ABS sensor wire due to contact with wheelhouse splash shield)
Final Thoughts
Vehicles of different classes have been produced under the Dodge nameplate and sold worldwide. It has several compact cars under its belt, and its Ram trucks have been constantly described as the most impressive vehicles in its fleet.
The Dodge brand is also known to be affordable, with several of its cars making US News' list of the most pocket-friendly vehicles in their classes. In addition, the durability and reliability of Dodge vehicles have etched the brand's name amongst the most elite automobile brands in the US.
Was this article helpful?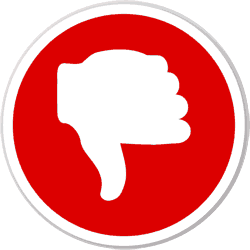 Did you find wrong information or was something missing?
We would love to hear your thoughts! (PS: We read ALL feedback)