The Dodge Charger is an energetic classic vehicle that made its debut in the market over five decades ago. It's a great car that delivers excellent performance, including fast driving.
Everyone can agree the Charger is a power horse and an incredible muscle car.
However, let's discuss the details of the best and worst years of the Dodge Charger.
The best and worst years for Dodge Charger are:
The best years for Dodge Chargers include the 2009, 2017, 2018, 2019, 2020, and 2021 models. On the other hand, please avoid the worst years for Dodge Chargers, which comprise the 2006, 2007, 2008, 2011, 2012, and 2014 models.
What Dodge Charger Years Are the Most Reliable?
We've discussed each of these models, enabling you to make an informed decision whenever you want to buy the Dodge Charger. You may also want to know how long Dodge Chargers typically last.
While there's no perfect car model anywhere, these Dodge Charger models have proven to be more dependable than their predecessors. We say that because many of the ideal Charger models are recent ones.
1. 2020 Dodge Charger
The 2020 Dodge Charger is just two years old and has earned our trust as one of the most reliable Dodge Charger models.
It offers several engine options, especially with various V8 engines, and is the best choice for individuals who want to drive a vehicle with titan features.
It also offers incredible comfort for all passengers, which is one reason it's on our list of the best model years.
Dodge also delivered almost flawless technology for this model. The 2020 Dodge Charger has a Uconnect system with rapid response time and a user-friendly interface.
Here are the demographics of muscle car owners.
2. 2021 Dodge Charger
It is an improved version of the 2020 Dodge Charger, and this muscle car's model year is another reliable vehicle you can trust.
The 2021 Dodge Charger comes with a powerful V8 engine that delivers high speed on the highway. It further has a braking distance of only 102 feet, which is remarkable for a fast car.
Hence, you're assured of exceptional performance from this model.
It comes with comfortable rear seats that help you feel relaxed. These seats also offer lumbar support for the occupants of the vehicle.
What's more, you still get to enjoy the Uconnect system and sophisticated interior of the 2021 Dodge Charger.
3. 2018 Dodge Charger
Want a beast on the road? The 2018 Dodge Charger is another automobile you should look at.
It comes with a smooth steering wheel, which translates to excellent handling.
However, one downside to this model is that it comes with stiffer seats, and that's where newer models have the edge over it.
The 2018 Dodge Charger has ample passenger space, so it's an excellent choice for individuals who enjoy riding with friends.
It also has a user-friendly Uconnect system, and its smooth touch response is unique.
4. 2019 Dodge Charger
The 2019 Dodge Charger performs incredibly on the road, and if you are the type that loves to impress with fast driving, it's for you. It also has a nasty reputation for consuming excess fuel, but its performance outweighs its flaw.
The 2019 Charger is available with safety features such as sensors and airbags. Further, it has a beautiful interior with space that's wide enough for all occupants.
5. 2017 Dodge Charger
The 2017 Dodge Charger is another reliable model on this list. Its downside is that it doesn't have a satisfactory interior like the 2018 model.
However, it comes with a V8 engine and delivers excellently on the road for users. Dodge also loaded the 2017 Charger with modern safety features.
In this model, you'd find safety features such as front collision avoidance systems and departure warning systems. While its interior lags behind the 2018 model, it delivers convenience for passengers.
6. 2009 Dodge Charger
The 2009 Dodge Charger is a member of the older generation, but its exquisite look and reliability earned it a place on our list.
It is an excellent choice for individuals with a low budget with a desire for a power horse. Notably, it comes with a V6 engine that delivers excellently and offers a smooth ride.
It has an astonishing interior, an improved version of the previous model.
What Dodge Charger Years Should You Avoid?
While these aren't exactly the worst models in the world, they each have some problems that've earned them a place on our list. Meanwhile, you should know where Dodge Chargers stand regarding recalls.
Let's find out what these problems are.
1. 2006 Dodge Charger
This is the worst model you must avoid when shopping for a Dodge Charger. Further, even Car Complaints agree with us.
The 2006 Dodge Charger has several suspension and engine problems. There are reports of a sudden abruption of the engine and some cases of engine knocking.
Another issue with this particular model is the gear gets stuck in park mode and its suspension system deteriorates quickly. This problem usually leads to insufficient shock absorption needed to shield occupants.
2. 2011 Dodge Charger
This Dodge Charger model is plagued with fuel system complications and electrical problems. These faults may be hard to notice at first and cost money to repair in the vehicle.
There are concerns that the failing alternator and the electrical system can fail without warning.
Before buying this model, you should know that it may develop leaking gas tank problems which lead to loss of acceleration. Hence, you're likely to perceive the smell of gas in your cabin.
Pay attention to these issues when considering the best Dodge Charger model year. These problems, if neglected, may cause accidents.
3. 2007 Dodge Charger
This model is far from being a perfect muscle car for you. There are reports from drivers about transmission and engine faults.
Its gear can also get stuck, and the reverse gear is more likely to fail than in other models. The engine in this vehicle is also known to be unreliable and may shut down abruptly while you drive.
In rare cases, the engine might get blown and that would require a complete engine replacement. No doubt, it'd cost thousands of dollars to replace.
4. 2008 Dodge Charger
There are concerns about ticking noises from the 2008 Dodge Charger engine. Its engine is not reliable and can also fail without prior notice.
Drivers also complained about its safety problems. For instance, the child safety lock may malfunction. Also, its electrical system should be more effective than it is.
The steering wheel might malfunction occasionally, and that can be expensive to fix. What's worse, its engine can malfunction owing to a defective battery.
With that in mind, drivers would have to be extra attentive to its battery.
5. 2012 Dodge Charger
The 2012 Dodge Charger isn't exempt from electrical issues and its alternator fails without notice.
Its electrical system failure also affects significant features of the vehicle. Additionally, it comes with nasty engine problems that lead to rear-end collision issues in most cases.
Usually, rear-end collision is a possibility when an engine fails abruptly. Hence, most 2012 Chargers would need extra attention on engine care.
6. 2014 Dodge Charger
The 2014 Dodge Charger has several issues, including engine power loss and oil leaks.
It is also plagued with transmission and shifting problems that make the driving experience tough.
You could experience acceleration problems as the transmission slips in cold temperatures. It's essential to know that the cost of fixing transmissions is high.
What Are Some Typical Problems With the Dodge Charger Models?
We've explained some common problems with Dodge Chargers. If you'd like to dig deeper, there are other problems with Dodge Chargers.
1. Deformed Door Panels
Most Dodge Charger seventh-generation vehicles have something in common; their doors can melt and twist.
It is tough to source replacement parts, which is a nightmare for most owners.
These doors may have been made with cheap materials unsuitable for higher temperatures. On the other hand, this issue could result from a wrong installation.
2. E-Shift Problems
The Dodge Charger uses an electronic gear shifter, which is an unreliable part of the 2012 and the 2014 models. In most cases, the vehicle rolls off while in park mode.
Thankfully, this problem has been fixed in new models.
3. Alternator Issues
The alternator problem is common with many Dodge Charger models and this signifies an issue with the vehicle's engine.
You can avoid this problem altogether if you don't purchase a Dodge Charger.
4. Transmission Stuck In Park
This problem is usually found in the sixth and seventh-generation Dodge Chargers.
Once the transmission gets stuck, it immobilizes the car. You'd need to remove the interior cover and adjust the gear manually to make it work again.
It is one of the reasons why Dodge recalled some of its models in 2010.
Final Thoughts
Now you know some of the most preferable models and the ones to avoid.
If you already have a Dodge Charger model listed among Chargers you should avoid, it'll still help to give regard to its weak spots.
Still, whether or not you own a problematic model year, you'd need frequent maintenance.
Was this article helpful?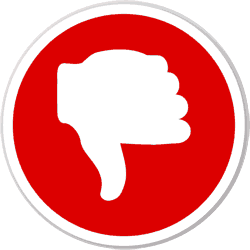 Did you find wrong information or was something missing?
We would love to hear your thoughts! (PS: We read ALL feedback)
ⓘ  The information in this article is based on data from National Highway Traffic Safety Administration (NHTSA) recall reports, consumer complaints submitted to the NHTSA, reliability ratings from J.D. Power, auto review and rating sites such as Edmunds, specialist forums, etc. We analyzed this data to provide insights into the best and worst years for these vehicle models.
---