Chrysler, now officially known as Stellantis North America, is a famed member of the Big Three automobile companies in the US. It is an American subsidiary of the Dutch parent automobile company known as Stellantis.
First founded in 1925, Chrysler boasts tens of million in produced vehicles and units sold, both in the US and across the world.
Despite being the smallest of the Big Three, Chrysler remains an elite automobile company in every sense. It has popular vehicles of different automotive classes under its belt and was named the 11th largest manufacturer in the world by OICA in 2012.
In all its time on the market, Chrysler has recalled its vehicles no less than 663 times. That makes up about 1.8% of all NHTSA recalls on record and lands it the 16th spot in the total number of recalls issued by manufacturers.
Below, we'll be looking at the Chrysler vehicles with the most recalls.
1. Chrysler Town and Country
Chrysler launched its Town and Country model in 1989 and classified it as a minivan, the third of such among Chrysler models. It was, however, discontinued after the 2016 model year, right after making humongous sales of 12 million units under the nameplate.
Besides its commercial success, the Town and Country was also frequently rated by critics as one of the top three minivans on the market.
Number of Recalls
The Chrysler Town and Country is the most recalled Chrysler model on record, with 113 recalls found for its model years. That's about 17.0% of all Chrysler recalls since 1977, according to ARFC.org. We must mention that NHTSA records include recalls issued for pre-1990 models under the T and C nameplate.
Of the 113 recalls, the 2008 Chrysler Town and Country has 9, making it the most-recalled Chrysler Town and Country model year in history. The model is closely followed by the 1991,1992, and the 1993 Town and Country model with 8 recalls, while the 1996 model has 7 on record.
If you are looking to purchase a classic Town and Country minivan of your own, these are models you may want to avoid.
The 1982, 1986, 1990, 1995, 2004, 2017, and 2018 models all have 1 recall each, making them the least-recalled Town and Country models. At the second spot, we have the 2000, 2001, 2003, 2006, and 2011 models with 2 recalls each.
Below are common issues that have demanded Town and County recalls over the years:
Airbag faults (software error and resultant airbag malfunction, corrosion and possible failure of airbag control units, leakage from HVAC and unusual illumination of warning lights, crack of front crash sensors)
Electrical system issues (failure of voltage regulator chip in powertrain control module and resultant stalling or no start, overheating of vent window switch around driver's door, ignition key displacement while driving leading to engine stop)
Seatbelt problems (inadequately assembled right front seat belt retractor and possible seat belt wear)
Related: 5 GMC Models With Most Recalls (Check Before Buying!)
2. Chrysler 300
The Chrysler 300 is a full-size luxury car manufactured and marketed by Stellantis North America (Chrysler) since 2004. Now in its second generation, the Chrysler 300 has sold well over a million units while also receiving high praise from pundits.
While it has had so many sales, the Chrysler 300 has had its best and worst years.
Number of Recalls
The Chrysler 300 is reputed to be one of the most reliable cars in its class. It has a quality and reliability rating of 92/100 on JD Power. However, it is also the second most-recalled Chrysler model in history, with 84 recalls so far.
That figure is about 12.7% of all Chrysler recalls, according to ARFC.org. However, data shows that certain 300 models are responsible for the bulk of this figure.
Of the 84 recalls, the 2012 Chrysler 300 accounts for 10, making it the most-recalled Chrysler 300 model on record. The 2014 Chrysler 300 trails closely behind with 9 recalls, and the 2011 Chrysler 300 takes the 3rd spot with 8 recalls.
These figures indicate a string of issues with these models, and you should mark and possibly avoid them.
As of now, the 2019 Chrysler 300 is the least-recalled model with 1 recall, according to NHTSA records. This makes it the most reliable model year amongst recalled Chrysler 300 models.
We should also mention that most other models of the Chrysler 300 have between 4-6 recalls.
You should also be reading our article which talks about 5 Scion Models With The Most Recalls
Below are common issues with the Chrysler 300 as listed in recall statements:
Airbag defects (excessive internal pressure and possible inflator explosion during deployment, improperly sized terminal crimps and possible malfunction of side airbags, potential moisture intrusion)
Electrical system faults (dim illumination of driver warnings from instrument cluster, failure of voltage regulator chip and possible car stalling, software defects interrupting cruise control disengagement)
Powertrain problems (possible installation of incorrect transmission park lock rod, loosening of front driveshaft bolts, and potential loss of motive power)
Related: 5 Hyundai Models With Most Recalls (Check Before Buying!)
3. Chrysler Sebring
The Chrysler Sebring was a series of midsize cars produced and marketed by Chrysler between 1994 and 2010. Production spanned three generations, and in that time, the Sebring sold hundreds of thousands of units.
Number of Recalls
The Chrysler Sebring never really enjoyed rave reviews, with most critics criticizing recurrent functional issues and blandness.
Besides these, the Chrysler Sebring picked up 64 recalls during its times, according to NHTSA records.
The 2001 Chrysler Sebring holds the record for most-recalled Chrysler Sebring model year, with 9 recalls. With 7 recalls each, the 1996 and 2007 Chrysler Sebring are 2nd on the list. These figures go to show how troubled these Sebring models are, which is why you may want to shun them.
With 1 recall apiece, the 1999 and 2000 Chrysler Sebring models are the least-recalled Sebring models on record. Data gotten from ARFC.org also showed that the 2009, 2011, 2012, and 2013 Sebring model years share the 2nd spot on the list with 2 recalls each.
These are auspicious figures, and you may want to check out these models if you are looking to cop a Sebring of your own.
Below are some common issues that have necessitated Chrysler Sebring recalls:
Airbag faults (electrical complications of resistor in occupant restraint control and possible non-deployment of active head restraints during rear collisions, sensor malfunction, improperly attached passenger side sun visor)
Suspension problems (possible dirt and water intrusion in rubber boots of lateral arm ball joints, loss of lubrication in lower control arm ball joint, and possible separation)
Electrical system issues (over-stress of resistor in occupant restraint module, possible corrosion and short circuit of electrical connector for tire pressure monitoring system)
Fuel system issues (faulty fuel gauge system and instrument cluster software leading to incorrect information about fuel gauge level)
4. Chrysler 200
The Chrysler 200 is the famous successor of the Chrysler Sebring, and it was in production between 2010 and 2016. Classified as a mid-size car, the Chrysler 200 had a good run while selling over 700,000 units.
Numbers of Recalls
Chrysler has issued no less than 47 recalls for the Chrysler 200, starting in 2011. This makes it the 4th most-recalled Chrysler model on record, while also accounting for 7.1% of all Chrysler recalls.
The 2015 Chrysler 200 is the most-recalled Chrysler 200 model, with 11 recalls received. 10 recalls land the 2013 Chrysler 200 at the #2 spot, while the 2012 Chrysler 200 is third on the list with 8 recalls.
These models combined account for more than half of the total, which is why you should consider avoiding them.
The 2014 and 2017 models of the Chrysler 200 are the least-recalled models, with 3 recalls apiece. Those are relatively fair figures, if you will, and the model years certainly earn big reliability points in contrast to the earlier-mentioned ones.
Below is a list of common recall-worthy issues that have battled the Chrysler 200:
Airbag defects (potential short circuit of occupant restraint module and possible non-deployment during crash, resistor problems, and possible non-deployment of headrests during rear-impact collision)
Electrical system faults (short circuit within the vehicle's wiring and possible interruption of cruise control disengagement)
Seatbelt problems (short circuit within the occupant restraint module and possible no deployment of seatbelt pretensioners during crash)
Powertrain issues (insufficient crimps in transmission wire harness and unintended shift to neutral, possible contamination of automatic transmission parking pawl)
Related: 5 Nissan Models With Most Recalls (Check Before Buying!)
5. Chrysler Lebaron
The Chrysler Lebaron was a line of vehicles first introduced in 1931, and it witnessed several changes and facelifts across five generations. It was one of Chrysler's longest-lived models and was widely embraced by customers and critics for its diverse and sophisticated range.
Number of Recalls
In its day, the Chrysler Lebaron was recalled 41 times, closing out the list of the top 5 most-recalled Chrysler models. It takes up 6.2% of all Chrysler recalls, according to ARFC.org.
The 1985 and 1991 Lebaron models share the topmost spot on the list of most-recalled Lebaron models with 5 each. The 1982, 1983, and 1986 models also share the second spot on the list, with 4 recalls each.
With 1 recall each, the 1980 and 1984 Chrysler Lebaron models have the joint-fewest recalls. Several other Lebaron models, including the 1987, 1989, and 1992 models years, have 2 recalls each, putting them on the list of least-recalled Lebaron models as well.
Below are some regularly mentioned issues in Chrysler Lebaron recall statements:
Service brake problems (improperly torqued front disc brake caliper guide pin bolts, bonding deficiency between disc brake linings and shoes, inadequate hydraulic brake tube routing, and possible leakage of brake fluid)
Fuel system issues (possible fuel leakage in low ambient temperature conditions, possible carburetor flooding, and loss of engine power)
Engine cooling faults (possible dislocation of engine valve cover gasket and oil leak)
Was this article helpful?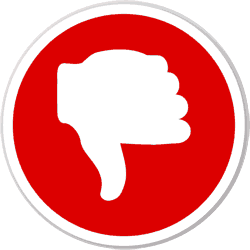 Did you find wrong information or was something missing?
We would love to hear your thoughts! (PS: We read ALL feedback)