The Dodge Durango's initial design was based on a pickup truck, and this SUV comes with three rows of seating.
While we all love this big and bold SUV, it has bad years as much as it's got good ones, so let's explore them all. Meanwhile, find out how long Dodge Durangos last.
The best and worst years for Dodge Durango are:
The best years for the Dodge Durango are the 2008, 2009, 2014, 2015, 2016, 2017, 2018, and 2021 models.
On the other hand, the worst years for the Dodge Durango include the 1999, 2000, 2001, 2002, 2004, 2005, 2011, and 2012 models.
What Dodge Durango Years Are the Most Reliable?
Choosing a reliable Dodge Durango model is a brilliant idea if you are shopping for an SUV.
Here are some of the best years you need to consider.
1. 2021 Dodge Durango
The 2021 Dodge Durango makes this list because of different factors, including its redesign.
Hence, its appearance has improved significantly compared to its previous models and you'll appreciate the inbuilt features like Android Auto and Apple CarPlay.
The car also has a larger touchscreen and ample space for convenience and comfort.
2. 2018 Dodge Durango
The 2018 Durango has become a fan-favorite since it was launched.
It also has several features, such as Apple CarPlay and Android Auto.
Most of these features are available as standard features on all variants of this model.
3. 2017 Dodge Durango
While the 2017 Durango doesn't have a very impressive fuel economy, it's got a superb infotainment system.
The model is renowned for having sufficient third-row seats for the comfort of the passengers. However, third-row seats are only available as an option.
It earns a spot on our list of the most reliable vehicles, and its engine is extremely powerful.
4. 2016 Dodge Durango
If you are searching for a good SUV with an incredible interior, the 2016 Dodge Durango is the real deal. It also delivers one of the smoothest rides among Durangos.
Several features are standard for the R/T trims of this model.
It has a base V6 engine that delivers its functions excellently, and its fuel efficiency is notable. So, this model is better than previous ones as it does not consume much fuel.
5. 2015 Dodge Durango
If you desire comfort and convenience for yourself and other occupants, the 2015 Dodge Durango is a great deal.
It comes with a 'beats by Dre' stereo and excellent interior space. You'd admire the comfortable seats in this model. However, third-row seats are a bit cramped.
It also has other safety features such as traction and stability control, front-side airbags, and standard antilock disk brakes. These features are put in place to ensure a seamless experience for drivers.
6. 2014 Dodge Durango
One reliable model you may need to consider is the 2014 Dodge Durango. The third row came with a simple readjustment of the seats, and its fuel efficiency is top-notch.
However, despite the readjustment, its third-row seats are a bit cramped.
It also has strong stability and traction control and is renowned for its off-road abilities. These features give the 2014 Dodge Durango an edge over other vehicles.
7. 2009 Dodge Durango
The 2009 Dodge Durango offers off-road abilities, sufficient interior space, and a strong engine.
It is available in three trims and has several new improvements, like a V8 engine with a cylinder for enhanced fuel economy. However, we still won't praise its fuel economy as it trails behind other years.
It also comes standard with features such as roof racks and fog lights.
8. 2008 Dodge Durango
It is renowned for being the first vehicle with the next-generation 4.7-liter engine. This model also has features such as a rear backup camera and other things to improve driving.
This model comes with an improved V8 variant, which is better than other V8 variants in previous models.
What Dodge Durango Years Should You Avoid?
This is a list of the Dodge Durango years you should avoid. They are known to have several issues and complaints.
Meanwhile, you should also know some common problems with the Dodge Durango.
1. 1999 Dodge Durango
This model is the most problematic out of the Dodge Durango series. It has a reputation for being the worst model as it is plagued with different problems.
The 1999 Dodge Durango model has been recalled five times and usually has engine and brake problems.
Its engine is known to shut down abruptly while in motion, which could lead to accidents. The transmission also has an issue, as it does not shift properly.
The suspensions in this model have faulty ball joints and these are some of the problems you're likely to face if you own this model.
2. 2004 Dodge Durango
This model is known to have different problems, ranging from exterior issues to engine problems. It is also Car Complaint's worst model year. 
Unfortunately, the 2004 Dodge Durango has been recalled because its airbags failed to deploy.
Its engine is, however, the biggest culprit. Most owners have complained about engine failure and stalling. There are also reports of oil sludge on this model.
3. 2000 Dodge Durango
Despite the efforts of the manufacturer to correct the issues of the previous model in the 2000 Dodge Durango, it still fell short of expectations.
Its suspensions have joint problems and usually screech from the front end. The engine also forms oil sludge and could stall and die while in motion.
Most complaints about the 2000 Durango are related to its engine.
4. 2011 Dodge Durango
If there is another unreliable Dodge Durango you should avoid, it is the 2011 model.
This model has been recalled eight times because of electrical problems and engine problems experienced by owners.
The faulty TIPM chip of the model is responsible for the electrical issues, and the engine is known to stall and misfire in most cases.
Some owners have complained that they even find it challenging to start the vehicle.
5. 2005 Dodge Durango
The 2005 Dodge Durango has problems like exploding airbags, a faulty engine, and a lousy fuel system.
It, alongside millions of vehicles, was affected by the Takata recall.
Its engine is also unsettling as it keeps on stalling. The fuel system in this Durango causes fuel loss too.
6. 2001 Dodge Durango
This model is plagued with several issues, such as brake, air conditioning, engine, and interior accessories problems.
Its engine is known to make a ticking sound due to low oil pressure, and this causes it to fail.
Its power locks and radio output are also defective and the air conditioning system in the vehicle malfunctions in most cases.
Particularly, the repair costs can be fairly expensive.
7. 2012 Dodge Durango
This model has been recalled ten times, mostly due to the engine and electrical problems. These problems are part of why it earned a spot on our list.
The defective TIPM chip causes the engine to stall, and this affects the functions of the electrical parts of the vehicle. Owners also complain of consistent engine misfiring while they drive.
The significant issue with the model is its lamp problem, which could cause a fire outbreak.
8. 2002 Dodge Durango
Despite improving from its previous model, the 2002 Durango still has problems.
The air conditioning system is defective with a lousy design outlook. It is also commonly known to have oil sludge issues.
Cruise control and door locks in this model also have a reputation for malfunctioning. Additionally, the dashboard doesn't have an impressive quality because it peels off easily.
What Are Some Typical Problems With the Dodge Durango Models?
With a presence in the market for over twenty years, the Dodge Durango brand has come to stay. However, because of several problems, it is among Dodge cars with the most recalls.
These are some of the common problems with the models.
1. Takata Airbag Issue
Millions of vehicles were recalled by the manufacturer in one of the most significant recalls in the automobile industry over the Takata airbag.
The reason is that the airbag explodes when deployed, and metal rubbles may hit the occupants in the vehicle, thereby causing injuries.
2. Active Head Restraints Issue
The function of the active head restraints is to prevent your neck from snapping back. They are usually deployed whenever there is a crash.
However, the system fails to handle the force because of the poor quality plastic and parts used in its production.
You are likely to feel a punch in the spine while in motion, which is not good.
3. Transmission Problems
Transmission problems are not peculiar to one vehicle, but the Dodge Durango has a bad reputation for this problem. In most cases, the car may get stuck while in park mode.
The gears will probably get stuck because of the wrong design and the use of inferior parts for production.
This problem led to a recall of the model affected by the transmission problem.
4. Faulty TIPM Chips
The Integrated Power Module, also known as the TIPM, is in charge of the electrical build-up of the vehicle.
When the TIPM is malfunctioning, it prevents the deployment of airbags when necessary. It causes the power window to stop, and the fuel pump switches off without prior notice.
This issue led to a lawsuit that compelled the Dodge Company to offer extended warranties.
5. Oil Sludge in the Engine
Most Dodge Durango models are known to have oil sludge problems.
The reason is that Dodge Durango models have engine coolants from the pumps combined with the oil, thereby triggering the formulation of oil sludge.
The 1999-2004 models are known to have this common problem.
Final Thoughts
Although we've discussed the best and worst models, the Dodge Durango is a reliable model overall.
On RepairPal, while it only has a reliability rating of 3.5 out of 5, it ranks 3rd out of 14 for full-size SUVs.
With such a position in its class, you have to give it credit.
Sources
Dodge Durango Model Year Comparison | Car Complaints
Dodge Durango Reliability | RepairPal
Was this article helpful?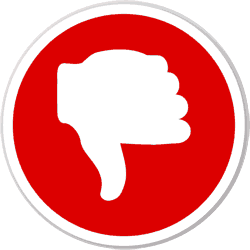 Did you find wrong information or was something missing?
We would love to hear your thoughts! (PS: We read ALL feedback)