In a segment known for spacious cabins, the Chevrolet Traverse stands out from the pack by offering enormous interior room.
This article will provide important facts and numbers about the Chevrolet Traverse you need before buying.
Get annual sales figures, depreciation rates, towing capacities, reliability ratings, and many more!
How Many Chevrolet Have Been Sold in the US Per Year?
Released in 2009, the Chevrolet Traverse has been a decent-selling full-size SUV since it arrived in the US market.
It debuted during a period of slump in demand for SUVs, but managed to post an above-average sales performance.
In its first year, the Traverse recorded annual sales figure of 91,074 units. By the second year, this improved to 106,744 units, reflecting a rise in SUV demand.
Yearly Traverse sales dropped below 100,000 units—again—between 2012 and 2013. However, Chevrolet hit another lucky streak, which saw it sell 100,000+ models in subsequent years.
While annual sales performance has kept fluctuating, the Traverse has never sold below 100,000 units since 2013.
Chevrolet even recorded its best year for Traverse sales recently in 2019, selling 147,122 models that year.
We have compiled a list of yearly sales numbers for all Traverse model years. (All data are based on statistics culled from carsalesbase.com):
| | |
| --- | --- |
| Year | Total No. of Units Sold |
| 2009 | 91,074 |
| 2010 | 106,744 |
| 2011 | 107,131 |
| 2012 | 85,606 |
| 2013 | 96,467 |
| 2014 | 103,943 |
| 2015 | 119,945 |
| 2016 | 116,701 |
| 2017 | 123,506 |
| 2018 | 146,534 |
| 2019 | 147,122 |
| 2020 | 125,546 |
What Year Did the Chevrolet Start the Traverse Model?
Chevrolet officially introduced the Traverse in 2009 as the replacement for the then outgoing Trailblazer SUV.
The company had unveiled it at the 2008 Chicago Auto Show, with dealerships already selling the Traverse in 2008.
Upon its release, the Traverse shared underpinnings with the GMC Acadia and Buick Enclave.
It was offered with a 3.6-liter engine along with the option of front-wheel-drive or all-wheel-drive.
Production of the Traverse started at the General Motor's factory in Spring Hill, Tennessee in 2009.
However, Traverse production later moved to the GM assembly plant in Delta Township, Michigan, the following year.
The second-generation Traverse launched in 2017 for the 2018 model year. Chevrolet unveiled it at the 2017 North American International Auto Show and started selling it the same year.
The second-generation Traverse borrowed styling cues from the GMC Acadia and shed around 111 lbs in weight.
It also adopted a truck-like look inspired by the Tahoe and featured several improvements.
Also, read our other article about how the Chevrolet Traverse handles snow driving.
How Is the Fuel Economy on Chevrolet Traverse?
Given its full-size SUV status, it would be foolhardy to expect exceptional fuel economy from the Traverse.
At best, what you get is average gas mileage that is reasonable for a vehicle of this size.
All Traverses are offered with the same 3.6-liter V6 engine, so little separates them by way of fuel economy.
The only distinguishing factor is choice of drivetrain, which impacts fuel consumption.
The front-wheel-drive Traverse with the V6 engine got 18 mpg (city) and 27 mpg (highway) for a combined 21 mpg in EPA testing.
Meanwhile, the all-wheel-drive Traverse using the same V6 got 17 mpg (city), 25 mpg (highway), and 20 mpg (combined).
Car and Driver did report getting 27 mpg (combined) with the AWD Traverse, which shows that your vehicle's fuel economy figure may be different.
Still, you should base your decisions on the EPA estimates to be on the safe side.
How Quickly Do Chevrolet Traverses Depreciate?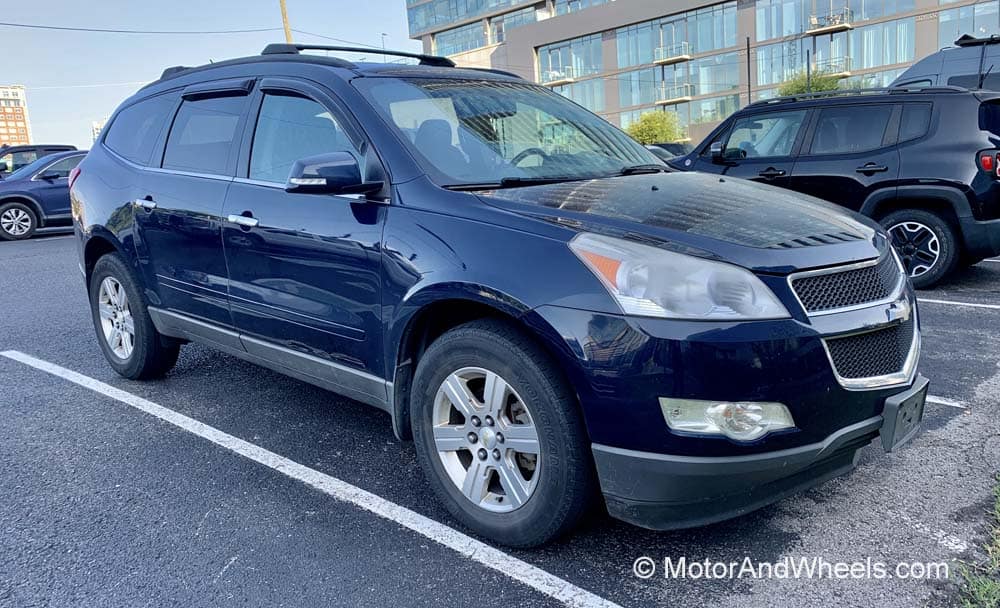 The Chevrolet Traverse has decent resale values on the used car market.
Factors suggested for the Traverse's slow depreciation include high consumer demand occasioned by the model's impressive cargo room and family-friendly features.
The model also underwent a major redesign effort in 2018, which has added to its appeal among buyers.
Taken together, these factors help used Traverse models command high prices.
Estimates suggest that a new Traverse will retain around 47% of its initial value after five years. This leaves 53% as the average five-year depreciation rate for Traverse models.
Nonetheless, you'll need to take care of your vehicle if you want to see it command top dollar when you want to resell it.
This means avoiding hard driving, and you must keep up with regular maintenance.
Did Chevrolet Recall Any of the Traverse Models?
There have been 17 recalls for the Chevrolet Traverse since the model entered production in 2009.
Chevroletproblems.com ranks the 2009 Chevrolet Traverse the most-recalled model year, with 8 recalls.
As is common with most vehicles, recalls for the Traverse have reduced in recent years.
For example, the last two model years (2019 and 2020) have had just 1 recall apiece.
Here are recalls for all Traverse model years:
| | |
| --- | --- |
| Model Year | No. of Recalls |
| 2009 | |
| 2010 | |
| 2011 | |
| 2012 | |
| 2013 | |
| 2014 | 4 |
| 2015 | 1 |
| 2016 | 2 |
| 2017 | – |
| 2018 | – |
| 2019 | 1 |
| 2020 | 1 |
How Much Do the Traverse Models Pollute?
Sporting a huge 3.6-liter V6 beneath its hood, the Traverse isn't exactly an environmentally friendly vehicle.
In fact, it gets average ratings for emissions, which is exactly what we expected.
In testing conducted by the Environmental Protection Agency (EPA), the AWD Traverse produced 442 grams of CO2 per mile. This earned it a far below average emissions score of 4/10.
There are no available CO2 emissions figures for the FWD Traverse. However, it'll likely have similar figures with its sibling since it uses the same 3.6-liter V6 engine.
We do believe the FWD model may be cleaner compared to the AWD variant.
Our guess is based on past experience of having FWD models that have a smaller carbon footprint than their AWD counterparts.
How Much Can the Traverse Models Tow?
For all its sleek styling, the Traverse has enough power that'll come in handy when you need to get those heavy jobs done.
Traverse buyers are guaranteed above-average towing capacity.
Maximum towing ability across the Traverse lineup is 5,000 pounds. Of course, this isn't the same for all models—especially as individual equipment varies.
Here is a breakdown of towing capacity by trim level on the Traverse models:
1. L, LS, LT Cloth, LT Leather, and RS Trims l: Selecting any of these trims with front-wheel-drive or all-wheel-drive will net you a towing capacity of 1,500 pounds.
2. Premier Trim: Buy the Chevrolet Traverse Premier with front-wheel-drive, and you get a towing capacity of 1,500 pounds. However, should you decide to get the optional all-wheel-drive, you can easily bump up this model's towing ability to 5,000 pounds.
3. High Country Trim: Buy this top-of-the-line trim level and you can count on its 5,000-pound maximum towing capacity.
You'll get this towing capacity with the High Country trim, irrespective of the drivetrain you select.
Also check our article about 11 Chevrolet Cruze statistics you should know.
How Reliable Are Chevrolet Traverse?
While we wouldn't rush to call the Chevrolet Traverse an "unreliable" model, its poor reliability ratings suggest something along those lines.
The 2020 Traverse earned an average 3/5 rating for reliability from J.D. Power. RepairPal also gives the Traverse a 3/5 reliability rating, ranking it near the bottom of the midsize SUV category for reliability.
From information available online, we calculated that the annual maintenance cost for a Chevrolet Traverse is around $656.
This is somewhat acceptable for a large SUV, but it's still more expensive than the average model.
Buyers of the Traverse are entitled to a basic warranty coverage for three years/36,000 miles.
Chevrolet also covers the powertrain for a longer five years, and will fix issues that develop during that period.
While the reliability ratings paint a picture of an averagely reliable vehicle, your case might be different.
So long as you maintain the vehicle properly, it should remain reliable for a longer period.
Make sure to also read our article about 11 Ford Escape statistics you should know.
How Safe Are Chevrolet Traverses?
Results from crash tests involving the Chevrolet Traverse have given us the impression that the model is a really safe vehicle.
More than often, a model's crash-testing ratings are the basis of its perceived safety.
The Traverse scored a perfect 5/5 safety rating from the National Highway Traffic Safety Administration (NHTSA).
It got great scores across the frontal crash test, rollover risk test, side impact crash test, and so on.
Similarly, the Insurance Institute for Highway Safety (IIHS) gave the 2020 model great scores for safety performance.
The foremost vehicle safety organization gave the Traverse a Good rating on both the side crash test and moderate overlap frontal crash test.
'Good' is the highest rating any vehicle can get on the IIHS test.
As usual, there are many driver-assistance features on the Traverse to help enhance ride safety. The list includes:
Lane keep assist
Forward collision assist
Automatic emergency braking
Rear cross-traffic alert
Adaptive cruise control
Traction control and Electronic Stability Control
Antilock Brake System (ABS)
Note: Some of these driver assist features are optional, and you have to pay extra to have them on your Traverse SUV.
Please also read our article about 11 Chevrolet Colorado statistics you should know.
What Is the Typical Buyer Demographic for This Model?
Information available to us shows that Traverse buyers share many qualities with typical midsize SUV buyers.
For starters, the median age of Traverse buyers is 56 years, which is slightly lower than that of midsize SUV buyers (54 years).
Similarly, the percentage of Traverse buyers who are male (52%) is slightly below that of buyers in the midsize SUV segment (56%).
Like most midsize SUV buyers, those who buy the Traverse are more interested in buying locally made vehicles.
They also love vehicles with high reliability and great quality. High maintenance cost is, however, a turnoff for this buyer demographic.
Moreover, Traverse buyers indicate that they prefer a versatile vehicle that can handle their busy lifestyle.
Likewise, they want a vehicle with responsive handling, strong acceleration, and the latest safety features.
Chevrolet Traverse Theft Numbers
The NHTSA Theft Rate Database has no figures for the Chevrolet Traverse. As such, we can't really know how much Traverse models are stolen every year.
Even so, it's best to act like your vehicle can get stolen anytime, and protect it against theft.
Using anti-theft devices like steering locks and engine immobilizers will go a long way in safeguarding your vehicle against theft.
References
https://carsalesbase.com/us-chevrolet-traverse/
https://cars.usnews.com/cars-trucks/chevrolet/traverse/2020/reliability
Was this article helpful?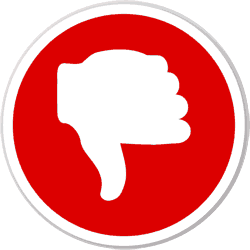 Did you find wrong information or was something missing?
We would love to hear your thoughts! (PS: We read ALL feedback)