The compact car segment might be crowded, but the Chevrolet Cruze clearly stands out from the pack.
It boasts a cushy ride, a spacious cargo hold, and plenty of advanced tech features.
We've previously looked at common issues with the Chevrolet Cruze and we've dived into how long the Cruze typically lasts. Now, let's dive into some interesting facts and stats!
With a retail price under $20,000, the Cruze is an affordable car that offers value. If budget vehicles are your thing, the Cruze is an option worthy of consideration.
This guide provides key statistics and facts about the Cruze to help you make an informed buying decision.
We review per-year sales performance, depreciation rates, reliability ratings, fuel economy, and more. Let's dive into it!
How Many Chevrolet Cruze Have Been Sold in the US Per Year?
The Chevrolet Cruze debuted on the US market in 2010 as a replacement for the Chevy Cobalt.
Since then, it has enjoyed considerably strong demand (for a compact sedan).
When it arrived in the US in 2010, rising gasoline prices were still fueling demand for fuel-efficient compact vehicles.
Sales of the Cruze benefited from this, with annual sales growing from 24,495 units in 2010 to 231,732 units in 2011.
As demand for small passenger cars soared, so did the number of people buying the Cruze. For five years straight, Chevrolet Cruze sales averaged 200,000+ models every year.
But good things don't last, and the years afterwards saw sales of the Cruze drop consistently. This was partly due to the overall fall in demand for passenger vehicles and a corresponding rise in demand for SUVs and trucks.
Since fuel had become cheaper, the need for fuel-efficient sedans decreased.
Hence, Cruze sales dropped to just 47,975 units in 2019—from an all-time high of 248,224 in 2013.
The poor sales of its passenger vehicles, including the Cruze, likely informed GM's decision to focus more on trucks and SUVs. A consequence of this was the discontinuation of the Cruze in 2019.
Here are annual sales data for all model years of the US market Chevrolet Cruze:
| | |
| --- | --- |
| Cruze Model Year | Total No. of Vehicles Sold |
| 2010 | 24,495 |
| 2011 | 231,732 |
| 2012 | 237,758 |
| 2013 | 248,224 |
| 2015 | 226,602 |
| 2016 | 188,876 |
| 2017 | 184,751 |
| 2018 | 142,617 |
| 2019 | 47,975 |
| 2020 | 784 |
What Year Did the Chevrolet Start the Cruze Model?
Before arriving in the US in 2010, the Chevrolet Cruze had enjoyed runs in other markets—Asia, Europe, and Australia.
Chevrolet started production of the US Cruze at a factory in Lordstown, Ohio in 2010, priming the model to replace the outgoing Cobalt.
While Chevrolet sold the Cruze in 2010, the car debuted fully in 2011, which is considered the first official model year.
Check more in our article with the most Best years for Chevy Cruze.
The new Cruze was offered in four trims: LS, LT, Eco and LTZ.
Among other things, the new model boasted safety features like electronic stability control, multiple airbags, and ant-lock brakes.
Also, the Eco model has several features to help improve aerodynamics. A notable one was the electronically controlled air shutter that adjusted air flow to the engine to make for fluid vehicle movement.
The Cruze has added new equipment and features over the years since its debut. For instance, Chevrolet started offering a six-speed manual transmission for the Cruze in the 2012 model year.
Chevrolet also released a diesel-powered model in 2014, making it the first GM vehicle in 28 years to use diesel. However, this model later got canceled owing to slow sales.
Below are all generations of the Chevrolet Cruze:
First generation (2011-2016)
Second generation (2016-2019)
How Is the Fuel Economy on Chevrolet Cruze?
For most compact sedans, a unique selling point is usually exceptional fuel efficiency. The Cruze follows the same pattern, boasting incredible gas mileage across board.
By far the most efficient model, the diesel-powered, 1.6-liter V4 Cruze returns 31 mpg (city) and 48 mpg (highway), getting a combined 37 mpg.
Another diesel-powered model, the Cruze Hatchback using a 1.6-liter V4, gets the next best fuel economy in the lineup—30 mpg (city) and 45 mpg (highway) for 35 combined mpg.
The regular gasoline-powered models also get considerable gas mileage. The Cruze sedan using a 1.4-liter V4 engine gets 30 mpg (city) and 38 mpg (highway), averaging 33 mpg (combined).
Other models in the lineup also get impressive gas mileage figures. The Cruze Hatchback, powered by a 1.4-liter V4 engine, returns 28 mpg in the city and 38 mpg on the highway.
The top-of-the line Premier sedan also gets 32 mpg (combined) while the Premier hatchback gets 31 mpg (combined).
How Quickly Does the Chevrolet Cruze Depreciate?
Typically, discontinued models tend to get reduced resale values because most people don't want to buy them.
The reason is that most people are scared of the availability of spare parts for discontinued models.
Per research results, the average three-year depreciation rate for a new Chevrolet Cruze is 21 percent. This means your Cruze will hold about 79 percent of its value after three years.
Despite this, it's still better to research resale values for the Cruze—especially if you want it to buy it as an investment.
You can, however, increase the resale value of your Cruze by keeping it in perfect condition and avoid over-the-top modifications.
Did Chevrolet Recall Any of the Cruze Models?
In its nine-year run in the US, the Cruze faced 22 recall actions.
From what we know, the 2011 and 2012 model years have the most involvements in Cruze recalls (7).
Our recurring advice is to always check recall information for any model you wish to buy.
Then confirm if the recall-related issues have been fixed. Otherwise, you might end up with an unreliable vehicle.
Here are recall figures for all Chevrolet Cruze model years:
| | |
| --- | --- |
| Cruze Model Year | No. of Recalls |
| 2011 | 7 |
| 2012 | 7 |
| 2013 | 5 |
| 2014 | 7 |
| 2015 | 4 |
| 2016 | 4 |
| 2017 | 2 |
| 2018 | 2 |
| 2019 | 1 |
How Much Do the Cruze Models Pollute?
In today's world, everyone's trying to reduce their carbon footprint by buying low-pollution vehicles like hybrids and EVs.
But if you aren't ready to make the switch to an alternative-fuel vehicle, then getting a Cruze will do a lot to reduce your carbon footprint.
Thanks to its fuel-sipping engines, the Cruze is among the cleanest vehicle in the compact sedan segment. Sure, it won't beat a Prius or a Tesla—but it still has low negative impact on the environment.
The cleanest model in the lineup is a Cruze sedan powered by a 1.4-liter V4 engine. It produces only 267 grams of carbon per mile driven, which may explain its excellent smog rating of 8/10.
Meanwhile, one of the Cruze Hatchbacks, powered by a 1.6-liter V4 engine, has the highest emissions across the lineup.
It releases more than 300 grams of carbon every mile, also getting an EPA smog rating of 6/10.
You will also love our article about the Chevrolet Cruze in snow and winter driving.
How Much Can the Models Tow?
Being a compact sedan, the Cruze is not your go-to vehicle for towing.
In fact, Chevrolet never released maximum towing capacities and probably don't expect you to tow with a Cruze.
However, the Cruze can still be used for towing, but only if you understand the process.
You'll need to modify your stock Cruze and add special aftermarket wiring and trailer hitch equipment.
Doing this will likely bump up your car's towing capacity to 1,000 pounds.
But it isn't advisable to try towing anything with your Cruze that's above 1,000 pounds.
Ignore this advice and you'll surely end up with a car that'll have either its engine or transmission or both fail.
Your case may even worsen, as the dealer may deny your warranty because you towed with the vehicle.
So, if at all you'll haul cargo with your Cruze, ensure it doesn't weigh above the limit.
Keep your towing to light watercrafts, pop-up campers, and other small cargo.
Please also read our article about where the Chevrolet Cruze is made.
How Reliable Is a Chevrolet Cruze?
On the surface, the Chevrolet Cruze has decent enough reliability.
At the very least, you'll be able to manage the costs of maintaining the vehicle without going bankrupt.
For the 2019 model year, which is the last production year, J.D. Power gifted the Cruze an impressive 4.5/5 predicted reliability rating.
RepairPal is, however, less optimistic about the Cruze's performance in the reliability department.
It gives the model a 3/5 reliability rating while ranking it 26th out of 36 compact models for reliability.
According to the same RepairPal, it costs around $545 to service a Cruze yearly. This is higher than the average maintenance cost for a compact car.
Still, it's closer to the average spent across the entire vehicle segment.
So, you're not really spending more than normal on maintaining a Cruze.
You can increase reliability on your vehicle through regular servicing.
Avoiding performance mods will also protect components from strain and prevent early breakdown.
Make sure to also read our article about how long the Chevrolet Cruze lasts.
How Safe Is a Chevrolet Cruze?
By all measures, the Chevrolet Cruze is a safe car.
The 2019 model received a flawless five-star rating from the NHTSA. It also performed well on crash tests organized by reputable agencies like the IIHS.
And the Cruze is, well, chock-full of advanced safety features. Standard safety features on the Chevy Cruze include:
Daytime running lamps
Stability control
Ten-airbag system
Rear vision camera
Teen driver assist
Pay extra for the Driver Confidence II package and you'll get:
Front pedestrian braking
Rear park assist
Automatic high-beam headlights
Lane keep assist
Forward collision alert
Low-speed forward automatic braking
What Is the Typical Buyer Demographic For this Model?
The buyer demographic for the Cruze has some pretty interesting qualities, according to our researched information.
For instance, Cruze buyers are big fans of the 'Buy American' club—over 87% of them prefer to buy American-made vehicles. This is much higher than the average for the compact car segment (40%).
Also, Cruze buyers tend to be less affluent compared to other compact car buyers.
While median household income for a Cruze buyer hovers around $58,226, the average for compact car buyers is $72,719.
Those who buy the Cruze often consider fuel economy and environmental friendliness before buying the vehicle.
They are older on average compared to most compact car buyers, with women forming the majority.
Chevrolet Cruze Theft Numbers
The NHTSA Theft Rate Database has limited theft data for the Cruze models.
But we did manage to obtain annual Cruze thefts for some years. Here they are:
| | |
| --- | --- |
| Year | No. of Vehicles Stolen |
| 2011 | 100 |
| 2012 | 297 |
| 2013 | 433 |
| 2014 | 476 |
References
https://repairpal.com/reliability/chevrolet/cruze
https://www.jdpower.com/cars/2019/chevrolet/cruze
Was this article helpful?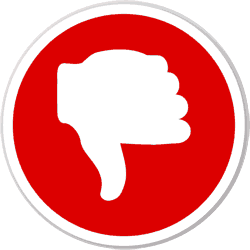 Did you find wrong information or was something missing?
We would love to hear your thoughts! (PS: We read ALL feedback)