The Chevy Cruze has seen its share of highs and lows over the years.
This article will explore the best and worst years of this popular compact car.
From industry reviews and consumer feedback, readers will gain insights on which years to consider and which to avoid, ensuring a reliable and enjoyable Cruze experience.
The Best Chevy Cruze Year
The best Chevrolet Cruze model years, according to industry reviews, NHTSA statistics, and consumer feedback, are 2015 (actually almost all 2015-2019 models).
In particular, the 2015 model stands out for its unique combination of reliability, safety, and performance.
For the 2015 model year, the Cruze received a FIXD Reliability Score of 5/10 combined with an Owner Reliability Score of 6/10. The strong owner reliability score highlights the positive experiences many owners have had with this specific model.
UPDATE: Here's a new article we wrote with problems across the Chevy Cruze models.
This year also saw improvements in crash test ratings, with the Cruze earning an impressive 4.6 out of 5.0.
Additionally, the 2017 to 2019 models saw the fewest recalls among all the Cruze versions. The most serious issue during these years was the potential for a post-crash fuel leak, but overall, these models had fewer reported problems than earlier iterations.
Some features that contributed to the success of the 2015 Chevrolet Cruze include:
Available turbocharged engine for a more engaging driving experience
10 airbags to enhance safety and protection for occupants
Infotainment system with smartphone integration for seamless connectivity
In summary, the 2015 Chevrolet Cruze is generally considered the best model year, offering a balance of reliability, safety, and performance that appeals to many consumers.
The 2nd Best Chevy Cruze Year
The 2018 Chevrolet Cruze stands out as the second best year for this popular compact car.
Several factors contributed to its high ranking among its model years, making it a desirable choice for potential buyers.
One of the main reasons the 2018 Cruze excelled was its improved reliability. By this time, Chevrolet had resolved many of the issues that plagued earlier models, leading to fewer reported problems to the National Highway Traffic Safety Administration (NHTSA) and positive consumer feedback.
This increased dependability translated to greater peace of mind for drivers and lower repair costs.
The 2018 model offered a variety of features and options to suit the needs of individual drivers. Available in both sedan and hatchback body styles, it appealed to a wide range of buyers. The Cruze also came with a choice of engines, including a fuel-efficient 1.6L turbo diesel option that provided outstanding fuel economy without sacrificing performance.
Safety remained a priority for Chevrolet in the 2018 Cruze.
The model came equipped with standard safety features such as:
a rearview camera,
10 airbags,
and a stability control system.
Available advanced safety features included blind spot monitoring, rear cross traffic alert, and forward collision warning, enhancing driver confidence in various driving situations.
In conclusion, the 2018 Chevrolet Cruze proved to be a solid choice with many desirable qualities including improved reliability, varied features, and a strong focus on safety.
As a result, it earned its place as the second best year for the Cruze model.
Other Good Years for the Chevy Cruze
While the best years for the Chevrolet Cruze are commonly considered to be 2017-2019, there are other model years worth considering.
These models have received positive ratings and feedback from industry reviewers, consumers, and NHTSA statistics.
The following is a list of additional good years:
2015: The last year of the Cruze's first generation is a solid choice for buyers. It garnered favorable feedback for reliability and decent performance. Moreover, many issues present in the earlier models have been addressed by this point.
2016: As the first year of the second generation, the 2016 Cruze saw significant improvements in styling, technology, and safety features. Furthermore, it was positively received for its comfortable and quiet ride, as well as its fuel-efficient engine.
2018: With enhanced standard features and a refreshed design, the 2018 Cruze stood out as a solid choice for those seeking a reliable and comfortable compact car. Additionally, the optional diesel engine offered a compelling mix of fuel efficiency and performance.
2019: The final production year of the Cruze marked the apex of its development. The 2019 model boasted a refined interior, a comfortable ride, and advanced safety features as standard. Plus, the available hatchback body style added versatility and practicality to the lineup.
Each of these years brought something unique to the Chevrolet Cruze lineup, making them stand out as good options for anyone looking to purchase a used vehicle.
Keep in mind that it is essential to perform thorough research, examine vehicle history reports, and test drive before finalizing your decision.
The Worst Chevy Cruze Year
The 2011 Chevy Cruze stands out as the most problematic year for this compact car model.
It faced multiple issues that affected its performance and reliability, such as faulty transmission systems and engine cooling problems. Despite these issues, the 2011 Chevy Cruze offers some valuable lessons for consumers and automakers alike in terms of continuous improvement and learning from past mistakes.
One notable issue with the 2011 model was the transmission system not shifting properly, leading to a less-than-ideal driving experience.
Additionally, there were several reports of oil leaks and engine cooling system failures, which could potentially cause long-term damage to the vehicle.
While the problems posed by the 2011 Chevy Cruze were significant, it should be noted that Chevrolet addressed these issues with recalls and subsequent improvements in later model years.
As a result, prospective Chevy Cruze buyers should exercise due diligence when considering a used 2011 model and ensure it has undergone all necessary repairs and recalls if they decide to proceed with the purchase.
Other Bad Years for the Sonic Cruze
Although the 2011 Chevy Cruze is considered the worst year for this model, there are other years that experienced issues as well.
Here is a list of those years and the problems associated with them:
2012 Chevy Cruze: This year model faced various issues, such as oil leaks and engine cooling system problems, making it one of the less desirable years to purchase a Cruze.
2013 Chevy Cruze: Owners have reported higher than average repair costs and insufficient interior quality in this model year, which makes it another year to consider avoiding when searching for a used Cruze.
2014 Chevy Cruze: This particular year experienced some transmission problems, and is not as reliable as later model years, resulting in it being a less favorable option for potential buyers.
2015 Chevy Cruze: While there was a slight improvement in reliability compared to earlier years, this model year still featured higher than average repair costs, making it a less appealing option for those seeking a used Chevy Cruze.
It is important to emphasize that not all vehicles within these years might face these issues, as individual experiences may vary.
However, potential buyers should keep these concerns in mind when considering these specific model years of the Chevy Cruze.
Years with the Most Recalls
When evaluating the best and worst years for the Chevrolet Cruze, it is crucial to consider recalls issued by the manufacturer. Recalls can indicate potential safety concerns or other issues with specific model years.
We have compiled a list of Chevy Cruze years with the most recalls for your reference.
The following table provides an overview of the model years with the highest number of recalls:
| Model Year | Number of Recalls |
| --- | --- |
| 2011 Chevy Cruze | 5 |
| 2012 Chevy Cruze | 4 |
| 2013 Chevy Cruze | 3 |
| 2014 Chevy Cruze | 2 |
| 2015 Chevy Cruze | 4 |
It is important to note that the 2011 Chevrolet Cruze had the most recalls, with a total of five. This is supported by various sources, indicating that this model year faced numerous issues, such as faulty transmission, oil leaks, and engine cooling system problems.
As a result, it is considered one of the worst years for the Cruze.
Additionally, the 2015 Cruze underwent four recalls, involving issues such as a defective parking brake cable and steering gear troubles.
While not as problematic as the 2011 model, it is still worth considering when evaluating the overall reliability of Chevrolet Cruze model years.
In conclusion, potential buyers should be cautious when considering the 2011 and 2015 Chevrolet Cruze models due to their high number of recalls.
It is recommended to check whether the specific vehicle has undergone the necessary recall repairs before making a purchase.
Common Chevy Cruze Problems to Look For
Knowing the common problems associated with Chevy Cruze models can help potential buyers make an informed decision.
Some of the most common issues are as follows:
Transmission failure: The first generation of Cruze, particularly from 2011 to 2014, is known for transmission problems. Some owners have reported that their vehicle's transmission refuses to shift correctly or fails within 80,000 miles.
Engine problems: Various model years, including the 2018 Chevy Cruze, have been reported to experience engine-related issues, such as cracked pistons and coolant leaks.
Electrical problems: Chevy Cruze owners have reported electrical issues that could cause various malfunctions in the vehicle's systems.
Bad water pump: Some Cruze models suffer from a faulty water pump that could lead to coolant leaks and overheating issues.
Coolant leaks: In addition to water pump issues, some Cruzes have been reported to experience coolant leaks due to other reasons, such as damaged hoses or a cracked reservoir.
Power steering loss: Some Cruze models have experienced a sudden loss of power steering, which poses a safety risk for drivers.
Bad ignition coils: Ignition coil failures have been reported in various Chevy Cruze model years.
Being aware of these common Chevy Cruze problems can help buyers make the best decision when choosing a model year and ensure a positive ownership experience.
Go Back: Best & Worst data on all Chevrolet models
Was this article helpful?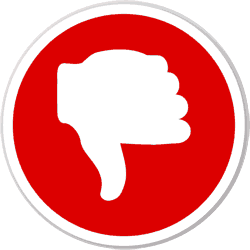 Did you find wrong information or was something missing?
We would love to hear your thoughts! (PS: We read ALL feedback)
ⓘ  The information in this article is based on data from National Highway Traffic Safety Administration (NHTSA) recall reports, consumer complaints submitted to the NHTSA, reliability ratings from J.D. Power, auto review and rating sites such as Edmunds, specialist forums, etc. We analyzed this data to provide insights into the best and worst years for these vehicle models.
---