The Chevrolet Impala is one of the longest-running vehicles on the American market, having being in production since 1958.
While General Motors plans to stop making the model, you can still enjoy the Impala's combination of luxury, performance and practicality.
This article evaluates several facts and statistics about the Chevrolet Impala.
You'll learn about the Impala's sales figures, production history, emissions figures, and many more!
How Many Chevrolet Impala Have Been Sold In the US Per Year?
Since its arrival in the US, the Chevrolet Impala has witnessed decent enough sales to justify its continued production.
At its peak, the Chevrolet Impala sold more than 300,000 models in a year (2007).
That said, sales of the Impala have taken a hit in the recent years because Americans no longer like small cars.
In place of sedans like Impala, more Americans are now buying pickups and SUVs.
It is a reversal of the trend during the 2000s era when small cars were popular because their fuel efficiency was useful as gasoline costs increased.
For example, the Impala sedan sold an average of more than 250,000 models per year during 2003-2008 alone.
Many speculate that GM's decision to stop Impala production may not be unconnected with the dip in annual sales of the model.
From an all-time high of 311,128 models sold in 2007, sales of the Impala have consistently dropped to an all-time low of 44,978 in 2019.
See the rest of the annual sales figures for the Impala in the table below:
| | |
| --- | --- |
| Year | No. of Units Sold |
| 1999 | 81,247 |
| 2000 | 174,358 |
| 2001 | 208,395 |
| 2002 | 198,918 |
| 2003 | 267,882 |
| 2004 | 290,259 |
| 2005 | 246,481 |
| 2006 | 289,868 |
| 2007 | 311,128 |
| 2008 | 265,840 |
| 2009 | 165,565 |
| 2010 | 172,078 |
| 2011 | 171,434 |
| 2012 | 169,351 |
| 2013 | 156,797 |
| 2014 | 140,280 |
| 2015 | 116,825 |
| 2016 | 97,006 |
| 2017 | 75,877 |
| 2018 | 56,556 |
| 2019 | 44,978 |
What Year Did Chevrolet Start the Impala Models?
General Motors started production of the Impala all the way back in 1958.
The design for the first Impala model was overseen by Joseph R. Schemansky. At that time, production of the first Impalas took place both in Canada and the US.
Since it started production, the Impala has had various production breaks for different reasons.
The first was between 1985 to 1994, while the second production hiatus happened between 1996 and 2000.
GM has redesigned the Impala on multiple occasions, such that the model looks more different now.
Some of these redesign efforts are minor, while some are major and kick off new model generations.
We have had ten generations of the Chevrolet Impala:
First Generation (1958-1959)
Second Generation (1959-1960)
Third Generation (1961-1964)
Fourth Generation (1965-1970)
Fifth Generation (1971-1976)
Sixth Generation (1977-1985)
Seventh Generation (1994-1996)
Eight Generation (2000-2005)
Ninth Generation (2006-2013)
Tenth Generation (2014-Present)
How Is the Fuel Economy on Chevrolet Impalas?
The Chevrolet Impala has a light frame, so it doesn't consume fuel like bigger Chevrolet vehicles.
Per figures from the Environmental Protection Agency (EPA), the Impala has decent gas mileage.
The 2020 Chevrolet Impala earns 28 mpg when driving on the highway. However, it uses more fuel (around 18 mpg) while driving on city roads.
The reason is likely because city drivers encounter stop-and-go traffic that increases fuel consumption.
The Chevrolet Impala is a flex-fuel vehicle, meaning it can use ethanol fuel (E85).
Ethanol-fueled Impalas get lower gas mileage compared to those using regular gasoline.
The E85 Impala variant earns around 20 mpg on the highway and 14 mpg while driving in the city.
The benefit of using ethanol fuel is that you'll spend less on fueling your vehicle. This premise is based on the fact that E85 (ethanol fuel) is often cheaper than regular gasoline.
How Quickly Do Chevrolet Impalas Depreciate?
While the Chevrolet Impala performs well in many areas, it's a bit average in terms of holding its value.
As far as we can tell, the Impala sedans are some of the fastest depreciating vehicles in the full-size sedan segment.
The average 5-year depreciation rate for a Chevrolet Impala is 54%. This means a brand-new Impala will hold around 56% of its initial value after five years.
There are different theories put forward for the Impala's below-average depreciation rate.
Some suggest that shrinking demand for full-size sedans has affected resale value for used Impalas.
A more plausible theory is that there are too many used models on the market. For years, the Impala has been a popular model for fleet operators and rental agencies.
The result is too many pre-owned models, which ultimately drives down the value of Impalas.
If you're buying a used model, then the Impala's low resale value works in your favor. But we'd advise you to look elsewhere if you're buying a car as an investment and plan to resell later.
Did Chevrolet Recall Any of the Impala Models?
Like most models, the Impala has had issues that required recalls to fix. GM has recalled the Chevrolet Impala around 33 times in its production history.
The 2014 model takes the dubious honor of having the most recalls (12).
Other model years with the most recalls are the 2000 and 2001 models with 10 recalls apiece. If you're buying a pre-owned Impala, ensure to avoid these models.
Here is a table showing the number of recalls for model years of the Impala since 2000:
| | |
| --- | --- |
| Model Year | Recalls |
| 2000 | 10 |
| 2001 | 10 |
| 2002 | 7 |
| 2003 | 8 |
| 2004 | 7 |
| 2005 | 4 |
| 2006 | 2 |
| 2007 | 3 |
| 2008 | 2 |
| 2009 | 4 |
| 2010 | 4 |
| 2011 | 2 |
| 2012 | 3 |
| 2013 | 1 |
| 2014 | 12 |
| 2015 | 3 |
| 2018 | 1 |
| 2019 | 1 |
How Much Do the Impala Models Pollute?
While the Chevrolet Impala isn't the greenest car around, it isn't exactly a pollution monster either. This is likely because of its fuel consumption, which is generally average.
The Chevrolet Impala (regular gasoline model) releases around 411 grams of greenhouse gases per mile and has an emissions rating of 4/10.
Meanwhile, the ethanol-fuel version is a bit greener, emitting 396 grams of greenhouse gases per mile. But it still has the same emissions rating as its counterpart (4/10).
If you're looking for an eco-friendly full-size sedan, there are better options in the segment.
For example, the Avalon has a hybrid variant that is fuel efficient and emits lower C02 into the atmosphere.
Make sure to also read our article about how long the Chevrolet Impala lasts.
How Much Can the Impala Models Tow?
The Chevrolet Impala isn't a big vehicle (like a truck or SUV), so it has average towing capacity.
If equipped properly, a Chevrolet Impala can tow up to 1000 lbs. Going over this limit can lead to extensive problems such as:
The transmission could overheat and fail
The brakes may start to wear out faster than normal
The engine may fail if it cannot bear the load
Please also read our article about the Chevrolet Impala in snow and winter driving.
How Reliable Is a Chevrolet Impala?
From our research, the Chevrolet Impala has decent reliability. RepairPal gives it a reliability rating of 4.0 out of 5.0, ranking it the 5th in the 12-car full-size sedan segment for reliability.
In a similar fashion, J.D. Power gives the Impala an above-average reliability rating of 3.5/5. This places the Impala among the more reliable full-size sedans.
From what we know, you won't need a fortune to maintain the Chevrolet Impala. Average annual maintenance costs for the Impala add up to $568—lower than the average for full-size sedans ($590). 
How Safe Is a Chevrolet Impala?
If safety is a big consideration, then the Chevrolet Impala is a great option. GM installed advanced safety features on the Impala, which helped it get high safety ratings.
Safety features on the Chevrolet Impala include:
1. StabiliTrak Traction Control: This feature helps drivers maintain control while driving in less-than-ideal driving situations. More importantly, it safeguards your vehicle from losing stability on slippery surfaces.
2. Emergency Tool Kit: Getting stranded in an obscure area can be dangerous. The Chevrolet Impala has a toolkit that includes things you need to fix small issues.
3. Lane Departure Warning: This feature alerts the driver when it senses that the vehicle is veering away from its original lane.
It is useful for night driving when people, exhausted from work, may sleep off at the wheel.
Other safety features available on the Chevrolet Impala include rear cross traffic alert, forward collision alert, lane change alert with side blind zone alert, and a first-aid kit.
Note: Some of these features are standard, while others require additional payment.
Also read our article about where the Chevrolet Impala is made.
What Is the Typical Buyer Demographic For this Model?
The Impala shares similarities with another Chevrolet sedan, the Malibu.
But, while the Malibu is aimed at younger individuals, the Impala has different buyers in mind.
Much of the Impala's design language is aimed at a particular demographic: older buyers likely part of the Baby Boomer generation.
The sedan has a classic four-spoke steering wheel, an available wood trim, and other style elements that'll appeal to the older population.
There's even a fake touchscreen that reveals a lockable cubby for holding small objects.
Impala buyers are what you would call "rich oldies", given that the car costs more than rivals.
The affluence of Impala buyers is probably the reason Chevrolet refused to offer discounts on the vehicle to boost sales.
It understood that those who bought the Impala were willing to buy a quality vehicle, even if it has a higher price.
However, the Impala isn't entirely an old man's car; it also has features that are attractive to young adults.
For instance, Impala sedans have Apple CarPlay and Android Auto capability. They also have a standard 4G LTE Wi-Fi hotspot, sure to appeal to young professionals living in urban areas.
Chevrolet Impala Theft Numbers
The Chevrolet Impala is a fairly popular sedan, so it's a likely target for thieves. As such, we would advise to install the latest anti-theft technology on your vehicle.
The table below shows the rate of thefts for Impala model years between 2000 and 2014:
| | |
| --- | --- |
| Model Year | No. of Units Stolen |
| 2000 | 519 |
| 2001 | 597 |
| 2002 | 375 |
| 2003 | 404 |
| 2005 | 701 |
| 2006 | 1004 |
| 2007 | 769 |
| 2008 | 923 |
| 2009 | 499 |
| 2010 | 579 |
| 2011 | 591 |
| 2012 | 604 |
| 2013 | 577 |
| 2014 | 623 |
References
https://cars.usnews.com/cars-trucks/chevrolet/impala/reliability
https://carsalesbase.com/us-chevrolet-impala/
Was this article helpful?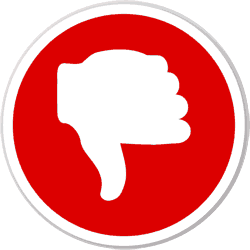 Did you find wrong information or was something missing?
We would love to hear your thoughts! (PS: We read ALL feedback)