Released in 1958, the Chevrolet Impala is one of the longest-running models in the United States.
A go-to choice for families, the Chevy Impala boasts a luxurious cabin, smooth handling and an expansive cargo hold.
Remember to check our list of most common issues with the Impala generations, and now let's find out how long the vehicle can last in this article.
How long does a Chevrolet Impala last?
Given proper maintenance, a new Chevrolet Impala should last up to 150,000-200,000 miles. Based on this, we estimate a Chevy Impala can spend upwards of sixteen years on the road with minimal repairs in between.
How Many Miles Can You Expect from A Chevrolet Impala?
The Chevrolet Impala has been around for over six decades—a long time in the fast-moving world of vehicles. In those years, it has gained popularity among the American populace for offering good value for money.
If you want a cheap sedan that lasts long, the Chevy Impala is one of your best bet.
Treated well, the average Chevrolet Impala can last 150,000 miles easily. However, reports from owners suggest you can get more miles from an Impala — up to 200,000 miles or more.
You may need to replace key components like the water pump, transmission, and timing chain at 150,000 miles. Asides this, your Impala will need little repairs before clocking 200K miles.
According to owners, the two things that will get your Chevy Impala up to the 250,000-mile mark are regular servicing and responsible use.
Regular servicing will keep your vehicle in good shape and forestall any potential problems. Also, driving your vehicle gently, as opposed to driving it harshly, will reduce wear on components and increase the car's lifespan.
Please also check our article on how long Chevrolet Sonic last.
How Soon Should You Expect Rust on A Chevrolet Impala?
Based on the various rust-related complaints for the models, we'd say you should expect rust on your Chevy Impala within the first six to ten years. This may vary in your case depending on your region and frequency of maintenance.
Some places known to rust on the Chevy Impalas include:
Frame
Door area (door jambs included)
Undercarriage
Vehicle hood
Windshield area
If you're buying a used Impala, you should examine those areas for any sign of rusting. For a new model, ensure you treat those rust-prone areas with anti-rust solution.
We have a solid list of the best Chevy Impala years and the worst.
How Long Does Chevrolet Impala Last Compared To Similar Car Models?
The fullsize family sedan segment comprises outstanding models from reputable manufacturers, including Toyota, Ford, and Nissan. We compared the Chevrolet Impala to these models and found it as durable as its rivals.
Below are the comparisons:
Chevrolet Impala vs. Toyota Avalon
Our calculations show you will get the same number of miles from the Chevrolet Impala and the Toyota Avalon.
Per reports, the Toyota Avalon can go 200,000 miles before it needs major repairs. Similarly, the Chevrolet Impala comes with a 150K-mile average lifespan, but can reach 200,000 miles.
For urban families, the Toyota Avalon would be the better investment because it is more affordable to operate.
For example, the Avalon earns an average 25 mpg against the Impala's 22 mpg. Lower gas expenses will reduce ownership costs associated with a vehicle.
Chevrolet Impala vs. Ford Taurus
On the average, the Ford Taurus and the Chevrolet Impala have the same lifespan. Adequately maintained, you should be able to get 200,000 miles from any of the two sedans.
The major difference between the Taurus and the Impala would be maintenance costs.
While the Chevy Impala costs $568 on average to maintain yearly, the Ford Taurus has a $697 annual maintenance bill. Thus, we would consider the Chevrolet Impala over the Ford Taurus for a long-term vehicle.
Chevrolet Impala vs. Nissan Maxima
Like the Chevrolet Impala, the Nissan Maxima offers a mix of comfortable seating, smooth engine performance, and dynamic handling. Even better, it will last you as long as the Chevrolet Impala and comes with a 200,000-mile estimated lifespan.
How Reliable Is a Chevrolet Impala?
While the Chevrolet Impala doesn't sell in high numbers, it remains one of the most reliable passenger cars in the US. A study by automotive research firm, iSeeCars, ranked the Chevrolet Impala as the most reliable American-made car on the market.
The study analyzed millions of vehicles sold between 1980 and 2018 and found that 1.7% of Chevy Impalas on the market had over 200,000 miles on them. This may seem like a small percentage, but iSeeCars says it's thrice that of the average sedan.
The Impala performs well on other reliability rankings as well.
For instance, J.D. Power gives the model a 3.5/5 score for reliability, which is better than most sedans. RepairPal rates the Impala 4.0/5 for reliability and ranks it as the fifth most reliable fullsize sedan.
Based on its impressive reliability ratings, we can say the Chevrolet Impala is quite reliable. But remember that a car is only as reliable as the maintenance it gets.
If you don't maintain your Impala, it will prove unreliable and develop more problems than you can handle.
Also read our article on driving the Chevrolet Malibu in snow and winter.
The Best and Worst Years for Chevrolet Impala
To find the worst model year for the Chevrolet Impala, we dug through various records, especially owner complaints. After our research, the 2005 Chevrolet Impala emerged the sole contender for the worst model year.
Saying the 2005 Chevy Impalas had "some issues" would be sugarcoating it; these models were downright problematic. For some context: the NHTSA received close to 1,500 complaints for the 2005 Chevrolet Impala alone. That shows how problem-riddled the models were.
Some common problems on the 2005 Chevrolet Impala are:
Transmission issues: Owners reported the transmission would shift roughly, slip or cannot shift into gear and get stuck occasionally. Some even reported catastrophic transmission failure on these models.
Interior accessories issues: Owners said some accessories were prone to erratic performance. For example, the cluster gauges went heavy and the speedometer and temperature gauge often malfunctioned.
Engine-related problems: From reports, the engine on the 2005 Chevy Impalas faced many problems. Among them was excessive oil consumption, erratic performance, and premature gasket failure.
If you are looking to buy a used Chevrolet Impala, we'd recommend any model released between 2017 to 2019. These models have low recalls and a few reported problems.
If you want a newer model year, the 2020 Chevrolet Impala may appeal to you.
Make sure to also read our article on driving the Chevrolet Cruze in snow and winter.
What About Recalls for These Models?
Since it started production, the Chevrolet Impala has faced 37 recall actions.
With 12 recalls to its name, the 2014 Chevrolet Impala is the most-recalled model. The 2000-2001 follow closely with 10 recalls apiece.
Models with a high number of recalls often have many problems, which you'd rather avoid. To help you, we've ranked each model year according to the number of recalls for it.
2014: 12 recalls
2000: 10 recalls
2001: 10 recalls
2003: 8 recalls
2004: 7 recalls
2002: 7 recalls
2009: 5 recalls
2005: 4 recalls
2010: 4 recalls
2012: 3 recalls
2007: 3 recalls
2015: 3 recalls
2006: 2 recalls
2008: 2 recalls
2011: 2 recalls
1995: 1 recall
2013: 1 recall
1994: 1 recall
2019: 1 recall
1996: 1 recall
2018: 1 recall
Chevrolet Impala Model Year List
Here are the model years of the Chevrolet Impala since 1999:
Note: The 2020 model year is the last production year for the Chevrolet Impala.
1999 Chevrolet Impala
2000 Chevrolet Impala
2001 Chevrolet Impala
2002 Chevrolet Impala
2003 Chevrolet Impala
2004 Chevrolet Impala
2005 Chevrolet Impala
2006 Chevrolet Impala
2007 Chevrolet Impala
2008 Chevrolet Impala
2009 Chevrolet Impala
2010 Chevrolet Impala
2011 Chevrolet Impala
2012 Chevrolet Impala
2013 Chevrolet Impala
2014 Chevrolet Impala
2015 Chevrolet Impala
2016 Chevrolet Impala
2017 Chevrolet Impala
2018 Chevrolet Impala
2019 Chevrolet Impala
2020 Chevrolet Impala
Are Chevrolet Impalas Expensive to Maintain?
Keeping with its affordability ethos, the Chevrolet Impala is cheap to maintain, especially when compared to other models. According to RepairPal estimates, the Chevrolet Impala requires, on average, an annual maintenance cost of $568.
This is lower than what you'd spend on a regular fullsize car, which costs an average of $590 to service per year. It is also lower compared to what rivals like the Ford Taurus ($697) cost to service in a year.
Look into our article which reads about 11 Chevrolet Impala Facts & Statistics You Should Know
How Long Do the Brakes Last?
Depending on how you use them, the brakes on your Chevrolet Impala will last between 30,000 to 60,000 miles. If you use your brakes frequently, you can expect them to wear out faster and vice versa.
How Long Do the Tires Last?
Stock tires on the Chevrolet Impala can last up to 50,000 miles under normal driving conditions.
More frequent driving will accelerate tread wear on your tires and force you to replace them early.
Also, some owners suggest you should rotate the tires at every 5,000-mile interval to extend their lifespan.
How Long Does the Transmission Last?
Per reports, your Chevrolet Impala should reach 160,000 miles before the transmission fails. But for your transmission to last up to that point, it will need adequate maintenance, including regular flushes and fluid changes.
How Long Do the Spark Plugs Last?
The spark plugs on your Chevrolet Impala should last up to 100,000 miles before they need replacement.
What About Insurance Cost?
Based on estimates, you will spend an average of $2,100 annually on insurance for your Chevrolet Impala. This will see you pay roughly $175 per month to insure your Chevy Impala.
Tips to Prolong the Life of Your Chevrolet Impala
Follow these tips to prolong the service life of your Chevy Impala:
Follow all instructions in the owner's manual regarding use and maintenance of your vehicle.
Don't batter your car by driving it too hard or overloading it. This will increase wear and ultimately contribute to a reduced lifespan.
Keep everything stock on your vehicle; modifications will also increase wear and shorten your vehicle's life.
References
Was this article helpful?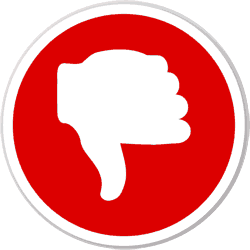 Did you find wrong information or was something missing?
We would love to hear your thoughts! (PS: We read ALL feedback)