Full-size luxurious SUVs have been manufactured by Mercedes-Benz since 2006 under the Mercedes-Benz GLS brand, previously known as the GL-Class.
Consumer research shows that the GLS is rated highly for being dependable when first acquired. However, as a car age and is taken out of the maintenance plan, the cost of ownership increases tremendously.
In this article, we'll take a closer look at which Mercedes-Benz GLS model years are the most reliable and make a note of those that potential buyers should avoid.
The Best and Worst Years For Mercedes-Benz GLS-Class Are:
The best Mercredes-Benz GLS-Class model years are first-generation models manufactured in 2008 and 2011.  Alternatively, you could opt for the 2016 GLS model based on excellent reliability ratings and customer satisfaction reviews. However, the 2021 GLS should be avoided.
What Mercedes-Benz GLS-Class Years Are The Most Reliable?
Buying a car is a big decision. It's not just about how much you can afford to spend but also how much you can trust the vehicle.
Reliability measures how well a vehicle performs its intended function over time. It's not just about how long the car will last but also how well it performs during that time. Reliable vehicles typically have fewer problems and breakdowns than unreliable ones.
It's crucial to note that Mercedes-Benz changed the designation of this SUV from GL to GLS in 2016 to emphasize its prestige. Therefore, the corporation views those vehicles starting in 2017 as belonging to a different class.
Regarding purchasing a car, reliability should be one of your top concerns.
Below you'll find some of the most reliable Mercedez-Benz GLS models.
First Generation: 2008 & 2011 Mercedes-Benz GL
In direct competition with the other SUVs like the Audi Q7 and three-row SUVs like the Escalade and Lexus LX, the first-generation GL-Class was introduced in 2006.   
However, it had one advantage over all its competitors – a unibody design that improved maneuverability. 
Additionally, all GL-Class cars shared the same cabin features and a seven-speed transmission despite having several engine variations. Only the GL63 AMG was a different version with more modern styling.
So, irrespective of the engine, clients could purchase with assurance, understanding they were getting the whole package.
The 2008 and 2011 models of the GL-Class are the most vital years for the vehicle in its first generation. Although Consumer Reports has some negative reviews for the whole GL-Class, these models are the most reliable.
The 2011 model receives the most significant reliability rating from J.D. Power, trailed closely by the 2008 model.
The 2008 Mercedes-Benz GL-Class receives pleasing aesthetics and ride quality grades, similar to a sedan. It also ranks highly among large luxury SUVs.
Additionally, the 2008 Mercedes-Benz GL-Class garnered numerous honors, including "SUV of the Year" accolades from Motor Trend and "Best Luxury Sport Utility" from Car and Driver.
The base model receives outstanding ratings despite having a smaller engine than many rivals, with almost all remarking that it handles more like a classy sedan than a large SUV.
The 2008 GL's superb fuel efficiency, which ranks amongst some of the best in its class, is another benefit. On the other hand, the 2011 Mercedes-Benz GL ranks fourth in US Car News' 2011 Luxury Large SUVs category.
Reviewers have praised the 2011 GL's potent engine, comfortable ride, and luxurious cabin. The GL also offers a diesel engine that is among the best in its class for fuel efficiency.
The 2011 Mercedes-Benz GL regularly received outstanding marks for its premium fit and finish throughout the interior. If you want elegance, go for a vehicle with the optional leather seats rather than the leatherette that comes standard on the GL.
Other standard features include: 
Sunroof
Dual-zone climate control
Heated front seats
Bluetooth and COMAND infotainment system
Overall, the GL-Class has a lot going for it. It's spacious and pleasant, and this hasn't changed over time. The seating in the third row is suitable even for adults.
Second Generation: 2016 Mercedes-Benz GLS
In September 2012, the second-generation GL-Class launched on the market with an updated cabin, new safety features and driver assistance technologies, and an upgraded powertrain.
2016 is the ideal year for the GLS class of the second generation. The highest reliability ratings, safety scores, and advanced features are available for this model. 
As a result, it has the highest score of all second-generation GLS vehicles in J.D. Power's reliability ratings. 
Mercedes-Benz revised its engine lineup in 2015, adding greater authority and providing performance comparable to sports cars for the 2016 model. 
The 2016 GLS500's scorching 0-60mph time was 5.3 seconds, and the GLS63 AMG accomplished the feat in considerably less time.
The 2016 GLS provides strength and adaptability. However, as you would expect from the three-pointed star, it is an expensive SUV. 
The GLS350 diesel is a decent choice if you seek fuel efficiency. But it's crucial to remember that diesel Mercedes-Benz cars frequently have lower reliability ratings.
For those who enjoy the performance and are okay with shelling out a significant premium towards upkeep, the GLS63 is an exciting alternative. However, even oil changes can become pricey due to the vehicle's performance-oriented brakes, engines, and internal parts.
According to US Car News, the 2016 GLS is the most highly-rated luxury SUV of 2016, taking the number one spot.
The 2016 Mercedes-Benz GLS has a J.D. Power reliability score of four out of five, which is higher than the average across the board for its category. 
However, the National Highway Traffic Safety Administration and the Insurance Institute for Highway Safety infrequently test big SUVs for crash protection. As a result, no authority assessed the 2016 GLS.
Nonetheless, the 2016 model offers a host of driver assistance safety features, including:
Rearview camera
Driver drowsiness monitor
Forward collision alert
Surround-view camera system
Front and rear parking sensors
Automatic parallel park assist
Blind-spot monitoring
Adaptive cruise control
Lane keep assist
Overall, the 2016 Mercedes-Benz GLS is an excellent premium big SUV with few flaws. It has a strong base engine, but even more potent powertrains are available. It's among the few SUVs with large seats in all rows and has a car-like performance. 
However, its one weakness is its overall cost of ownership, which is greater than that of most rivals because of its high degradation rates.
What Mercedes-Benz GLS-Class Years Should You Avoid?
Knowing what vehicle models to avoid when purchasing a car is essential. You would want to avoid specific models of vehicles for many reasons, but the most common ones are poor reliability and the among of recalls.
The more reliable a vehicle is, the less likely it is to break down or have serious issues that require expensive repairs. This can save you a lot of money in the long run, especially if you plan on keeping your car for a long time.
To determine which models are reliable and which aren't, we need to look at Consumer Reports' annual car reliability rankings. 
Below you'll find Mercedes-Benz GLS-Class models to avoid based on these ratings and consumer reports. 
2021 Mercedes-Benz GLS
A popular choice for 2021 is the Mercedes-Benz GLS; on the surface, it appears for a valid reason. 
The three-row SUV has several advantages for the buyer, including a sophisticated interior, a potent 6-cylinder turbo engine, and a comfortable ride.
This SUV is designed for family travel but radiates elegance thanks to its soft, comfortable seats and roomy third row.
Several safety systems, such as automated emergency braking, pedestrian detection, front collision warning, and blind spot warning, are available on the 2021 Mercedes-Benz GLS.
The car's showy features, plush interior, and chic exterior will quickly win over customers.
But don't let these advantages fool you. 
Consumer Reports recommends that people should avoid the Mercedes-Benz GLS for 2021. The SUV has a low-reliability rating from J.D. Power of 71 out of 100, which would deter any discerning SUV buyer and is the leading cause of Consumer Reports' scorn.
The model's features are also highly distracting to operate, which is another factor. For example, the lumbar support of a seat must be adjusted in numerous phases.
This makes it simple to accidentally touch any of the several touch-based devices in the car and change a display or audio configuration to a different setting.
Additionally, according to Car Edge, Mercedes-Benz GLS-Class will lose 62% of its value after five years and have an estimated resale value of $44,047.
Given that the 2021 GLS can range in price from $76,000 at the low end to $160,500 at the high end, the model's depreciation rate results in a sizable loss.
With eight recalls, the 2021 Mercedes-Benz GLS is definitely a vehicle you should avoid. 
What Are Some Typical Problems With The Mercedes-Benz GLS-Class Models?
Mercedes-Benz has long provided customers with its own upscale version of the Sports Utility Vehicle, and the German company offers a sleek and stylish look accompanied by elite capability.
As one of the leading vehicles of the SUV class, the Mercedes GLS is the equivalent of the S-class in the realm of SUVs and is among the very few vehicles fighting in a jam-packed luxury crossover segment.
However, most GLS models aren't entirely faultless, so we've investigated to help you determine if they're especially susceptible to any problems.
Below is a list of the most common problems that Mercedes-Benz GLS owners have encountered over the years:
Weak Halogen Headlights
Vibration at High Speed
Excessive Tire Wear
48-Volt Battery Issues
Door Lock & Window Switch Failure
Loss of Power Steering
Brake System Corrosion
Faulty Third-Row Seats
For a more in-depth analysis, take a look at our article on problems with Mercedes-Benz SUVs.
Final Thoughts
The GLS is regarded as one of the automaker's top models in the SUV lineup. However, the body-on-frame G-Class costs more and has been in manufacturing longer.
Most GLS vehicles are built at the Mercedes facility in Alabama, and both the GLS and the GLE have the same unibody construction. 
The 2013 release of the new generation GL-Class superseded the first-generation model, produced between 2006 and 2012.
The GL-Class was renamed to GLS in 2016 with the introduction of the remastered second-generation model under the updated terminology Mercedes chose.
According to recent data, most recent vehicles from companies like Mercedes last longer and fail less frequently. 
In terms of reliability, Mercedes ranks 16th out of about 50 automakers, not far behind Korean and Japanese competitors.
Sources
Was this article helpful?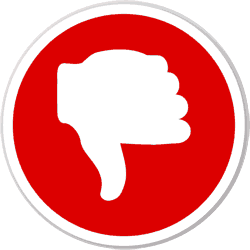 Did you find wrong information or was something missing?
We would love to hear your thoughts! (PS: We read ALL feedback)
ⓘ  The information in this article is based on data from National Highway Traffic Safety Administration (NHTSA) recall reports, consumer complaints submitted to the NHTSA, reliability ratings from J.D. Power, auto review and rating sites such as Edmunds, specialist forums, etc. We analyzed this data to provide insights into the best and worst years for these vehicle models.
---