Since coming on the scene in 2006, the Audi Q7 has been pretty impressive to both look at and to drive.
Year after year, it has been pretty consistent in its quality and reliability, and it's hard to go wrong choosing one.
However, there are plenty of models available, so deciding which to buy can be overwhelming.
In the spirit of simplifying, we put together a list of the best and worst ones to choose from.
To be clear, "worst" in this guide simply means not as great as the rest.
The Best and Worst Years for Audi Q7 Are:
The best Audi Q7s are the 2007, 2010, 2017, and 2020 models. The not-so-great years that you might want to avoid include 2014 and 2015.
We'll dive into each of these below, providing details, ratings, the good, and the bad.
What Audi Q7 Years Are the Most Reliable?
Audi tends to make some pretty great cars – loved by drivers, the media, experts, and onlookers.
As most of the Q7s fit the reliable category, it's hard to call out specific ones to be the best.
However, the list below points out some of the most reliable to help you in your buying decision.
2007 Audi Q7
The 2007 Q7 might be a bit older, but that doesn't stop it from being one of the best on the road.
It has an option between a V6 and a V8 engine, providing between 280 and 350 HP.
Owners love the luxury interior, the safety features, the smooth drive, and the exterior beauty – just to name a few things.
There is also a lot of cargo space – even when the third row is in place. However, that third row is more suitable for children, as it can be a bit cramped.
Even with that downside, it's one of the favorite Q7s.
Consumer ratings give the 2007 a 4.4 out of 5 on Edmunds and a 4.0 out of 5 for reliability on Cars.com.
J.D. Power gave it a 73 out of 100 for quality and reliability, which is average.
CarComplaints shares that the top complaints are trouble with the engine turning over, which was reported twice, and needing brakes annually, which was reported once.
RepairPal reports the average annual repair total to be $723, which is lower than many other vehicles.
Kelly Blue Book rated the vehicle with a 4.4 out of 5 for reliability and 4.5 out of 5 for quality.
Like all other vehicles, the 2007 Q7 has some issues, but it is both well-respected and well-loved.
2010 Audi Q7
The 2010 Audi Q7 is hard not to love. It's a mix of beauty, power, and affordability.
Buyers get the choice between a V6 diesel engine, V6 gas engine, and V8 gas engine that puts out between 225 and 350 HP.
The fuel economy is pretty good for a vehicle of its class, offering 13 to 17 mpg city and 18 to 25 mpg highway.
Owners of the 2010 Q7 rave about its sleek style – both inside and out – as well as:
its solid build,
quiet ride,
seating for seven,
good comfort,
lots' of technology,
and standard safety features.
The 2010 earned a 5-Star Safety Rating during NHTSA crash tests.
It has 4.4 out of 5 stars for reliability and 4.5 for quality on Kelly Blue Book. I also received 4.5 out of 5 stars on both Cars.com and Edmunds.
The 2010 Q7 also received a rating of 83 out of 100 from J.D. Power.
There was one complaint reported on CarComplaints of a strong fuel odor. Additionally, like some other Q7s, owners aren't satisfied with the space and comfort available in the third row.
2017 Audi Q7
It can be easy to discount the 2017 Q7 if you take the numbers at face value. However, when you dig into those numbers, you find that this is actually one of the best years for the vehicle.
RepairPal gave the 2017 Q7 2.5 out of 5.0 for reliability. This seems like a low number, but it's actually average for most vehicles of the same class.
Additionally, the rating is heavily based on how frequently unexpected repairs are required – which is about 0.2 times more than other full-size SUVs.
However, they also report that the chances of those repairs being anything major are actually lower than with other vehicle models of all types.
And RepairPal still places the 2017 Q7 as #8 of 19 full-size luxury SUVs.
There are only 14 reported issues on CarComplaints, which is pretty low in comparison to other vehicles. The top complaints revolved around squealing brakes and a couple of instances of engine failure.
And it was named the 2017 Top Safety Pick by the Insurance Institute for Highway Safety (IIHS).
What do owners say about it? They enjoy the safety features, powerful V6 engine, fuel economy, and quiet ride that the 2017 Q7 provides.
They are not all happy, however, with the fact that there is not much cargo space. And though the squealing brake does not seem to be a dangerous issue, owners find it a bit annoying.
Also, the infotainment system seems to be hit or miss – sometimes it works, and sometimes it doesn't.
Obviously, there are some downsides, but overall, the 2017 Q7 is one of the best years available.
2020 Audi Q7
The 2020 version of the Audi Q7 brought some pretty awesome changes, especially in the technology department.
The late Audi Q7 models are also popular for leasing.
The infotainment system was upgraded with a Virtual Cockpit and two touch screens. The engine also got a boost in both torque and horsepower.
It also comes with both front and rear parking sensors, a rearview camera, lane departure warning, rain-sensing windshield wipers, and other standard safety features.
As it's still fairly new, reliability ratings aren't fully determined, but it still has some really great reviews and overall ratings.
On the topic of safety, the IIHS rated the 2020 Q7 9.6 out of 10 for safety.
It was also rated as #2 of 20 vehicles in the 2020 Luxury Midsize SUV category.
CNET rated the 2020 Q7 8.6 out of 10, thanks to its quiet ride, high-quality interior, and the new tech it's packed with.
Owners gave it 7.9 out of 10, according to U.S. News, 4.1 out of 5 stars on Edmunds, and 5.0 out of 5.0 on Cars.com.
At this time, there are only three reported problems on CarComplaints for the 2020 Q7.
Obviously, it will take a little more time for the vehicle to be on the road before reliability can be fully assessed, but so far, it's making some really good impressions.
Unfortunately, the small third row still hasn't been addressed.
What Audi Q7 Years Should You Avoid?
Generally speaking, the Audi Q7 is a pretty great and reliable vehicle, according to both experts and owners.
Therefore, there aren't very many years that you should avoid buying.
However, there are two that stand out that we thought you should be aware of.
2014 Audi Q7
The 2014 Audi Q7 added some high-tech gear to Audi's game, and, of course, it looks amazing. Unfortunately, that's pretty much where the "great" ends.
It still receives great safety ratings, and most owners love the comfort.
Performance, on the other hand, and the interior design – not so much.
Though there haven't been a ton of reported issues on CarComplaints, owners share several on other sites.
There have been many complaints of brake issues – many that showed up before the vehicle had even reached 15,000 miles.
They often have to get everything from the brake pads to the rotors changed much more quickly than most vehicles require.
In fact, some report having to replace rotors every time they get new brake pads – something that can add up to some hefty costs.
It's also reported to have a pretty poor fuel economy.
J.D. Power gave the 2014 Q7 69 out of 100 points for reliability, which is called "fair" but is actually pretty low in comparison to many vehicles.
It was also ranked as #19 out of 20 in the 2014 Luxury Midsize SUV category, and #147 in the rankings for Used Luxury Midsize SUVs Under $30K.
In short, you'd do pretty well to stay away from it.
2015 Audi Q7
2015 wasn't much better for the Audi Q7. In fact, it tied with the 2014 model for spot #147 in Used Luxury Midsize SUVs.
And it was ranked as #15 of 16 vehicles in the 2015 Luxury Midsize SUV category.
According to J.D. Power, the 2015 Q7's quality and reliability are lower than the 2014 – earning only 66 out of 100.
How did it rank so low? Well, the brakes are still a bit of an issue, not to mention the poor fuel economy.
The ride isn't as quiet as it is with other Q7s, which is quite disappointing.
Not only do drivers complain about the easy-to-hear road noise but also a rattling sunroof screen – neither of which are particularly calming while driving down the road.
There are also complaints about the tires wearing out quickly, not having a lot of control with steering and shifting, and a few instances of the engine dying while the owner was driving down the interstate.
Check Also: Best names for Audi Cars.
What Are Some Typical Problems With the Audi Q7 Models?
Some of the most common problems with the Audi Q7, in general, include the following:
Failed water pump
Engine misfires
Fuel leaks
Sudden exploding sunroof
Lack of cargo space
Small third-row seating
Knock sensor issue
We have more here on the most common problems with the Audi SUVs 
Was this article helpful?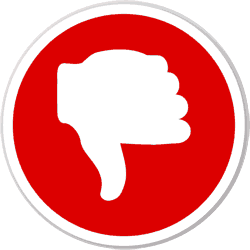 Did you find wrong information or was something missing?
We would love to hear your thoughts! (PS: We read ALL feedback)
ⓘ  The information in this article is based on data from National Highway Traffic Safety Administration (NHTSA) recall reports, consumer complaints submitted to the NHTSA, reliability ratings from J.D. Power, auto review and rating sites such as Edmunds, specialist forums, etc. We analyzed this data to provide insights into the best and worst years for these vehicle models.
---